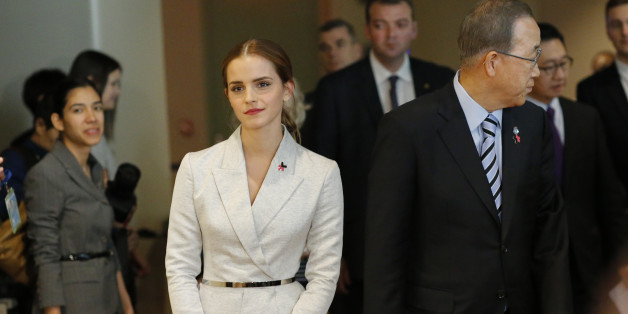 Last month the actress and UN Women Goodwill Ambassador Emma Watson spoke at a special event for the new HeForShe Campaign. In her speech Watson she called upon listeners - and men and boys in particular - to commit to ending gender inequity.
Watson's talk has received tremendous press, and with good reason. She delivered a thoughtful and passionate argument about the need for gender equity. Her words were impressive, but so too was how she delivered them.
Anyone who wishes to speak as a leader would be wise to read the transcript of her talk and watch the videos of her delivering in. Watson's performance contains four powerful lessons:
1. Inspirational speakers challenge their audience.

Leaders know that every interaction represents an opportunity to inspire action in listeners. Leaders also know that the only way to inspire this kind of action is to challenge their audiences to adopt new or stronger beliefs.
Several times in her talk Ms. Watson calmly but confidently challenges the audience's beliefs, about feminism, gender equality, and what men must do. She is polite but clear:
"Men--I would like to take this opportunity to extend your formal invitation. Gender equality is your issue too."
"If you believe in equality, you might be one of those inadvertent feminists I spoke of earlier."

Unless you push your listeners to believe something new, or something with greater certainty, they will do nothing differently. That's why the most effective speakers are often polarizing figures; they are continually challenging listeners to adopt new thinking, which in turn will move them to action.
2. Inspirational speakers take ownership of their talks.

Emma Watson's talk could have been a simple announcement of the HeForShe launch. She could have described its mandate, raison d'etre and goals. Such a speech - which could have been written by a UN staffer - would have been adequate yet uninspired.
Instead she found her own voice and shared her personal experiences that led to a growing self-awareness about gender inequity. Rather than quoting statistics or reading UN corporate-speak she talked about how she,
"...started questioning gender-based assumptions when at eight I was confused at being called 'bossy,' because I wanted to direct the plays we would put on for our parents--but the boys were not....When at 14 I started being sexualized by certain elements of the press....When at 15 my girlfriends started dropping out of their sports teams because they didn't want to appear "muscly."

Later she talked about how,
"I am from Britain and think it is right that as a woman I am paid the same as my male counterparts."

And she showed she is willing to be vulnerable when she shared that,
"I don't know if I am qualified to be here. All I know is that I care about this problem. And I want to make it better."

The most inspiring speakers refuse to allow others to create their remarks and instead put themselves into their talks. They know that their audiences want to hear from them and that sharing their own stories, beliefs and experiences will result in a more genuine and impactful connection.
3. Inspirational speakers know that they are the best visual.

If you have been searching for Ms. Watson's PowerPoint presentation you will be looking a long time. She used no slides. Only a simple logo was put up on the projector behind her.
Think of all the slides she could have built....slides illustrating the gap in pay between women and men, slides indicating the disparity in women in leadership positions around the world...the possibilities were limitless!
Yet Ms. Watson made the right choice in going "slide-less" because she knew that she is the best visual. Audiences crave connection with speakers. They look and listen to the non-verbal cues - eye contact, body language, vocal pace and expression - and judge the speaker's belief in and commitment to what they are saying.
Visuals create competition for this connection and ultimately diminish a speaker's ability to convey their conviction to the audience. In most cases, the most effective speakers skip them entirely.
4. Inspirational speakers use their physical and vocal tools to project presence.

Presence is often mistaken for being loud and taking up lots of space. Yet Emma Watson - who is petite - proves that authentic presence has little to do with how tall you are or whether you bound across a stage like the Energizer Bunny.
Instead, presence is all about being present with your audience. It means you are connected to your audience completely, and in that moment everything else fades away and only your ideas are left.
How can you create this kind of connection? As Ms. Watson demonstrates, by using your full physical and vocal toolkit. She is physically present at the podium, and has no distracting mannerisms that create competition for her ideas. She looks straight at her audience and maintains strong eye contact, particularly at the ends of her thoughts. Her pacing is excellent; she uses the power of the pause to let her ideas sit with the audience. And her expression is confident yet natural.
The most effective speakers use their bodies and voices to connect with the audience and convey their thinking... and in doing so project an authentic leadership presence.