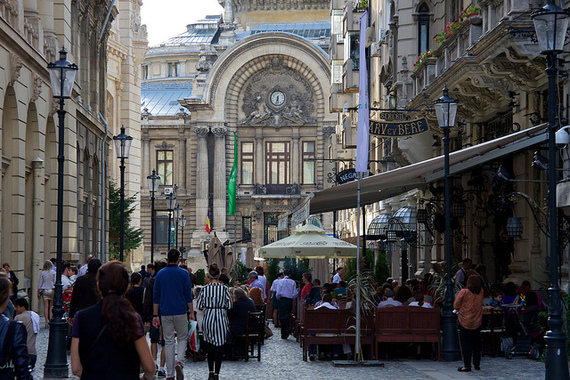 Image by Mario Sánchez Prada (Flickr)
Today's topic: Bucharest, Romania, and all its coolness in a nutshell. Bucharest, București, Little Paris. Incidentally, a Wikipedia search shows that several places in the world claim the title of "Little Paris" or "Paris of the East," but it's easy to see that Bucharest definitely deserves that title. When you're walking down the streets, you can't miss the impressive and beautiful, extravagant architecture of some of the buildings. According to local Alina, "Little Paris" is especially present in the Cotroceni neighborhood.
Image by Niko Trinkhaus
Some of the architectural highlights and landmarks of Bucharest are the Palace of Parliament (pictured above), formerly known as the People's Palace, which might just be the biggest building in Europe. Then there's the Arcul de Triumf and Calea Victoriei, one of the most fashionable streets in the city. This street is also home to many more architectural highlights, such as the Romanian Athenaeum concert hall and the National Museum. That same street culminates in Piata Revolutiei (Revolution Plaza), another Bucharest highlight.
Other highlights are the famous Lipscani/Old Town district, the biggest public garden in the city; Cismigiu Garden or the number one restaurant; the ARTIST. These are all recommendations from various websites catering to tourists. Most people nowadays want to see a city through a local's eyes though, which in my opinion is the ultimate way to truly experience and get to know a city.
Short of ringing on people's doorbells for their recommendations, or accosting people in the street for tips, there are blogs that reveal locals' favorites. Blogs like Spotted by Locals.
Image by Niko Trinkhaus
According to our Bucharest locals you should definitely visit the National Museum (or Muzeul National de Istorie), but also the lesser known Cantacuzino Palace which hosts a permanent exhibition on Romania's most important composer, George Enescu. For drinks & entertainment, visit the brand new beer hall Beraria H, which opened last September. It's high on local Alex' list in terms of concerts and performances to attend. For other live performances, particularly jazz ones, visit Jazz Book, which features near-daily jazz performances.
For a snack or a quick lunch, Mystic Tree is famous for its cheap and delicious soups! Or perhaps you'd prefer a cup of tea with a scrumptious piece of cake? Then try the Bernschutz Teahouse. If you're looking for the perfect place to try Romanian cuisine, then two of our locals highly recommend Zexe on strada Icoanei. Finally, one great tip is Diana's list of must-try-pastries-in-Bucharest. It's always nice to know exactly what you're ordering!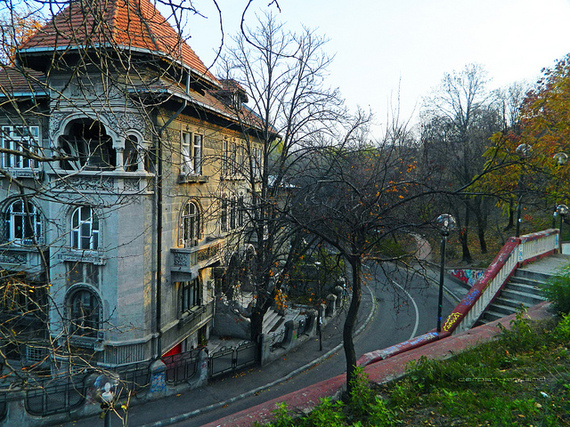 Image by Classic Bucharest
Even more information can be found via Feeder, a website where you can become familiar with upcoming events, news, music and more, all local or get in the right mindset through the pictures shared on Christian Vasile's Facebook page! Or the blog Bucharest life, where the Editor-in-Chief of In Your Pocket writes about life in Bucharest.
In conclusion, if you're planning a visit to beautiful Bucharest, look up the listed landmarks and historic sights that made the city what it is today. But don't forget to add a locals' component, as they are obviously a large part of the city's life and ambiance.