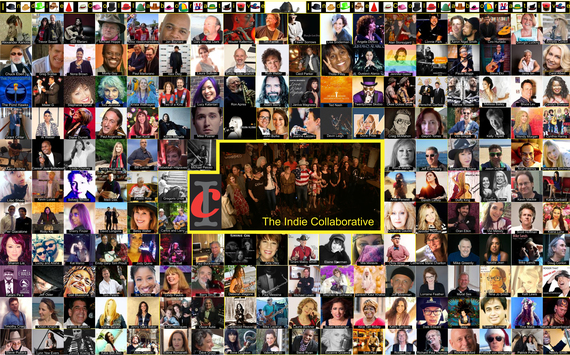 The winter sun rose fast over a California morning, peeking above the San Gabriel mountain range, and bringing sunlight to the City of Angels. It was Sunday February 8th 2015 the day of the 57th annual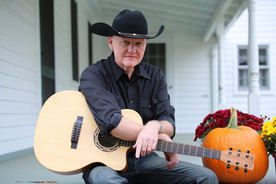 Grammy® Awards. Eileen Sherman was attending the Grammy® Awards that day, and had an appointment that morning to meet Grant Maloy Smith, (another voting member of Grammy) in the lobby of The Marriott hotel in downtown LA. So, at the arranged time, dressed in their "red carpet finest" Grant and Eileen met for the very first time. In Eileen's own words. "At first, I couldn't even find Grant because of the "glamorous mob scene" in the lobby, but then I saw the "cowboy hat." I went over to him, extended my hand, and said, "I'm Eileen Sherman. I have this idea." I don't think I had completed my second sentence, when Grant said, "I'm In." (It wasn't until much later that I learned, he had the same idea.)" And so, it was, on that musically auspicious day the Indie Collaborative drew its first breath.
Within weeks they met again in NY at the Drama League in Tribeca which Eileen Sherman, a lyricist, and playwright, (who collaborates with her sister Gail Bluestone, when she's writing musicals) had chosen, and together sitting on a couch in the reception area she and Grant began creating what would soon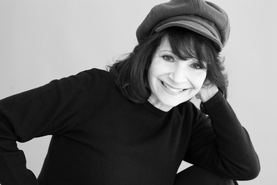 become the Indie Collaborative. Both Grant and Eileen realized they wanted a more formal mechanism for fellow artists to get together and support one another artistically. For the past 12 months Grant, had been traveling around the US with his friends Ricky Kej and Wouter Kellerman, meeting and having lunch with hundreds and hundreds of musicians and artists in cities across America, so it appeared that the recipe for a successful new organization was ripe. The seeds of the new Indie Collaborative were sown. They started planning their first event, to be held on the stage at the Drama League in June 2015. With clever networking on Facebook, they packed the house in June and the event was a huge success. At the event folks took pictures and posted them on FB which instantly translated to the event going viral. Grant was inundated with requests to bring this event to Indies around the country and within a week they scheduled another Indie Collaborative in LA for September 2015. Right from the beginning, Grant and Eileen decided that there would be no requirement that a person be a voting member of NARAS, or belong to ASCAP or BMI or any other organization, but simply that talent, passion & persistence be the criteria for membership without any preferred art form. Or as The Outback Steakhouse likes to proclaim, "No rules, just right!! "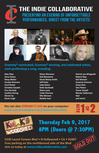 Within weeks membership grew from 100 to over 1,000 and by January 2017 the number had grown to an impressive 2,000 with events scheduled from New York to Los Angeles. To date The Indie Collaborative has organized sold out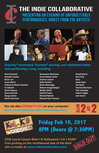 events in New York, Los Angeles, Chicago, Philadelphia and Atlanta with possible events happening this year in Fort Worth Texas and Fort Lauderdale Florida. The next event is scheduled in LA on February 9th and 10th at Kulak's Woodshed, 5230 Laurel Canyon Blvd • N Hollywood • CA • 91607 at 8.00pm. The audience will be treated to a wonderfully diverse selection of live music ranging from Blues to Americana, R&B to Flamenco, and Classical to Jazz featuring over 50 world class artists for both nights. Tickets are sold out already, (a testament to how popular The Indie Collaborative has become.) To see a list of performers click the photos in this paragraph. If you're interested in watching either event, you can stream it live at concertwindow/indiecollaborative
It takes a lot of backbone to pronounce yourself a musician, an artist, or a writer. When you look at the many faces featured in the Indie Collaborative it's impressive that so many people take that leap to pursue music careers. Some may think it's all about chasing fame, but, after years in the business, we see and hear so much to dispute that. Certainly, any artist's heart leaps at positive recognition they might receive, any good press they get, or even, heaven forbid, a great day of CD sales! But mostly what drives these creative people is the passion to express themselves freely. "Ars artis gratia" meaning art for the sake of art, is the mantra for many serious artists worldwide. Indie artists are often the conscience of the music industry. Free from the constraints of record contracts, they're sometimes raw, unpolished but offer a necessary check and balance to the war that rages on over art versus marketability. Long live the amazing artists that bubble to the top like "Adele" who richly deserve their congratulations at Grammy time. But chops too, to the amazing collection of people who pursue music for the love of music with no safety net and, who very often give of their talents for free, to help a fellow musician with their projects. The Indie Collaborative really is a collaborative group of diverse artists, who share feedback and add variety to a sometimes trend oriented business.

Below are some of the Artists who are part of The Indie Collaborative: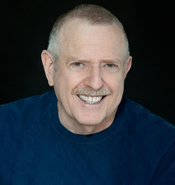 Mike Greenly is a former Fortune 500 marketing & communications VP. Today he's a highly-acclaimed speechwriter and speech coach helping executives around the world. His passion is writing lyrics and spoken word pieces.Mike is the author of "Our Great Virginia" which in 2015 became Virginia's Official Traditional State Song.He's also had several Billboard-charted hits, including his recent #1 Dance song, "Say Yes" by Jason Walker. Watch the video below called Common Ground. Mike wrote the lyrics, and Gil Polk wrote the music. Mike Greenly has been a member since 2015.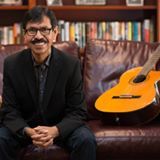 Despite emigrating to the United States in 1975, Peruvian-born guitarist Ciro Hurtado has continued to be one of the finest performers of traditional Latin music. A founding member, musical director and producer of Huayucaltia, Hurtado has balanced work with the group with solo performances and recordings. While the L.A. Times called him, "an elegantly polished guitarist, who can evoke flourishes of flamenco or jazzy staccato runs with consummate ease", Musician magazine claimed that he "combines the dexterity and elegance of the Spanish classicists with the romantic imperative of South America". Ciro will be performing at the indie collaborative event at Kulak's Woodshed on Feb 9th or 10th. For more info click HERE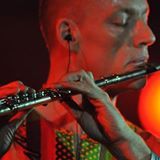 Wouter Kellerman is a Grammy Award-winning South African flautist, producer and composer who has won six South African Music Awards Using his classical training as a foundation, Kellerman has focused his attention on World and Roots music, exploring the versatility of the instrument and fusing classical and contemporary sounds. Kellerman received a Grammy Award at the 57th Annual Grammy Award for his 2014 album Winds of Samsara, a collaboration with Indian composer and producer Ricky Kej. Kellerman's latest album 'Love Language' (2015) received a Grammy® Nomination, and won a SAMA for 'Best Instrumental and/or Classical Album. Wouter will be performing at the Indie Collaborative event at Kulak's Woodshed on Feb 9th or 10th. For more info click HERE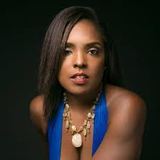 Natalie Jean is an award-winning singer/songwriter. In April of 2013, she released her first CD entitled, 'Obsession,' and In 2014, released her second album, a self-titled album, 'Natalie Jean.' In 2014, she was nominated in the Best Dance Category in the 2014 Artist in Music Awards, as well as being nominated 5 times in the Indie Music Channel Awards for Best Blues Song, Best Blues Artist, Best Jazz Song, Best Rap Song, and Best R&B Artist. She was also nominated in the LA Music Awards in the Pop category. In 2015, she won for best Jazz Song with Trevor Sewell. In 2016 Natalie won the Josie Music Awards for World Artist of the Year, and Best Musical Collaboration with Trevor Sewell for 'Devenir Gris.' Natalie will be performing at the indie collaborative event at Kulak's Woodshed on Feb 9th or 10th. For more info click HERE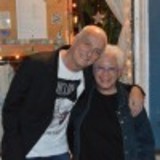 Trevor Sewell is an English blues guitarist, who has won multiple awards and been nominated 4 times in the British Blues Awards. His debut album 'Calling Your Name' spent 7 weeks at number 1 on the American Blues Chart, while his 2nd album 'Independence' went on to win multiple awards and firmly establish him as a blues force to be reckoned with. Trevor has recently become the voice of the audio book 'Dangerous Gambles' ( produced by Mia Moravis) by acclaimed American author J.H. Sanderson which also featured Sewell's music, which has not only been recorded by several artists, but is also featured on numerous compilation albums alongside legendary artists such as Robert Johnson, B.B. King and Howlin' Wolf. Recently he teamed up with the legendary Janis Ian to record a new single called SHADOWS. Trevor will be performing at the indie collaborative event at Kulak's Woodshed on Feb 9th or 10th. For more info click HERE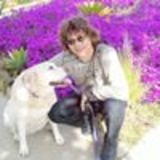 Stephen Michael Schwartz is a shining star in Children's music. He is a master of melody, approachable,friendly and is totally genuine and everything that one expects a children's performer to be. He's been part of the successful group 'Parachute Express" for years racking up awards including a Parent's Choice Gold Award, a NAPPA Award, and 1st place in the International Songwriting Award. Stephen also composed and sang the title song for the popular animated PBS show "Jay, Jay the Jet Plane," He has a new solo album out called "Bucket of Wow" which features a very special song titled, "I'm Being Followed By the Moon" that is beautiful and underscores his exceptional sense of melody. We were privileged to work with Stephen at the White House years ago, and now we're so proud of him for taking his music for kids all the way to China. Just off a tour of 30 shows for children in Northern China he is the perfect "Kiddie Ambassador" and his incredible career has spanned, as he puts it, "From the White House to the Great Wall."

While there are no requirements that members must belong to Grammy®, in fact a percentage of indie collaborative members are indeed long term members with over 30 members within the organization receiving either a Nomination or an actual Grammy® Award. "One thing we were careful about from the beginning," says Grant Maloy-Smith, "was to put up a firewall between the Indie Collaborative and NARAS (aka "The Recording Academy" or the National Academy of Recording Arts and Sciences). We love NARAS and don't want to do anything that might seem like impropriety, so we don't hold any indie collaborative events during the months when Grammy voting is open. We adhere not just to the letter, but to the spirit of the rules of the Recording Academy." This year the 59th Grammy® Nominees who are also members of Indie Collaborative are: Kabir Seghal (Producer,Presidential Suite: Eight Variations on Freedom) Adam Berry and Santosh Khaur Khalsa (White Sun II) Janiva Magness (Love Wins Again) Ted Nash (Presidential Suite: Eight Variations On Freedom) The Okee Dokee Brother (Saddle Up) Secret Agent 23 Skidoo (Infinity Plus One) Van Dean (The Color Purple) John Burke (Orogen) Herschel Garfein (Producer of Presidential Suite: Eight Variations On Freedom) Mike Posner (I took a pill in Ibiza) and Kalani Pe'a (E WALEA) Congratulations to each and every one of these fine Artists.

The Indie Collaborative proudly wears many hats and is an important arm of the music industry. It's brimming with cultural diversity in a way that doesn't feel forced as music is so naturally varied and diverse. Any genre of music is welcome, any age of artist is welcome, music in any language is welcome. The Collaborative also fosters a sense of being part of a community of musicians which is nice for people who may work solo or feel somewhat isolated by self-employment. In short, musicians can find "common ground" with the Indie Collaborative and that's a good thing. Our sincere thanks to the almost 2,000 members of the Indie Collaborative for their passion, their dedication and their talent. Grant Maloy Smith and Eileen Sherman had a winner of an idea when they created it and we're so pleased to see it thriving. Hats off to them both, and we hope this year's event on February 9th, and 10th is a roaring success.