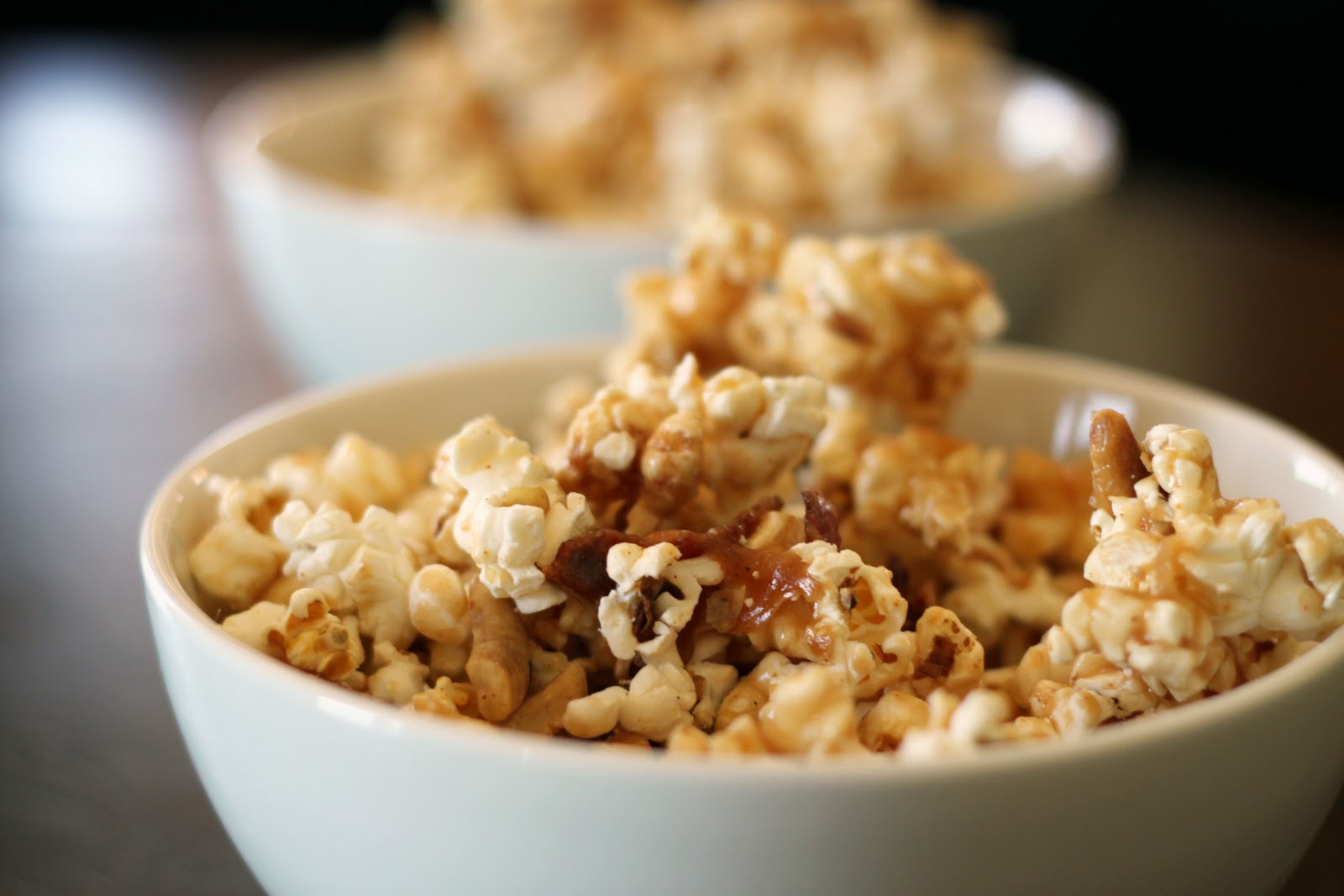 The holidays are upon us, which means our grand attempts at eating healthy become even grander in light of all the tasty treats we encounter around every corner. Sometimes you just have to take a break from the tasty healthy stuff, because the tasty, unhealthy stuff is too good (and plentiful) to ignore. And, let's face it, we spend 11 months out of the year fighting to eat healthy. A little holiday splurge is nice and well worth it.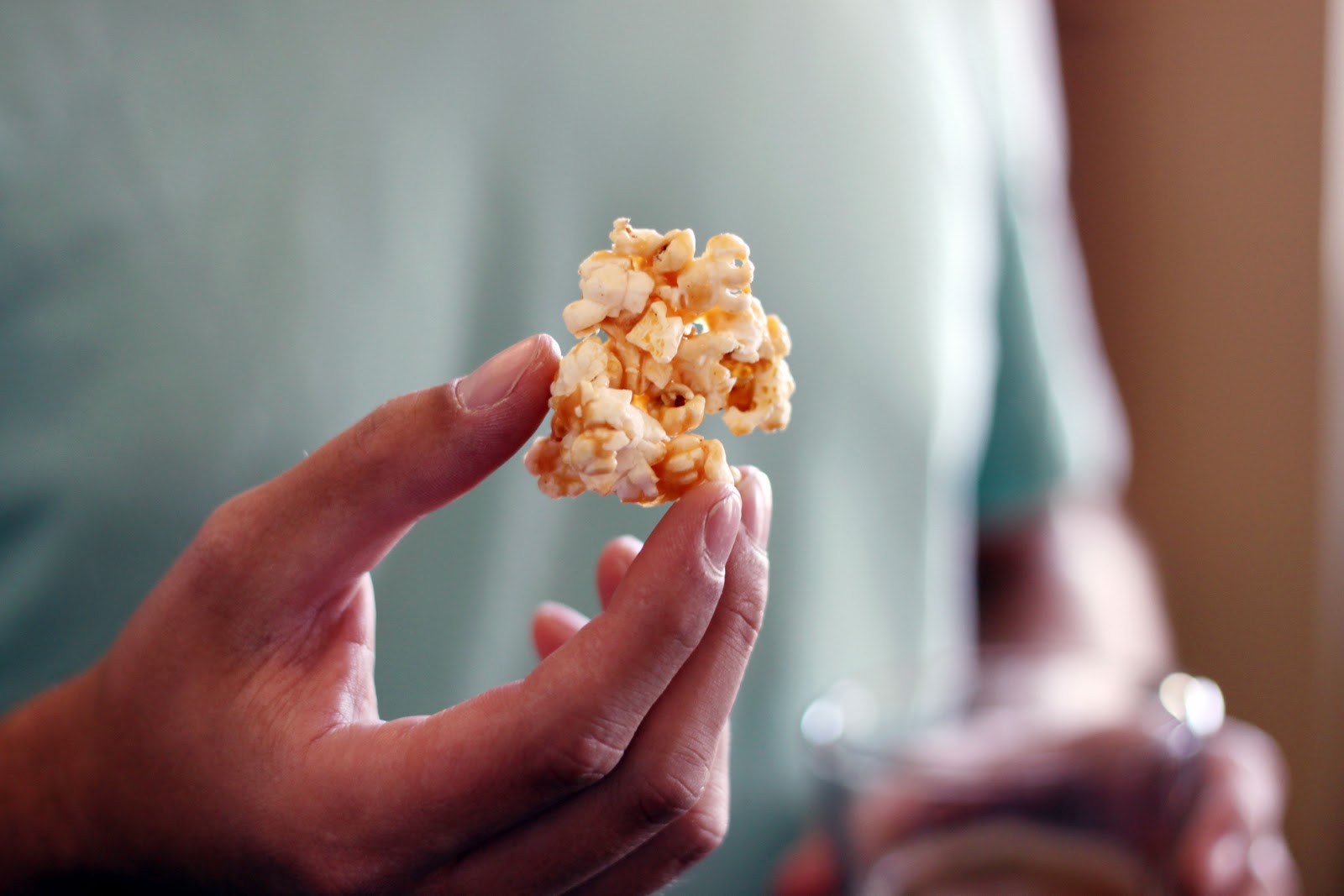 This is a great snack for those holiday parties or holiday guests. Make a big batch, put it in a bowl and share. Make sure you also hide some away for yourself!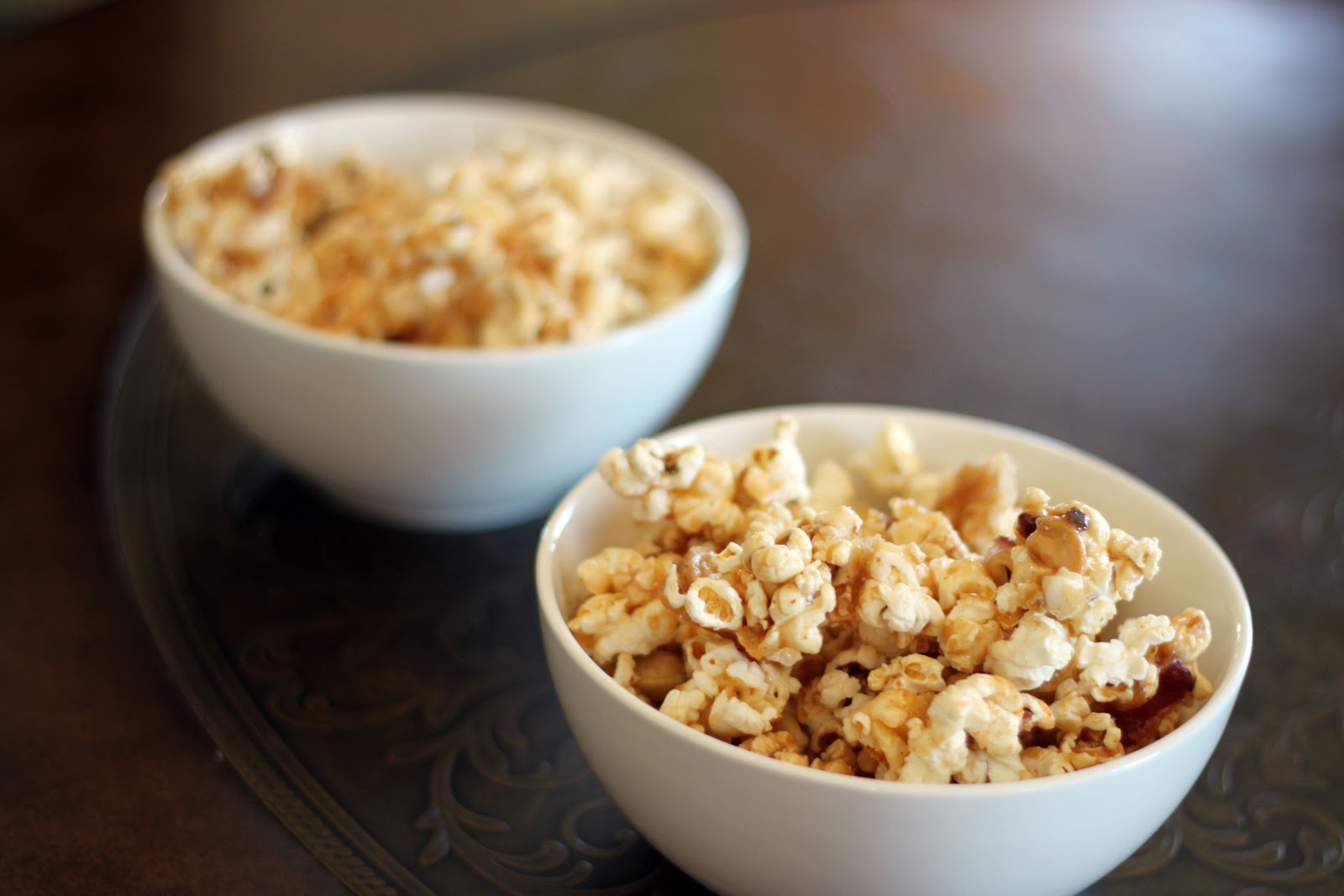 Bacon and Cashew Caramel Corn
by Bon Appetit
Makes about 15 cups
Time: Prep 1 hour 20 minutes, 3 hours total (includes cooling time)
INGREDIENTS:
1/2 cup popcorn kernels (I used 2 bags of plain popcorn, popped in the microwave)
2 tablespoons vegetable oil
6 ounces bacon, chopped
1/2 cup unsalted raw cashews (one 2.5-ounce package)
1 teaspoon coarse kosher salt or coarse sea salt
1/4 teaspoon cayenne pepper
1/4 cup heavy whipping cream
1 oolong tea bag (you might be tempted to skip this ingredient but it really adds to the flavor!)
Nonstick vegetable oil spray
1 1/2 cups sugar
1/4 cup water
2 tablespoons light corn syrup
DIRECTIONS:
Preheat oven to 300° F. Pop popcorn in microwave, then pour into very large bowl. Cook bacon in heavy large skillet over medium heat until almost crisp. Using slotted spoon, transfer to paper towels to drain; cool. Add bacon and cashews to bowl with popcorn. Sprinkle with coarse salt and cayenne; toss to coat.
Bring cream and tea bag just to boil over medium heat. Remove from heat; let steep 15 minutes, occasionally pressing on tea bag with back of spoon to release flavor. Discard tea bag.
Line rimmed baking sheet with foil; coat with nonstick spray. Coat 2 wooden spoons or heat-resistant spatulas with nonstick spray; set aside. Stir sugar, 1/4 cup water, and corn syrup in large saucepan over medium-low heat until sugar dissolves. Increase heat to high; boil without stirring until syrup turns deep amber, occasionally swirling pan and brushing down sides with wet pastry brush, about 13 minutes. Remove from heat and immediately add cream (mixture will bubble up). Stir until blended. Immediately drizzle caramel over popcorn mixture; toss with sprayed spoons until evenly coated. Transfer to sheet.
Place caramel corn in oven and bake until caramel is shiny and coats popcorn, tossing mixture occasionally, about 20 minutes. Cool completely on sheet on rack, tossing occasionally to break up large clumps. DO AHEAD Can be made two days ahead. Store airtight in refrigerator.