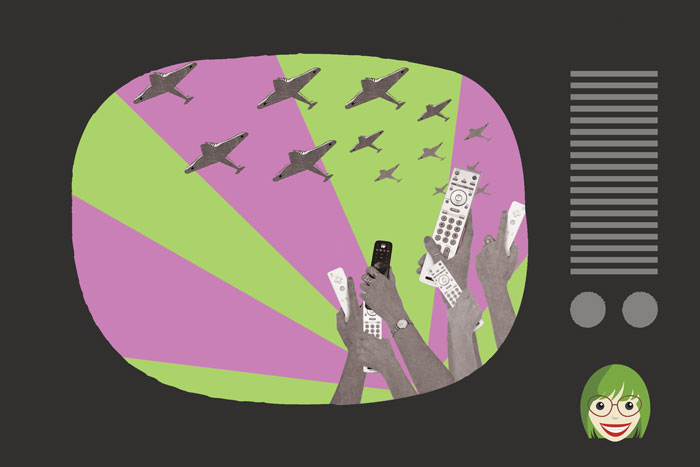 It's that time of year again, when every tech guru on every blog starts salivating over the prospect of what new toys they're going to get to play with. The Consumer Electronics Show (CES) has rolled into Vegas, bringing with it endless brands launching endless new gadgets and gizmos.
I'm not usually a fan of tech conferences. In recent years they have struck me merely as platforms for tech blokes to stand in a big room, surrounded by 'booth babes', engaging in 'technological willy-waggling': wider, faster, more definition, more dimensions! Mine is totally bigger than yours!
But this year the battle for headlines seems to have moved away from statistical pissing contests and taken on a welcome, softer edge.
What has struck me most about the announcements coming out of Nevada this year is how many companies, promisingly, seem to be prioritising the user experience, something that's close to the heart of everyone at Lady Geek.
There is still a long way to go in an environment that is exceptionally spec heavy, but small signs of promise can be found in many of this year's biggest launches, which have focused not on what these machines can do, but on how they can do it.
Take one of the most talked about new products at CES -- the Pebble smartwatch. It can do all manner of things: connect to your phone, read emails, track runs or cycle routes. You name it. But one of the features that has been picked up and pushed is arguably the most simple: the watch is waterproof, meaning that it can wirelessly control your music or read your texts while in the bath or shower. Not the flashiest feature, by any means. But it stands out because it presents a simple solution to a problem that most people can picture themselves needing to solve. And once you can picture yourself using a product, you're halfway to the checkout.
For me a product's success -- particularly when it comes to women -- lies in how well it communicates its ease of use. How can I use it to make my life better? And more importantly, how easy is it for me to use it to make my life better? It's what Apple has always been so good at: not just giving us the tech specs, but showing us tangible ways in which they might make our lives that little bit easier.
Look at the TV market. TV sales have been down this year as the double-whammy of 'smart' interfaces and 3D visuals failed to take off with buyers. The reason was simple. All the bells and whistles in the world are no good to anyone if they distract from the central purpose -- to sit and watch the telly.
Women in particular tend to care less about the stats behind the HD or UHD, the LED or OLED. What we care about is what that HD will do for our viewing experience; in what ways will it make it easier to connect our families and become a 'digital campfire' in our home? We care about how this new TV set is going to work for us, not against us. We care about our user experience. Life is hard enough already without having to crack the Enigma code every time you watch Downton.
For this reason it's becoming increasingly clear that the battle for the living room will not be won on the screen. It will be won in the remote.
At CES Panasonic unveiled a new version of its Viera Smart TV that aims to make the experience of watching television easier. Not smarter, not more interactive. Easier. It's designed to appeal to all those -- like me -- who are fed up with dredging endless navigation menus and swapping between hundreds of remote controls (all with the battery cover missing).
Samsung have gone for a similarly intuitive approach with their new interface -- which works a bit like the Microsoft Kinect system -- while LG also launched their new Magic Remote. It's not hard to see why. Making Smart TV simple seems the logical way forward for the TV industry -- without doing that, it will never find its way into the average living room. The control system must be at the heart of this simplification. It's how we talk to our TV sets. There's no room for a language barrier.
Yes, tech can -- and should -- make things faster, smarter and more powerful. But what CES is showing us is that, in an increasingly complicated world, it's just as important to make things easier to use.
@belindaparmar is the author of Little Miss Geek which is out in paperback and kindle edition on Amazon. Follow us on Twitter @LadyGeekTV.