As expected, most of the big-name free-agents have signed contracts by this point.
That said, if the Baltimore Orioles decided to upgrade from Nolan Reimold, both Kendrys Morales and Nelson Cruz, who hit 23 and 27 home runs in 2013, respectively, are still looking for jobs. The same goes for the Toronto Blue Jays and Los Angeles Angels, both of whom could bolster their rotations by inking the likes of Matt Garza, Ubaldo Jimenez, Bronson Arroyo and even Masahiro Tanaka.
But when it comes to improving teams' defenses last minute, the pickings might be slimmer.
The top-six free-agent defenders have long been off the market, with Juan Uribe's glowing 15 DRS and 35.3 UZR/150 leading the way.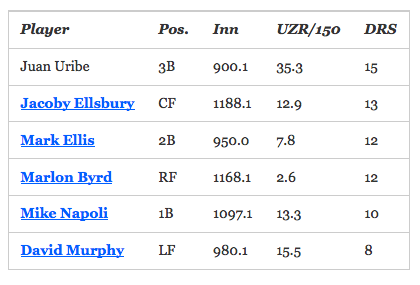 Below is a position-by-position breakdown of the best free-agent defensive players still available.
Note: players must have logged at least 100 innings at a given position to become eligible.
Catcher: Yorvit Torrealba
Coming off of surgery to repair a torn right meniscus, there understandably hasn't been a ton of interest in Yorvit Torrealba's services.
It also doesn't help matters that Torrealba is a career .256 hitter with a park-adjusted 80 wRC+ to go along with it. But even though the 35-year-old catcher doesn't handle the stick too well, his glove work is at least passable.
Amongst available catchers, Torrealba's 1 DRS in 2013 was bested only by Hector Gimenez's 2 DRS. And the pair's equivalent 28 percent CS% was middle-of-the-pack compared to rest of the league.
But the nod goes to Torrealba, as the veteran played 243 more innings than Gimenez.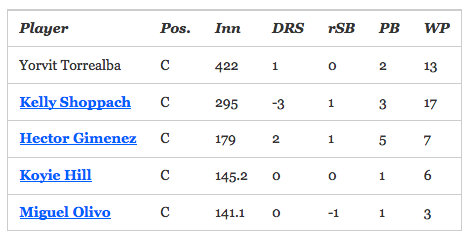 Torrealba's chances of netting a roster spot in 2014 is contingent on his health. Assuming his meniscus has properly healed, the 13-year major leaguer should land a backup role.