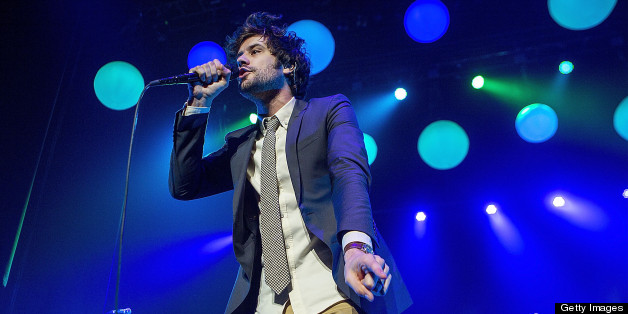 My Schedule for Sweetlife
Whenever encountering a day's worth of music, some form of a plan must be at least put into place. Say what you want about that which is best laid, without set priorities you are doomed to fail. Or, in my case, you are destined for panic. So behold -- my plan for Sweetlife, a music and food festival being held this Saturday at Columbia, Maryland's own Merriweather Post Pavilion. In some instances I offer, in the below, Plan Bs in case performances fall short of expectations, or just in case things actually do go astray. I tend to think I'm right when it comes to these matters, but have you ever encountered anyone who is willing to put pen to paper over the matter of roughly ten hours of music who isn't filled with at least hints of pop-culture hubris? Neither have I. The below is my strategy, my rationale, my neuroses. But given the line-up, there's a distinct possibility that even if you completely ignore my advice, you won't steer yourself terribly wrong.
NOONish
PLAN A
12:25 to 12:45 -- Shark Week (Treehouse)
You love to Listen Local First, right? Right! So you've found yourself exploring the MPP grounds, and there will be no place better to do it than away from the big shed. Take in the scenery, support your neighbors, and enjoy these wonderfully catchy and slightly shouting pop upstarts all at the same time.
PLAN B
12:30 to 1:15 -- Lindsey Stirling (Mainstage)
So you're saying you want to arrive early and settle in for the long haul? Fair enough. I would love to write this paragraph without using the phrase "internet sensation," but it appears as though I'm already out of luck. Borne from the worldwide series of tubes, Lindsey and her danceable violin stylings are catapulted from 720p to kicking off your Sweetlife experience.
ONEish
1:45 to 2:30 -- Solange (Mainstage)
Who is Solange and why is she following us?! It may seem that we can't escape she of pop music's most awesome family, but maybe Solange just likes us that much. If you caught the pseudo-indie R&B star at one of her two recent D.C. appearances, you're likely up to bump and/or grind for another 45 minutes or so.
TWOish
2:50 to 3:20 -- HAERTS (Treehouse)
There are probably not enough German/English/American musical amalgamations based in New York these days, but if we put our minds to it, we could probably come up with a handful. But are any of those others belonging to the United Nations of Indie-Pop so achingly sweet sounding?? I have a hard time thinking HAERTS has a rival -- foreign or domestic.
THREEish
PLAN A
3:40 to 4:10 -- MS MR (Treehouse)
I've never seen a standalone MS MR show, and this certainly doesn't count. But I take 'em where I can get 'em. And for now, it's 30 minutes at a festival side stage. When a full length album forthcoming, there's no doubt that this delightfully dark duo will be entertainment will soon be measured in hours.
PLAN B
3:00 to 4:00 -- Gary Clark, Jr. (Mainstage)
If you are unfamiliar with the Gary Clark, Jr., live experience, I would probably be leading you astray by telling you to go elsewhere. If you already know that there is no ceiling for this young bluesman, there are other options. If you're still unsure about Mr. Clark, Jr., however, stay put.
FOURish
4:30 to 5:30 -- Yeah Yeah Yeahs (Mainstage)
If you're looking for a bathroom break during a new song, the Yeah Yeah Yeahs are not for you. Back, not a moment too soon, and armed with a characteristically strong new record, sit back and allow Karen O to effortlessly wrap you and a legion of other fans around her entrancing finger.
FIVEish
5:30 to 6:00 -- Foxygen (Treehouse)
A have a sweet spot in my heart for a fairly new band already making a name for itself with slightly erratic performances. It's not shtick, but genuine frenetic energy. If they manage to keep it together for this miniature performance, you're due for a Roxy-like time travel back a few decades. If not, you'll be entertained one way or another by a talented bunch.
SIXish
PLAN A
6:00 to 7:00 -- Kendrick Lamar (Mainstage)
If you're a fan of hip-hop, Kendrick Lamar is a household name. If you're opposed to the genre, while I question your state of mind, you likely still enjoy popular music of one kind or another or you wouldn't be planning to attend Sweetlife. If my assumption isn't entirely off-base, you could do worse than see the guy who put out one of the stronger, back-to-front pop albums of last year.
PLAN B
6:25 to 6:50 -- Youth Lagoon (Treehouse)
Luckily, in the world according to Trevor Powers, lo-fi doesn't amount to dreary obtuse bedroom recordings. There's a place for the latter, but it's Youth Lagoons tendency towards expansive and dream-like soundscapes that will make sure this set fits in perfectly with your early evening springtime agenda.
SEVENish
PLAN A
7:20 to 8:30 -- Passion Pit (Mainstage)
Ever since the performance of "Little Secrets" at the Black Cat was preceded by the bold declaration, "This is going to be awesome" by the band's frontman, Michael Angelakos, I've been a Passion Pit supporter. Their exponentially increasing popularity may be spreading the band's sound a bit thin, but they certainly haven't overstayed their welcome -- not yet at least. So don't over think it. Have some fun.
PLAN B
7:05 to 7:45 -- Holy Ghost! (Treehouse)
If you've still got a bounce left in your step when the strike clocks that Major League Baseball-like start time, head over to Treehouse for your daily dose of synth-pop and dance 'til your heart's content. You only have to maintain your rock and roll sensibilities for another few hours. What have you got to lose?!
EIGHTish
(you're still at Passion Pit)
NINEish
9:00 to 10:30 -- Phoenix
The first time Phoenix was on my concert-going radar, they were playing the Rock and Roll Hotel. I chose to see Camera Obscura at our beloved Nightclub 9:30 instead. The benevolent presenters of this festival are leaving us no choice this time around. While I'm not particularly upset, I might still wear a cardigan.
TENish
(you're still at Phoenix/safe travels)