Three weeks ago, I drove to a sagging brick Victorian in midtown Detroit to watch the three-piece post-folk band The Hand in the Ocean play a house show with four other acts. Upon arriving, I was ushered through a courtyard splashed with orange torchlight where a cream pullet ran free and enclaves of Pabst-sipping hipsters gabbled and puffed Native American Spirits. Inside, I slapped the requisite fives and settled in to listen to a young banjo-wielding enchantress named Van Lente sing the last of her set. Posted in front of the stairwell, I felt a hand on the back of my calf and turned in time to see a placid, mustached twenty-something flick away the mosquito he had just picked off of me. I smiled, said thank you and thought little more of it until, half an hour later, my blood's preservationist ambled up to the makeshift stage and performed magic with a 3/4 guitar and a whispery, ghost-riddled voice. His name was Mike Flores and in between songs he murmured delightfully obscure Simpson references and recounted clipped stories of his stint in jail--the same jail, he explained, where rapper Tupac Shakur was ostensibly violated with a broomstick. In total, he looked up all of two times throughout his set, and the shame that seemed to hold his eyes to the floor was both unsettling and captivating. So captivating that, after his set, I recruited the services of the burgeoning filmmaker Jeremy Dulac and invited Flores back to Detroit to shoot a session and interview for Fogged Clarity. He agreed and two weeks later we were sitting across from each other at the Union Street Saloon on Woodward Avenue.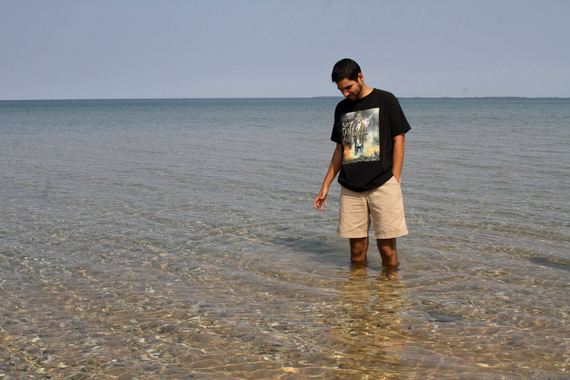 Flores had taken the bus from Saginaw with only a guitar (sans case), a backpack and an avocado--which he produced and rested above his flatware in the midst of our conversation. We got on easily. Flores is good-humored and mellow, and he was extremely candid in sharing his story with me. Shortly after my coffee arrived, I learned that he had been shooting heroin (or speedballs) on and off for the better half of twelve years, before getting clean last February. We swapped tales of struggle and both expressed our amazement at the resilience of the human body--Flores once spent an entire week living off of only heroin, gummy bears and Monster energy drinks. He told me about his years in a disturbingly cultish rehabilitation community in southeastern Michigan, where the counselors purportedly debased him, discouraged his music and, at one point, barred him from attending his girlfriend's ultrasound. I was surprised to discover that I've Been Better, the album (sans case, sans label) he gave me at the house show, was recorded in 2007 when he was using and living out of his car. At almost the precise hour he finished recording the album in Saginaw, police knocked on the studio door and promptly arrested him for a longstanding probation violation. It would be seven years until he finally chronicled his brief incarceration in "Ingham County Jail"--a newly written, bare-bones gem that melds the blunt realism of Johnny Cash with the punch-drunk insouciance of Elliot Smith to achieve a sound unmatched in contemporary folk.
I found it strange that Flores performs with a 3/4 guitar, an instrument that looks almost toy-like in his hands. He explained that, when he was 18 and using opiates, his father drove him to Guitar Center on his birthday and told him he could pick out any guitar he wanted under $600. Desperate to play music, but conscious of his habit, Flores opted for the cheapest guitar in the store knowing he'd be unable to pawn it for drug money, and thus would hang on to it. The guitar is the only possession that has remained constantly with him in the twelve years since.
Flores ordered the chopped salad and remarked on its striated vibrancy when it was laid in front of him (earlier we'd both agreed how much more we appreciate the little things now). He then peeled and sliced the aforementioned avocado and laid it gingerly across his small hillock of diced produce. We ate, savoring the simple food and our new friendship, then stepped into a greying afternoon to record the beautiful session and interview you can watch right here.