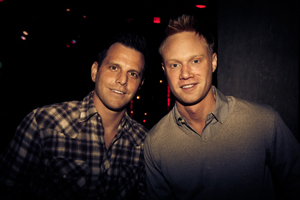 The Six Pack is a new-school, cutting-edge radio show hosted by DJ Ben Harvey and comedian Dave Rubin. Distributed online and on SiriusXM, the show gives you a weekly dose of hot topics, celebrity guests, and brand new music, all packaged in six convenient parts. Ben and Dave take you on a journey through what's trending now, from news to views to dudes. Previous guests range from Joy Behar to Barney Frank, Sigourney Weaver to Andy Cohen, and Fran Drescher to Steve-O.
The Six Pack guys first met in 2007 at the gay-focused here! TV network. The "Ben and Dave Show" received critical acclaim from Entertainment Weekly, which called them a "mas macho" version of Ryan Seacrest and Simon Cowell. After leaving the network, the guys reinvented the show as The Six Pack and distributed the show independently. Currently in its third year, The Six Pack is one of the top comedy podcasts on iTunes with listenership in over 70 countries. Huffington Post Gay Voices will regularly feature episodes of The Six Pack.
Episode #81: "Bienvenidos a Miami"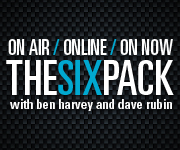 The Six Packin' Across America tour hit South Beach for our most suntastic, abtastic episode yet. We spent our days at the 12th Street beach and our nights taking in all that South Beach has to offer. Our visit culminated in the 25-hour Sleepless Night festival, celebrating the end of daylight savings with live music, art exhibits, and performances.
To get the low-down on all things gay in Miami, we chatted with the most powerful "couple" in South Beach, Steve Adkins and Cindy Brown of the Miami-Dade LGBT Chamber of Commerce and LGBT Visitor Center. While everyone knows that Miami is a gay mecca, they explained that communities have changed over the years.
"The thing that is so unique about Miami is that it's such a melting pot. You have a lot of first- and second-generation residents," Adkins told us of the Latin gay community in Miami. "The way we grew up meeting people in the bar scene, it's not the way they meet here. It's a heavy dinner circuit. Within the Latin community you'll see guys dining out, and there will be 80 of them. That's how they get together and meet new friends."
We noticed that the lesbian community seemed absent from the flamboyant South Beach bar scene. Brown explains, "A lot of the girls are actually in Ft. Lauderdale... there isn't necessarily the need for the women's bar." As for whether the chicks are just home meeting on their own version of Grindr, she says, "Well, there's no 'Grind Her,' but maybe I'll get a trademark."
LISTEN:
Catch The Six Pack Saturdays on SiriusXM OutQ channel 108 from 1 to 3 p.m. EST and as a weekly podcast on iTunes, sixpackage.com, and now... Huffington Post Gay Voices! Listen to the entire podcast episode here.