I'm writing this essay on a U.S. Airways flight from Tucson back to Atlanta, where I live. I'm on my way back from a speaking gig at the Tucson Festival of Books, the final stop on what has become a whirlwind 18-month book tour traversing more than 20 cities and over 40 speeches.
On the one hand, I couldn't be more thrilled to be returning home. Having a day job, I've had to squeeze these extra-curricular book tour events into tight time constraints. Which basically means speaking in one city at night and catching the 5 AM flight (with a 3 AM hotel wake-up call) back to Atlanta to get to work on time the next day. It's an exhausting schedule, to say the least.
Like George Clooney's character in the Oscar-nominated Up in the Air, I find myself going from one airport to another -- a revolving carousel of terminals, gates, and baggage claims fast becoming a blur in my brain.
On the other hand, I feel blessed and, quite frankly, humbled. Most first-time authors are lucky to just score a few gigs. Moreover, I know this experience may never happen again, so I've learned to enjoy it while I can. After all, for brief moments throughout, I often get treated treated like a celebrity. Fancy hotel suites, green rooms with my name on the door, people asking for my autograph, and some even asking for pictures with me. What rookie writer doesn't dream of such adulation? Many cities even shuttled me around in a limousine -- although there was that one time where they sent a Hearse instead. I'm sure there's a metaphor in there somewhere.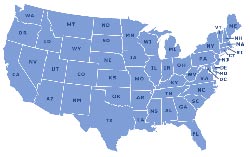 But what I actually found more enjoyable than the star treatment was being given a front-row seat to a rich and textured slice of Jewish Americana. The book tour for my memoir, a religious romp through the Bible Belt, got me invited to Jewish community centers in places like San Antonio, Louisville, Los Angeles and to synagogues in Tampa, Boulder, Stamford, and everywhere in between. I visited the coasts, the heartland, and discovered a rich tapestry that is the American Jewish community circa 2010.
I've seen tiny Jewish communities on the precipice of tremendous growth. In Kansas City, I ate at a Subway restaurant that had rabbinic supervision and had received kosher certification, one of only a handful in the country to do so. In Charlotte, I was amazed to find a bustling campus of Jewish activity. In Rochester, I ate at a delicious kosher restaurant which pops up every week in the sanctuary of a synagogue, and then quickly gets hidden away each Saturday. Yes, it doesn't take more than some good kosher take-out to impress me.
But I also visited cities that once had thriving Jewish communities and were now dying. The older generation were getting older and the younger generation never returned after college, opting instead for a brighter, different future in more bustling and lucrative towns. It was a recession-era story, retold in spiritual terms.
Ironically, it was in these struggling cities, where I found the most inspiration. Their numbers may have been dwindling, but that was only serving to embolden those who were still there. These strong-willed Jewish community members were staying. They were taking a stand as if in a battle to save the very soul of their town.
They were working on new initiatives, new programs to bring in new members. A renaissance and revitalization was just around the corner, I was told. For these down-on-their-luck Jewish communities, it was a divine tale of "Yes, we can," writ large. And I found myself being inspired by their against-all-odds road to redemption. Sharing time with these scrappy Jewish communities pulling themselves up by their bootstraps, I got jazzed about my own Judaism. Here I had come to speak to them and, yet, time after time I found myself learning so much more from them.
And so as I wind down this little adventure, it is not the inconvenience of early morning air travel that will ultimately stick with me; the lasting impact will more likely be the grit and determination of those I met.
The flight from Tucson to Atlanta is getting ready to land and it's time to put away my laptop. When the plane lands, I will go home, catch some sleep, and wake up for work tomorrow. It will be just another day, but it will be a brighter one, one enriched by the people I've met and the faith they inspire.
---
Benyamin Cohen, the author of My Jesus Year: A Rabbi's Son Wanders the Bible Belt in Search of His Own Faith, is the content director for the Mother Nature Network.