Whether you're PRObama, NObama, or still undecided, 52 Reasons to Vote for Obama gives you all the information you need to share with friends, debate with relatives and decide for yourself as we head toward one of the most important elections of our lifetime. I'll post a new reason in random order every Monday through Friday from now 'til the election.
By now, President Obama's few bars of the Al Green classic "Let's Stay Together," which he sang at a January 2012 fundraiser at the Apollo Theater in Harlem, are the stuff of presidential legend. The Associated Press YouTube video of his performance has had over 2.5 million hits. In the days following the event, digital download sales for Green's song jumped 490 percent. Talk about a stimulus plan!
But that is not Obama's only crooning performance, not by a long shot.
Turns out he created several singing sensations well before he became president.
Back in June 2006, he busted out a smooth eight-second baritone of Dionne Warwick's "Walk on By" during an appearance at a high school in East Orange, New Jersey. Reminiscing about when he and his friends were young and wanted to "like, really be smooth... you slip in the Dionne Warwick," he advised the young men in the audience.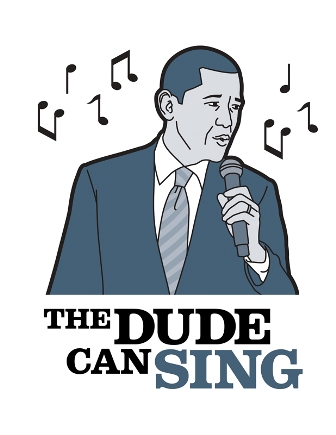 After thanking Aretha Franklin at a 2008 Labor Day rally in Detroit, he broke out a soulful rasp of "Chain of Fools."
Then two years later, as president, Obama and family joined Sir Paul McCartney, Elvis Costello and a host of others at the White House for a rendition of one of pop music's most timeless classics: "Hey Jude."
And earlier this year, he sang parts of the blues anthem of his hometown, "Sweet Home Chicago," at a White House Event with B. B. King and Mick Jagger.
The president is also known to dance occasionally: he danced to "Crazy in Love" on The Ellen DeGeneres Show.
Not to be outdone, First Lady Michelle Obama was caught dancing the "Dougie" at a middle school event as part of her Let's Move Campaign.
I wonder what number he'll belt out at the inaugural ball next year?
I encourage you to join in the conversation and share your thoughts on Reason #42 or your own reasons by visiting 52 Reasons to Vote for Obama on Facebook... I'd love to hear from you!
To purchase a copy of 52 Reasons to Vote for Obama, visit Amazon.