Whether you're PRObama, NObama, or still undecided, 52 Reasons to Vote for Obama gives you all the information you need to share with friends, debate with relatives and decide for yourself as we head toward one of the most important elections of our lifetime. I'll post a new reason in random order every Monday through Friday from now 'til the election.
Right now, women are a growing number of breadwinners in the household. But they're still earning just 77 cents for every dollar a man does -- even less if you're an African American or Latina woman. Overall, a woman with a college degree doing the same work as a man will earn hundreds of thousands of dollars less over the course of her career. So closing this pay gap -- ending pay discrimination -- is about far more than simple fairness. When more women are bringing home the bacon, but bringing home less of it than men who are doing the same work, that weakens families, it weakens communities, it's tough on our kids, it weakens our entire economy. -- President Barack Obama, April 6, 2012
Nine days after Barack Obama was sworn into office, he signed his first bill into law, the Lilly Ledbetter Fair Pay Act, as a direct response to a May 2007 Supreme Court ruling that made it harder for employees to file pay discriminations claims.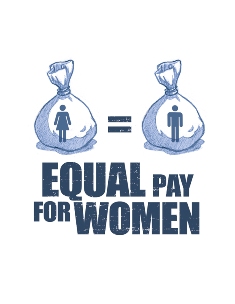 Ledbetter worked as an overnight supervisor (7 p.m. to 7 a.m.) for nearly two decades at the Alabama Goodyear Tire and Rubber Company, and she suffered sexual harassment and day-to-day discrimination. A supervisor once asked for sexual favors in return for a good evaluation. Not long before Ledbetter was going to retire in 1998, an anonymous co-worker put a note in her mailbox at work comparing her pay against that of three male counterparts. Ledbetter was making $3,727 per month, while men doing the same job were paid $4,286 to $5,236 per month. Ledbetter filed a complaint with the Equal Employment Opportunity Commission, and she was then assigned to lift heavy tires. Ledbetter sued Goodyear, which claimed it paid her less than male employees because she was not a good worker, despite having received a top performance award in 1996. The Supreme Court voted 5-4 that Ledbetter was not entitled to compensation because she filed her claim more than 180 days after receiving her first discriminatory paycheck. She lost more than $200,000 in wages and benefits during her career due to gender discrimination.
The Lilly Ledbetter Fair Pay Act amends the 1964 Civil Rights Act to allow for claims within 180 days of each check considered discriminatory. To further enhance enforcement of equal pay laws nationwide, President Obama established the Equal Pay Task Force in 2010.
In April this year, Diane Sawyer asked Mitt Romney, "If you were president -- you had been president -- would you have signed the Lilly Ledbetter Law?"
He refused to answer the question.
Who do you trust more to protect the rights of women?
I encourage you to join in the conversation and share your thoughts on Reason #23 or your own reasons by visiting 52 Reasons to Vote for Obama on Facebook... I'd love to hear from you!
To purchase a copy of 52 Reasons to Vote for Obama, visit Amazon.