Whether you're PRObama, NObama, or still undecided, 52 Reasons to Vote for Obama gives you all the information you need to share with friends, debate with relatives and decide for yourself as we head toward one of the most important elections of our lifetime. I'll post a new reason in random order every Monday through Friday from now 'til the election.
Barack Obama is unquestionably the embodiment of the American Dream. He was a middle-class kid raised by a single mom from Kansas, with the help of a grandfather who fought in Patton's army and a Native American grandmother who served on a World War II bomber assembly line, and then worked her way up from the secretarial pool to vice president at a bank.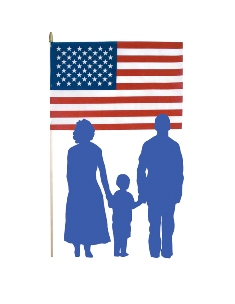 Obama's mother and father divorced when he was only three years old, and his only memory of his Kenyan father is a one month visit when Barack was just ten years old. After our future president lived for four years in Indonesia, Barack's mother sent him back to Hawaii to live with his grandparents and attend school. He was reunited with his mom and younger sister a year later when they returned to Hawaii, but when his mom and sister went back to Indonesia three years later, Barack chose to stay with his grandparents and finish high school in America.
Like so many, Obama had to work his way through college with the help of scholarships and student loans. He spent two years at Occidental College in Los Angeles before transferring to Columbia University. After college, he moved to Chicago to work as a community organizer for three years before attending Harvard Law School, where he became the first African American president of the Harvard Law Review. From there, he moved back to Chicago to teach, lead a voter registration campaign, and run successfully for the Illinois Senate, U.S. Senate and, eventually, president of the United States. Barack Obama worked his way to the White House not through privilege or paternity, but like many successful leaders, by relying on his own unique mix of guts and grit.
Not bad for a skinny, middle-class, mixed-race, Hawaiian-born kid with a funny name who moved around a lot, huh? Just goes to show what hard work, a strong family, and faith in others can do when you decide to take charge!
I encourage you to join in the conversation and share your thoughts on Reason #33 or your own reasons by visiting 52 Reasons to Vote for Obama on Facebook... I'd love to hear from you!
To purchase a copy of 52 Reasons to Vote for Obama, visit Amazon.