On Saturday, the Lone Wolf was outside all afternoon replanting our geraniums he'd potted for our terrace on Easter. His eyes burned as did a friend's who was here visiting en route from Aix en Provence to New York.
Was it the volcanic ash that has halted travel to and from Europe and stranded travelers on both sides of the Atlantic?
Experts differ on whether the ash poses a health hazard. Which tack should we take? Wear a mask when we go outside--or forget it?
GENEVA -- Europeans should try to stay indoors if ash from Iceland's volcano starts settling, the World Health Organization warned Friday as small amounts fell in Iceland, Scotland and Norway.

WHO spokesman Daniel Epstein said the microscopic ash is potentially dangerous for people when it starts to reach the Earth because inhaled particles can enter the lungs and cause respiratory problems.

...Other experts, however, weren't convinced the volcanic ash would have a major effect on peoples' health and said WHO's warnings were "hysterical." They said volcanic ash was much less dangerous than cigarette smoke or pollution....
All I can tell you is that since Iceland's volcano has been erupting, and the ash cloud has been flowing over us, Spring has flowered in Paris. Our visible heavens have been crowned with our best weather of the year, and on Sunday people were out and about in herds enjoying the warm sunshine.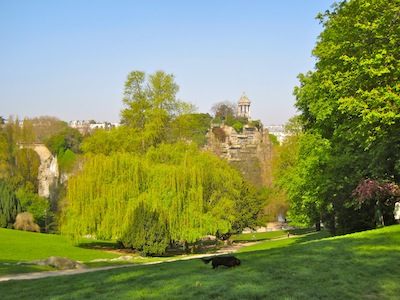 Parc des Buttes Chaumont (Photo by Beth Arnold)
In most big parks around Paris, one sees a smattering of Parisians getting exercise, walking and jogging. Unlike Americans, the French aren't known for their gym-ish ways. But on Sunday at the Parc des Buttes Chaumont, the paths were a super highway of runners. This park is one of few where people can lie on the grass and dogs can run free, and there were plenty doing just that.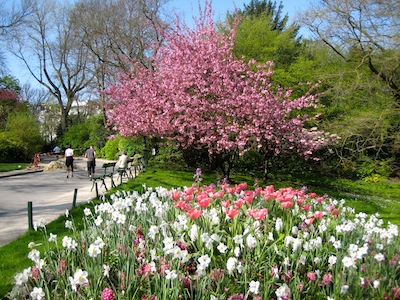 Parc des Buttes Chaumont (Photo by Beth Arnold)
In our neighborhood, the rue des Pyrénées was the scene of a teeming flea market running up and down both sides of the street.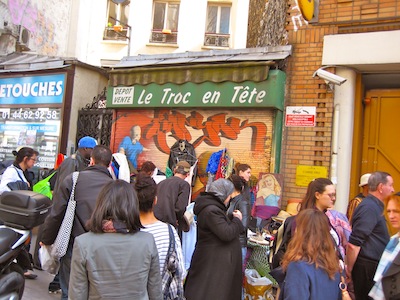 rue des Pyrénées (Photo by Beth Arnold)
Vendors were selling dishes, clothes, jewelry, books, treats like macarons and olive oil, every knickknack you can think of, and more.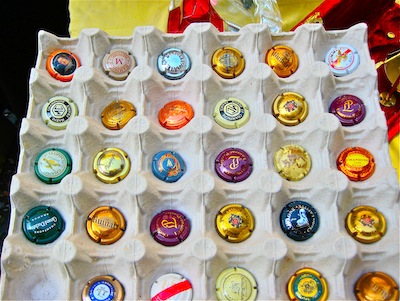 Champagne discs that top corks (Photo by Beth Arnold)
Singers were stationed along the sidewalk, and music carried through the young leaves of trees and added to the festivities.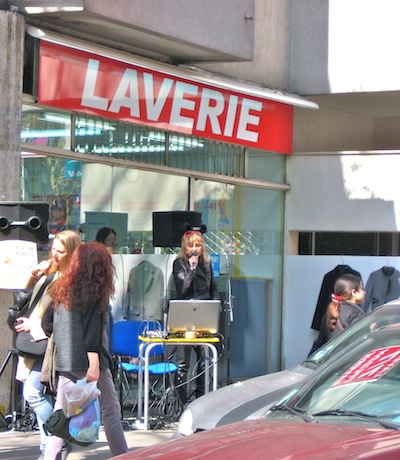 Sidewalk Singer (Photo by Beth Arnold)
Guys were grilling merguez sausages along the route and sliding them in the French idea of buns. We'd like to see this more often!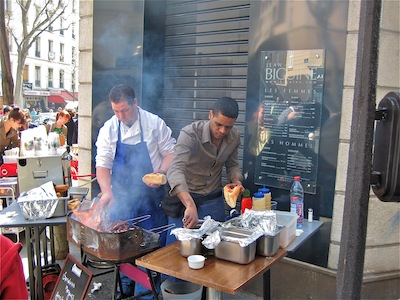 Grilling on the rue des Pyrénées (Photo by Beth Arnold)
People crowded into the cafés that were all open. The feeling was that of a jolly street fair, and the merrymakers were all in high spirits. Any day the sun shines in Paris, café society is in full force.
But these days -- when Iceland's volcanic ash has been flying over France -- have brought us blue skies full of light.
Beth Arnold lives and writes in Paris. To see more of her work, go to www.betharnold.com.