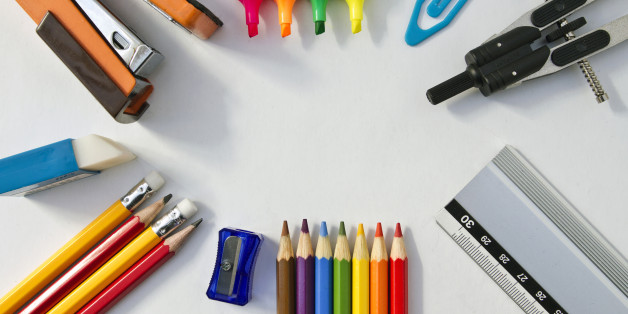 Yeah, I see you crouched over there, waiting to score an armload of 20-cent notebooks. I know you well, even though I've never met you before in my life. You're grasping a school supply checklist from the front of the store, but there are no sticky children behind you, pulling you to the Hanna Montana backpacks or insisting on the giant 36-color box of crayons. Your hair is remarkably free of peanut butter too. You're trying to blend in for The Man, but I see you quietly grooving to a psychedelic display of highlighters.
We're office supply junkies, and back-to-school season is our Woodstock.
We have it tough, you and me. We have no kids, but there's this manila folder monkey on our back, and he wants more gel pens. And a Beatles pen case to keep them in. So we sneak around the families comparing kindergarten nap mats, pretending to shop for children who don't exist. Apparently these children are really into florescent push pins this year.
Occasionally, we'll drag some unsuspecting niece along as cover, but they cramp our style; it's hard to be freaky over one-subject Jimi Hendrix college-ruled notebooks when a five-year-old is squealing for a Dora the Explorer ruler.
It's always safer at night, and we huddle together around the marker displays, sharing tales of the good old days when Trapper Keepers ruled the land. We trade coupons for staplers and day-glo pencils until some clerk shoos us back into electronics where it's safe to geek out over laptop RAM and productivity software.
Another family passes through, and you gently ease up to the new recycled pens. Our eyes meet.
"Don't sniff the brown scented markers," I whisper before I slip over to the next aisle, where padded binders in bold patterns await. In a few minutes, I feel a presence beside me.
"You want some good stuff?"
I nod.
"Staples starts their clearance Saturday. 8 a.m."
Back-to-school clearance? Oh yeah, baby. I am so there.