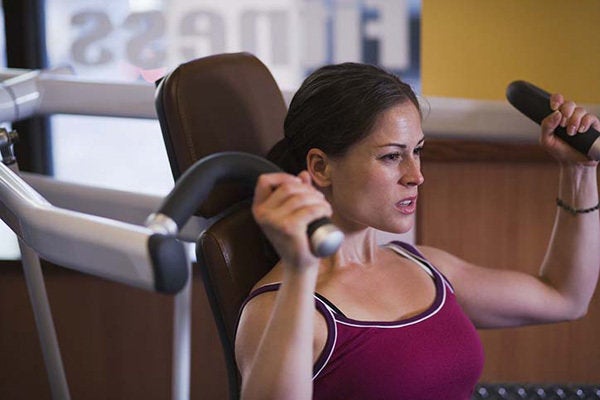 The "On The Front Lines" series highlights entrepreneurs nationwide and the creative ideas and innovative strategies they are using to deal with business now. Alycea Ungaro is a Collective-E member and friend. I have enjoyed watching her rise over the years to her spot as one of the preeminent pilates experts in the world, expanding her empire into books and products. Here is her story:
The fitness industry -- like every other -- has taken a hit this year. Founder of Real Pilates and entrepreneur Alycea Ungaro has seen a lot in her last 15 years of business, including watching the World Trade Center fall down before her eyes in 2001. Braiding her daughter's hair for her regular trip to Border's in the World Trade Center for story hour, she watched from her window seven blocks away as the horror unfolded before her eyes. Given that perspective, to Alycea this economic downturn is "just money," and no matter what happens, she trusts her entrepreneurial skills will help her figure out how to make more of it, and her past experiences will remind her about what is the real bottom line.

Back Story
A pioneer in the world of pilates, Alycea opened her doors 15 years ago and quickly started drawing a celebrity crowd. Annually she saw 8-12% growth until the present year, and with revenues in 2008 reaching over 1.3 million and 22 employees, she is in the same shoes as many entrepreneurs who are hoping to save their employees' jobs and "go for even" in 2009.
Real Pilates is essentially a private training facility and particularly susceptible to the downturn as people pare down their lives and reallocate their fitness funds. In January, she began experiencing mass cancellations as clients called saying that they or their husbands had lost their jobs and were opting for more affordable gym memberships as opposed to private training.
Insights & Recession Beating Strategies
As could be expected, Alycea noticed that with the new economic climate clients started spending differently. For example, a group mat class is $25 and private sessions start at $85, so she threw in group reformer classes (a class with a small number of people on a reformer pilates machines) at $45, and those became very popular. They love the reformer and the mid-range price point. They also became commitment shy and would rather spend more and pay for individual sessions or classes than buy the larger packages that would ultimately save them money; they appreciate the flexible options.
Other recession strategies Alycea incorporated:
· Giving up a salary: Because she is still receiving income from Pilates books and other outside projects including her innovative Keychain Trainer that allows you to carry your Pilates workout with you, she stopped paying herself a salary from the studio. This was a hard decision. True, she could have taken on more roles at the studio in order to pay herself instead of hiring, but she has two young daughters and decided she could forgo her salary now in lieu of time with family.
· Renegotiating overhead and expenses: Like many entrepreneurs, Alycea started the "consideration shuffle," negotiating down prices on everything from Verizon to her landlord and other overhead expenses.
· Revisit salaries or employees and outside vendors: When her part time operations manager resigned, after her initial shock and disappointment, Alycea realized that it was an opportunity. She had hired her part time operations manager during the height of the market and for what she was paying her she could afford to hire both a new manager full time and a financial adviser, and still have a bit of money left over.
· Create new payment options for clients: She immediately reached out to her clients and opened communication, telling them to please contact her if they needed a discount to stay with their sessions, and they have. This focus on openness, understanding and relationship building has created more loyalty.
· Create new packages and revenue streams: They started offering customized packages, based on needs of clients and regularly offer discounts, perks and other considerations, which seem to work. This could range from throwing in free mat classes to a unique combination of private sessions and group classes.
After being down almost 20% for the year at the beginning of the summer, by the close of August, Real Pilates started to catch up with previous years' revenues and are now down only 8%. "Summer was great," explains Alycea, "but it was a somewhat different clientele, possibly foreigners who were in New York City and spending, but I am not even sure exactly where they came from." She is looking forward to fall and sees an upturn in bookings for the first few weeks, but she has no way to project what the the end result will be. In her own words she says, "I feel the greatest responsibility is to help my 22 employees pay their rent and health insurance, and that has been what drives me."
"After 9/11 we were closed for two weeks and business suffered immensely, but more than that it was a life a lesson in priorities, home, children and health. This feels like "just money" and if you are smart, no matter the circumstances, you can figure out how to make money again."
Beth Schoenfeldt has been a friend and mentor to women entrepreneurs around the world for over ten years, contributing to the launch of thousands of businesses. Beth is the co-founder of Collective-E, a member based entrepreneur agency focused on bringing the services, PR and marketing platforms, exposure and connections entrepreneurs need to nurture their ideas and build their brands. Due to her reputation as a forward thinker and expert on women in business, some of the world's top media outlets rely on Beth for her insights into the latest trends among female entrepreneurs and business. Beth has been featured in outlets including Time Magazine, Elle Magazine, the Wall Street Journal, Pink Magazine, The New York Times, MSNBC, and "The Today Show." She is based in NYC.