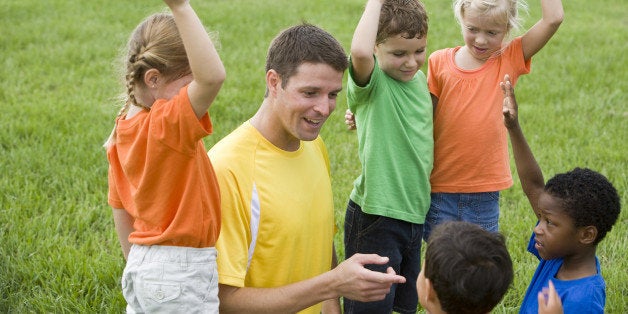 It's that time of year again. The time we ready our children... and ourselves... for camp. Camp. With all the camp feelings. Because we parents LOVE camp. Or we don't love camp. We're eager for camp. Or nervous. Thrilled. Or scared. Or all of the above, really, because we're human and complex and so very complicated, and so are our kids. Human. Complex. Complicated. Which means they're quiet and they're LOUD, great at making friends and just terrible at it, enthusiastic and reluctant, brave and afraid, and they haveᅡᅠneeds. Needs for friendship, needs for love, needs for encouragement... and developmental needs, medical needs, special needs... and needs, you know? Because HUMANS -- we're a needy bunch from every angle.ᅡᅠ
Earlier this week, I talked to a group of camp counselors as part of their pre-camp training. My job? To give them the parental perspective, to push back the curtain, to tell the truth of what we're thinking and what we're feeling -- what we're anticipating and what we're fearing -- when we send our kids into their care. But I didn't want to go in alone, as though I have the One, Right Parental Perspective, because, of course, I'm only equipped to tell my story. So I asked you what you want our college-aged camp counselors to know, and then I shared your vulnerability, your truth, your wisdom and your grace.
At the end of our time together, I asked the camp counselors if they had anything they wanted to send back to you. This is what they said.
Dear Parents,

Thank you. Thank you for trusting us with your whole world, because we know that's what you've handed us -- your whole world, and your trust along with it, and we're grateful.

You should know, we think your kids are the coolest. Theᅡᅠcoolest. With all their quirks and their gifts and their challenges and their unique qualities, we think your kids are just the coolest,ᅡᅠand we're excited to be their friends. For the time we have them, your kids are our life.

We're here because there's no place we'd rather be this summer than with your kids. We're here because we LOVE this. We train for this. We live for this. We work for it. We're exhausted by it. We're energized by it. Because we understand your kids are worth it. Every bit. Deeply, deeply worth our time and our interest and our effort... and our prayers and our hopes, too. Even now, even before we've met them, in these weeks we use to prepare for their arrival.

So tell us about your kids when you spend those hours filling out the forms. Tell us what you want us to know -- the more, the better. The needs, yes. Of course, tell us what your kid needs. And then tell us what she likes, too. What makes him smile. What makes her talk. What lights him up. What tricks and tips we might use to encourage, to help, to protect and to love. And know this: we're listening. We're reading your words. We're studying what you say. And we're not judging -- not you, not your kid. We're here to be your partners. Because we want to make a difference for your kids who become our kids for a short time, even if we never get to see what that difference was.

What we most want you to know, though, is this. You parents are our heroes. And your kids are amazing. Like, really,ᅡᅠreally great. Your children change us. They make us better. They show us the heart of God. And we're grateful.

Sincerely,
Your Kids' Summer Camp Counselors
Beth Woolsey is the writer and humorist behind the 5 Kids Is A Lot of Kids blog. Beth is described by readers as "optimistic, authentic, poignant and laugh-out-loud funny, [capturing] the mom experience with all its pathos and humor."