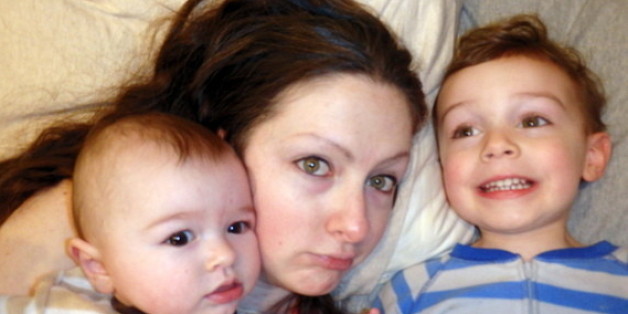 1. Denial/Isolation
This isn't happening. This IS. NOT. HAPPENING. This is just a horrible dream. It is way too early for them to be awake. The baby doesn't really need milk. She'll probably go right back to sleep in like a minute... maybe five minutes. Ten minutes, tops. Maybe if I pull my covers over my head, they'll go away. There. I'm invisible. He'll never find me. I'm in my fortress of solitude. I'm ensconced in an impenetrable layer of...
Oh. He found me. But 3-year-olds are reasonable people. He'll understand that I'm just too tired to get up. After he finishes climbing over me and tapping me repeatedly on the eyelid, he'll get back in his own bed and sleep until 9.
2. Anger
WHY ARE YOU STILL TAPPING ME??? GO BACK TO BED!! IT'S TOO EARLY!!! IF YOU DON'T GO TO SLEEP RIGHT NOW, YOU WILL BE IN TIME OUT UNTIL YOU'RE 38!! STOP TAPPING ME!!!!!!!!!
3. Bargaining
OK, listen. If you just let me go back to sleep for 10 minutes, you can watch "Daniel Tiger's Neighborhood" for an hour. Two hours. The entire day. I will personally call Daniel Tiger and invite him to our house and he will play make believe with you and teach you a catchy little song about letting mommy sleep until 10. And if you can get your baby sister to go back to sleep, I will turn our SUV into a life-sized replica of Trolley. You have my word.
4. Depression
I am never going to feel well rested, ever again. I'm going to be forever sleep-deprived until I die a slow, sleep-deprived death, curled up in a ball on the floor.
5. Acceptance
This is my life right now -- two adorable kids and no sleep. Time to go make coffee and then drink it after it gets cold because both kids will poop as soon as I fill my mug.
This post originally appeared on I was promised more naps. Connect with Bethany on Facebook.