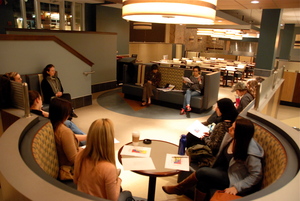 Popular or Pariah?
Session 5 of Slim Peace DC addressed the topic of social hierarchies, from the neglected outcast to the praised and popular. Group members engaged in activities and dialogue about and the respective emotions associated with each level of acceptance. For some, this session brought up nostalgic memories of adolescence and wanting to fit in with the "cool kids". Others stressed their current difficulties in the workplace, which often fosters cliques based on job title and start date. My mind (and maybe others) was elsewhere, thinking about the intense social dynamics in Jerusalem, where Slim Peace first started. One could argue that our group is just as diverse in religious and cultural backgrounds as those who visit the Old City of Jerusalem. Yet, just like the nearly 350 women who participated in Slim Peace in the Middle East, we are going against the grain of social labeling tendencies in a group that encourages support and collaboration.
Fats and Figures
In terms of nutrition, it was time for fat, the targeted bad guy of many diets and weight-loss plans. Jewish, Muslim and Christian women identified olive oil as the fat of choice in most of their cooking and eating habits, especially with traditional foods. Our nutritionist compared olive oil to wine in that although there is a spectrum of quality and price of olive oil with virgin and extra-virgin varieties, there is no correlation with nutritional quality of the fat. This led to conversations about how we compare fat on the plate to fat on our bodies. One Jewish student participant used the trendy phrase "a moment on the lips, a lifetime on the hips" to describe her relationship with fatty foods, and said that late night snacks are the biggest culprit, a common dilemma for college students with hectic schedules, social lives and tight budgets.
Jewish Participant Testimonial
"Slim Peace has been a truly eye-opening experience for me. It's so refreshing to listen to such a diverse group of women share personal stories about our successes and struggles with living a healthy, balanced life. More importantly, Slim Peace offers a different intercultural perspective on wellness that I've never witnessed before, and that has been my greatest takeaway from the experience."