Gov. Pat Quinn signed into law a bill that put an end to the state's scandal-tainted legislative scholarship program. The BGA's policy unit was instrumental in the Illinois General Assembly's passage of the bill.
With a flourish of the pen, Gov. Quinn put an end to the state's scandal-tainted legislative scholarship program.
The program, which has been in place for nearly a century, allowed every member of the Illinois General Assembly to give two tuition waivers to major state universities to constituents in their district per year.
"It wasn't what you knew, but rather who you knew and how you maneuvered to get a scholarship. That really isn't the lesson that the people of Illinois ever want to send with their tax money," said Gov. Quinn.
The new law abolishing the program comes after reports by the BGA, Chicago Sun-Times and other media outlets exposed repeated misuse and abuse of the program.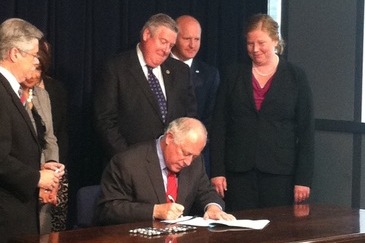 Over the past year, the BGA's policy unit advocated a complete dismantling of the scholarship program, calling on lawmakers to discontinue the taxpayer-supported legislative perk that costs nearly $13 million annually.
"This is not about depriving needy students of educational opportunities," said BGA president and CEO Andy Shaw at this morning's signing. "It's about depriving greedy lawmakers of unethical patronage opportunities."
Criticism mounted in recent years as media exposed the program as often being used for political, not educational, purposes.
"I want to thank the Better Government Association for its determined, persistent efforts on this bill and other matters as well," Gov. Quinn said. "I think that's what democracy is: it's not a spectator sport."
Click here to see investigations.