On Christmas Day, Josh and I landed in Seattle, the starting point of our 10-day road trip through the Pacific Northwest, and the first place of many on our journey (including a few unintentional stops, in a few unexpected states along the way) that I have never been to.
After telling the man at Enterprise that we were married in order to save paying extra insurance, we set out in our silver Chrysler Sebring in search of the impossible: a restaurant serving Seattle's finest that was open on Christmas.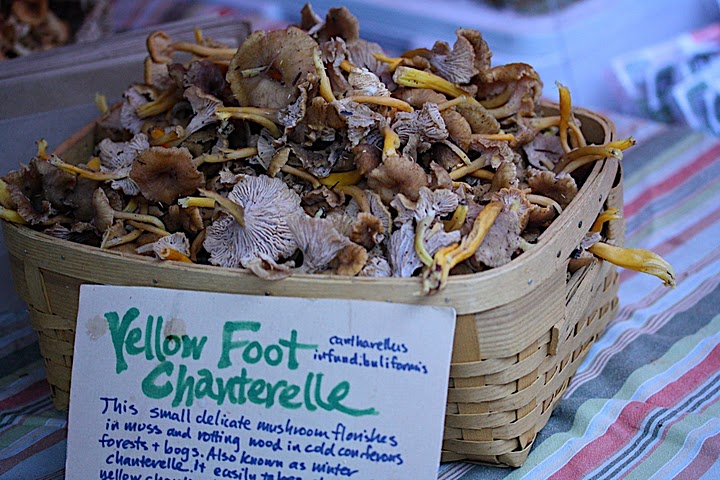 Wild yellow foot chanterelle mushrooms from Foraged & Found Edibles
The initial iPhone research did not prove fruitful. But, being the geniuses that we are, we decided a likely gamble would be a hotel restaurant. (We were staying at Josh's cousin's apartment in Capitol Hill.) Our wandering brought us to Shuckers, at the swanky Fairmont Olympic hotel, where we felt it was only suitable to order a dozen oysters and a flight of microbrews. Our untrained palate favored the Fanny Bays, however until reading the signs on our way out, we did not realize it was because they were "medium-bodied with a subtle honeydew aftertaste."
After our first course of traif, we headed to Chinatown-like Jews on Christmas everywhere-in Seattle's International District. By this point, we had already realized some cultural norms: that only tourists would be caught dead carrying an umbrella, and that Seattlites, by virtue of living in a place where it rains more days of the year than not, are so complacent with their permanent state of dampness, that they do not bother taking normal means of procaution against the elements.
Once safely out of the rain at Ho Ho Restaurant, we ordered more seafood, including the Seattle specialty: Dungeness Crab. Ours was sautéed in a ginger-scallion sauce, and the platter containing these massive crustaceans covered most of the table. Ho Ho, which touted their 1987 New York Times review in the foyeur, turned out to be a perfect venue to first sample this delicacy; we sucked our way through the shells without feeling barbaric or self conscious for having stained the better part of our outfits in crab juice and oil.
The next day, we started our morning at Cafe Presse, where I ate one of the best omelets I've had in a while. I'm usually more of a scramble girl these days. But this omelet was an exception. The egg was perfectly thin and crepe-like, and the mushroom filling contained the perfect amount of cream--just enough that my stomach hurt for the rest of the day, but not so much that I don't still daydream of the meal, fondly.
Fortified (though unnecessarily so), we made our way to the Ballard farmers' market (the highlight of my trip) and the touristy, but not-to-be-missed Pike Place. Here's a dirty little secret: market vendors in Seattle LOVE giving free samples. Be prepared to fend them off. Below is a recap of some of the delicious prepared foods we tasted, and many of the beautiful things we weren't able to fit in our stomachs but saved room for in our suitcases to sample back East.
Fresh pasta varieties-spinach, mushroom, red pepper, and habenero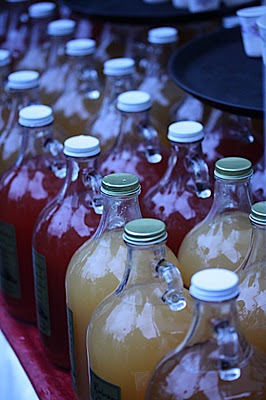 Apple and berry hard cider from Rockridge Orchards (and Cara's souvenir)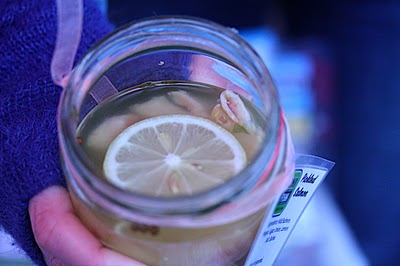 Pickled salmon from Cape Cleare Fishery.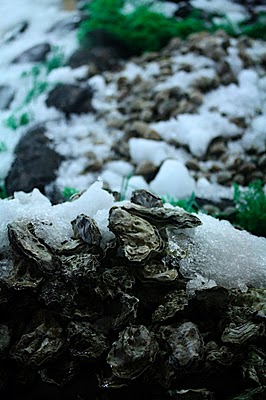 Kumamoto Oysters from Pike Place Market
Next stop: Portland. I won't bore you with as many details as above. But I will say that one highlight-in addition to our walk around the esplanade and photo op with a life-sized bronze statue of Vera Katz, the ex-mayor of Portland--was the enclave of ethnic food carts on every downtown street corner.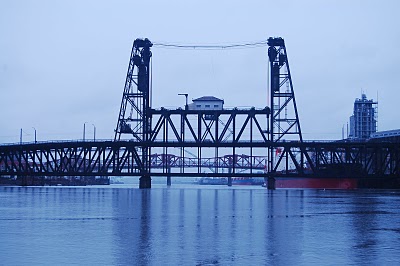 The Steel Bridge in Portland
Though smaller than your average NYC food truck, the Portland carts are more permanent fixtures, paying rent to parking lot owners in exchange for the chance to remove those pesky wheels and place their once mobile storefront on cinder blocks. The cart offerings range from Belgian waffles to pad thai to coffee.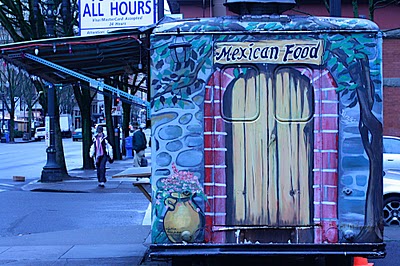 Mexican food cart (by its lonesome) in a downtown Portland parking lot
Coffee though, should be separated as a highlight unto itself. Once we were hundreds of miles away from the sleek, airy Stumptown outposts of Portland, and reduced to searching for drive-through caffeination, we truly understood the power of good coffee in Oregon culture. About 4 hours into our audio book (A Visit From The Goon Squad by Jennifer Egan), we stopped at a joint called The Human Bean. In addition to drive-through chicken, we got some of the best coffee of our trip. 5 points for Oregon.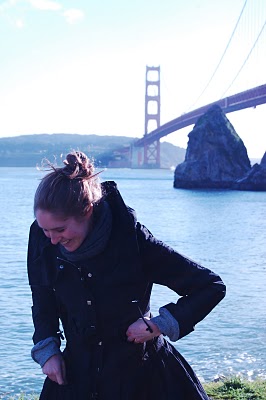 After 12 hours of driving in the rain, one intense snow storm, and an unexpected overnight at the Redding California Ramada, we reached San Francisco. It was sunny. And no one could take that away from us. We ate too many tacos, walked across the Golden Gate bridge (images below), and then got in the car again to drive to Berkeley for a much awaited meal at Chez Panisse. The first course stole my heart: delicate grilled grouper atop a velvety sunchoke puree, with a drizzle of green olive tapenade.
The next day we left the sun for the snow, and made our way to Lake Tahoe. Though it was only the halfway point in our trip, after so many tacos and fried oysters along the way, we had just about had it with restaurant food. We stayed with friends and whipped up a large batch of classic BGSK meatballs, sipped on some warm hard cider from Seattle, and retreated to the Jacuzzi to ring in the New Year. The rest, like the whirlwind of 2010 itself, was a blur.
For all the great eats I wasn't able to touch upon or photograph (I try only to be a food blogging fool in my own city), there is a comprehensive list below of all our recommendations. It was an amazing 10 days in 4 wonderful states (the 4th, Nevada, was a mistake after driving 30 minutes in the wrong direction), with a few near brushes with death (after eluding chain patrol), lots of quality time with family, friends, and each other, and more importantly, a few too many fond food memories, which will make me pledge the requisite (girly) resolution, to go to the gym.
--Phoebe Lapine of Big Girls, Small Kitchen
**Where to Eat and Drink**
Seattle Highlights
Shuckers, Downtown
What to order: Dozen Oysters (take your waiter's recommendation); Beer flight
Ho Ho Seafood, International District
What to order: Dungeness Crab with Ginger and Scallions
Cafe Presse, Capital Hill
What to order: Croque Monsieur; Mushroom Omelet
Etta's Seafood, Downtown at Pike Place Market
What to order: Fried Oysters
Panier, Downtown at Pike Place Market
What to order: Baked goods galore
Sunday Farmer's Market, Ballard
What to eat/drink: hard cider from Rockridge Orchards (my gift to Cara); Got Soup? Sunchoke Bisque with Quinoa, and Northwest Salmon Chowder
Portland Highlights
Bijou, Downtown
What to order: Pumpkin Seed Quesadilla
Food Carts, Downtown & Hawthorne
Laurelhurst Market, Laurelhurst
What to order: Bone Marrow; Steak Special; Cod Fritters; Brussels Sprouts
Tasty n Sons, Northeast
What to order: Patatas Bravas; Biscuit Sandwich with Fried Chicken and Cheddar
Stumpton Coffee, various locations
The Human Bean, Drive Through Espresso, Various locations in Oregon

San Francisco & The Bay Area Highlights
La Taqueria, The Mission
What to order: Tacos
Chez Panisse, Berkeley
What to order: daily menu
Tartine, Mission/Dolores
What to order: Ham & Cheese Croissant; Croque Monsieur
Flour & Water, The Mission
What to order: Margherita Pizza; Sunchoke & Chicory Salad
Papalote, The Mission
What to order: Steak Burrito; Extra Salsa; Coke in the bottle
Napa Valley Highlights
Ubuntu, Downtown Napa
What to order: Menu changes daily. Get the tasting menu, everything we ate was an epiphany.
Pride Mountain Vineyard
What to drink: Viognier; Cabernet
Mustard's Grill, Rutherford
What to order: Crab Cakes; Burger; Onion Rings