Summon the image of high tea and you'll probably think of an afternoon gathering at a British country cottage or perhaps rich socialites hosting a ladies brunch in New York.
But this daily ritual also thrives in Buenos Aires today. And this is not surprising considering the country's love of yerba mate, the herbal drink popular to the region cultivated and enjoyed by the native Guaraní people since ancient times. Traditionally imbibed from gourds with its own unique set of customs and rituals, you'll see it drunk at all times (and in all places) in Argentina and parts of Brazil, Paraguay, and Uruguay.
But in the 19th century the Welsh, fearing the suppression of their culture in Victorian England, settled in Patagonia. They brought with them their traditions, their language, and their penchant for drinking tea in the afternoons. And the tradition spread.
As of 2005 Argentina was the 9th largest producer of tea in the world, mainly cultivated in the Misiones and Corrientes provinces to the northeast, a climate also known for producing yerba mate. Argentina exports about 50 million kilograms a year annually, mainly to the United States for iced tea.
Afternoon tea was more the province of the upper class, while high tea, served later, was more robust -- a holdover when laborers needed to sustain themselves between lunch and dinner after a hard day's work. Here it's called merienda, a snack definitely needed with the Argentine penchant for ultra late dinners. But whatever you call it, here are three places to enjoy this sumptuous South American version of tea time: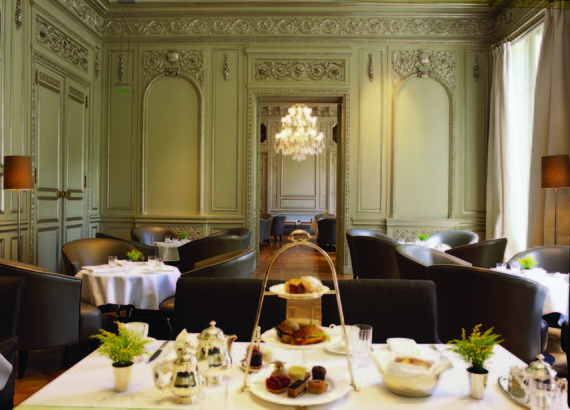 Courtesy of Palacio Duhau Park Hyatt Buenos Aires
The Palacio Duhau Park Hyatt, a five star hotel in the city's glitzy Recoleta district, was once the mansion of railway magnate Alejandro Hume. Later bought by the prominent Duhau family, the structure was first designed in the Tudor Revivalist style, then later upgraded and renovated into a neoclassical palace.
And the premises are indeed palatial. Walking into the landscaped gardens, one is reminded most of a miniature version of Versailles in the heart of the city. Tea is served on the terraces or in the hotel's Goia restaurant in the afternoon. Snacks include small savory finger foods and incredibly rich pastries and cakes made in-house by the restaurant's pastry chef.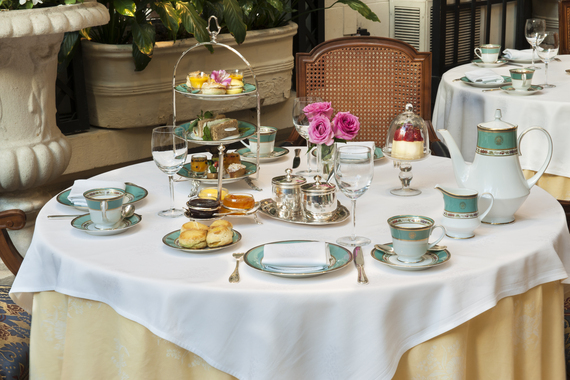 Courtesy of Alvear Palace Hotel/Leading Hotels of the World
Located around the corner in Recoleta is the Alvear Palace. Built in the early 1920s, it was financed by businessman Rafael de Miero, who wanted to bring Parisian Belle Époque architecture to Argentina (a style now seen throughout Buenos Aires).
This European grandeur is echoed at the hotel's afternoon tea at the L'Orangerie restaurant. Served on white cloth in an open greenhouse, tea is accompanied by platters of bites include homemade scones with fruit marmalades, savory cucumber sandwiches and smoked salmon on bagels. But the deserts include those of a more South American flair - filling pastries like the Alvear Cake -slathered in dulce de leche - a caramelized sweetened condensed milk. And the tea itself is a choice of a variety of harvests - green, black, and house blends like the Alvear -which combines tea leaves, almonds, citrus, and rose petals.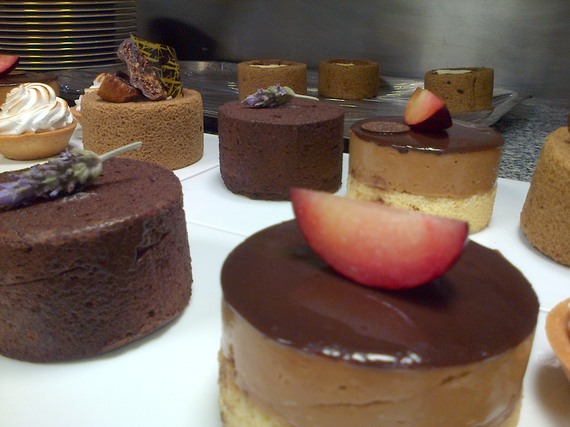 Courtesy of Four Seasons, Buenos Aires
Built in 1992 in Recoleta, the Four Seasons Buenos Aires is a 13-story marble tower overlooking a French Renaissance mansion with a Belle Époque style facade housing 17 suites. With a luxurious wood and leather interior, the hotel's Elena restaurant offers a selection of teas including their own signature "Pony Line" incorporating black tea, apple, cinnamon, clove, anise, and fennel.
Teas are accompanied by toasted country bread with jams and butter and sweets like parfaits and soufflés can be ordered . Try the Dolce Morte menu, where pastry chef Jaoquin Grimaldi takes sweet flavors to the edge with creations like Dark After Eight - incorporating chocolate, Altoid mints, and fondant. Or just choose from over 20 flavors of Argentinian ice cream to satiate your sweet tooth.