I am thinking of Joe today.
Like most Americans I was incredibly saddened today to read that Beau Biden had died from brain cancer. He left behind a beautiful wife and family.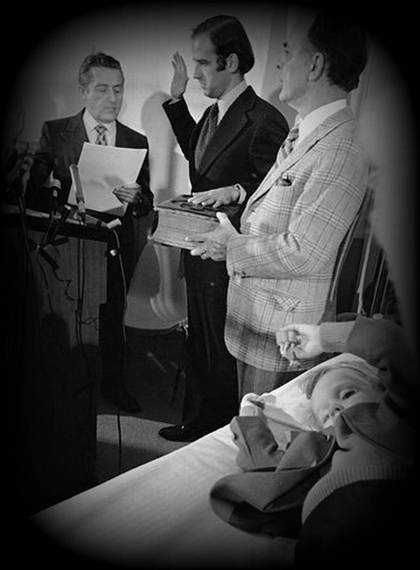 I can't imagine what it would be like to lose a son... My mom can. I know how terrible it was when my brother died, and I wasn't old enough to remember a sister that also passed away.
But for some reason I am thinking about Joe the most right now.
Many may not remember that 41 days after Biden was elected as Senator in 1972, his wife Neilia was driving her station wagon, filled with their children, Naomi, Hunter and Beau.
A tractor-trailer hit the station wagon -- a station wagon filled with what Joe loved the most. Neilla and Naomi didn't survive. Beau and Hunter were both severely injured.
On January 5 Joe Biden took his oath of office in the chapel at the hospital where Beau was still recovering from his injuries. From his hospital bed which was wheeled into the room, his body still broken, he watched his Daddy. Just a month before his fourth birthday and just a month before Hunter's third birthday.
To heal his family and himself, Joe commuted from Wilmington to Washington daily. By Amtrak. One and a half hours each way. Three hours a day. For the comfort and care of his sons. The Senate was important. His sons were more important. He knew where to place his priorities, and he did it with grace and a great deal of love. And he was there every night to tuck them into bed.
The apple didn't fall far from the tree. Beau loved his own family, just as his father did, and both did it so well, not only in their words, but in their actions.
I am thinking of Joe today -- no matter that Beau was 46; he was still Joe's little boy.
In the Episcopal Church we have this most wonderful prayer, and it is so appropriate today. From The Book of Common Prayer:
Keep watch, dear Lord, with those who work, or watch, or weep this night, and give your angels charge over those who sleep. Tend the sick, Lord Christ; give rest to the weary, bless the dying, soothe the suffering, pity the afflicted, shield the joyous; and all for your love's sake. Amen.
Yes, I am thinking of Joe today.