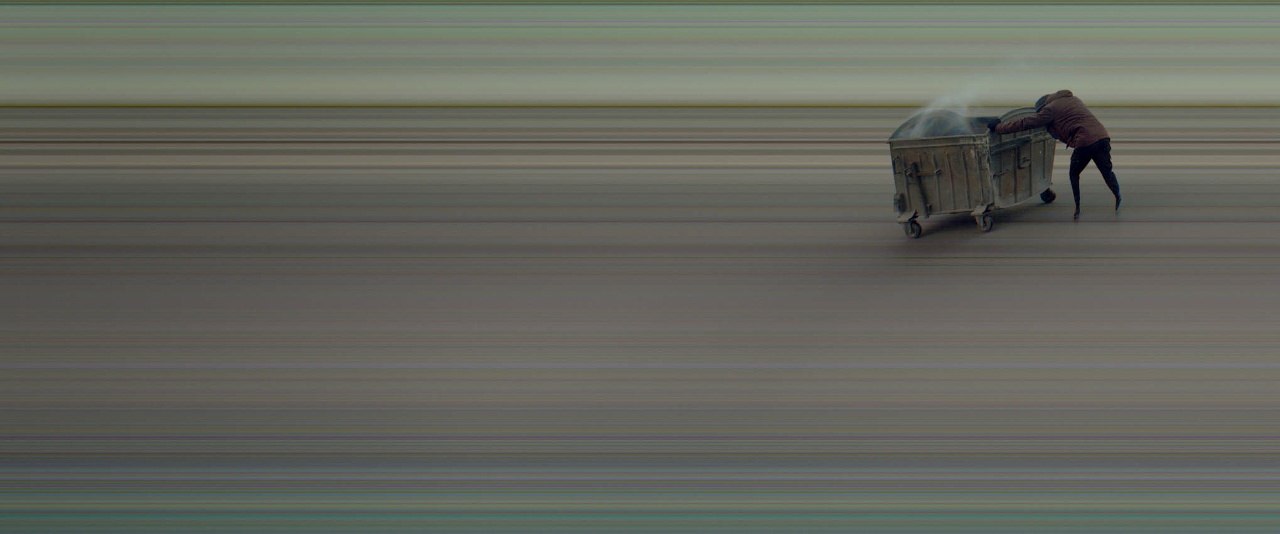 Jay Mark Johnson: No Such Place | A critical exploration of our obsession with technology and how our use of these machines not only dominates the environment, it also fashions the very manner in which we perceive and interact with the world.
No Such Place takes viewers on a fantastical journey where nothing is as it seems. Shadows are crisscrossed and the relative speed of an object determines its size. Moving bodies appear isolated from their backgrounds and the backdrops themselves have been obliterated. In this manner, the results of Johnson's process become a metaphor for his own investigation.
"We surround ourselves with machines. They shape our experiences, and with them, our thoughts. We travel in cars, trains and planes, encapsulated in tiny vessels, isolated from the outside world. And the faster we race across the landscape, the more it becomes a blur," says Johnson.
Initiated in 2005, these monumental color photographs, including a 30-foot-long triptych, follow the migrations of people and their vehicles across attenuated landscapes and saturated terrains from the dockyards of Singapore and the rice paddies of Cambodia to the dairy farms of Australia and the populated centers of Rome, Prague, Hamburg, Hong Kong and Los Angeles.
Jay Mark Johnson: No Such Place opens February 23 at William Turner Gallery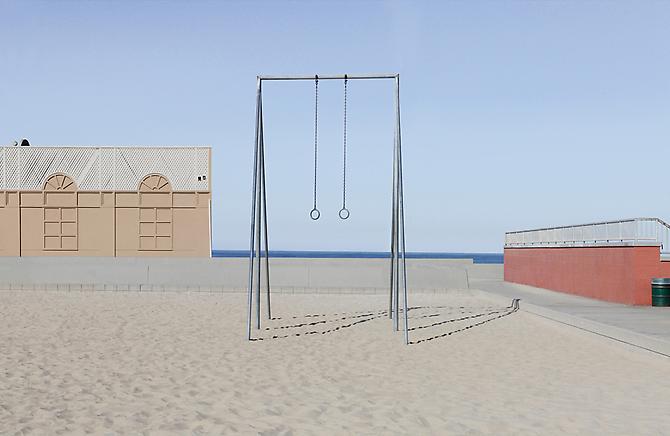 Lauren Marsolier: Transition | Marsolier creates images that represent the mental process of transition and our conflicted relationship to a world that is becoming increasingly fast-paced and dematerialized. We repeatedly get a feeling of disorientation, dissonance and false reassurance, as we try to adjust to a post-modern society marked by the implosion of the boundaries between image and referent, appearance and reality. The loss of concrete connections to the objects of our senses creates a void within us, and unleashes a flow of new and elusive perceptions. Giving them the visual characteristics of a landscape is her way to explore them.
Unlike traditional photography, which seizes an instant of reality, her images are constructed from photographs taken in various locations over the course of several months, then layered and blended until the real and the fabricated become a seamless composition whose verisimilitude prompts the viewer to question the nature of both the medium and its content.
Lauren Marsolier: Transition opens February 23 at Robert Berman Gallery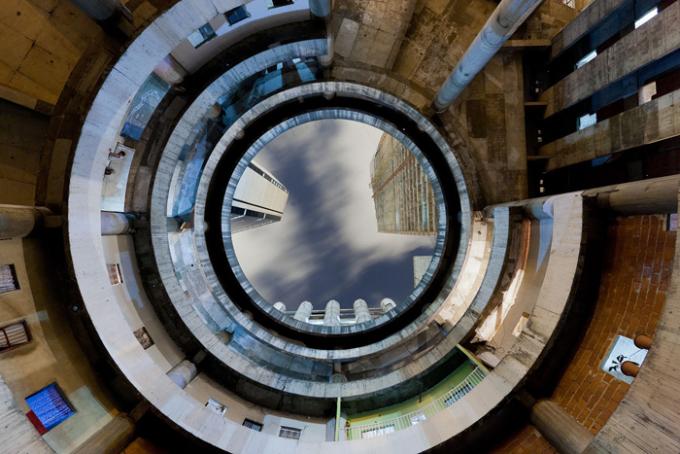 Iwan Baan: The Way We Live | Baan's work exists at a critical juncture between architectural photography and sociocultural inquiry at a time when urbanization is a driving force behind human evolution.
The Way We Live features captivating large-scale images of urban, architectural, and home environments that capture Baan's singular vision. Baan's artistic practice examines how we live and interact with architecture, focusing on the human element, which brings buildings, intersections, and public gathering places to life. Baan's images examine the choices we make through construction and building, whether it be sectioning off tracts of impoverished urban sprawl with massive traffic interchanges, reintegrating purposeful gathering areas into large-scale public buildings, or living in housing that stretches the boundaries of how a community functions. Taken as a whole, his artwork examines each subject in depth, capturing a site's essence through a spectrum of images ranging from sweeping aerial overviews to intimate one-on-one moments.
Iwan Baan: The Way We Live opens February 20 at Perry Rubenstein Gallery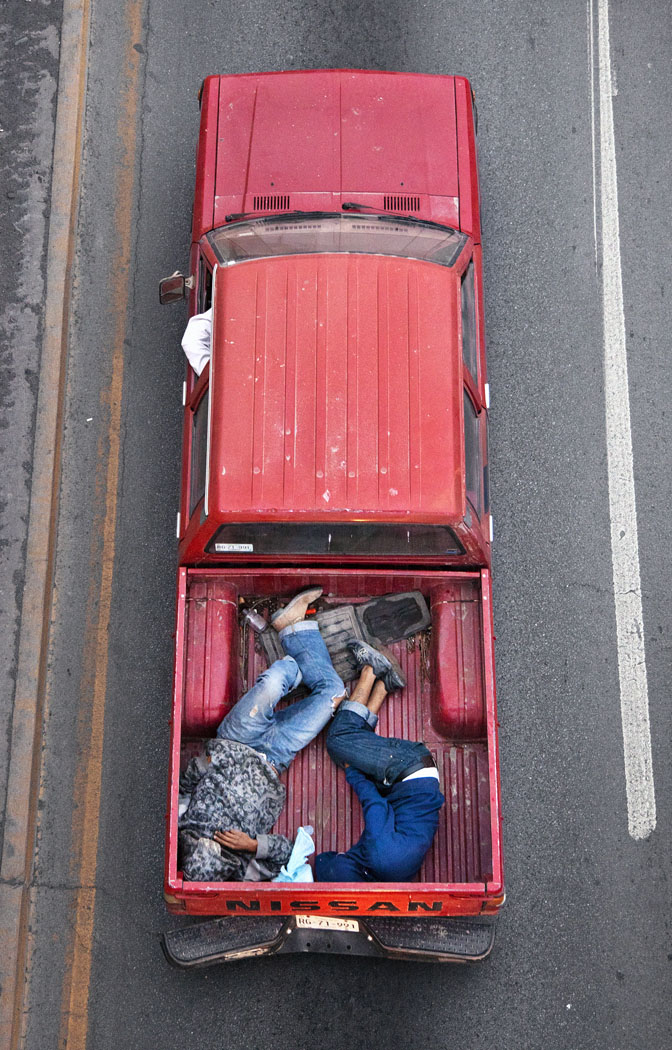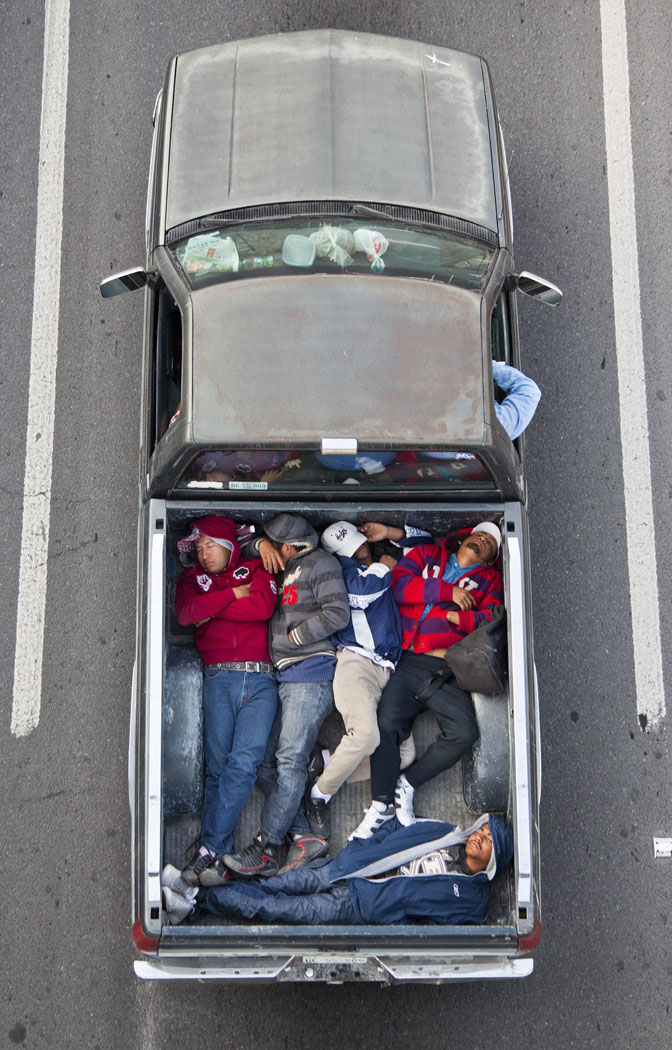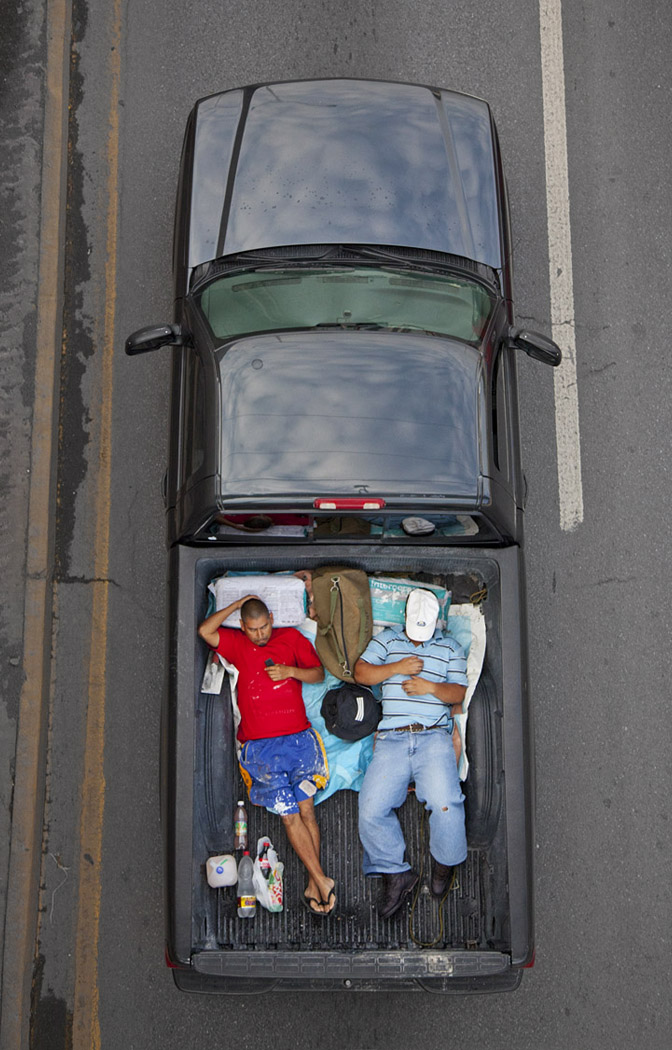 Alejandro Cartagena: Car Poolers | Car Poolers is part of a larger body of work entitled Suburbia Mexicana, which considers the interdependence of humans and landscape in the face of urban expansion. Although artists and activists alike have focused on the negative impact of urban sprawl since the 1960s, Cartagena's work is unique in its preoccupation with the largely overlooked, irrevocable effects of suburban expansion within a local ecosystem.
This particular project was shot for a year on Monterrey's Highway 85 going southbound to San Pedro Garza Garcia, one of the richest cities in Latin America. Shot from an overpass, Cartagena's photos portray the resilience of humanity and also an intimate look at men trying to survive.
Alejandro Cartagena: Car Poolers opens February 23 at Kopeikin Gallery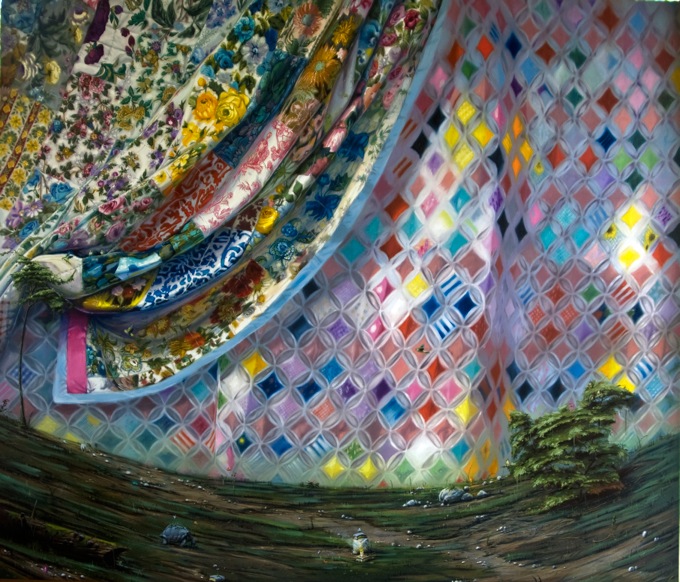 Ryan Foster: Emotional Landscapes | The title of the show is derived from the peculiar horizon lines in Foster's paintings that resemble smiles, frowns, smirks and other human expressions.
These paintings are both landscapes and still-lifes. Foster uses the landscape, which is already ripe with meaning and beauty, as a tabletop or still-life where significant objects are arranged. Instead of the flower, fruit and vase arrangement typically seen in the still-life genre, the viewer sees a more theatrical and imaginative selection that transcends an ordinary landscape or still-life and becomes something that is harder to categorize.
Foster uses draped fabrics and patterned quilts to set the stage. This in turn severs the elements from their normal surroundings. The trees, rocks and whatever else is included become isolated and take on an added sense of importance. Because so much is hidden from view, the included information is viewed with a sense of anticipation and added significance.
Ryan Foster: Emotional Landscapes opens February 23 at Richard Heller Gallery
For the most comprehensive calendar of art events throughout Los Angeles go to Artweek.LA.