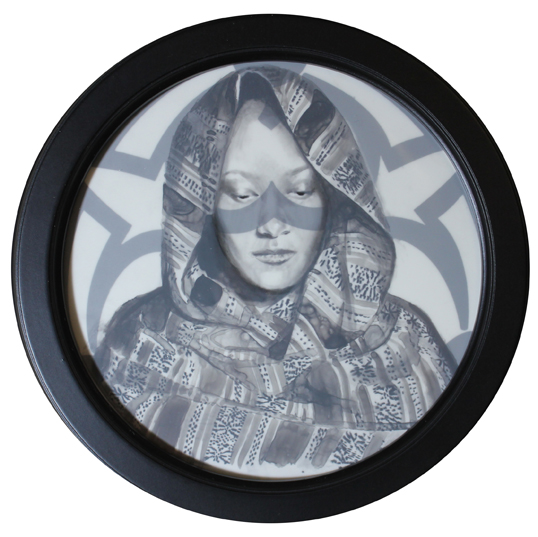 Shay Bredimus: Kotomi | Renowned tattoo artist Bredimus employs languid and gestural marks using tattoo ink on drafting film to portray spontaneous and personal moments of his models. His classical training in portraiture is evident, to which he has added aesthetic influences from Japanese tattoo and Ukiyo-e prints. In his recent series, Kotomi, Bredimus casts female personifications of the Sister Cities of Los Angeles as his subjects in a series of large and small portrait paintings. The tradition of allegorical female representations in art popularized in Ancient Rome with depictions of The Cardinal Virtues has remained a classically recognized and often referenced mode of expression through today. Aware of that tradition, Bredimus was particularly moved by the French baroque painting by Noel Coypel the Elder, La Rosée (Dew) or The Female Personification of Rain to create a series adopting the long honored conceptual convention of female allegory. Kotomi, a Japanese word meaning "the beauty of cities", is Bredimus' homage to Los Angeles' participation in the global Sister Cities organization established in 1956 by President Eisenhower.
Shay Bredimus: Kotomi opens April 14 at Koplin del Rio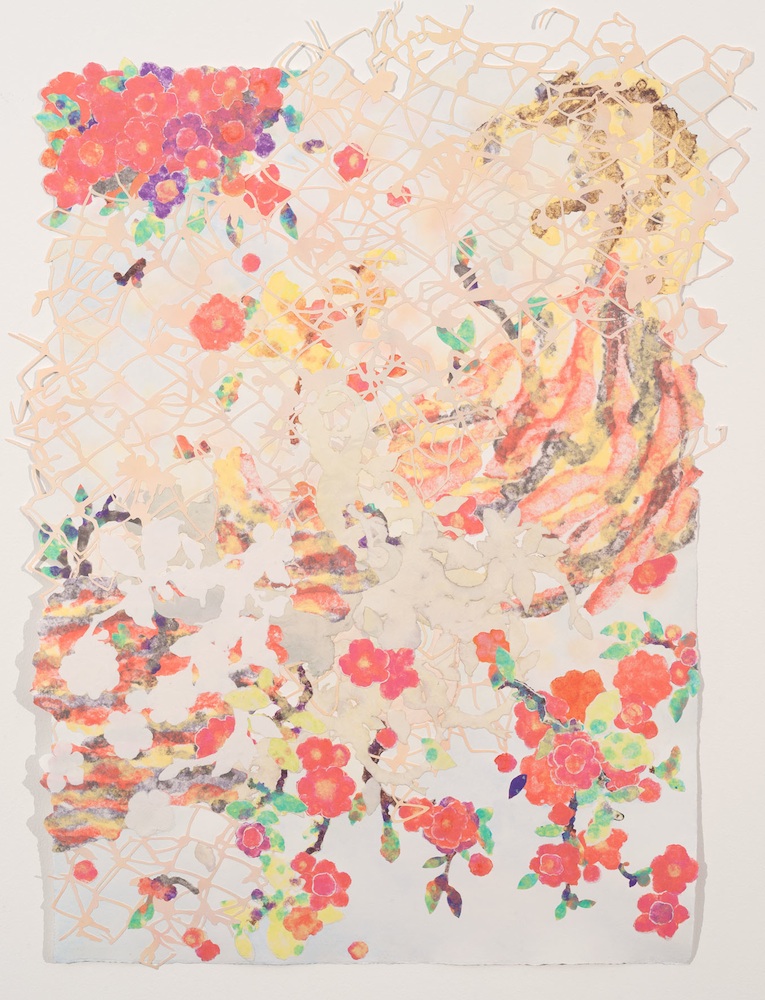 Charlene Liu: New Work | In her new body of works on paper and panel, Liu manipulates the medium of paper itself to create a series of beautiful yet unsettling abstractions. Along with acrylic airbrush, handmade paper is Liu's material of choice and she uses delicately pigmented papers to build her collaged works. Armed with an overtly feminine palette of pinks, peaches, mints and violets, the work oscillates between extreme beauty and the saccharin. Through a process of forming paper pulp into shapes and painting with pigmented pulp, Liu cultivates chance and embraces a stylistic looseness that playfully mines painterly traditions.
Drawing from the everyday of her domestic interior and backyard landscape, as well as, chinoiserie and decorative art objects, Liu repeatedly recasts and collides motifs until their specificity collapses and a new world emerges. Clustered plum blossoms lie tangled in a chain link fence as loose abstract marks float through a celestial backdrop. Swooping and drifting the imagery can't be contained, pushing through entangling lines and the confines of the rectangle. In the larger works, she subverts by piling up delicate motifs and details until they become dominating, even grotesque.
Charlene Liu: New Work opens April 14 at Taylor De Cordoba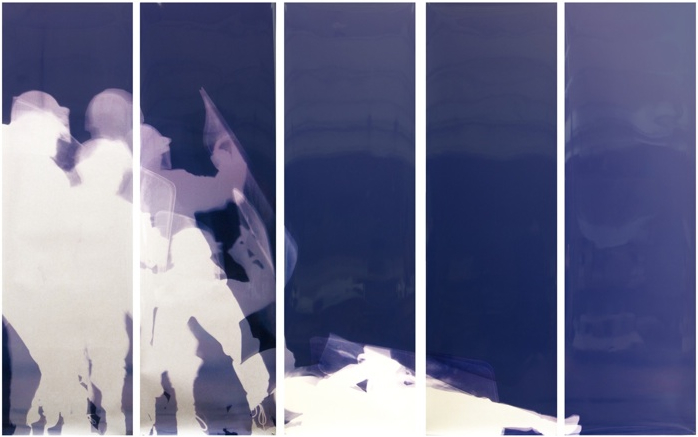 Farrah Karapetian: Representation3 | Karapetian examines representation in both political and artistic terms. For her, these forms of representation are inseparable from abstract processes, particularly contemporary forms of media and their effects on our perception of material reality. Through four monumental works, Karapetian models a distinct mode of political and artistic address. Each piece is inspired by a specific image culled from the news over the course of 2011; the original representation is then restaged according to the artist's processes of constructing negatives from re-enactments; finally, these sculptural negatives and darkroom performances result in unique photograms, a third stage of representation.
Farrah Karapetian: Representation3 opens April 14 at Roberts and Tilton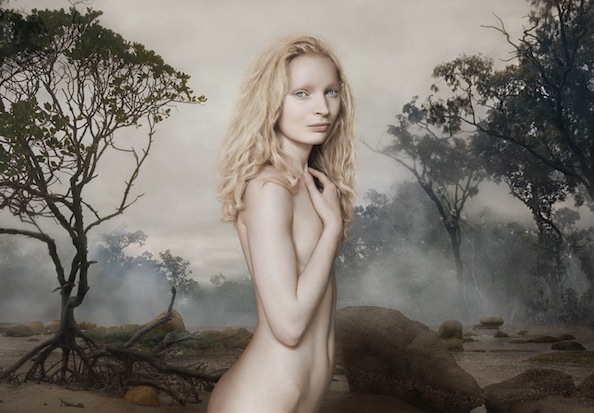 Vee Speers: Immortal, The Birthday Party, Parisians, Bordello | This retrospective exhibition features a selection of photographs from each of her four series, Bordello, Parisians, The Birthday Party, and Immortal, her 2010 portrait series. Immortal" continues her exploration of the themes of escapism and fantasy. The photographs are comprised of partially nude, ethereal young subjects posed in front of highly dramatic and nearly cataclysmic landscapes from Speers' native Australia. Although contemporary, this series of photographs evoke the feeling of classical Renaissance portraiture as well as reference the spectacular landscape paintings of the 19th Century Romanticists. The lithe and striking young subjects awkwardly pose alone in front of billowing clouds, darkened skies, and distant brush fires creating a foreboding sense of uneasiness and vulnerability, which ultimately challenges, or indulges, the myth of eternal youth. "The escape of adolescents into fantasy is just as important as in childhood, only as young adults the escape is quite often into the virtual world of film, television and internet. So the imagery I have created is an isolated world unique to them, somewhere between fantasy and reality. I want them to be alone, standing like fallen angels, but still part of a common world." (Vee Speers)
Vee Speers: Immortal, The Birthday Party, Parisians, Bordello close April 14 at Fahey/Klein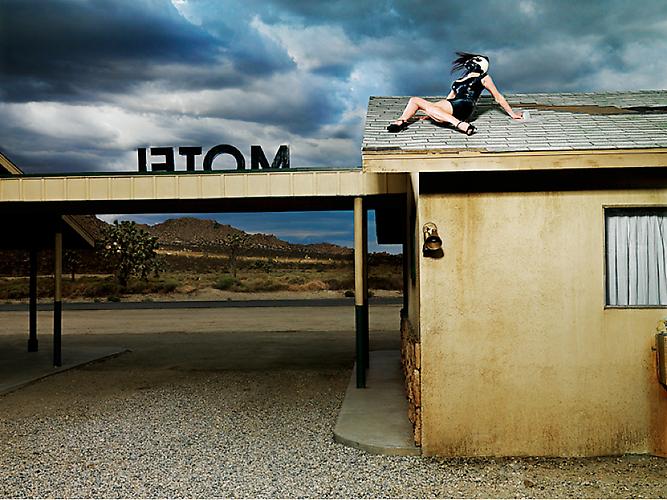 Marla Rutherford: LAY-TEXT | Rutherford's work references many genres of photography -- fashion, advertising, glamour portrait, fetish, film stills, Pirelli calendars -- to present highly original fictional and performative portraits that play off incongruous worlds, often interrupting a domestic scene with a fantasy image or placing a seductive fetish portrait in a common -- place, everyday scene.
Her photographs show a surreal universe that brings together groups of people from completely different worlds. The originality of her work resides in the juxtaposition of images of children or the elderly with portraits of people from the worlds of sadomasochism and fetishism. By making the latter group pose in ordinary surroundings, the photographer brings the strange and the banal together, and so allows viewers to feel more at ease when faced with people whose practices are seen as deviant.
Marla Rutherford: LAY-TEXT runs through April 28 at Robert Berman Gallery
For the most comprehensive calendar of art events throughout Los Angeles go to Artweek.LA.