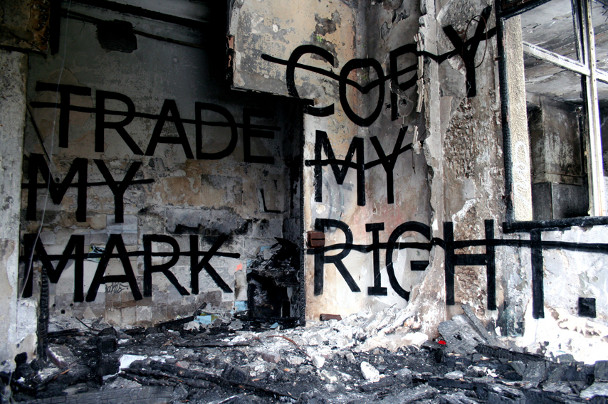 French Invasion | This is the first exhibition in Los Angeles dedicated to the work of France's leading street artists today: JonOne, Nasty, Rero, Speedy Graphito, and Tilt. Paris has always been an important source of creative inspiration for artists across the globe, giving rise to some of the most important art movements in history. Though born in NYC, graffiti made its way across the pond, becoming firmly rooted in the neighborhoods of France. Whereas art produced on the streets was previously relegated to neighborhood walls and the metro, today it can be seen in galleries and museums. Street art in France has become one of the most considerable art movements of this century.
French Invasion highlights the differences in media, context, audiences and issues that these artists maintain both on the street and in the art market. Common to all these artists is their investment in the streets of Paris during the 2000's but also their evolution in galleries in France and abroad.
French Invasion opens May 12 at Fabien Castanier Gallery, Studio City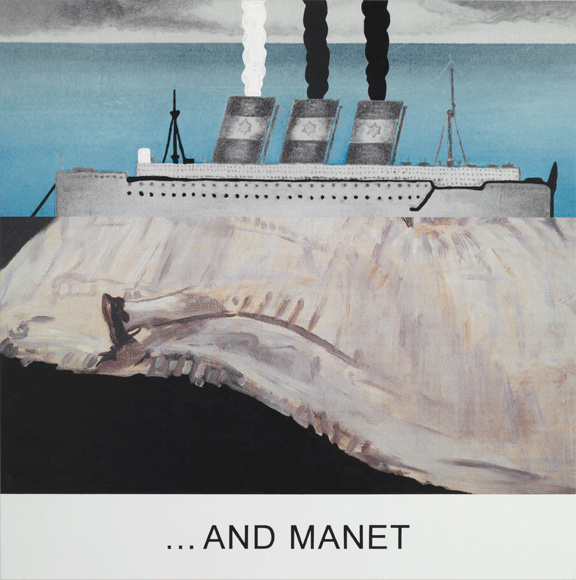 John Baldessari: Double Bill (Part 2) | John Baldessari has been making art in Los Angeles for more than four decades, mining our collective visual culture and creating clever juxtapositions of language and form through a deft and considered appropriation practice. For Double Bill, Baldessari returns to sourcing imagery from fine art, done in his well-known Goya, Elbow, and Tetrad series, and the image-and-text format first seen in the National City works of the 1960s.
In this new series, Baldessari pairs the work of two selected artists (such as Giovanni diPaolo with David Hockney, or Fernand Léger with Max Ernst) on a single canvas, further altering the picture plane by overlaying his own hand-painted color additions. Baldessari then names only one of his two artistic "collaborators" on each canvas's lower edge, a playful omission that challenges the viewer to identify the missing artist and allows them to draw their own conclusions regarding the image's authorship.
John Baldessari: Double Bill (Part 2) opens May 12 at Margo Leavin Gallery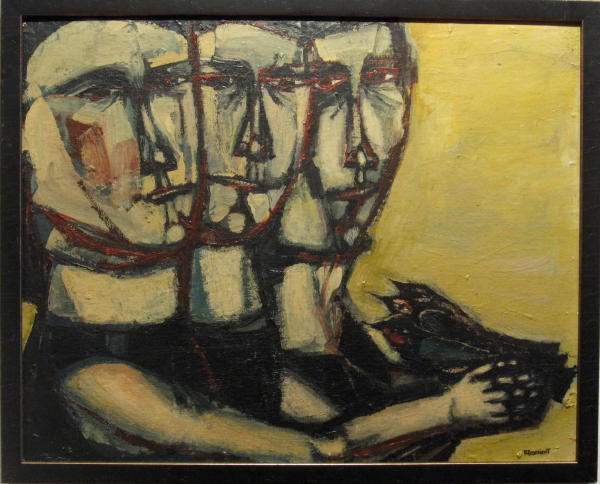 Bernard Rosenquit: A Place in Time | Rosenquit's work utilizes themes from mythology, contemporary culture and past experiences. New York City was a primary subject for his artwork. He drew its characters, both human and animal, its vistas, and recorded familiar landmarks such as Coney Island and commonplace rooftop pigeon huts. He incorporated memories, dreams, and touches of humor into his work. This exhibition, Rosenquit's second west coast solo exhibition since his passing in 1991, features woodcuts, etchings, monoprints and oil paintings.
Bernard Rosenquit: A Place in Time opens May 11 at Meyer Fine Art, San Diego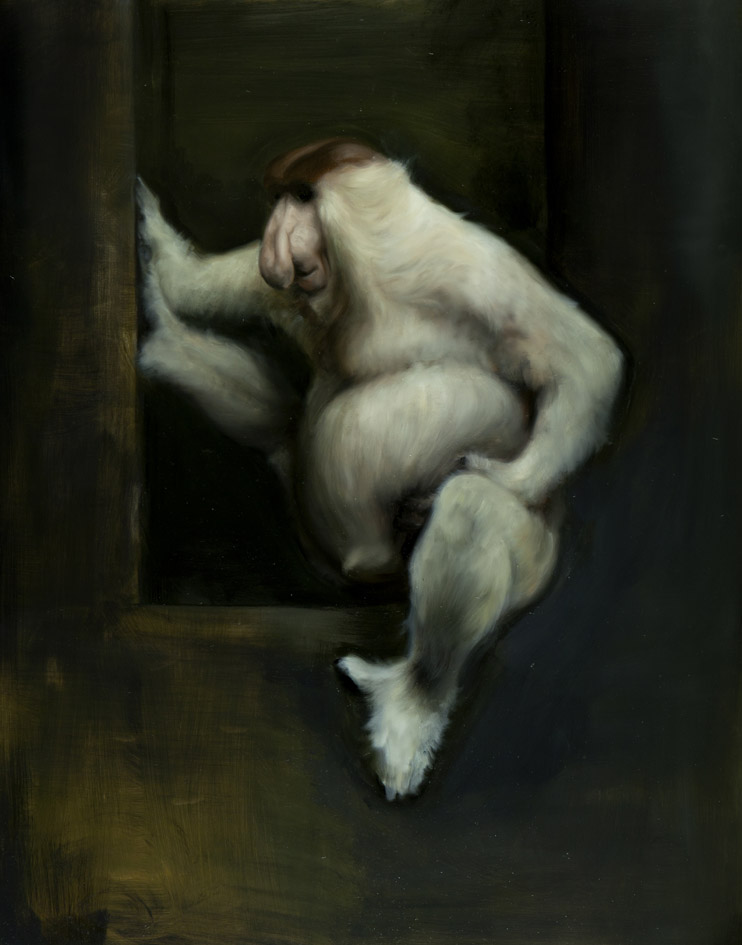 Hugo Wilson: Ideal Hauntology | Wilson unites the seemingly divergent realms of science and humanity by placing his art at the intersection of both these worlds. Starting from the philosophical concept of hauntology, which suggests that we are drawn to the aesthetics and ideas of the past, Wilson couples the primal mysteries of life with the logic of modern science to create a unique dynamic of "organized chaos" that blurs the boundaries between faith and reason.
His new body of work is an investigation into reactions and responses to things, contextually, emotionally and historically. Images and objects as manifestations of faith can hold one meaning in a certain context, but can be redundant in another. When or why is an object or image given an importance and elevated? If the person viewing is not of the relevant faith is the importance removed, or does the weight of its own history keep it there? Or are these things merely a seductive way to keep the fear of the chaotic unknown away, and to give us purpose and meaning, and a physical representation of what we don't or can't know?
Hugo Wilson: Ideal Hauntology closes May 12 at Mihai Nicodim Gallery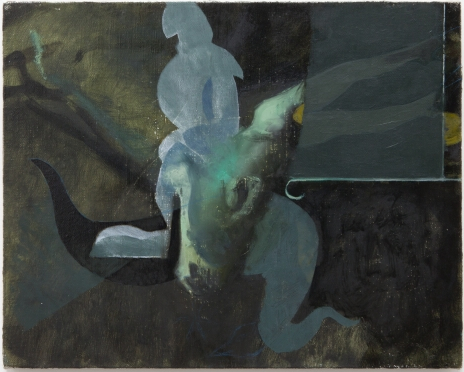 Victor Man: The White Shadow of His Talent | With this new series of paintings and arrangements of images and objects, Victor Man creates non-linear scenarios that are loosely based on nine fictional texts forming the book If Mind Were All There Was. Man commissioned writers, curators, and artists to write texts revolving around the figure of Giuseppe Sacchi, a 17th Century Italian painter who gave up his profession as an artist to become a Franciscan monk and died young. Sacchi left no evidence of his work and further information about his biography does not exist. One of the few, supposed traces of his life can be found in the Basilica di San Francesco in Arezzo, where his name appears in the form of graffiti, added at an unknown date by an unknown hand, on the forehead of a horse depicted in Piero della Francesca's cycle of frescos The Legend of the True Cross, completed in 1466. The figure of Sacchi is seen as a metaphor to explore issues of ambition and failure. His almost non-existent biography could describe Man's interest in the motif of the artist as a lonely being and his fate of self-exclusion from the world.
Victor Man: The White Shadow of His Talent runs through May 26 at Blum & Poe
For the most comprehensive calendar of art events throughout Los Angeles go to Artweek.LA.