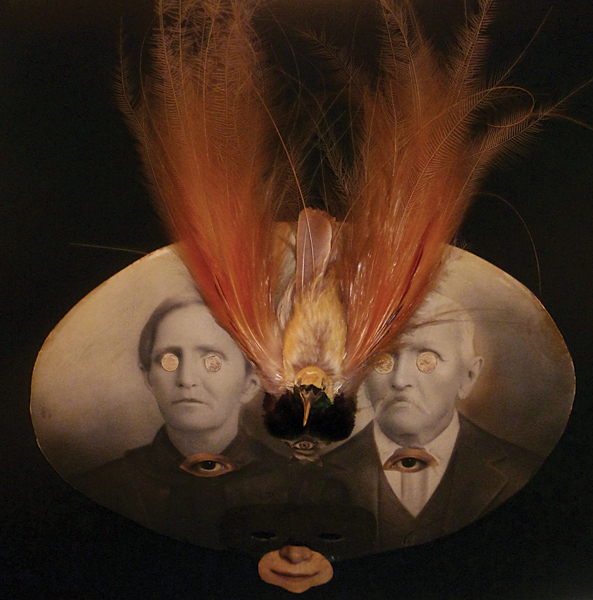 Jess, Mask for all Souls, c. 1969, Paper collage, stuffed bird mounted on vintage photograph encased in lucite box. Note: Exhibition catalogue included all copies of correspondence between the artist and LACMA regarding the Outsiders Mask Ball, which featured masks by Jess. Image: 24 x 19 x 6 inches. Estimated Gallery Price: $5,000/$7,000.
All Aboard the Expo Auction | Auctioneers are known for their ability to whip up buzz and hype both on and off the podium, and Robert Berman is better at it than most -- but this time, the drama is real. The undisputed king of the local fine-art auction scene since 1984, it's no surprise that his Santa Monica Auctions enterprise is known for both the quality of its offerings and the entertainment value of its sales events. And over the past 19 years, its outdoor summer edition has been a staple of the season. But this June 9 and 10 will see the very last of the summertime Santa Monica Auctions. In honor of the imminent MTA-ordered tear-down of the Track 16 and C2 building at Bergamot Station that has been its HQ, it's being billed as The Expo Auction: The End of the Line Sale, and there's no spin involved -- it really is the end of the line.
Santa Monica Auctions showcases mid-career and established artists of all mediums including painting, photography, sculpture, drawing, multiples and prints. It's not a set rule, but there's always a pronounced focus on the better-known artists from the Los Angeles art world of the past 50 years.
The Expo Auction will take place June 9 & 10 at Santa Monica Auctions, Bergamot Station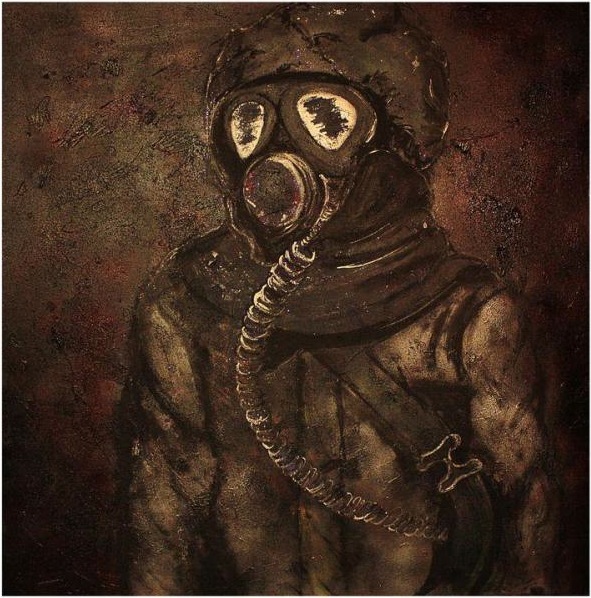 Unsettled: The Art of Vincent Sabella | This solo exhibition of work culled from three discrete collections of the artist's work curated by Shana Nys Dambrot, demonstrates Sabella's sweeping, cinematic ambition, his penchant for working in series, and his usage of text as a narrative framework by which viewers are able to assemble, disassemble and re-construct varied meanings in his work.
Extermination, Sabella's most recent body of work, is a full-frontal look into the ravages of war. Refining his layered approach to painting, and moving the text narrative to the spines of each canvas, the artist lets the metaphors of military history fly: soldiers stare blankly out from behind lit cigarettes; a fresh-faced boy Hitler is backed by a rising swastika moon; even Little Boy himself makes an appearance as a phantom clown face in a mushroom cloud.
Unsettled: The Art of Vincent Sabella opens May 18 at Edgar Varela Fine Arts (EVFA)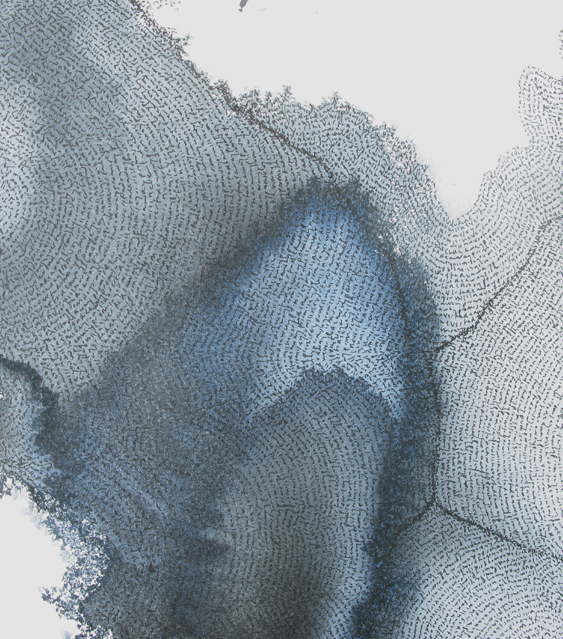 Debra Scacco: Birds of Passage | This London based artist's practice is centered around defining the concept of 'home'. Born in 1970s New York to an Italian family, Debra Scacco's ethnic ties instilled in her both a devotion to family in the truest sense and ownership of a history not strictly her own. These ties paired with geographic displacement, mean that she is perpetually in a transient state: in between places, in between origins, in between roles, and ultimately in between the person she feels she should be and the person she has become. The result of this constant emotional flux is a lifelong fixation with what 'home' is, and the seeming impossibility of belonging.
The outcome of this fixation is a body of work based on the artist's personal diaries. Each piece created from a sentence persistently repeated, the obsessive text-based drawings attempt to project a magical chimera. Intimate and compulsive, the composition of the work from a distance resembles dots or fragmented lines. On closer inspection, word after word reveals itself, creating an organic ebb and flow within a rigid visual language. The works are both somber reflections over choices made throughout a lifetime, and contemplations on the future: all in the hope of helping to discover what (or where) is 'home.'
Debra Scacco: Birds of Passage opens May 19 at Marine Contemporary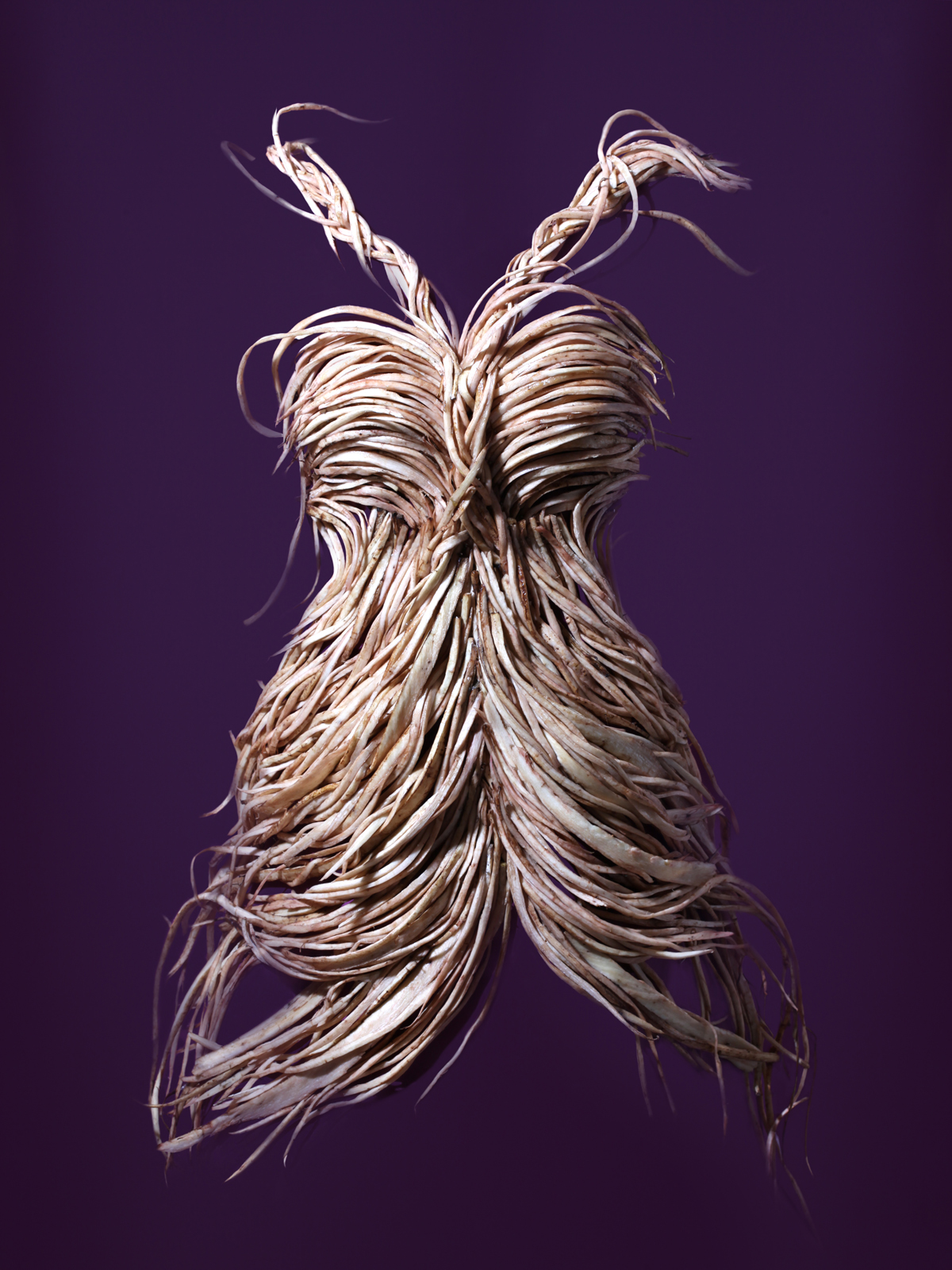 Yeonju Sung: Earthly Paradise: Displaced Realities | Art-merge | LAB launches its first pop-up gallery with the photographic works of Korean contemporary artist Yeonju Sung. Sung deconstructs and reconstructs vegetables and fruits in startling ways, sometimes separating skin from flesh, or cutting them into strips, and interweaving them. She has used bananas, red cabbage, leeks, mushrooms, and lotus roots, and then takes a studio portrait of the results. "At first glance they may appear to be a high-fashion cocktail dress or bodice, something Lady Gaga would wear to her next soiree," says art critic Scarlet Cheng, who is writing the essay for the show's catalog. "Then we recognize the object for what it is -- and have an experience of the uncanny, which is a jarring mixture of pleasure and of dislocation."
Yeonju Sung: Earthly Paradise :: Displaced Realities opens May 17 at the Pacific Design Center (PDC)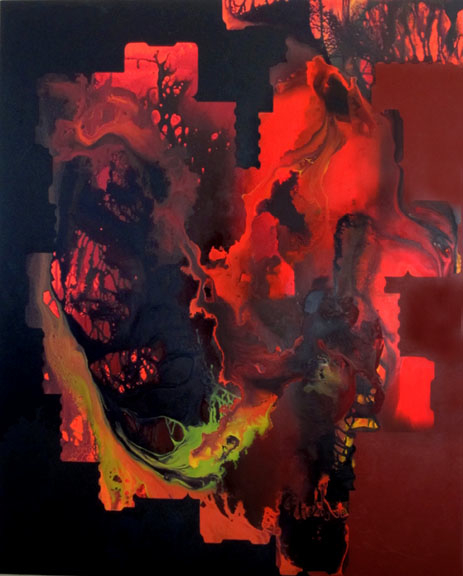 Linda King: New Paintings | The visual complexity in King's vibrant new paintings is a combination of fluid movements of paint with hardedge shapes and flat intense backgrounds, which shifts the viewer's eye as shape becomes negative and space becomes shape.
King's natural and urban surroundings inspire her use of dramatic color schemes. She uses the physical forms of vintage ceramic and metal platters or everyday household objects as stencils to edit the background and create different shapes. Overlapping layers of paint splatters, drips and pools, King creates spatial illusions evoking both microscopic views and a grander sense of distance. The juxtaposition of boundaries subverts perception and solid planes, tricking the viewer's association to what is considered background or foreground.
Linda King: New Paintings opens May 17 at den contemporary
For the most comprehensive calendar of art events throughout Los Angeles go to Artweek.LA.