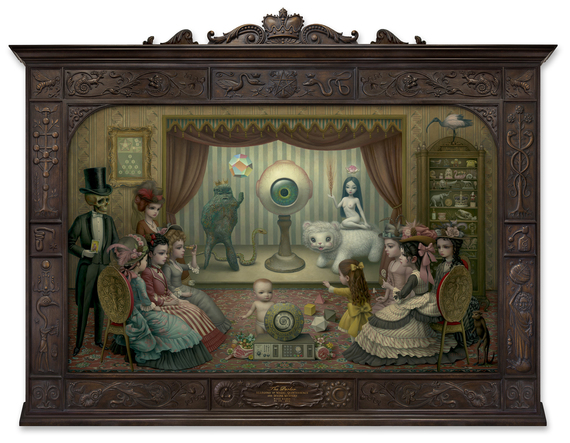 Mark Ryden: The Gay 90s - West | Kohn Gallery announces the inaugural exhibition of its new, expansive 12,000-square foot space with new work by Los Angeles-based, Pop-Surrealist artist Mark Ryden. Ryden underscores his aesthetic forays into cultural kitsch through his exploration of the lost but not forgotten "Gay 90s." Employing the visual trappings of the formally idealized 1890s in America -- women dressed in satin skirts with large bows, large wheeled bicycles, Main St. USA, vaudevillian stages -- Ryden recreates scenes from this marginalized slice of pop culture. This important new body of work -- which includes paintings, works on paper, installations, and sculpture -- negotiates the aesthetic value of clichéd nostalgia through the lens of polished neoclassic painting.
Mark Ryden: The Gay 90s - West opens May 3 at Kohn Gallery, Hollywood.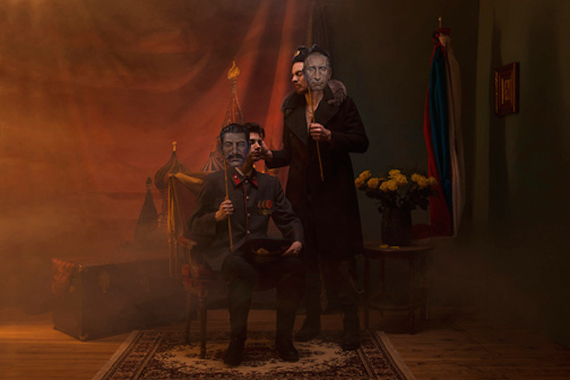 Damian Siqueiros: Frida Kahlo and To Russia With Love | For artist-photographer Damian Siqueiros, feeling juxtaposed between two worlds is commonplace. Raised in Baja California, a great nephew of Mexican muralist David Alfaro Siqueiros, Damian began a serious study of fine art, in Paris, at an early age. As he became fully trilingual (in English, Spanish and French), the young Siqueiros began a concurrent fascination with the painterly possibilities of photography.
With a French-inflected passion for lenses and lighting, Siqueiros opened a studio in Montreal, where he has been shooting commercial work as resident photographer for the Montreal Ballet, as well as personal fine art projects.
Siqueiros' productions - and that is what they are, productions - are rich in artistic references and homages to classical painters and paintings. He casts his often gender-ambiguous models as actors who he then directs to emotionalize and physicalize the highly theatrical presence he captures on camera.
Damian Siqueiros: Frida Kahlo and To Russia With Love opens May 3 at the Artist's Corner Gallery, Hollywood.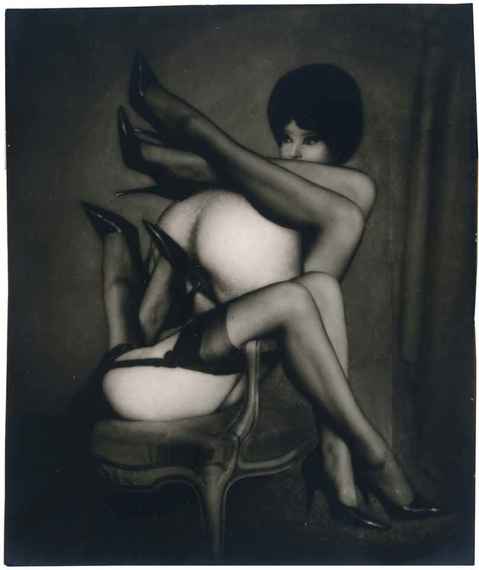 Aurel Schmidt and Pierre Molinier | An exhibition of Pierre Molinier's photomontages alongside a new series of drawings by Aurel Schmidt. Feelings of obsession, repetition, fetishism, pain, longing, death and the psychedelic tumble throughout the intimate works. Both Molinier's and Schmidt's work reflect their exquisite craftsmanship, as well as practices that are thoroughly intertwined with their own lives. Precious and personal, the work is exacting, highly detailed and teeming with overt intimacy. Decorative religious and sexual symbols abound throughout the work speaking to memory, fantasy and desire. Fascinating and repulsive, grotesque and refined, the work is meant to both entice and reveal our inner desires.
Aurel Schmidt and Pierre Molinier opens May 3 at M+B Gallery, West Hollywood.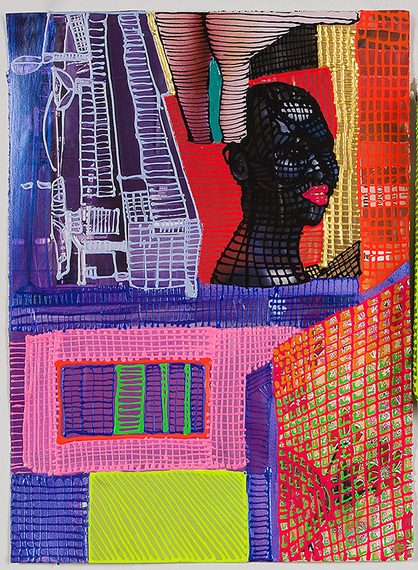 Jaime Scholnick: Redesigned, Repurposed, Re-everythinged | Her new exhibition takes its title from the popular 2008 Apple slogan and her work here too is re-everything-ed as Scholnick casts an eye on what it means to live in our culture at the present moment.
As in her prior work, Jaime Scholnick uses the unadulterated polystyrene that she collects from an unlimited number of products found in today's world. Much of the work however, has been stripped of the manically obsessive line and all over color that adorned her earlier work. Here, the color palette is more subdued or relies on color harmonies that create miniature compositions within a whole.
Jaime Scholnick: Redesigned, Repurposed, Re-everythinged opens May 4 at CB1 Gallery.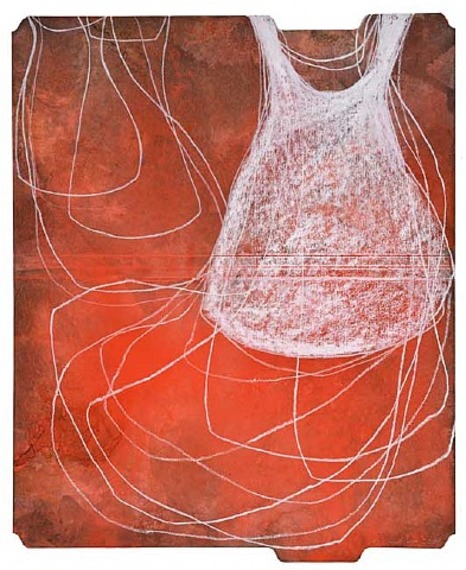 Manfred Muller: Federal Avenue | Throughout his career in Germany and Los Angeles, Müller has made large-scale site specific, sculptures and installations. Utilizing diverse materials such as steel, wood, paper, natural and man-made elements or recycled industrial machine parts. Using architectural space, the industrial landscape and simple geometric form to explore the relationship between form, color, raw material, and the viewer's relationship to object, space and meaning, these works bring together disparate elements uniting in eloquent combinations.
Working in a variety of techniques and employing an equally wide range of materials, the drawings, collages and works on paper that Müller creates, explore continually evolving approaches to making art. These paper pieces are occasionally studies towards larger projects, but more often serve as a response to what is happening in the studio and are conceived and executed as independent works in their own right. Primarily flat but bearing incised lines or raised edges, so common in his work, the drawings are almost three dimensional, allowing light to play on the surface.
Manfred Muller: Federal Avenue runs through May 31 at RoseGallery, Bergamot Station.
For the most comprehensive calendar of art events throughout Los Angeles go to Artweek.LA.