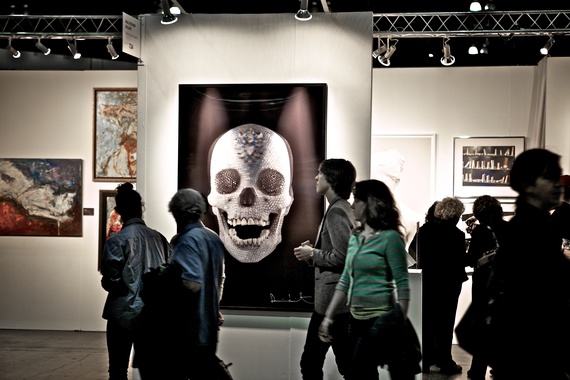 The LA Art Show | The largest and most successful platform for contemporary and traditional art in the West returns to the Los Angeles Convention Center January 15 - 19, 2014.
The LA Art Show provides collectors with an expansive breadth of galleries that crosses contemporary, historic and print genres. Its distinctive "fair-within-a-fair" features four sections in the 180,000 square foot exhibit hall: A Modern & Contemporary Section, Historic & Traditional Contemporary Section, Vintage Poster Section and the LA IFPDA Print Fair. Each section is carefully honed to meet the needs of serious collectors and allows galleries the opportunity to connect with like-minded collectors.
The 19th LA Art Show will kick off with a high-profile Opening Night Premiere Party on Wednesday, January 15 at the benefiting the Sister Cities of Los Angeles, and their program Bordeaux-Los Angeles: A 50 Year Partnership. The event marks the beginning of a yearlong collaboration, Bordeaux-LA 2014, in celebration of the enduring French-American friendship and provides an exceptional opportunity to shine a spotlight on Los Angeles as a center of arts and culture in the 21st century.
The LA Art Show opens January 15 at the Los Angeles Convention Center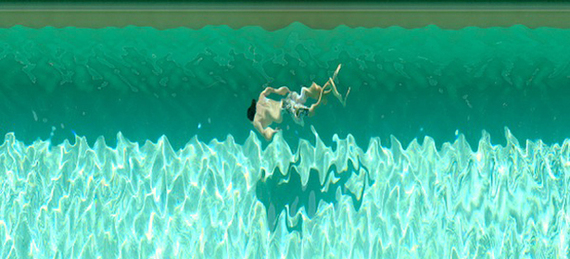 photo l.a. | In recognition of Los Angeles' growing importance in the international art market, photo l.a. is proud to announce its 23rd edition in a new location, Downtown at the L.A. Mart, with an opening night gala benefiting Inner-City Arts, Thursday at 6 p.m.
photo l.a. 2014 will house a rare coming together of the photography and arts communities under one roof, truly raising the bar for both the cultural and collecting experiences. This vast collection, along with a variety of outstanding programming and installations, promises an impressive 23rd edition of the fair.
The 23rd annual photo l.a. Opening Night Gala Benefit marks the beginning of this year's incredible expo with a celebration right on the floor of the fair. This extra special evening will be honoring celebrity-photographer Douglas Kirkland, and all proceeds will benefit Inner-City Arts. They have quite an amazing night in store, with a live DJ set by Aaron Byrd (KCRW), specialty food and cocktails, and a preview of all the exhibits that are participating in photo l.a. 2014.
photo l.a. opens January 16 at the L.A. Mart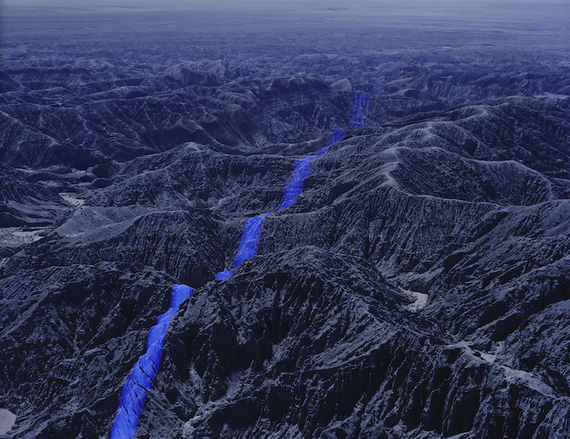 Kevin Cooley + Phillip Andrew Lewis: Unexplored Territory | An interdisciplinary campaign charting the limits of human exploration and our desire to conquer and control nature. Working with a set of themes ranging from early control of fire, colonial exploration of the American West, harnessing fire in the form of combustion to launch rockets into space, to anthropomorphic actions of everyday objects such as box fans, and helium balloons, this body of work exposes a layered relationship between technology's abstractions and certain universal truths.
Encompassing photographs, photograms, videos, and works on paper, this collection of disparate, yet interconnected work is an attempt to understand how everything has the potential to be simultaneously beautiful and destructive. Through figurative and metaphorical gestures and the power of direct representation, the artists' work navigates this terrain without repetition of subject matter, offering the viewer a multifaceted window into their artistic space.
Kevin Cooley and Phillip Andrew: Unexplored Territory Lewis runs through February 22 at Kopeikin Gallery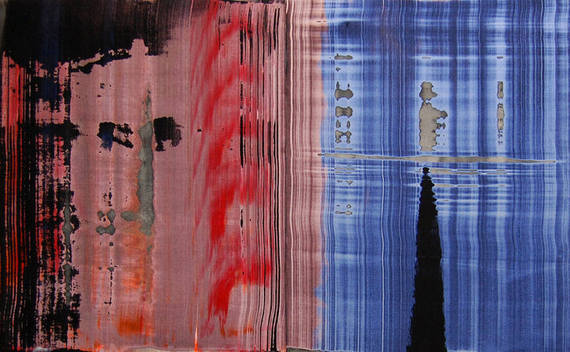 Los Gigantes | This show will feature large-scale artworks from five giants of the West Coast art world: Larry Bell, Craig Kauffman, John Mason, Ed Moses, and Peter Voulkos.
Larry Bell became known for his investigations into intangible perceptual phenomena in the 1960s, and his work is often included in major exhibitions of Minimal Art. Craig Kauffman began his work with vacuum-formed acrylic plastic in the mid-1960s, and periodically returned to the medium as he invented new forms - expanding his lifelong interest in unorthodox supports for painting. John Mason's work over the last six decades presents a compelling argument for abstract sculpture. Emerging in the mid-1950s, Mason is recognized as one of the leading artists whose work elevated clay from a craft medium to fine art. Ed Moses has an extensive history with painting, and his lyrical abstractions of the 1950s and 1960s form a major and self-sustaining body of work. Throughout his career, Moses has focused on process, materials, and improvisation. Widely known for his groundbreaking work in clay, Peter Voulkos played a pivotal role in the liberation of ceramics from the craft arena. Working alongside artists such as John Mason and Ken Price, Voulkos inspired generations of ceramists to push the boundaries of the medium.
Los Gigantes: Larry Bell, Craig Kauffman, John Mason, Ed Moses and Peter Voulkos opens January 18 at Frank Lloyd Gallery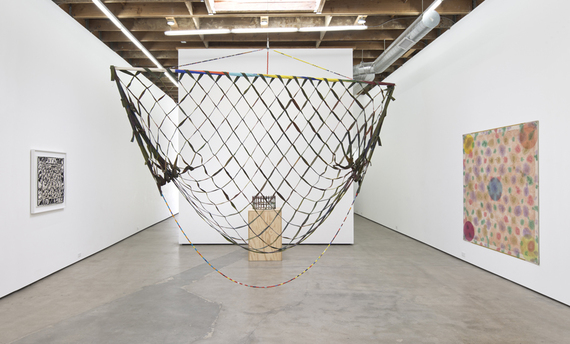 Jennifer Boysen + Noam Rappaport: Supports/Surfaces is Alive and Well | The exhibition features works by Jennifer Boysen and Noam Rappaport in context with pieces from the radical French painting movement.
Supports/Surfaces developed away from Paris, in the south of France - the home of Matisse. Early exhibitions took place in towns like Coaraze, Montpellier, Nimes and Nice in the mid-1960s. After the student revolts of 1968, the movement ratcheted up its activities, exploding in such exhibitions as "Supports/Surfaces," which took place at ARC in Paris in September 1970. These shows occurred at or around the same time as those of other French artist groups like GRAV and BMPT (Daniel Buren, Olivier Mosset, Michel Parmentier and Niele Toroni). Like them, Supports/Surfaces questioned the role of painting as both an art object and a social one.
As its name suggests, Supports/Surfaces was interested in articulating what its artists felt were all too readily ignored aspects of painting: basic concepts like 'support' and 'surface,' for example, and the presence of painting as a product of individual labor. At the same time, these artists were very much interested in painting and its own peculiar history.
Supports/Surfaces is Alive and Well opens January 18 at Cherry + Martin
For the most comprehensive calendar of art events throughout Los Angeles go to Artweek.LA.