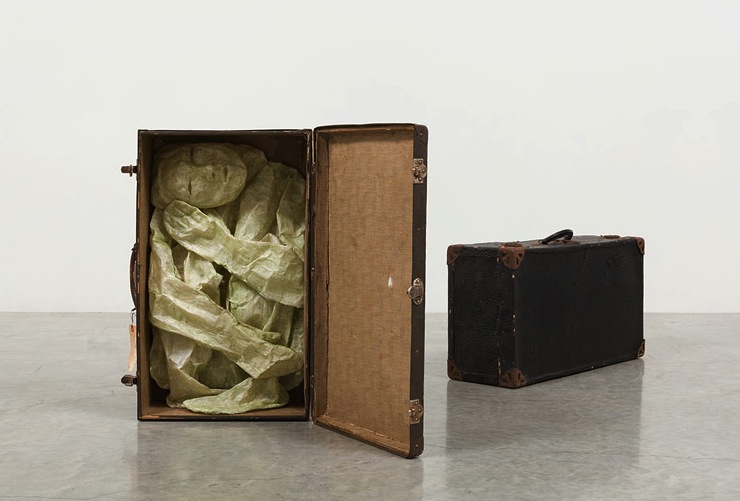 Alison Saar, Pret-a-Porter, 2013, paper, matte medium, wax, pigment, and found suitcases, Suitcase 1 of 2: 26 x 15 x 8 in. (66 x 38.1 x 20.3 cm), Suitcase 2 of 2: 28 x 14 x 9 in. (71.1 x 35.6 x 22.9 cm). Courtesy of the artist and L.A. Louver.
Alison Saar: Slough | Through a complex and masterful use of evocative materials, themes of racial struggle, cultural identity and the changing roles of motherhood converge in this new body of work by Los Angeles artist Alison Saar.
The title for the exhibition Slough, is defined as "a situation characterized by lack of progress," or "to cast off or shed dead skin." It is this duality of meaning, and a sense of both impasse and renewal, that pervades the 15 new works in the exhibition. In Shorn, a female figure carved from wood and painted red shaves her hair using a shard of glass, leaving behind a bare trace of stubble. The cut hair cascades from the figure's hand, entwining her legs and feet. This dramatic removal can be interpreted as a rite of passage, or a cathartic act of mourning. In Pret-a-Porter, two found suitcases rest on the floor; one is left slightly ajar to reveal the uninhabited skin of a female figure, formed from translucent paper. Folded and loosely packed, it's unclear whether the skin has recently been shed or is waiting to be donned.
Alison Saar: Slough opens September 7 at L.A. Louver, Venice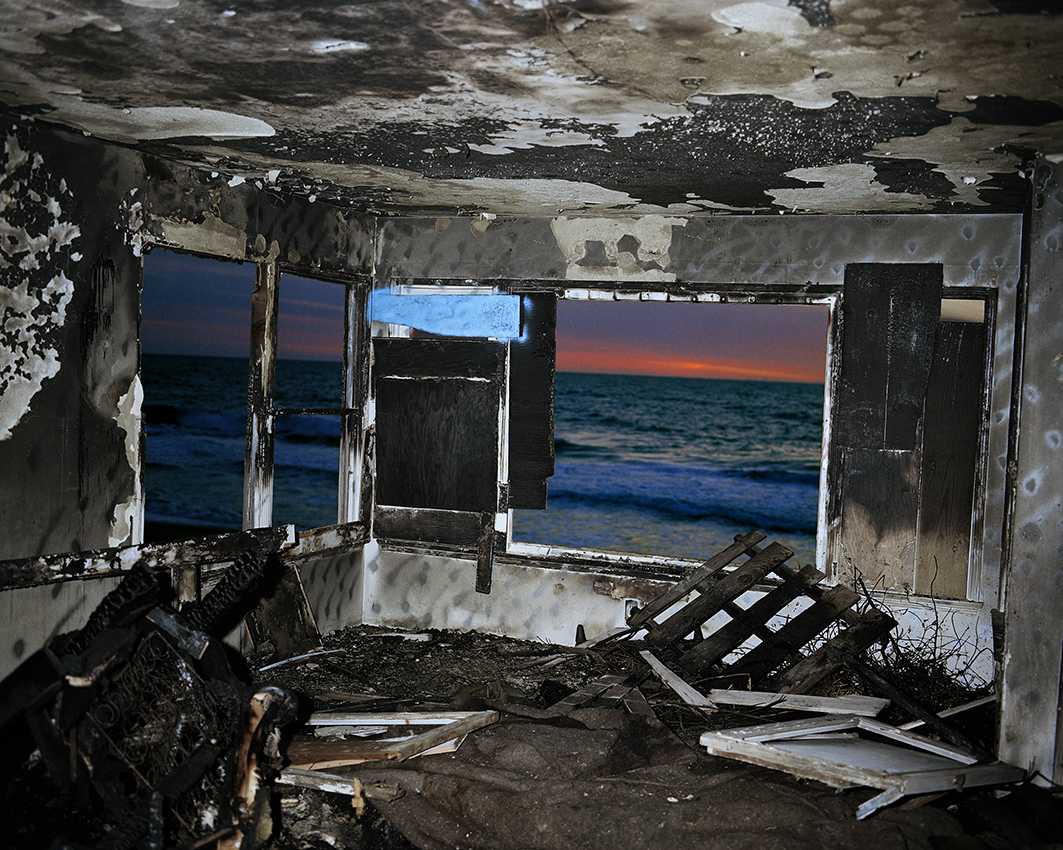 John Divola: As Far As I Could Get | With a career comprising four decades, John Divola is as distinctive for his commitment to the photographic community as for his thought-provoking work. Divola's influence within the field of photography is widely recognized by curators, critics, scholars and photographers throughout the country; yet, his work has remained largely uncelebrated. Many of his former students have achieved illustrious careers and far more recognition, even as Divola continues to mentor and inspire both undergraduate and graduate students in contemporary art practice.
As Far As I Could Get, the first over-arching presentation of Divola's work, is a collaborative project led by the Santa Barbara Museum of Art (SBMA), shown simultaneously at SBMA, the Los Angeles County Museum of Art (LACMA), and the Pomona College Museum of Art (PCMA), which leads off with an opening Saturday, September 7 from 5 to 7 pm. Though Divola's photographic series are diverse in subject matter, this approach as one exhibition among three Southern California venues emphasizes the consistent conceptual and performative threads that run through Divola's entire body of work.
John Divola: As Far As I Could Get opens September 7 at the Pomona College Museum of Art (PCMA)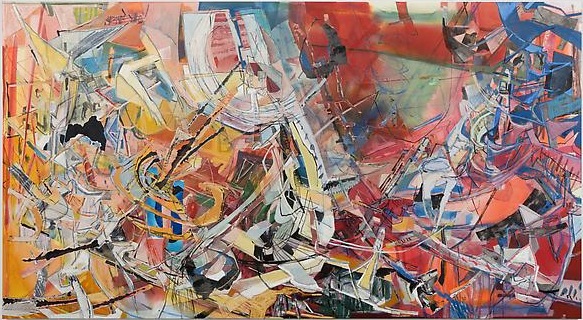 Iva Gueorguieva: Spill / Frame | Whether working with painting, drawing or sculpture, Gueorguieva creates complex, frenetic environments by interweaving precise line drawings with strips of collage, textured rubbings of pigment, and large washes of color.
By physically and metaphorically cutting and bringing together disparate items and ideas in her paintings, drawings, and sculptures, Gueorguieva's works can be seen as assemblages of chaos and order, personal concerns and global issues. As she states, "to some extent we all do it, trying to make all this scattered matter fit."
Iva Gueorguieva: Spill / Frame opens September 6 at ACME Gallery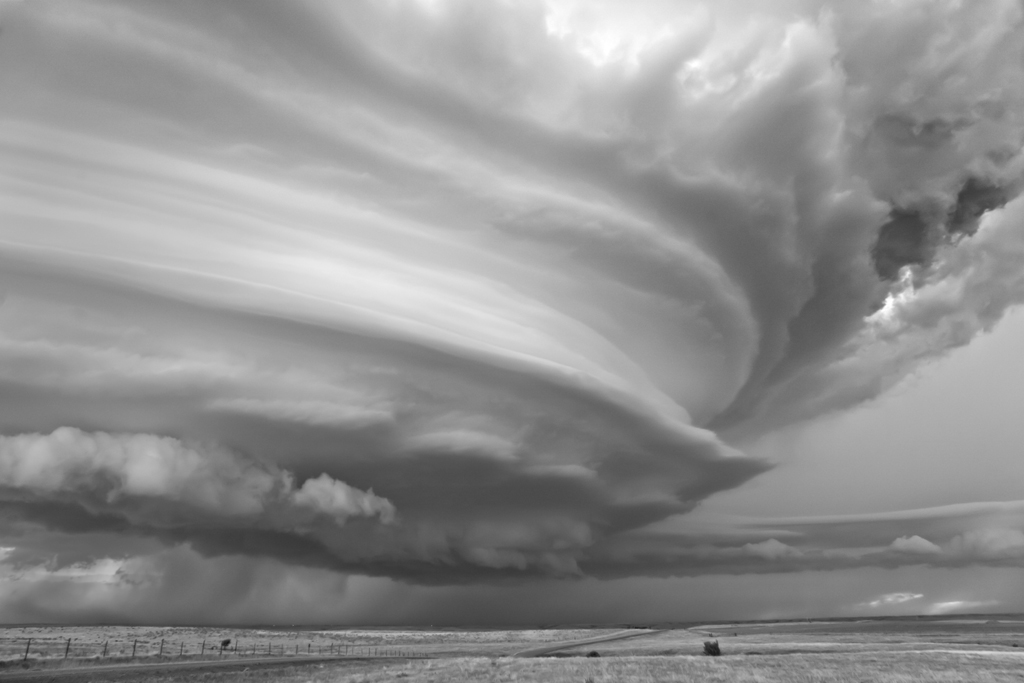 Mitch Dobrowner: Storms | Working with professional storm chaser Roger Hill, Dobrowner has been chasing storms throughout Western and Midwestern America since 2009. Dobrowner's extraordinary images of monsoons, tornados, and massive thunderstorms are created with the highest standard of craftsmanship and in the tradition of Ansel Adams and capture nature in its full fury. This series has attracted considerable media interest, having been published in National Geographic, Time, The New York Times Magazine, NPR, CNN, Los Angeles Times and The Economist, as well as many photography oriented publications.
Storms, named in recognition of the subject matter and Aperture Books publication of the same name, has won Dobrowner the Sony World Photographer of the Year 2012 award.
Mitch Dobrowner: Storms opens September 7 at Paul Kopeikin Gallery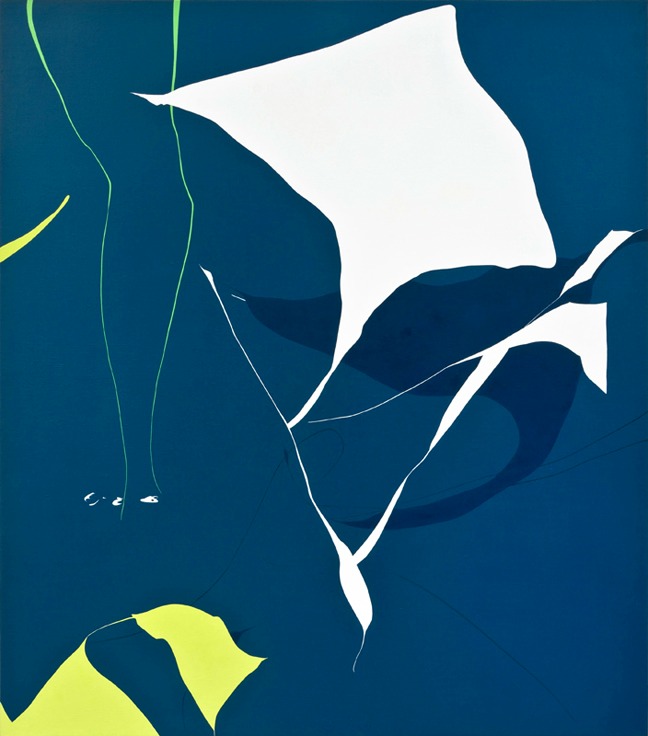 Heather Gwen Martin: Pattern Math | Martin's work eschews conceptual and critical strategies in favor of a very personal and intuitive approach that allows for a broad reading and interpretation.
In Pattern Math, Martin continues her exploration of abstraction in painting. Her approach is thoughtful and straightforward, displaying a near-scientific sense of control over formal and organic elements that negotiate and direct our experience. In a sense, her paintings can be seen to function as experimental fields--dynamic, spatial environments where energies and forces from the real world and the otherly imagined are brought into play, imposing upon and affecting one another.
Heather Gwen Martin: Pattern Math opens September 7 at Luis De Jesus Los Angeles
For the most comprehensive calendar of art events throughout Los Angeles go to Artweek.LA.