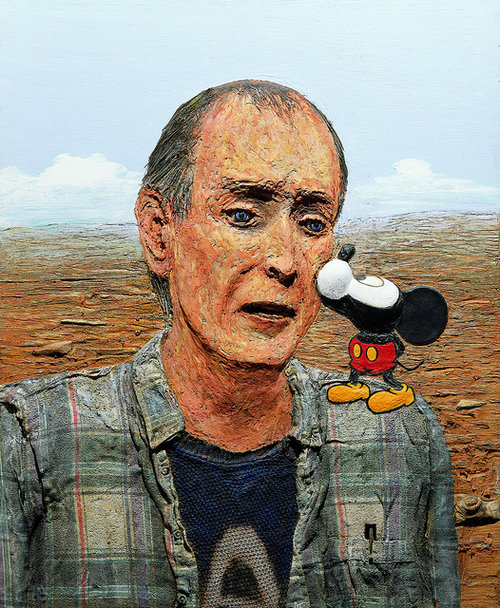 Each week This Artweek.LA presents five current exhibitions we feel represent the best of the Los Angeles art scene. This week, however, we have decided to feature a single extensive career retrospective devoted to the work of one of the most influential yet under-recognized artists of his generation -- Llyn Foulkes.
Llyn Foulkes | Llyn Foulkes (b. 1934 in Yakima, Washington) makes work that stands out for its raw, immediate, and unfiltered qualities. His extraordinarily diverse body of work -- including impeccably painted landscapes, mixed-media constructions, deeply disturbing portraits, and narrative tableaux -- resists categorization and defies expectations, distinguishing Foulkes as a truly singular artist.
The exhibition features approximately 140 artworks from public and private collections around the world, some of which have not been seen publicly for decades. It will be presented in Galleries I and II as well as in the Hammer's Video Gallery and will include a loose re-staging of the artist's 1962 solo exhibition at the Pasadena Art Museum. Arranged chronologically, Llyn Foulkes explores the entire scope of the artist's career: early cartoons and drawings; his macabre, emotionally charged paintings of the early 1960s; the epic rock and landscape paintings of the late 1960s and early 1970s; his "bloody head" series of mutilated figures from the late 1970s through the present; and his social commentary paintings targeting corporate America (especially Disney), which include his remarkable narrative tableaux combining painting with woodworking, found materials, and thick mounds of modeling paste, seamlessly blended into the painted surface to create a remarkable illusion of depth.
Llyn Foulkes opens to the public February 3 at The Hammer Museum
For the most comprehensive calendar of art events throughout Los Angeles go to Artweek.LA.