The second of two posts.
Yesterday, I introduced the "hot, tragic, … complex issue" of wildfires. Today, I share more of what we learned on last week's fact-finding trip to Colorado. (Read Part 1.)
As I mentioned yesterday, to try to learn what's going on with wildfires, a group of us from the Nicholas School traveled to Colorado. In addition to viewing forests torched by fire and decimated by pine bark beetles, we spoke with people who represent a wide range of viewpoints, including:
Scientists, like Monique Rocca, a Nicholas School Ph.D. and associate professor at Colorado State University (CSU), Lee MacDonald also of CSU, and Peter Brown, director of the Rocky Mountain Tree Ring Research Lab.
Officials from the U.S. Forest Service, including Canyon Lakes District Ranger Kevin Atchley.
Brian Verhulst, a park ranger at Rocky Mountain National Park.
Officials responsible for supplying clean water to the region, including water production manager Lisa Voytko.
Businessmen, like Brad Modesitt, whose white-water rafting business, Mountain Whitewater Descents, almost went under because of the fire.
Members of the Rist Canyon community, many of whom lost their homes in the High Park fire.
Jill Ozarski, another Nicholas School alum and the natural resources policy advisor to U.S. Senator Mark Udall (D-CO).
And we brought along Norm Christensen, the founding dean of the Nicholas School and one of the world's experts on forest fire and recovery.
Here's some of what we saw, heard, and learned.
The Legacy of Fire Suppression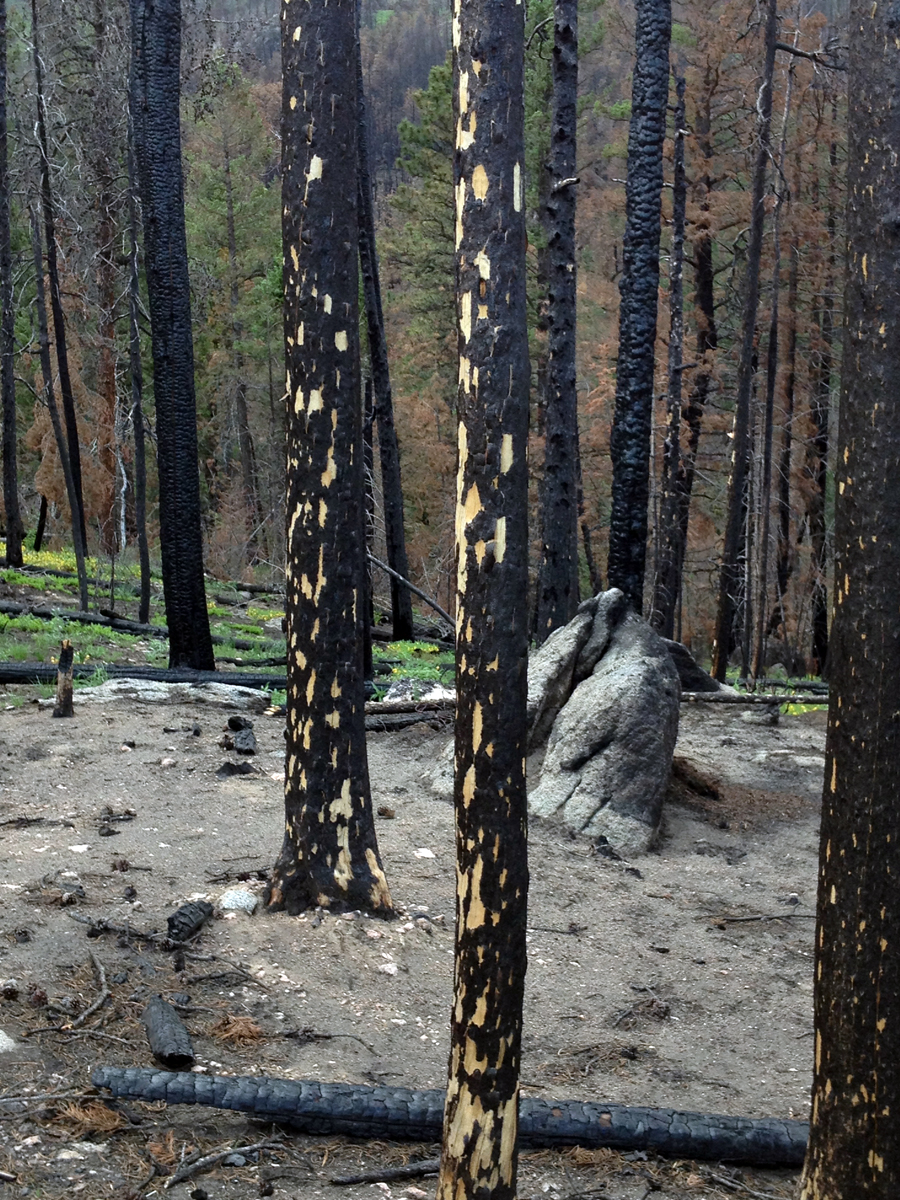 Trees devastated by the High Park fire.
Everyone we spoke to talked about having to deal with the legacy of misguided forest management.
More than a century ago, individuals and then communities and then finally the U.S. Forest Service had made it a policy to suppress forest fires (see here, here and here); some folks may remember Smokey the Bear.
But as one scientist we spoke to said, "It's not a matter of if a wildfire will occur, it's when."
Fire is a natural part of a process of destruction and regeneration that keeps a forest diverse and healthy. By suppressing fires in the forest, we weren't putting an end to fires, we were just putting off the inevitable. And the longer we put it off, the more wood -- that is, fuel -- built up in the forests, making them huge tinderboxes ready to explode.
Fortunately, things are changing. Projects like the Front Range Forest Reconstruction Network are working to thin the forest to encourage new growth and make the forest less vulnerable to megafires. But so far, that's like using a drop to put out a fire that requires buckets. And so megafires seem unlikely to end anytime soon. (Read more about how things are changing here and here. See also the National Interagency's Coordination Center wildland fire potential outlook.)
The Role of Climate Change
There was also consensus that climate change is playing a role, if nothing else as a catalyzing agent for the megafires.
The science indicates it is a factor as well. See here, here [pdf], here, here and here. A report [pdf] by the National Research Council states: "The average area burned by wildfire per year in parts of the western United States is expected to increase annually by two to four times per degree of warming." And data show that the annual number of wildfires [pdf] and total acres burned in the southwestern United States correlate closely [pdf] with temperature and drought.
Mountain snowpack, which provides much of the water to Colorado's forests in the spring and summer, is shrinking. During our visit to Rocky Mountain National Park, a park official commented that, despite the late spring snowstorms, the snowpack on the park's peaks was down by more than 50 percent of what it should be at this time of year. The fire season is getting longer, droughts longer and more severe -- in fact much of the Southwest has seen drought conditions almost continuously for the past decade. (Drought continues to ravage the West.)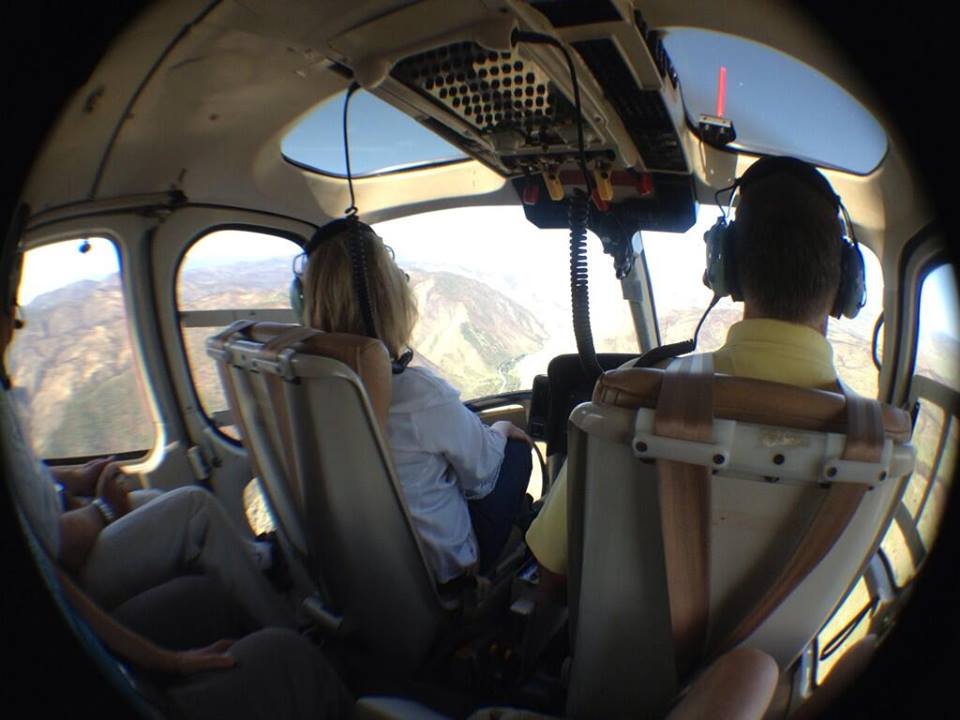 Viewing Colorado's scorched forests from the air.
Living on the Edge
Wildland-Urban Interface (WUI)
Areas where manmade structures are built within or adjacent to natural, undeveloped areas are referred to as Wildland-Urban Interface spots or WUIs. These fire-prone areas have seen an increase in population recently. This "red zone" map [pdf] by Colorado State University shows high-risk populations in Colorado WUIs. (More on WUIs and their fire risk here [pdf].)
While the intensity of wildfires can be laid at the feet of forest management and climate change, the growing loss of life and property caused by wildfires has another important if not major contributor: the increasing numbers of people choosing to live in the Wildland-Urban Interface (or WUI, pronounced wooo-eee) areas. It is estimated that more than 25 percent of Coloradans [pdf] live in the WUI.
It's understandable. More and more people are choosing to live on the edge of civilization. Close enough to roads and infrastructure to have amenities like electricity and cell phone coverage, but far away enough to enjoy the solitude and beauty of the wilderness.
But the Forest Service policy is to prioritize saving life and property. When a wildfire breaks out, it may be part of a natural process of forest destruction and regeneration, but if a home, even one in the WUI, is threatened, they must and will do everything that is humanly possible to save it. (More on WUIs here.)
Listening to the radio during the trip, I heard some folks blame the people who live in the WUI for making these wildfires so problematic. It's not an uncommon complaint: see here and here [pdf]. If they didn't live there, the reasoning goes, the Forest Service could just let the forest burn, as it's supposed to, saving money and putting fewer firefighters at risk. To paraphrase: "Anyone who chooses to live in the WUI is free to do so, but they should be told to not expect any help if a fire strikes."
Insurance was another issue, with some complaining that the loss of homes in the WUI was raising rates for those living in town.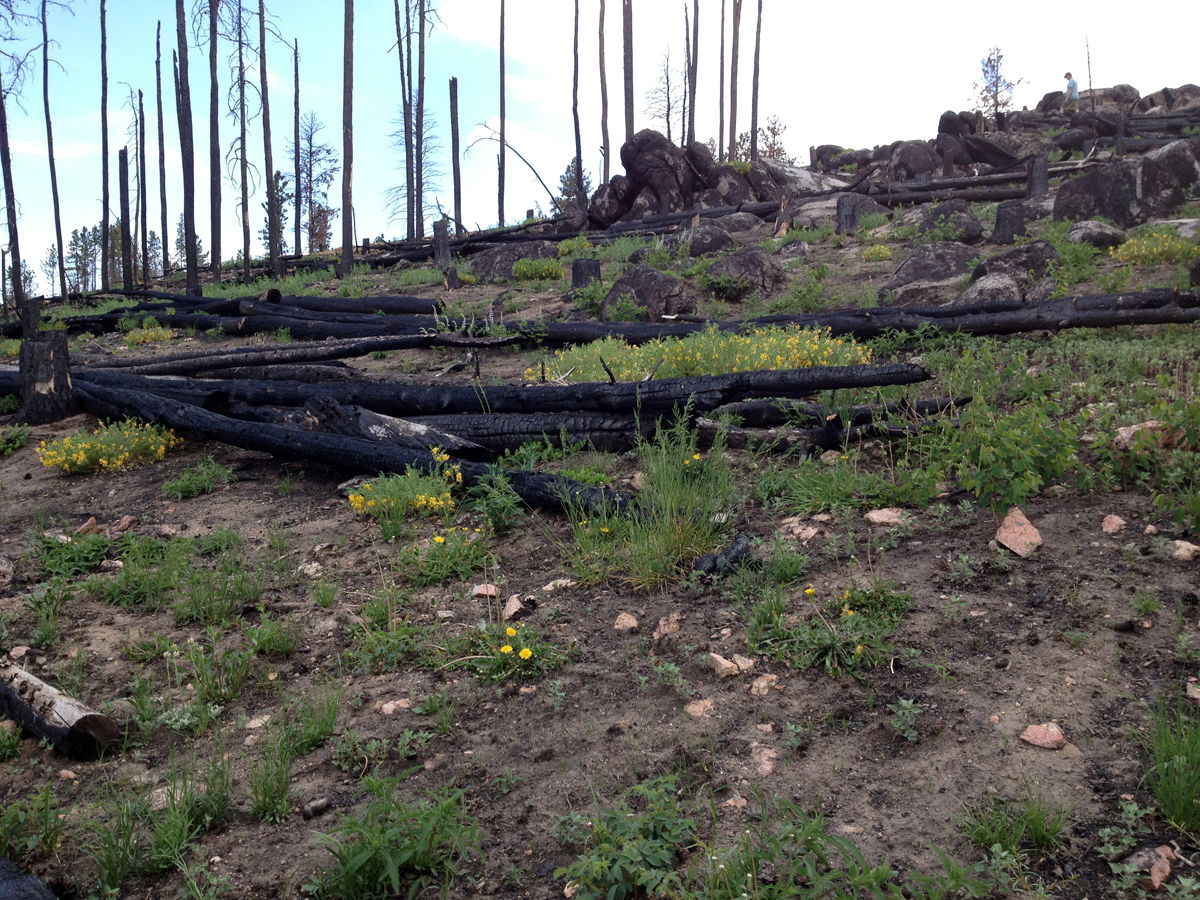 Some remnants of Colorado's forest fires amid new blooms.
Visiting With People Living in the WUI
On one evening during our trip we hosted a community dinner for some residents of Rist Canyon, one of the areas most severely devastated by the High Park fire. I was deeply struck by the warmth, humanity and spirit of these folks and their strong sense of connection and empathy for their neighbors. I found it hard to "blame" anyone for anything.
These people had a strong sense of personal responsibility as well as a love of the land and the Rocky Mountains in particular. They all spoke of having recognized from the outset that choosing to live where they did, in the WUI, put them at risk and that they worked as hard as they could to mitigate the chances that fire would destroy their homes. They maintained a volunteer fire department and those volunteers risked their lives to stop the High Park fire, not knowing whether their own homes were about to go up in flames.
In spite of their best efforts, many of them had lost their homes to fire; some had "thrown in the towel," as one put it, and moved out of the WUI while others were in the process of rebuilding. There was no bitterness, there were no complaints that the government or the fire service had let them down.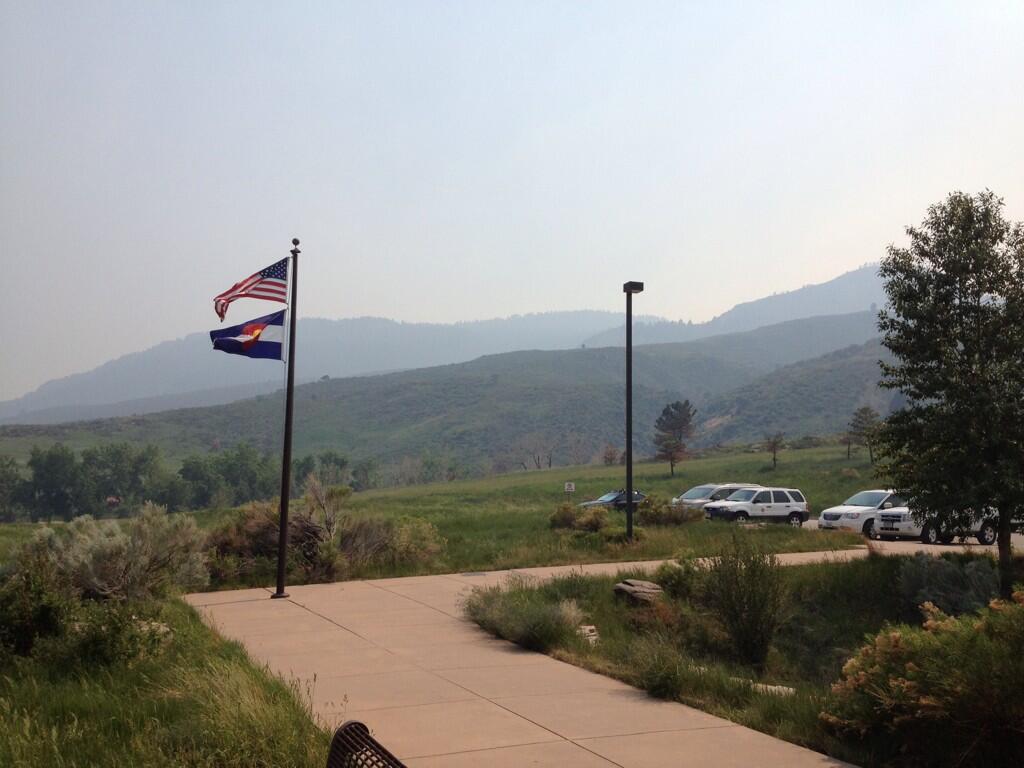 While we were at Lory State Park, we saw smoke wafting over from a new fire in Rocky Mountain National Park.
Some had even used the event as a platform for a leap into new endeavors and projects. Linda Masterson who lost her home in a fire in April 2011 wrote Surviving Wildfire, a handbook for how to "get prepared, stay alive, [and] rebuild your life," and now consults with the likes of the Department of Homeland Security. Dale and Marilyn Snyder picked themselves up from the ashes of their home and have single-handedly led a movement to reform home-insurance laws in Colorado to assure that those who experience catastrophe receive proper compensation.
As for the argument that people living in the WUI were sucking resources and raising insurance rates, the folks I dined with pointed out that people living in cities were knowingly increasing their risk of burglary and other crimes but still expected government protection and compensation from insurance companies.
Reassessment and Rebirth
Even as new wildfires devastate Colorado (see here, here and here), taking homes and lives, recovery is underway. Atop the ashes of the High Park fire along the slope of a mountain in one of the most severely burned areas, wildflowers have appeared.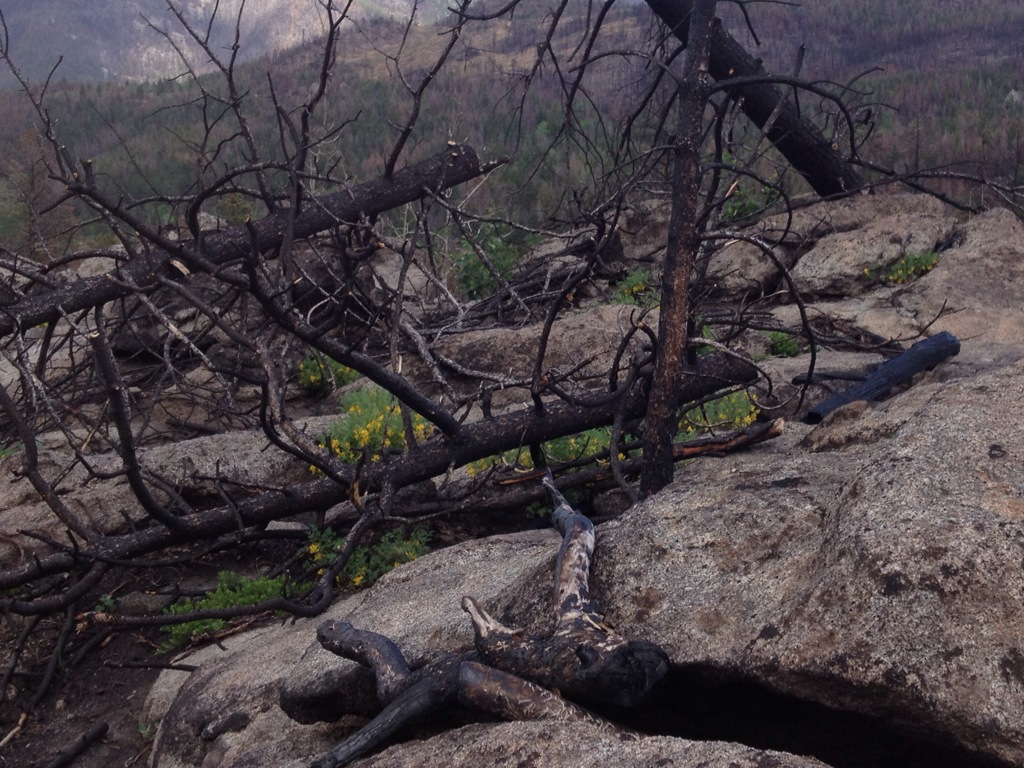 Wildflowers bloom under tree scorched by forest fire.
Crossposted with TheGreenGrok | Find us on Facebook