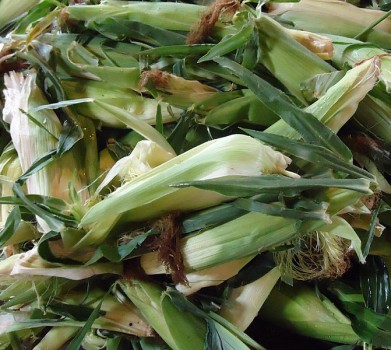 A corn husk costume could you make you the most sustainable trick-or-treater at this year's Green Halloween Ball. (Tomwsulcer)
Ideas for taking the C (as in carbon) out of your Halloween costume.
Happy Halloween, everyone. I don't know what's up at your office, but around here everyone is all abuzz about Halloween this year. And much of the talk is about costumes, a la "what are you going as?"
Now I hate to be a stick-in-the-mud, but if we're serious about making sacrifices to put the kibosh on global warming, we can't leave our "better living by being green" hiding at home while we party on Halloween.
Bottom Line: Make sure your Halloween costume is green. How? Here are 10 ways.
10: Go as the Jolly Green Giant. Sorry folks, I couldn't resist.
9: Hey, you don't need me. Check out other sustainable costume websites.
8: Jump into a cardboard box -- literally. With a little artistic skill you could have everyone at the party checking out your touch screen or making nice to your superpowers.
7: A la Macklemore, head out to your local thrift store -- preferably on foot or by bike.
6: Buy a used costume on eBay. But best to have it sent by Pony Express instead of airmail.
5: Channel your inner costume designer. Gather up all the rags and old shirts in your home, along with scissors, needle and thread, and create something your trick-or-treating friends will remember.
4: Go as garbage. Did I hear anyone say "dumpster dive"? Be sure to bring along some duct tape and some imagination.
3: Hold a pre-Halloween-Costume-Party Party. Ask your friends to bring over four random pieces of clothing and throw them all together in a laundry bag; everyone picks four pieces at random and there are your costumes. Needle and thread are allowed.
2: Go compostable. A pumpkin attire may be event appropriate but other designs/food groups are encouraged too.
Which brings us to …
THE NUMBER 1 SUSTAINABLE HALLOWEEN COSTUME
1: Your birthday suit, natch.
Keep up with TheGreenGrok | Like us on Facebook