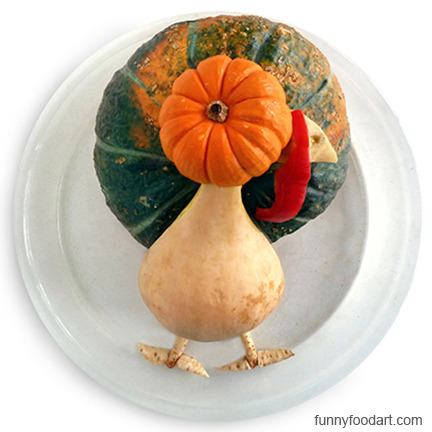 This year Thanksgiving and the Jewish holiday of Hanukkah are celebrated on the same day. The last time there was a convergence of these two holidays was in 1888.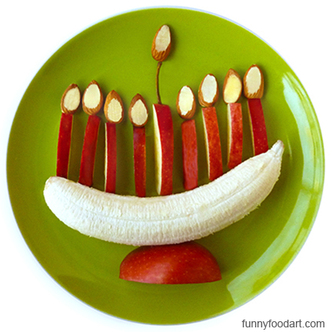 Can I make this "once in a lifetime event" a time to share the fun and warmth of the holidays and still maintain a healthy diet?
It can be a double whammy -- or a time to enjoy both Holidays and have fun, eat well.
Thanksgiving is an easier holiday for me. In our family everyone makes a dish and I always make the salad and a vegetable. I enjoy them and they help me cut down on the less nutritious foods.
And, there are lots of nutritious foods on the table. I like turkey and it's a great low-calorie protein. There are also so many delicious seasonal vegetables -- Brussels sprouts, green beans, roasted beets and butternut squash to name a few. I choose baked yams instead of candied yams... a healthier choice.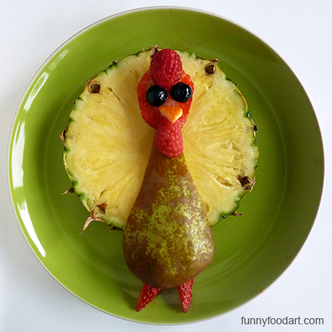 Fortunately, Thanksgiving is only one day... if I don't let the leftovers haunt me. Leftovers in my refrigerator leads to amnesia about what I'm eating. My trick is to give away the high-calorie and high-carbohydrate leftovers immediately after the meal.
Hanukkah is more challenging... eight nights of eating deep-fried latkes (fried potatoes) or noodle pudding (kugel). And, of course, tons of chocolate coins (Hanukkah gelt).
The overlap gives me one day less to be tempted by Hanukkah's traditional foods.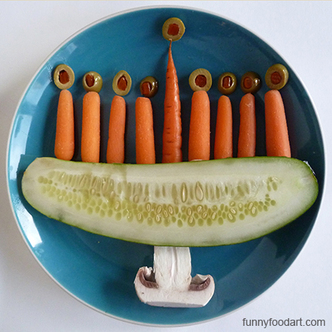 I have a plan and some good strategies to manage the temptations. I won't eat unless I'm sitting down with the food on my plate. It's too easy to pick at food while talking or cooking and not notice what I'm consuming.
When invited for Hanukkah I'll bring fruit, a vegetable or salad for everyone to enjoy and fill up on them before taking any latkes. I need to decide how many latkes I'll eat and use self-control to move away from the table once I have put them on my plate.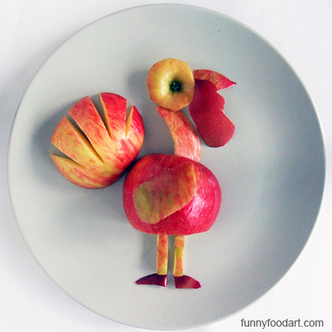 I'll hold on to times when I did well at parties and visualize myself being successful again. If my strategies fail and I give in to temptations, I know that the next day I will definitely start fresh and eat well. The extra food will not ruin my healthy lifestyle unless I use it as an excuse to go food crazy for the week.
Even if I do eat to many latkes, I won't let the day's overeating spill into defeating self-talk such as, " I already failed so I might as well give up."
A strategy that helps me from losing my mindfulness is hearing the words of a great song in my head: "Nothing's impossible, I've found for when my chin is on the ground, I pick myself up, dust myself off, and start all over again. Don't lose confidence if you slip, be grateful for a pleasant trip, and pick yourself up..."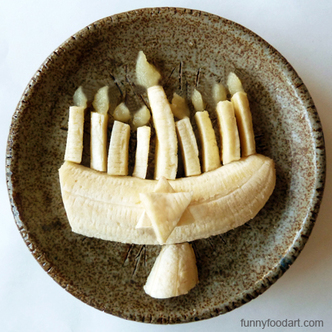 May your holidays be Happy and Fruitful.
Funny Food Holiday photos are displayed at Gourmet Garage at 489 Broome St in NYC. Exhibit at Bank St College until 12/10 at 610 W.112th St., NYC. Funny Food book signing 11/30, 2:30 p.m. at the Bank Street Bookstore, Bwy. @ 111 St. NYC
Like Funny Food Art on Facebook. Visit funnyfoodart.com