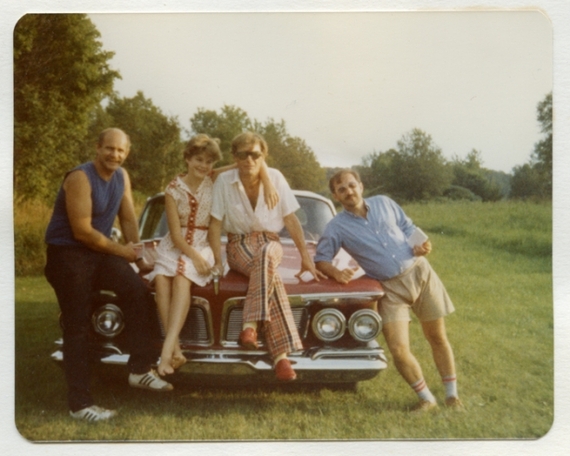 [From left to right: Andy Kopkind, Daisy Cockburn, Alexander Cockburn and John Scagliotti at Treefrog Farm, Vermont, 1981. (Courtesy of Kopkind Colony)]
------------------------------------------------------------
It was 20 years ago this week that journalist Andy Kopkind died from cancer at age 59.
The Nation magazine, where Andy wrote and edited, just published a tribute to Andy, featuring excerpts of his work and calling him "gutsy" and "radical":
This week marked the 20th anniversary of the death of Andrew Kopkind, beloved friend of and contributor to The Nation and one of the gutsiest, most talented, most radical journalists the United States has ever seen. Kopkind started at Time, The New Republic and The New Statesman in the 1960s, wrote for Ramparts, the Village Voice and The New York Review of Books in the 1970s -- though, rather outrageously, he is not mentioned (to my recollection) in the recent documentary about the Review, The 50-Year Argument -- and began writing for The Nation in 1980. Mostly as associate editor and briefly as film critic -- but, most importantly, as a roving correspondent and commentator -- Kopkind wrote well over 100 articles for The Nation until his death in 1994.

If you don't already have a copy of Kopkind's collected writings, The Thirty Years' War, well, I don't know what you're doing. Perhaps it suffices to say that when it comes to recent American history and the possibilities of leftist journalism, all your fallacies are wrong (to paraphrase the philosopher)...
There's no question Andy was, as The Nation called him, "gutsy" and "radical," going back to his days in the 1960s covering the civil rights movement for Time magazine.
But recalling Andy, whom I knew as a mentor, colleague and friend, going back to our days working together at the now legendary Boston underground radio station WBCN-FM, what was more pronounced and memorable about him was his incredible kindness and his brilliant sharp-as-tacks insights and wit particularly about culture and politics, both of which were so relevant in the early 1970s when everything about the world was changing so dramatically.
Andy was an early and major proponent of the idea, so accepted now, that nothing, no action or statement, is merely "personal," and that all things personal are also political. Not surprisingly, many of Andy's writings and his work, including the creation, with his partner John Scagliotti, of The Lavender Hour, the early gay and lesbian weekly broadcast that aired starting in 1973 on WBCN, were expressions of his own life and his coming out as a gay man in what was then a very straight world.
If there is a Betty Friedan or Gloria Steinem of the Gay Liberation and later the LGBT movement, Andy was it.
These photos were taken during a weekend spent at the farm in Vermont where he and John Scagliotti lived, and John still lives, back in October 1991. It was a rollicking weekend with friends celebrating Andy and John's anniversary, made even more so by watching the Anita Hill hearings live on TV, replete with cheers, boos and off-color comments from all about the proceedings.
Andy remains, as my daughter Rose would say, "in the heart" of those who knew and worked with him at WBCN-FM, and later at The Nation, Village Voice, New York Review of Books and elsewhere, as we miss and remember gutsy and radical and kind and brilliant Andy.
You can read more of Andy's writings in the Nation as part of its just published tribute to him: "The Gutsy, Radical Journalism of Andy Kopkind, Who Died 20 Years Ago This Week." The legacy of Andy's work for journalists and community organizers, including the Kopkind Filmmakers Retreat Seminars, continues at the Kopkind Colony.