From Father to Son: Words of Wisdom on Becoming President of Marriott
Long before Ronald Reagan started the tradition of leaving a note behind in the Oval Office for the next President of the United States, my dad left a letter in my desk drawer when he stepped down as president. That was way back in 1964. The hotel business was growing, and we decided to change our name from Hot Shoppes to Marriott-Hot Shoppes. I was 32 years old. It was an exciting time and a little intimidating, too. In fact, it was downright scary. My father had spent 37 years building the business and establishing our reputation for excellence in restaurants. I wondered if I could live up to his expectations.
My father was not one to lavish praise, and that may be one of the reasons I treasure his letter. In it, he told me how proud he was of me and how much confidence he had in my ability to manage the company. That letter meant so much to me that I'd like to share it with you.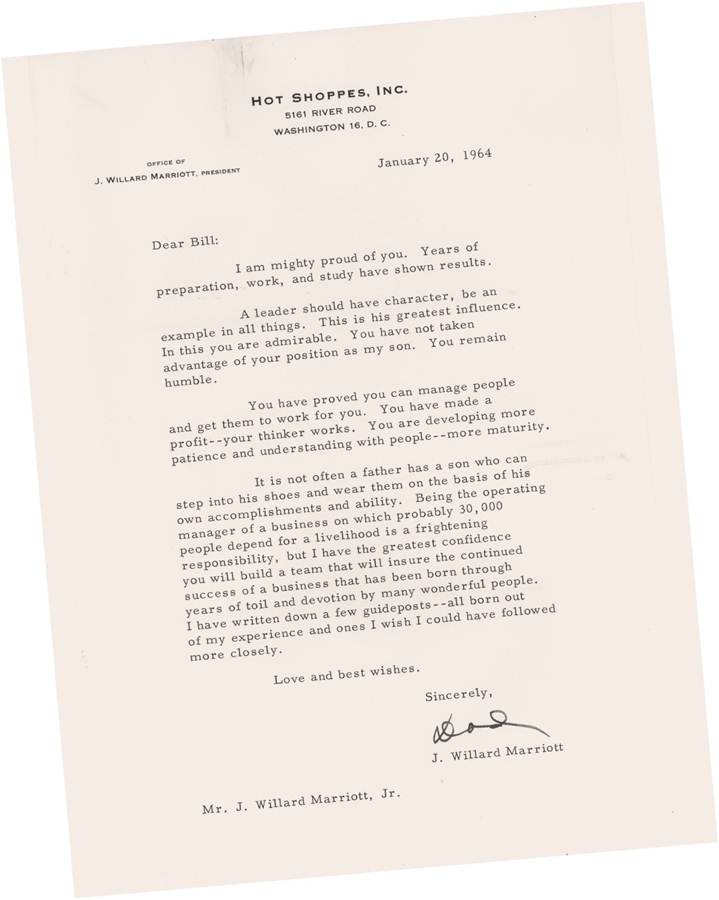 The guideposts my father mentions in an attachment to the letter are very special. They come from lessons he learned along the way that he hoped would help me in my new role. One of those guideposts -- the most important one, I think -- was to always remember that "People are Number One." Their development, loyalty, interest and team spirit would be my prime responsibility. I took that lesson very seriously, and I've tried to apply it to everything I've done through the years.
I'm proud that today Marriott is as dedicated as ever to taking great care of people and providing them with the opportunity to grow and build a great life.
My father's final guidepost has always had special meaning: "Think objectively, keep a sense of humor -- make the business fun for you and everyone else."
That's my dad's legacy ... and I hope it will be mine, also.
I'm Bill Marriott, and thanks for helping me keep Marriott on the move.
This post first appeared on MarriottOnTheMove.com.