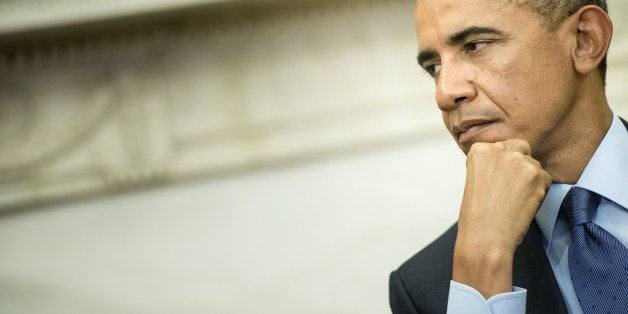 It's the "meh" economy, stupid. 2014 is not a boom year or a bust year. It's just "meh."
That's why President Obama chose his words carefully when he talked about the economy in his CBS 60 Minutes interview last week. "Ronald Reagan used to ask the question, 'Are you better off than you were four years ago?' In this case, are you better off than you were six [years ago]?" the president said. "The answer is, the country is definitely better off than we were when I came into office."
Notice that Obama said "the country" is better off. He didn't say "You're better off."
He is right. "The country'' is clearly better off. The official unemployment rate has dropped below 6 percent, the lowest level since July 2008, before the Great Recession. Productivity is rising. The economic growth rate for the second quarter was a robust 4.6 percent. And with tax revenues increasing, the federal budget deficit is lower.
"The United States has put more people back to work than Europe, Japan and every other advanced economy combined," Obama said at Northwestern University Thursday. That's true. But it won't do him much good politically. How many American voters will say, "We're doing better than the Japanese! Woo-hoo!"
President Obama didn't dare say, "You've never had it so good," because he would have been laughed off the stage. What he did say was, "Our broader economy in the aggregate has come a long way, but the gains of recovery aren't yet broadly shared."
That's also true. Only the wealthiest 5 percent of Americans have seen solid gains in income. The vast majority have not experienced any improvement, and many are facing wage stagnation and declining incomes. President Obama's argument is that he has policies to help lower-income workers, but congressional Republicans have stubbornly blocked them: a higher minimum wage, equal pay for women, more infrastructure spending. Obama said in his speech that, while he himself is not running this year, "these policies are on the ballot -- every single one of them."
Since 1974, polltakers have been asking Americans, "How well do you think things are going in the country today?" It's a pretty good indicator of how people see the economy -- and how it affects their vote.
When the number who say things are going well is more than 60 percent, it's a boom year. Incumbents do well at the polls. For instance:
1984, when Reagan declared "Morning in America'' and got re-elected (74 percent said things were going well)
1988, when Vice President George H.W. Bush was elected as "Reagan's third term" (70 percent)
1996, when Clinton won a second term (67 percent)
2000, when Vice President Al Gore got 540,000 more votes than George W. Bush but didn't quite make it in the electoral college (79 percent)
When the number who say things are going well dips below 40 percent, it's a bust year. Incumbents do poorly. Like:
1980, when Jimmy Carter got fired (32 percent said things were going well)
1992, when the first President Bush was laid off (35 percent)
2008, the financial crisis (16 percent, the lowest figure ever)
How many Americans people think things are going well in the country now? Answer: 50 percent, according to a CNN poll. That's a lot better than 2008, when Obama was elected. It's even better than 2012, when Obama got re-elected (40 percent). But it's not exactly a boom. Fifty percent is "meh."
The "meh" economy is dampening enthusiasm for Democrats among the party's core constituencies: low-income Americans, minorities, young people and single women. If Democrats are unenthusiastic, Republicans are in a rage. They can't wait to vote because Obama's policies have been far more liberal than they can tolerate. Obamacare, for instance, is not a top issue to most voters this year, as it was in 2010. But it is at the core of seething resentment among Republicans.
Democratic candidates are still competitive in many states because they are running hard on social issues, especially women's rights. The emergence of the New America -- young people, educated professionals, single and working women, gays, Latinos and voters with no religious affiliation -- has enabled Democrats to use social issues to bludgeon their Republican opponents, just as Republicans used to do to Democrats. Those issues may rally Democrats the same way hatred of President Obama rallies Republicans.
Meanwhile Republican candidates are trying to replicate their surprise victory in the 2002 midterms, when terrorism was at the top of the agenda. Once again, we are hearing charges that Democrats are "soft on terrorism."
In a "meh" economy, candidates rely on other issues to drive the vote. To quote the wisdom of the late Gilda Radner's Roseanne Roseannadanna, "It just goes to show you, it's always something. If it's not one thing, it's another."