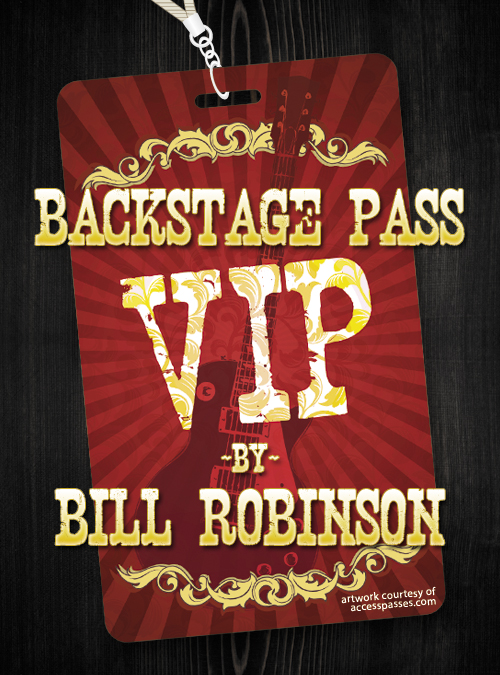 The first thing that strikes you about Andy Grammer is that he is a nice guy. Honestly. He has a self-effacing, outgoing and mentally sharp personality that makes you feel real comfortable, real fast.
Now I had never heard of Andy Grammer much less seen him live, but I love hearing new artists and getting acquainted with new, younger artists with younger demographic audiences than me. Having at least 25 years on Mr. Grammer, I had some catching up to do.
So I decided to seek a tutor. I quickly found her in one of my buddy's daughters, who had recently listened to Grammer's "Keep Your Head Up" during a tough time in her life. She told me that this one song helped her immensely.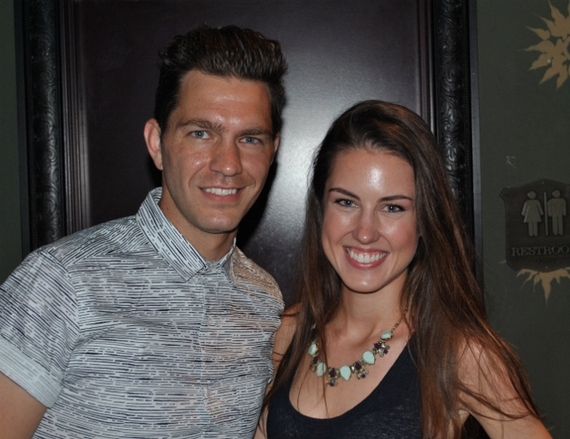 And for a musician/songwriter, that's got to the 'The Holy Grail;' to be able to reach and impact your listeners in that positive way. And that's what Andy Grammer is all about, no doubt: positivity and making his fans feel better about themselves, music and the world in general.
Grammer's music is nice. He's like a guys' Taylor Swift but he's not country. There's certainly no crack-dealing, gun-toting, cap-busting, baseball cap askew characters in his songs, and I like that about his music. It's a healthier alternative to Gangsta Rap or whatever they're calling it now.
Yes, Andy Grammer won me over.
THE PERFORMERS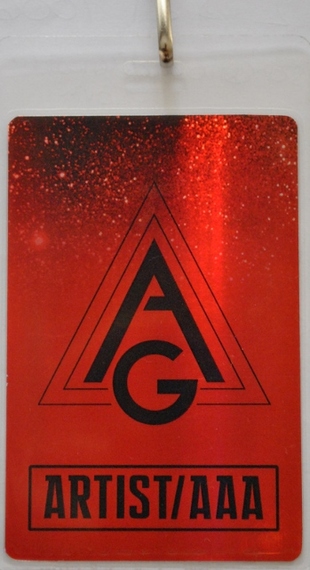 Andy Grammer is a truly bi-coastal guy. Born in Los Angeles, he grew up in the small Orange County, New York town of Chester a little over an hour's drive from NYC. He's got that omnipotent feeling about him like he could just as easily jump on a surfboard, as the L train in NYC's subway.
THE MUSICIANS
Greg Karas, Lead guitar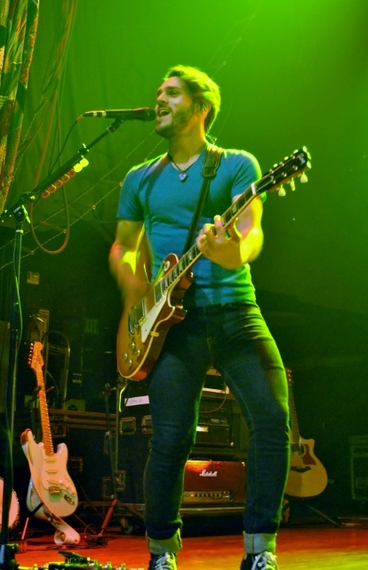 About Karas, Grammer said, "The best damn guitar player slightly reminiscent of John Stamos. He is also the mechanic and can fix anything ever."
Zach Rudulph, Bass guitar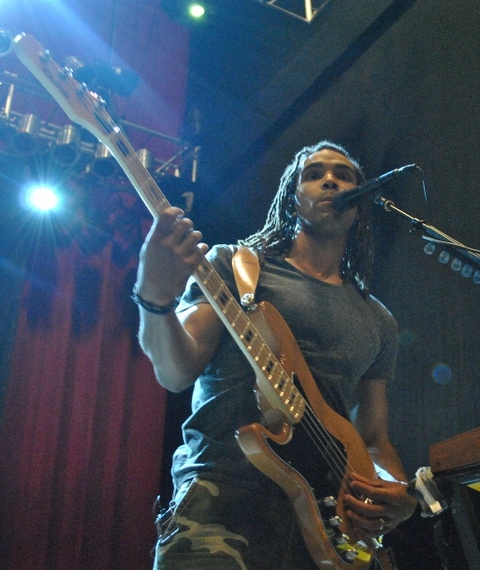 About Rudulph, Grammer says, "Obnoxiously good looking, talented bass player who has been with me the longest. It's not an Andy Grammer show without Zach."
Doug Wayne, Keyboards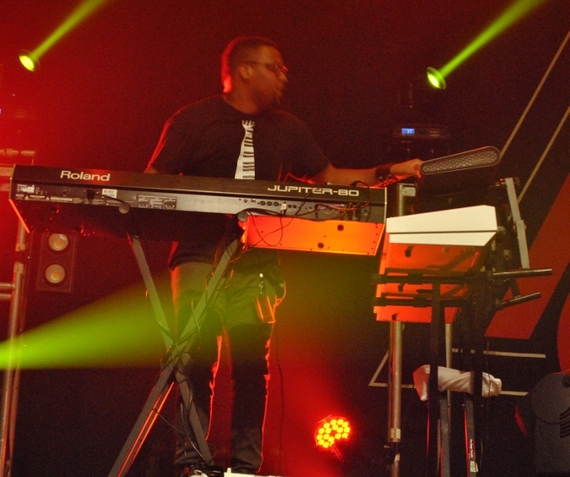 About Wayne, Grammer observed, "Newest member of the group and somehow behind the keys, the biggest hype man. He jumps around more than all of us. He made the 'keytar' a necessity."
Mike Baker, Drums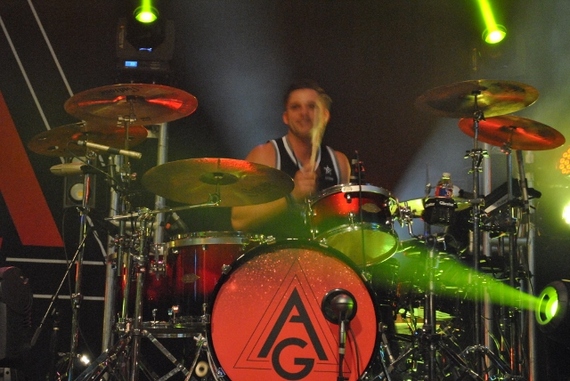 Grammer said of drummer Baker, "The only drummer that hits the drums as hard as I like. He has the most touring experience and lets us know how it all is supposed to go."
THE INSTRUMENTS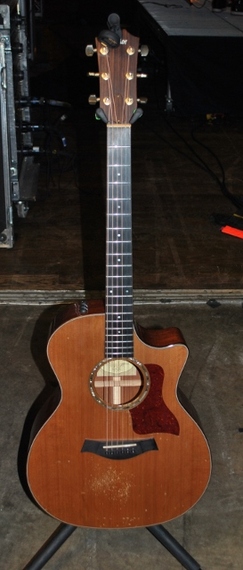 Andy Grammer's Taylor acoustic guitar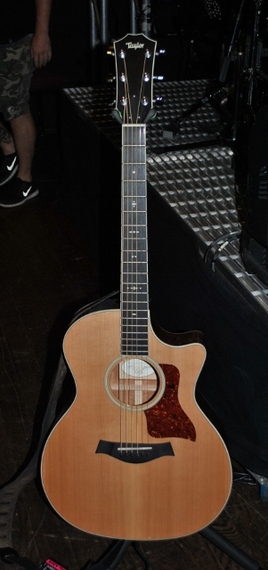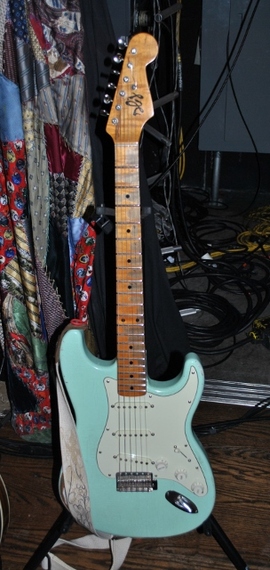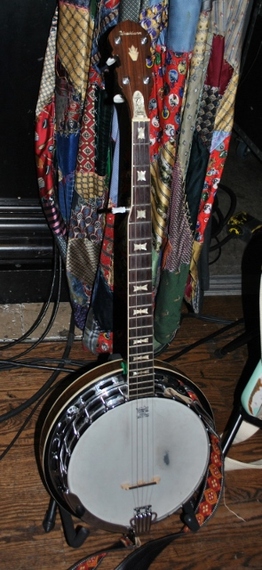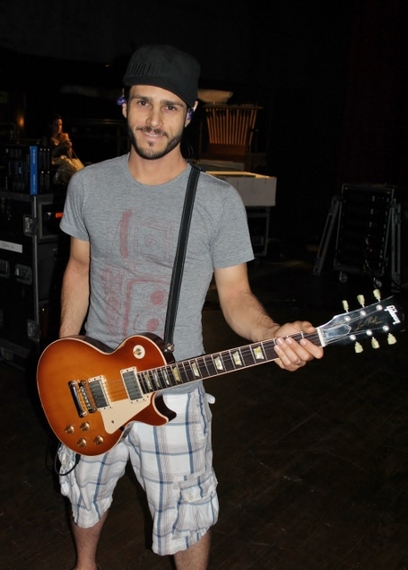 Guitarist Greg Karas sports his Gibson Les Paul Sunburst reissue during sound-check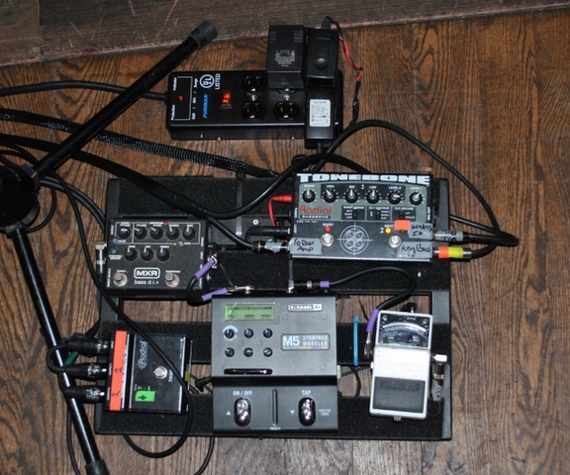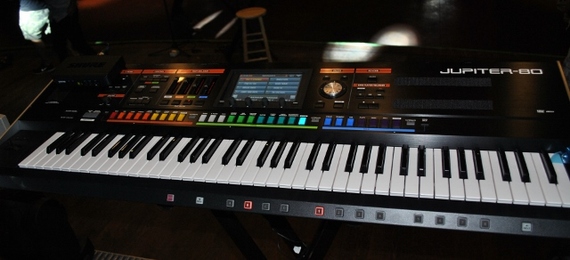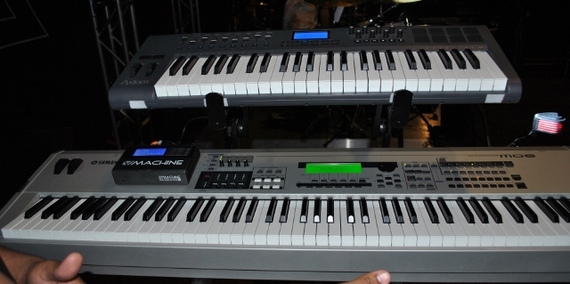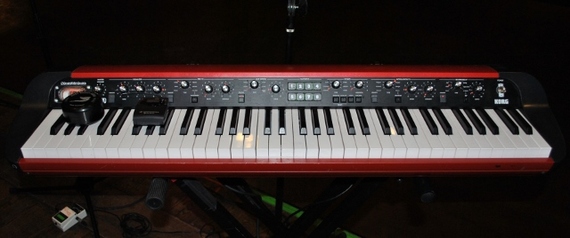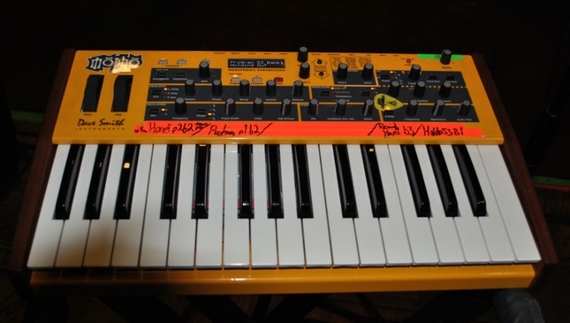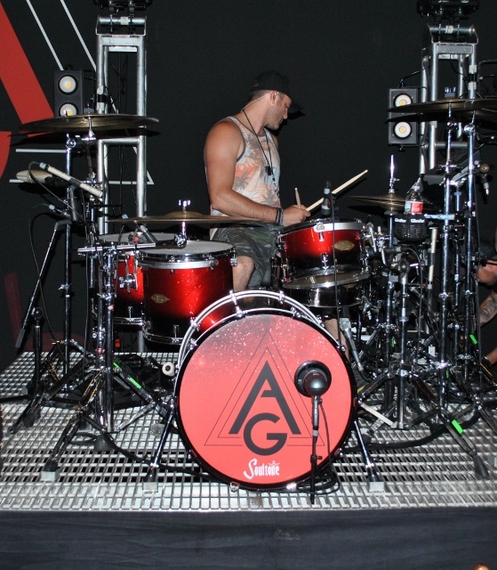 THE VENUE
The House of Blues (HOB) in Dallas is like a comfortable family, night-out bar/restaurant on the main floor and then, downstairs a concert hall with all the trimmings. This makes it a great place for a night out with the wife and/or kids and take them out to dinner and a show simultaneously. They also have a great Gospel Brunch on Sundays. For the 'Boomer' generation like me, HOB offers big time national acts like UFO, Tesla, Los Lonely Boys, Kenny Wayne Shepherd and other artists of all genres.
THE SOUNDCHECK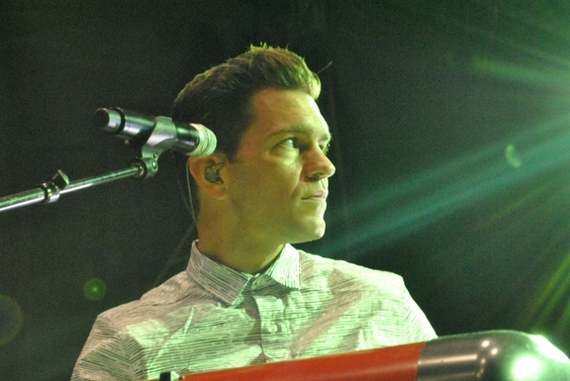 Andy Grammer did something I'd never seen any artist do with their sound-check before. He had a sound-check party for his fans. It is de rigueur for bands to have a "VIP Meet & Greet" usually right after the sound-check, where fans get to meet their heroes and get stuff signed.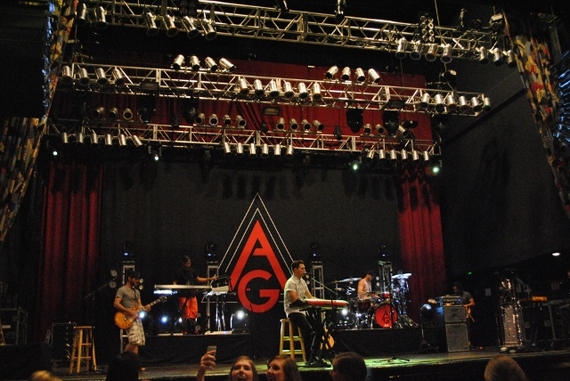 However, Grammer had his fans at the sound-check and put in a mini-performance for them rather than just checking for mic levels and chatting with the road crew. Watchful mothers and fathers beamed as Grammer's fans, mostly teenage girls stood in front of the stage videoing the whole experience on their smartphones. Oh boy, I thought, this is going to be boring for an old man like me.
But Grammer makes all things fun and chatted with his fans from the stage, telling them stories and making them feel as if they knew him. This is not only great marketing and revenue generation, but also just a great way to recognize your fans personally beyond screaming into the mike at the show, "You make it all possible!" The fans parents loved it too because they were part of it with their children.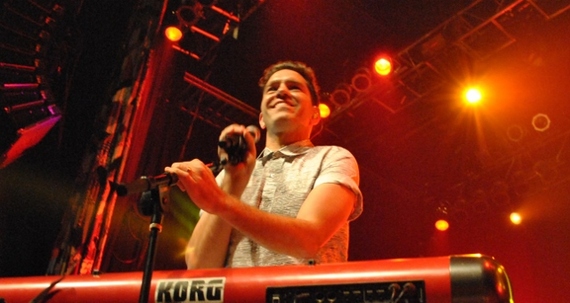 Afterwards, instead of just lining all the fans up 'mooing' in a line to slowly walk past a signing table, Grammer hosted an after-party (after-sound-check-party) where his fans fresh from the exhilaration of the sound-check itself, mixed with Grammer and the band, chatting and and getting to know them.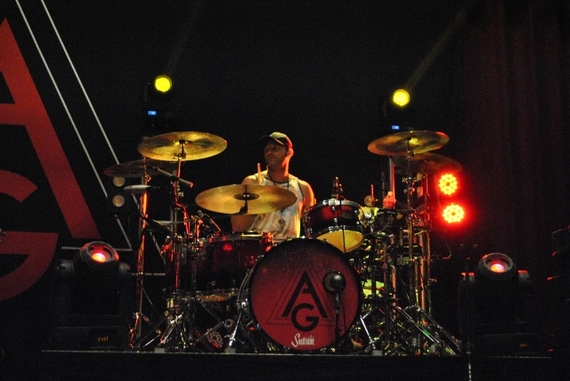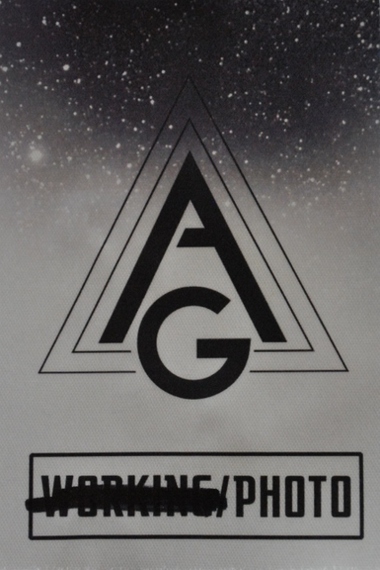 THE ARTIST COMMENTARY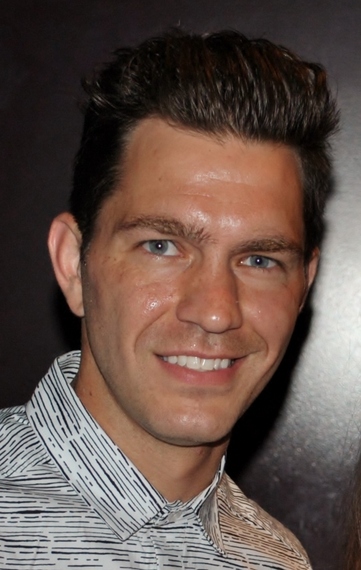 "It's Father's Day! I just called my Dad!" Andy Grammer greeted me in his dressing room. "He's awesome. He's a killer musician. He's a children's singer; a Grammy-nominated children's singer."
Is that how you got your start in the music business? "I saw my Dad doing it and thought to myself, 'I can do that.' I would be backstage watching him and running around the country with him singing to children. He would sing songs that taught children really good morals, like "Teaching Peace" was a song he used to sing to kids a lot. He had a real knack for finding a virtue and then writing a really silly song from it and kids would get what the virtue was from that. He and my Mom were always writing songs and there were pianos and guitars always around in the house so I grew up with music in my house and life."
Do you have a target market for your music? Do you have a specific audience in mind when you write your songs? "You know, the first album not really, it was just kind of written for what I was going through at that moment which was trying to make it in LA. I was street performing, on my third year of street performing. You get way better from playing to the passing public. You learn how to entertain. But it took me a good three years out on the promenade to figure that out. You also learn what makes them stop--dead in their tracks and what doesn't. For instance, whenever I would do "Sunday Morning" by Maroon 5 they would stop immediately. So I would think "OK cool, I need like 10 of those.' When I sang "Apologize" and "Beat Box," they all stopped. Really lucky because I look at actors who don;t have a way to do that and I was really lucky because that time I was down in Santa Monica was really tough but it prepared me so well."
"The funny thing about when you first start playing music out in public like that ("busking"), the peoples' ears are giving you service, they're listening to you and subtly telling you how to get better. Because you're not good enough and don't have anything that they need yet. And so they're doing you a service by listening to your music and helping you improve. And turning that around, so that you're giving their ears a form of service, stopping them to listen is literally the hardest thing any musician or artist can learn to do." All of Grammer's eponymous first album featured songs he wrote while performing on the promenade in Santa Monica.
Who are Grammer's strong musical influences? "It's shifted a lot for the second album, but for the first album is was John Mayer, Jason Mraz, Jack Johnson were all my high school years with a guitar. Then you have the piano rock guys I just love like The Fray, One Republic, Coldplay, clearly. The the hip-hop side with Lauryn Hill, Common, Mos Def and so on. So the question was, how do I merge all three together? Whenever I wrote a song that had little hints of all three. I started to get very happy."
"I just finished my second record ("Magazines or Novels," will be released on August 5, 2014) and you get to see that on the first record you're just trying to get it done and you don't even pick your head up. I didn't have anything to do at all with mixing the first record--and mixing is HUGE!! So I was involved in a lot of the mixing of this new album."
What of the optimistic nature of your songs, "Keep Your Head Up" in particular? "This girl came up to me in a diner in LA and she tapped me on the shoulder and came up to me and said, 'You're Andy Grammer. You saved my life.' It was crazy; almost so crazy it's not real. She said, 'I was on a bridge, I was at super low time in my life' and I could tell from her demeanor that she was serious. She said she was on the bridge and was going to drive off but 'Keep Your Head Up' came on the radio."
THE SETLIST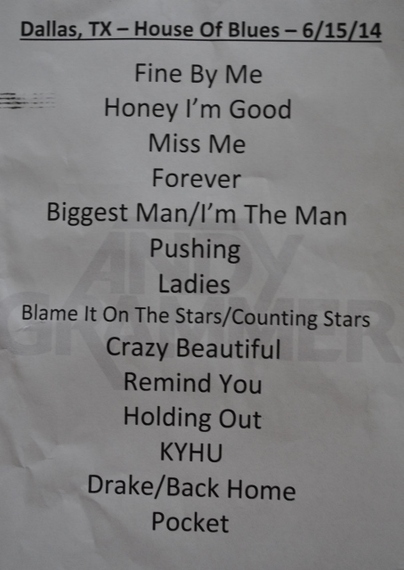 THE AUDIENCE
The audience was a much younger demographic; I'd say from the 14 to 25 age range and was mostly female. Grammer's music is very well-received by young girls, whom he tries to positively influence through his optimistic melodies and lyrics.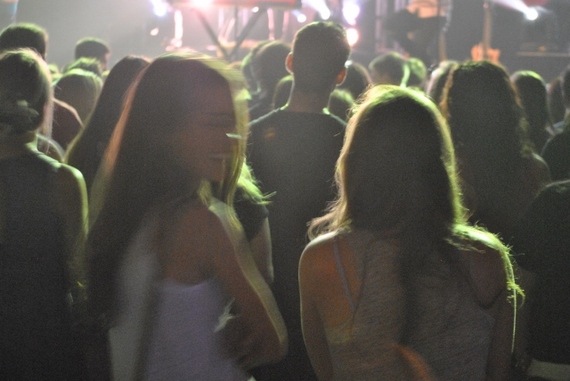 The crowd was enthusiastic during the entire show and left abuzz with their experience of Andy Grammer.
THE SHOW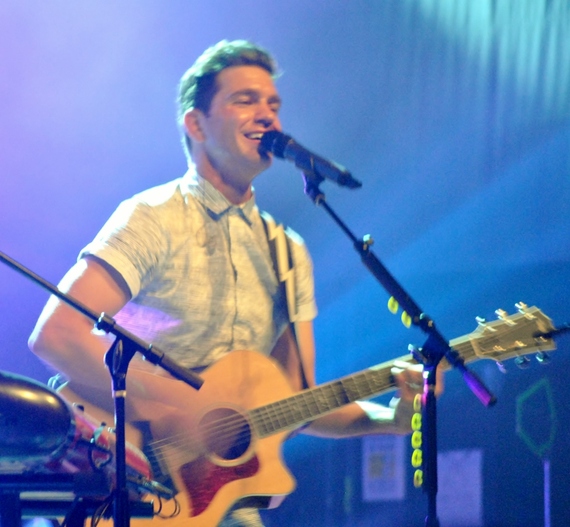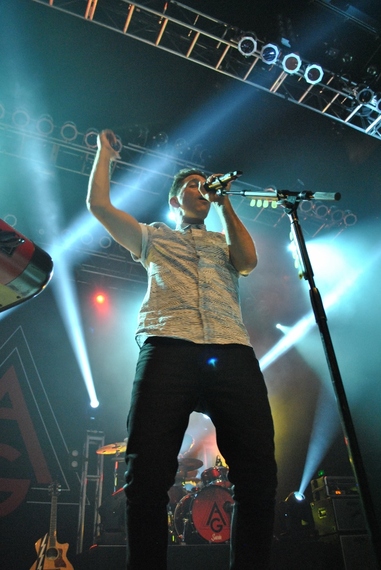 Opening up his show with the beautifully upbeat, acoustic "Fine By Me," Grammer set the tone for an energetic and fun concert.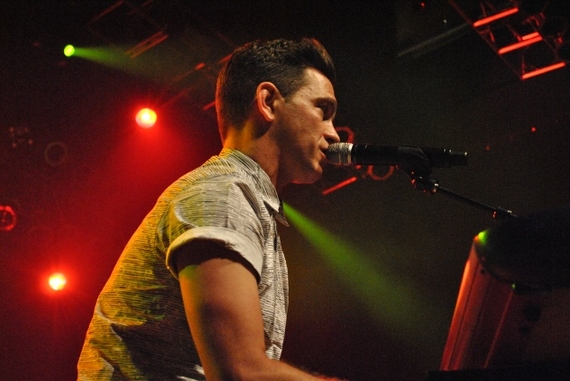 "Honey I'm Good" began with the three front-line guys, Grammer, Rudulph and Karas, clapping and singing at Grammer's center mike. The crowd loved the a cappella beginning and rocked along with it in perfect synchronicity.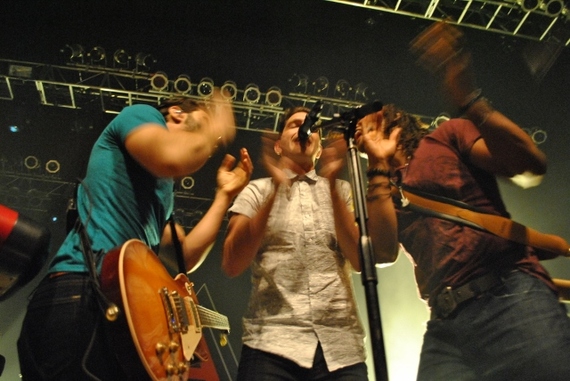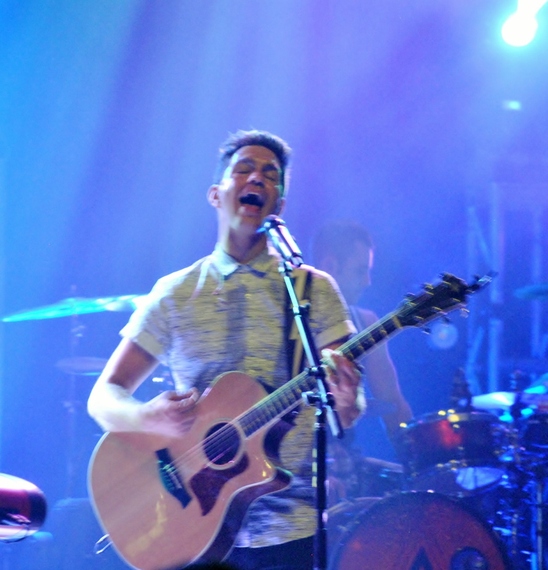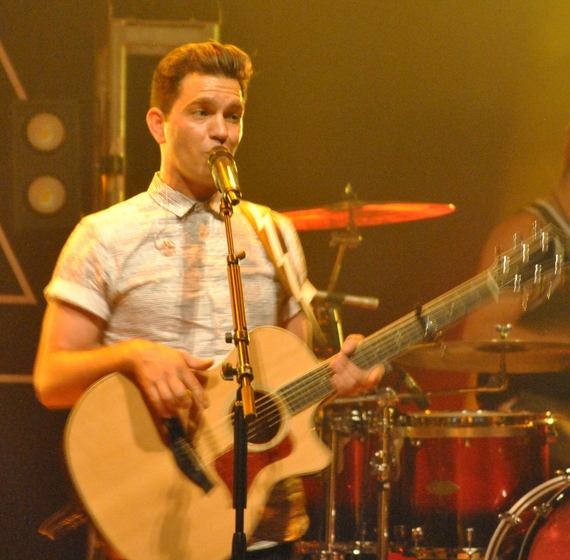 Grammer's new album is coming out soon has "Biggest Man in LA" on it and when performed live this night, Grammer segued easily into "The Man" by Aloe Blacc. This sent the crowd into a frenzy.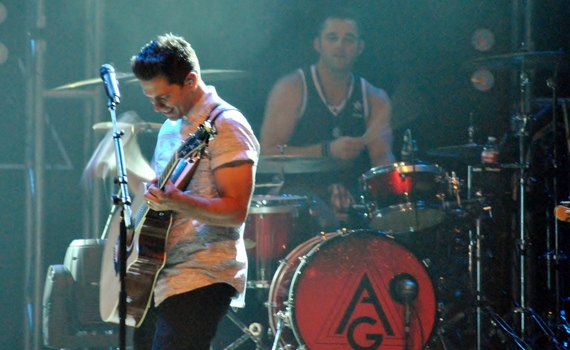 "Pushing" gave Grammer the opportunity to school the audience in the fine art of audience participation. "It goes like this," Grammer told the crowd, "I've been pushing ... all my life ... all my life ... all my life." The crowd happily complied.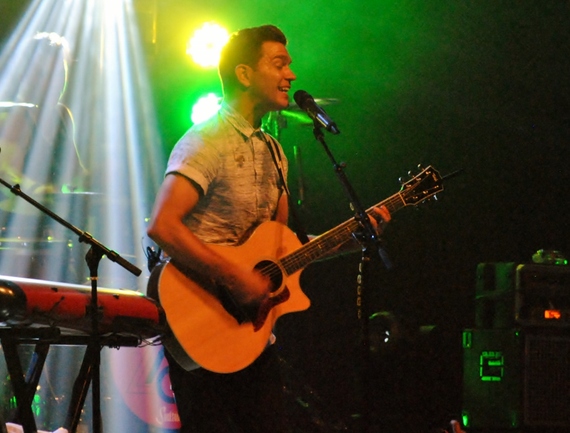 "Blame It on the Stars/Counting Stars" began with a bouncy beat and the entire band grooving and keyboardist, Doug Wayne out front playing the 'keytar.' Wayne's solo was sublime.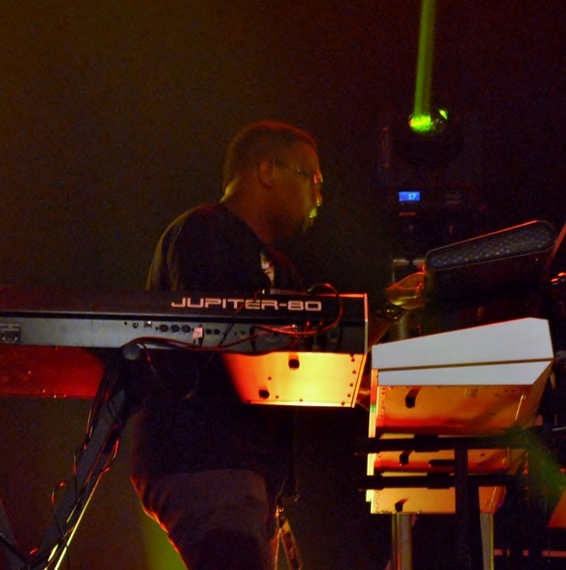 The bass guitar/drum rhythm section of Zach Rudulph and Mike Baker kept a strong back-beat and bass-line throughout the show.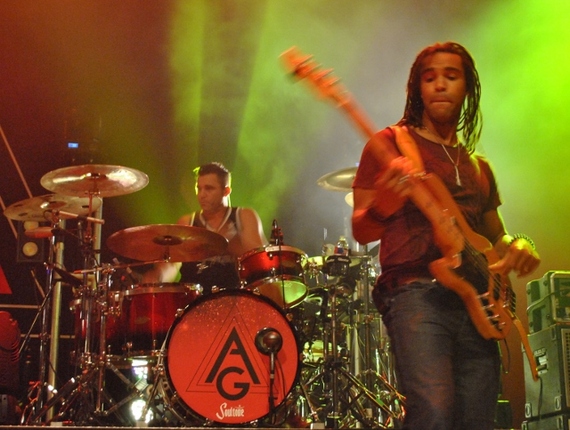 Greg Karas was a masterful guitarist, playing acoustic guitar on the ballads and then ripping into some strong solos throughout the evening.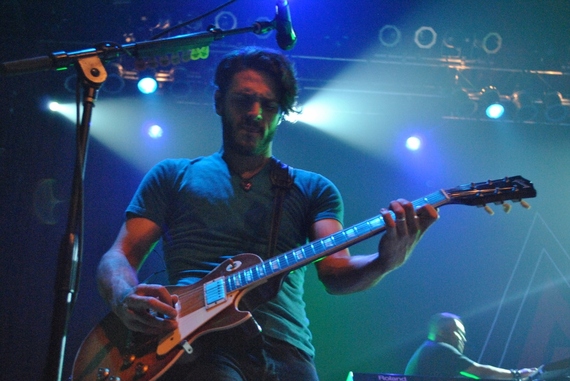 "Crazy Beautiful" was one of the best received songs of the concert and had many fans singing along.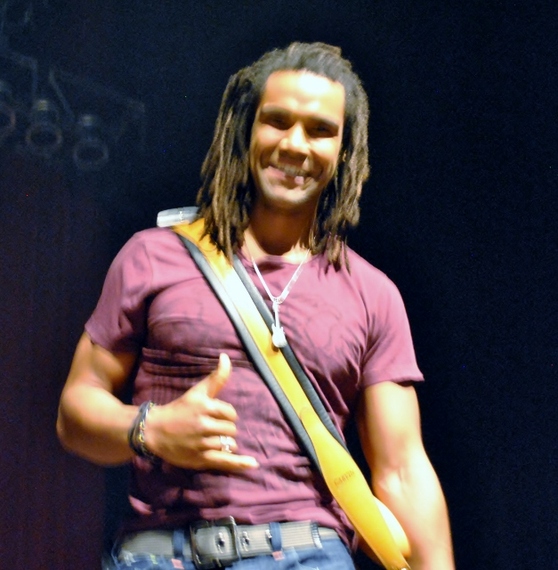 Every once in a while, an artist will just cooperate with a photographer ... this is Zach Rudulph cooperating with me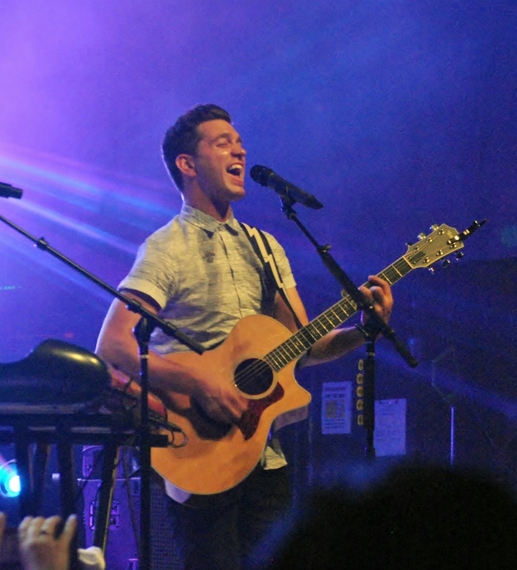 Aforementioned "Keep Your Head Up" raised the crowd's energy to a whole new level, as Grammer gave it and them, his all.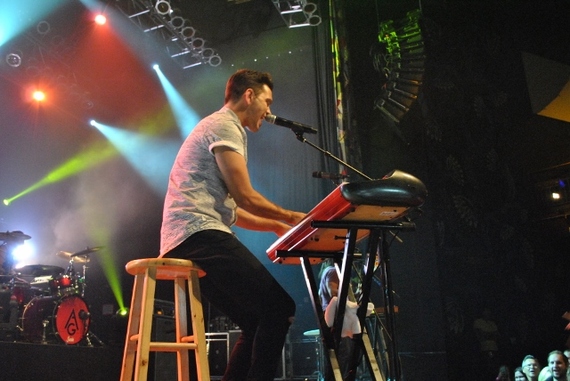 Grammer again paired a cover with one of his own songs, doing Drake's "Hold On, We're Going Home" with his "Back Home," much to the crowd's delight.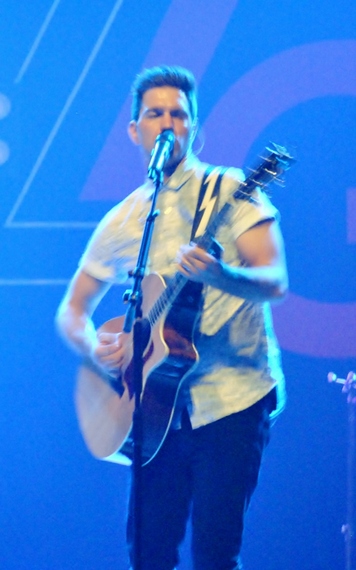 His show closed with "The Pocket," a song that Grammer played during his years street performing. It was clear this song is something special to Grammer and the crowd felt his sharing that with them was special.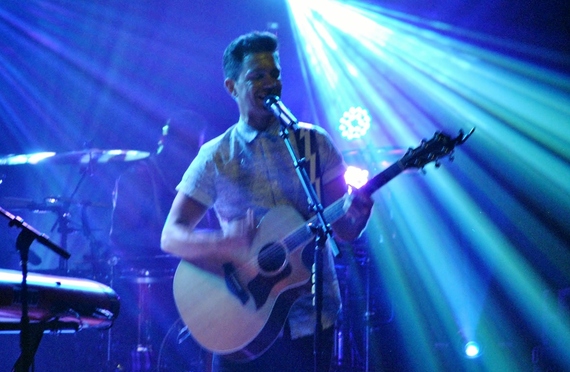 And so, as the last chords of Andy Grammer faded into the night, the best part of a concert was upon us: when everybody is filing outside and talking excitedly about the show they just saw. This night, there was a lot to discuss and a lot of excitement.
All Photo Credits are Bill Robinson except as otherwise noted