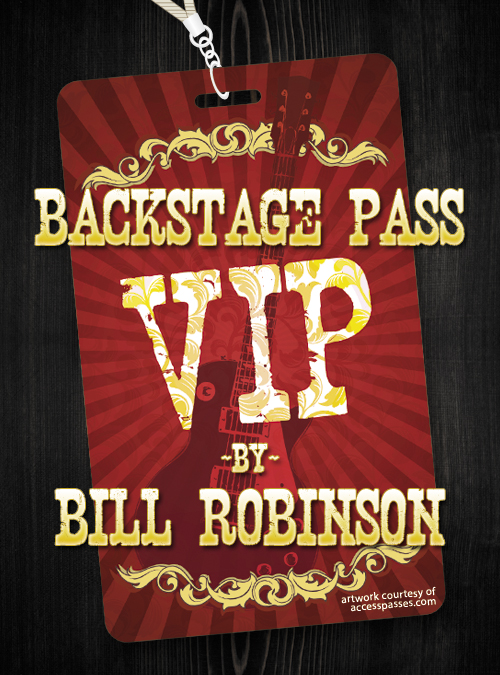 THE PERFORMERS
Chickenfoot is the band resulting from the loose configuration of a number of successful musicians from other bands. Like Blind Faith, Chickenfoot is sometimes referred to as a "supergroup." There's no doubt that Sammy Hagar (Montrose, Van Halen), Joe Satriani, Michael Anthony (Van Halen) and Chad Smith (still in The Red Hot Chili Peppers) are a group that is super. To give a brief, high-def example of just how tight this band is and how much fun they're having here you can see a super-clear video of the band doing "Down the Drain."
The "Chickenfoot" is a term applied to the peace symbol during the Vietnam War.
As Hagar said recently, "First and foremost we are four pals who love to hang out with each other. Music for us is a bonus. We went from being a weekend fun-time thing to making a record and touring the world," says Sammy Hagar. "Our learning curve was fast - even for us. But we went out every night to kick ass and prove that we weren't resting on our laurels. We earned everything we got, and along the way, we established a trust in one another that happens very rarely in bands. To me, it's magical."
Seeing Joe Satriani, Michael Anthony and Sammy Hagar back onstage and having fun again was priceless.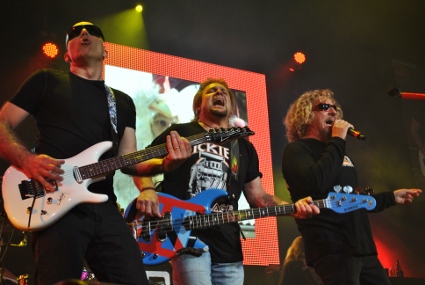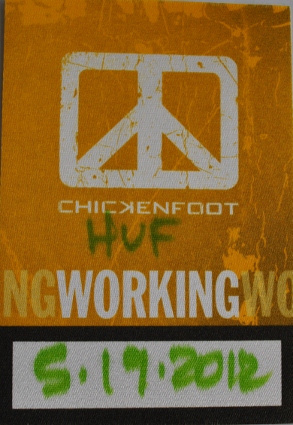 THE VENUE
Mohegan Sun Casino is located in Uncasville, Connecticut about two and a half hours drive from NYC. The two largest casinos in the world are both in Connecticut: first is Foxwoods and the second largest is Mohegan Sun both are jockeying for that prestigious title. In terms of gambling, Mohegan Sun has all the necessities: Blackjack, Craps, Roulette, Baccarat, Slots galore, Poker-real and video, Pai-Gow Poker, Spanish 21 and all the variations thereof.
Like most gargantuan casinos they are somewhat like a mall with food court and fancy restaurants too all wrapped up inside a casino.
The food at Mohegan Sun is excellent. They have an upscale Italian, Todd English's Tuscany (placed inside a grotto-like cavern with a 30-foot waterfall outside); Fish/Seafood with a Southern Gulf beach flavor; a Bobby Flay's Bar Americain; Jimmy Buffett's Margaritaville; a buffet like you've only seen in Vegas; a full-on food court; and even a Johnny Rocket's for the late night burger-craver. My personal favorite is Michael Jordan's Steakhouse where I dined recently on a Delmonico steak with Bearnaise sauce, lobster-infused mashed potatoes and grilled corn-off-the-cob which all came together in a to-die-for experience.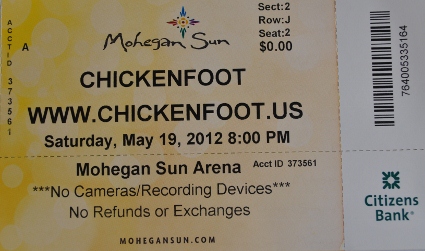 Sammy Hagar, Lead vocals, guitar
Well-known as the replacement for the inimitable David Lee Roth in Van Halen, Sammy Hagar screams with the best of them; sings softly when required (not all that often); and roams the stage with pent-up energy exploding in his music--never stopping, never letting up. Prowling around his turf during the show, Hagar is in complete and total command of the crowd.
His onstage patter and playful jibes to band-mates is legendary and draws the audience in like they're part of the Hagar gang. Burying the fact that he turns 65 in October, Hagar is enjoying a Jagger-like second youth which doesn't quit.
Living in Cabo San Lucas as Hagar does, he apparently enjoys that sublime lifestyle while Cabo also spawned Hagar's Cabo Wabo entrepreneurial empire of tequila, restaurants and a new rum.
When Sammy hits the stage, he does so with authority and unparalleled zeal.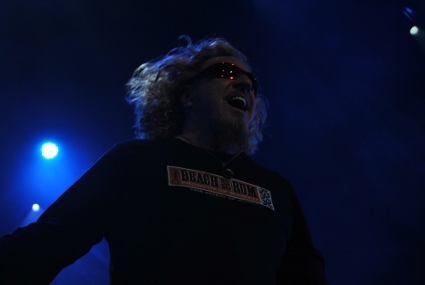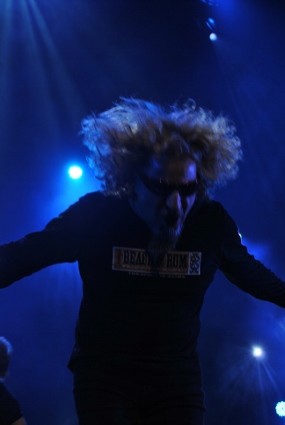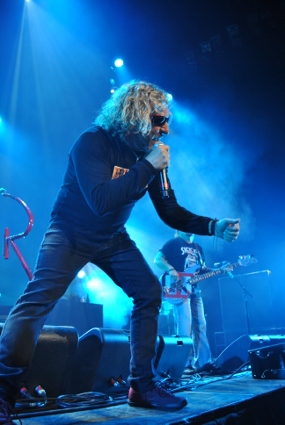 Joe Satriani, Lead guitar, vocals
While he's had an extraordinary career as a solo instrumentalist, I've always been waiting for Joe Satriani to pair with a vocalist worthy of his guitar shredding skills. He has now done that with Hagar.
Widely known as a preeminent guitar player, lesser known is Satriani's influence as a teacher and mentor to other guitar players. Former students include famous scorcher Steve Vai; Kirk Hammett of Metallica; Larry LaLonde of Primus; David Bryson of Counting Crows; Kevin Cadogan of Third Eye Blind; and little known though thoroughly accomplished Strat wrecker Andy Timmons. Timmons is a regular fixture at the Dallas Guitar Festival and having seen him play, I can report that Timmons is among the very best players one can see.
So Joe Satriani's imprint on the musical world extends far beyond his own ethereal talents. Now, with Chickenfoot, Satriani fans can see him rip into leads with the same singer as Ronnie Montrose and Eddie Van Halen. Joe also was Mick Jagger's lead guitarist for his first solo tour and the Deep Purple guitar maniac. When Long Island native, Berkeley transplant, Satriani takes the stage with his guitar he seems invincible.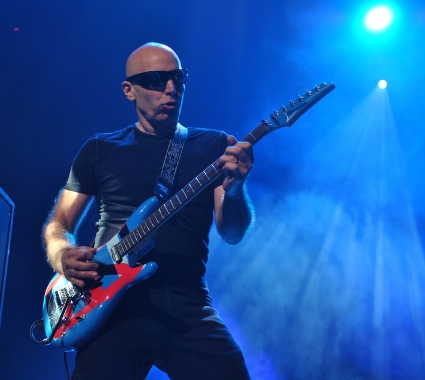 While Satriani still has his solo career, website and the occasional tour with G3 (Satriani, Vai and Morse), it seems almost inconceivable to anyone who's seen Chickenfoot, that Satriani would wind up doing anything else.
Michael Anthony, Bass guitar, vocals
The former Van Halen bass guitarist seems to be having fun onstage again. Not that he didn't seem that way during the previous Van Halen reformations, just that it seems so much more genuine this time with Hagar. Michael Anthony Sobelewski (his real surname) had the neat stroke of luck to be asked by the Van Halen brothers to join their band, Mammoth which became the colossal Van Halen. The rest as they say, is history.
When Anthony was fired from Van Halen and "found out on the Internet," Rolling Stone did an interview with him which gave an inside look into the demented goings-on in a huge Rock group.
Now that Anthony is history with Van Halen and back with his buddy Hagar (it was purported that during one of the last Van Halen reunions, the brothers traveled in a separate jet from Hagar and Anthony--a key indicator of the fractured state of the relationships), he looks healthier, happier and like he's found his slot in life and music.
A notable collector of cars, a proclivity Anthony says he got from Hagar, the muscular bass player is known for his very strong bass-pounding lines and backing vocals on Van Halen classics such as "Panama" and "Running with the Devil."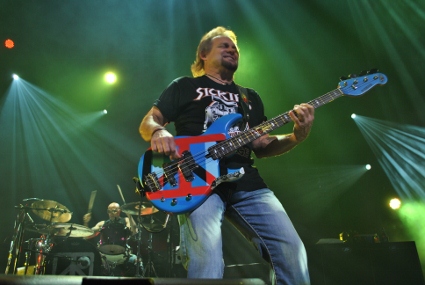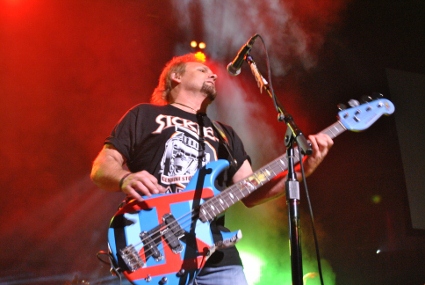 Kenny Aronoff, Drums
Sitting in temporarily for Chad Smith who's back out with his original band, The Red Hot Chili Peppers, Kenny Aronoff doesn't disappoint. He hits those drums like an angry man. Together with Anthony's bass riffing, Aronoff kept an unbelievably strong back-beat and rhythm going all night long. He just kept playing and playing like he never wanted to stop.
Aronoff has backed Elton John, John Mellencamp, Bob Seger, John Fogerty, The Smashing Pumpkins, Jon Bon Jovi and countless others.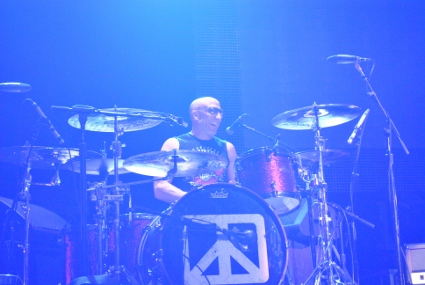 Joe Satriani's guitars are a sight to behold. Satriani is an Ibanez endorser and has had some very popular models made for him that then went on to sell well in the consumer channel. One of these guitars is the Ibanez JS 2400.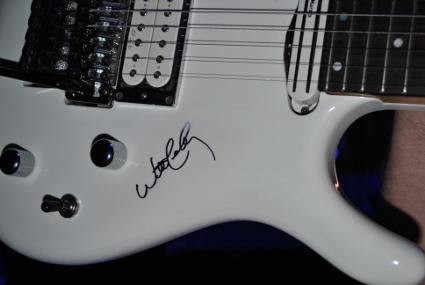 The white JS-2400 is signed by Willie Nelson; Satriani is a big fan. Who knew?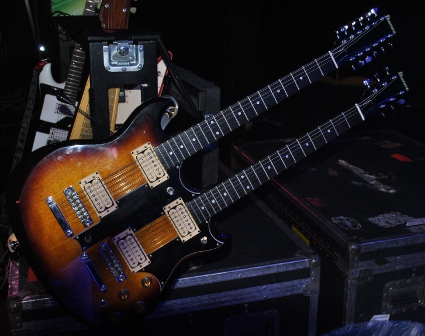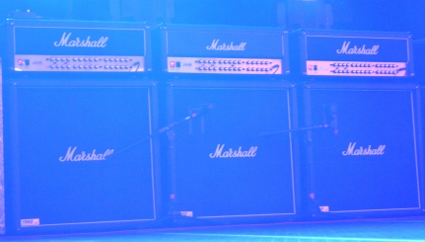 The new "Joe Satriani" line of Marshall amps and cabinets coming out soon--even Hendrix didn't get his own Marshall's while he was alive. Note the two rows of control knobs.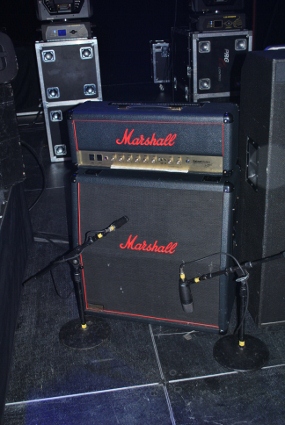 Sammy Hagar's custom "Red Rocker" Marshall amp and cabinet


The iconic Michael Anthony "Jack Daniels Bass" he played with Van Halen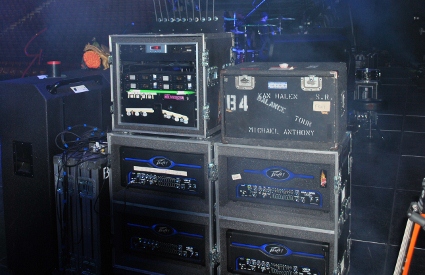 Michael Anthony's Peavey bass amplifiers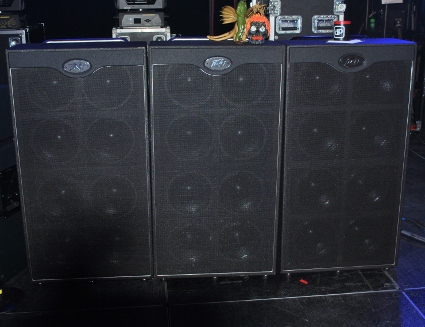 Michael Anthony's Peavey bass cabinets which blow your hair back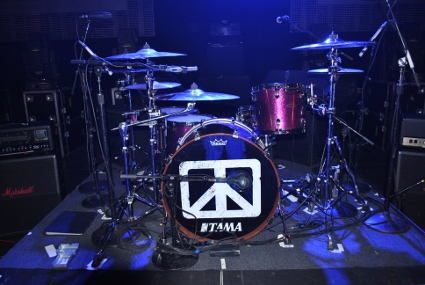 Kenny Aronoff's drum kit. Aronoff endorses Tama.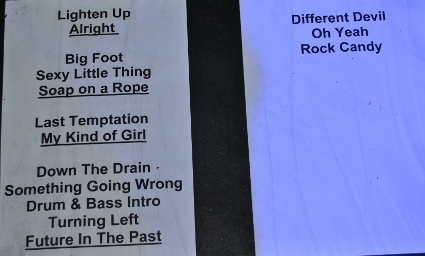 THE AUDIENCE
The crowd was a true mixture of Baby Boomers like me and a decidedly younger element who might've been somehow educated by their fore-bearers about the solo guitar pyrotechnics of Satriani and Hagar's vocals from Van Halen. Most of all the crowd seemed very interested in mixing some Blackjack and Metal while escaping New York, Boston or the surrounding areas for the weekend--and this casino has all the accouterments for this kind of much-needed getaway.
THE ARTIST COMMENTARY
Joe Satriani sat with me for a few minutes before he went on stage. He was in a great mood as he said they all were because they truly love playing together.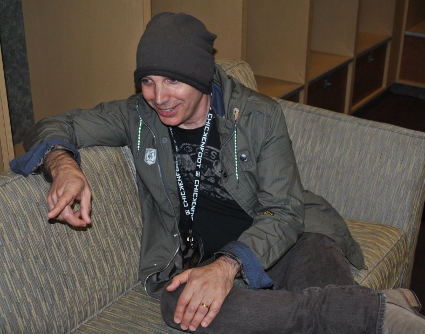 Mr. Satriani makes a point with hat, presumably for cranial coziness
Joe Satriani was born and raised on Long Island and definitely has that New Yorker personality; he comes right at you and is very friendly. He is also a very humble guy which for a rock star is very unusual.
"I like your column Backstage Pass because you're right; everybody does want to get backstage, to get that pass. We just met 60 people who paid a lot of money to meet us and it was just so great to get to meet our fans and chat with them. We're definitely having fun--it's all about the fun. We really do love this--playing together is the most fun." I can tell from his body language and the smile on his face, that Satriani gets a charge when he meets and get close to his fans.
"We are all doing so many different things individually, when we come back into this group and celebrate our roots kind of way, like we're getting back to basics," he tells me. "It's a do-it-yourself project: we get together and spend our own money and make our own record then go out and find a partner to help us release it. So that changes everything, the dynamic. It starts the ball rolling and keeps it fun."
"And obviously, I have my own solo career," Satriani said smiling. "I released a solo record a number of months ago and then we filmed ourselves doing a show in Montreal in 3D and had a full theatrical release, it's still theaters now. We just had a blast with that, though I still can't look at myself on a big screen ... it's too embarrassing."
When I asked Satriani what his favorite guitars were, he didn't miss a beat. "Well, I've got two white (Ibanez) JS-2400s out there and it's a toss-up between them; one has a Sustainiac pick-up in it and then there's another one that has a Willie Nelson autograph on it." "Is Willie your man?" I ask Satriani. "Isn't Willie everybody's man?" he quipped in return. "My listening tastes are pretty varied," he said.
"My guitars are 25 and a half-inch scale, which is what we call 'Fender scale' but the electronics are decidedly LesPaul-like. This is something that a lot of guitar players of my generation started doing in the 1970s because we were frustrated by the dilemma of 'do we need a Strat or a Les Paul?'" I had no idea that guitarists had solved the need to choose between the two great sounds in this way. "Perhaps Eddie Van Halen was the most famous of us who said 'screw it, I'm gonna make my own' and Eddie got a Strat-scale body ("Stratenstein") and threw some Humbucker pick-ups in there to get a Les Paul sound," Satriani observed.
"Do you get all the sounds you need out of your Ibanez or do you ever long for the sound of a blonde '57 Strat?" I asked him. "I love vintage guitars," he stressed strongly, "I love Strats, Teles, Les Pauls, Gibson ES-335s and old Martin acoustics. I have three old Martins and they're beautiful. They have "mojo' and that's what I'm looking for. I don't collect like I'm collecting for my own little jewelry store.
Sometimes when we're recording, I'm using my Ibanez but feel the need for that one alter ego sound and I'll bring out my '58 Esquire out and it's the perfect compliment to let my Ibanez come out in the middle. I have a Sunburst '59 ES-335--there's nothing like it. You really have to be very careful when you play a guitar like that. As you'll see tonight, I can go crazy on my Ibanez and it'll stay in tune."
"As an example of the new economics of the music business: here's a guy, Joe Satriani, I'm an instrumentalist who plays music outside of the popular realm, you might say. But I've sold more than 10 million records; I have a concert film in the theaters; I tour around the world playing in India, all over. How is that happening? You don't see me on Entertainment Tonight or on the cover of Rolling Stone and that's because the business allows people like me to thrive because we find our audience and it grows. My audience doesn't want to be told what to listen to."
THE SHOW
Opening the show with "Lighten Up," it began with Satriani's guitar pyrotechnics while back-lit, lasers beaming and wearing wrap-around sunglasses, giving Satriani an otherworldly look. He opened the show with a melodic flourish.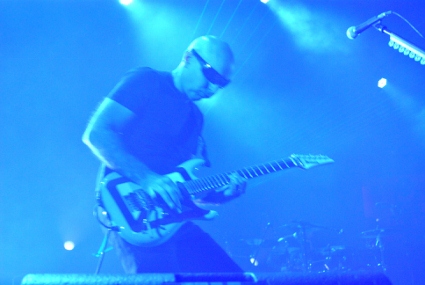 But Satriani didn't remain in semi-darkness for long.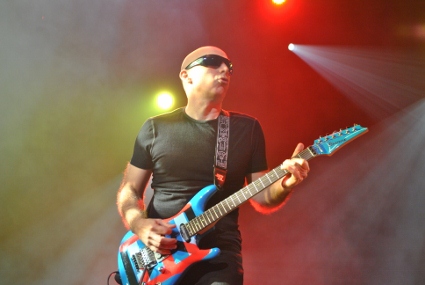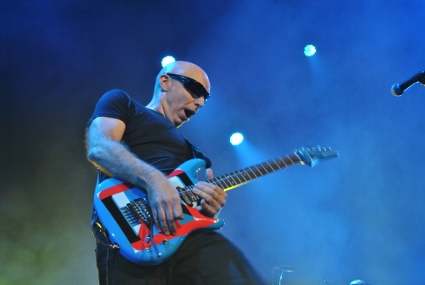 As the opening song progressed, Hagar emerged singing and drove the song into a fiery crescendo.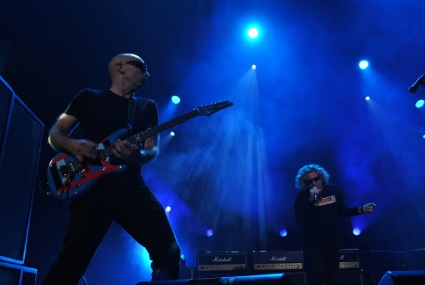 A stompin' version of "Alright, Alright" was the second song which was so loud coming through the low-end cabinets in front of the stage photo pit, it blew my hat off.
"Big Foot," "Sexy Little Thing" and "Soap on a Rope" formed a strong trio of songs that had the crowd sweating.
One of the best parts of a Sammy Hagar onstage performance is the witty patter and good-natured ribbing he gives his band mates and draws the audience in like they're part of some inside conversation. He's constantly making jokes that are really funny; making me laugh out loud more than once. People respond to Hagar because he's one of the guys. I saw him messing around backstage and it was clear he doesn't consider himself anything special and enjoys being one of the guys.
When somebody threw a ridiculous beach hat onstage, Hagar immediately picked it up and put it on Satriani, who wore it through the following song.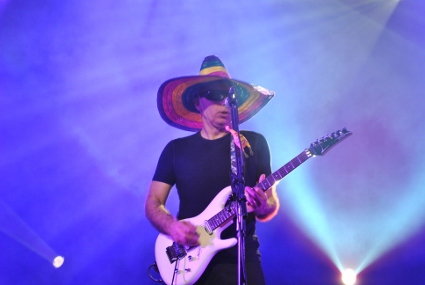 The center of the show was comprised of "Last Temptation,"My Kind of Girl,"an inspiring "Down the Drain," "Something Going Wrong," "Turning Left" and "Future in the Past." Sandwiched in between the mini-set was a drum solo by Kenny Aronoff that was simply superb. Hitting the drums so hard one wondered if the kit would survive, Aronoff kept the crowd's rapt attention. When Michael Anthony's bass joined him and then soloed by himself, the audience went wild.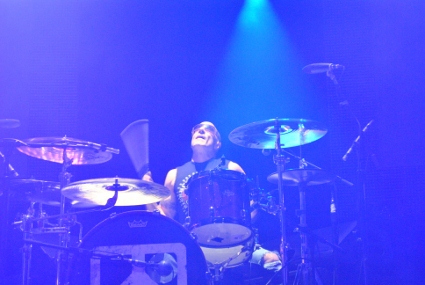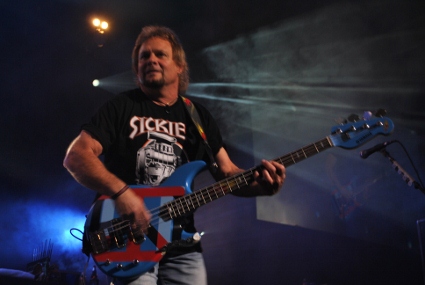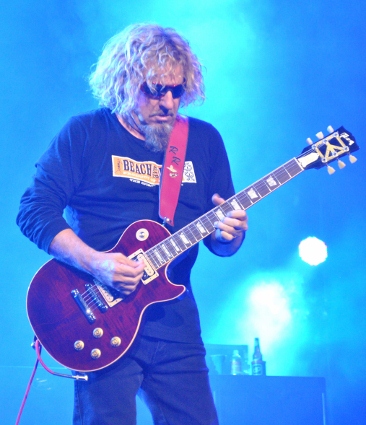 There are a few legendary screams in Rock 'n Roll. The one that stands out for me is Roger Daltrey's at the end of The Who's "Won't Get Fooled Again" (this one, recorded in 2008 when Daltrey was also like Hagar, 64 years old). With regard to "Down the Drain," Hagar's massive, blood-curdling scream at the end of this barnburner is extraordinary. I give the nod to Hagar's scream by a wide margin over Daltrey's in "The Battle of the 64-year Old Screams."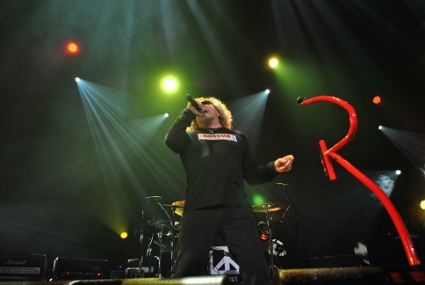 The rest of the show kept people standing up, as they did on the floor through the entire show and the closer, "Rock Candy" was a slamming tribute to Hagar's original guitar-slinger partner, Ronnie Montrose.
As the exhausted crowd slunk out, it seemed everybody was done. One guy said, "Hey, let's go get a steak dinner and hit the Blackjack tables!" His party was reinvigorated and responded with vigor, "Who's with me?" they started chanting as they spilled out onto the casino floor. I realized then, that I was reinvigorated too.

All Photo Credits are Bill Robinson except as otherwise noted