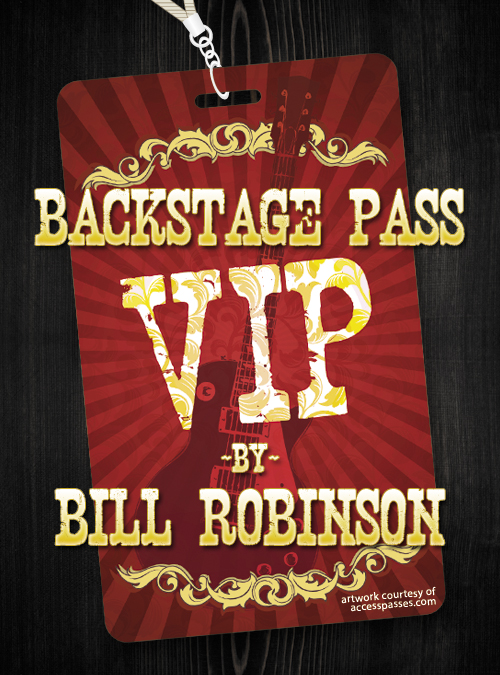 I like my metal heavy. I revere the Heavy Metal dinosaur progenitors Led Zeppelin, Black Sabbath and Deep Purple; they are the 'old guard.' As the metal generations have grown up and grown into their own; we've seen Judas Priest, AC/DC, Metallica, Anthrax, Megadeath, notably Pantera and innumerable others.
Now we have Lamb of God (LOG).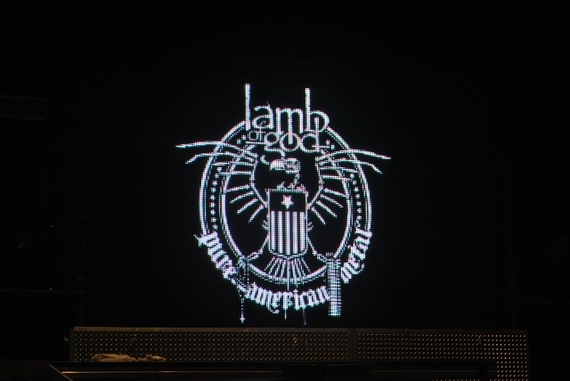 "Pure American Metal"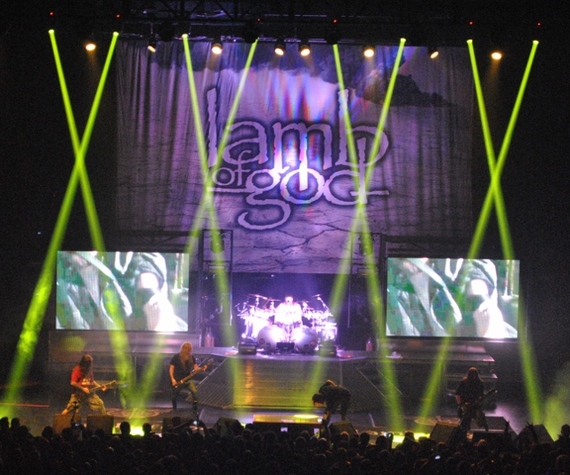 We've actually had them for sometime but they are now coming into their own. As it says on their website, "There are metal bands and then there is Lamb of God." Variously described as "Thrash Metal," "Death Metal," Hardcore Punk," and "Grindcore;" I'm not sure what they should be classified as except great energy music which defies a label.
THE PERFORMERS
Lamb of God was founded in 1990 by four friends who were floor-mates at Virginia Commonwealth University (VCU) in Richmond, Virginia. Guitarist Mark Morton, bassist John Campbell, drummer Chris Adler and Matt Connor started "Burn the Priest" which would become Lamb of God beginning with their second album released in September of 2000.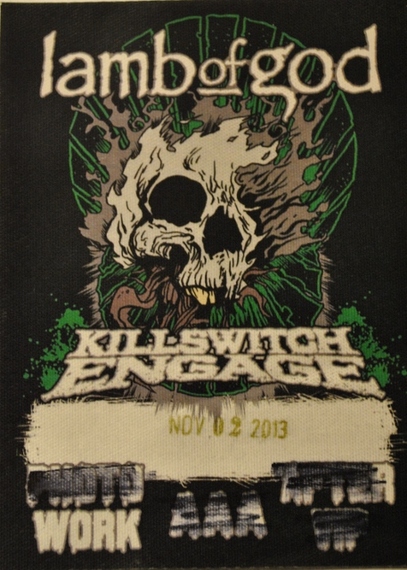 The Grammy-nominated Lamb of God has toured with Slayer, Metallica and appeared at Ozzfest, so they are cemented into the world of Heavy Metal.
THE VENUE
Verizon Theater in Grand Prarie, Texas is about 20 miles from downtown Dallas and a superior place to see a concert by a big-name act. They've had acts along the lines of: The Eagles, Alicia Keys, Michael Buble, George Lopez, Robin Williams, Sesame Street Live!, Justin Bieber, Celtic Woman, and the Radio City Christmas Spectacular.
A 6,800-person venue, Verizon Theater is designed in a semi-circular, bowl fashion and has a nice suite section where guests can look down on the festivities from a living room-type, enclosed area.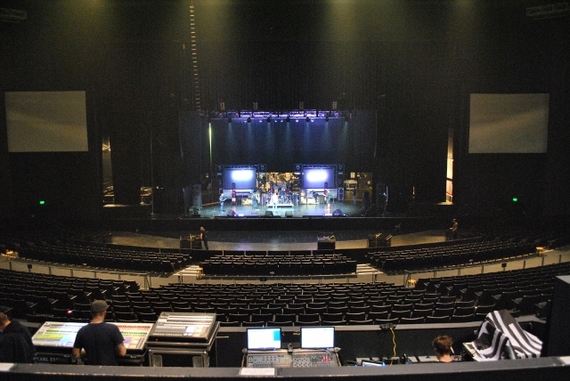 THE MUSICIANS
Mark Morton, lead guitar: One of the original Burn the Priest/LOG members, Morton left the band for a couple of years to study for his master's degree. Credited as "Duane," his middle name on LOG's first album, "New American Gospel," Morton is a stage-left guitar mainstay for the band. He is known for his heavy and creative use of guitar effects such as a Cry Baby, overdrive and phaser pedals while he plays petatonic and harmonic minor scales. A Jackson guitar endorser (interestingly, co-founded by guitar-God Randy Rhodes), Morton composes most of his solos and gives LOG its unique guitar-driven sound.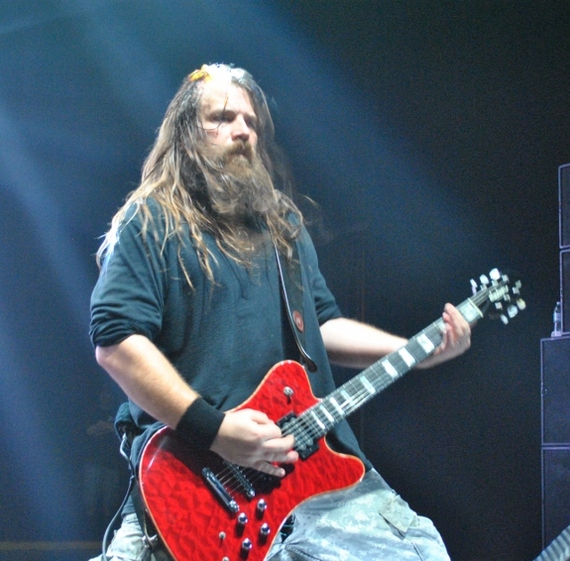 Guitar bad-ass Mark Morton
John Campbell, bass guitar: Another original founder who stayed with the band since its inception, Campbell is not your garden-variety bass player (see his commentary to me below). He moves around the stage a lot more than most stoical bassists. Falling into playing bass, Campbell is a most gregarious and intelligent guy who with drummer Chris Adler lays the foundational sound for LOG.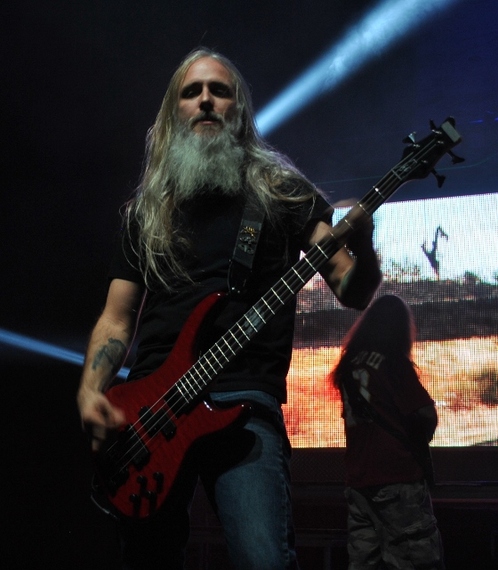 John Campbell provides the bass backbone for LOG
Chris Adler, drums: Another Virginia native, Chris Adler is one of the four original founders of LOG. One of his drum influences is Stewart Copeland of The Police.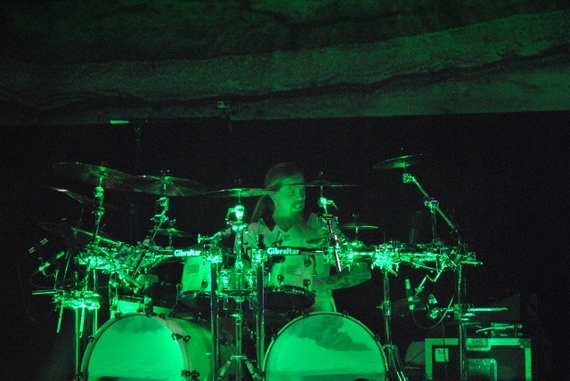 Randy Blythe, lead vocals: Blythe is a blur of activity onstage and rarely stands still. This makes it hard to photograph him. He spent some time in a Czech jail, as he mentioned onstage to the crowd, because a fan rushed the stage and died in a subsequent fall. A trial there subsequently absolved Blythe of legal but not "moral responsibility" in the death.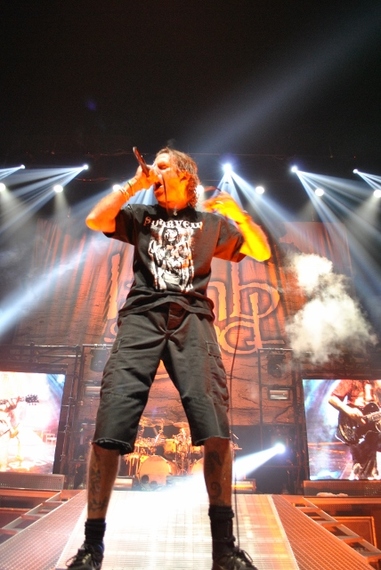 Randy Blythe screams one out
Willie Adler, guitar: Guitarist Adler is the younger brother of LOG drummer, Chris Adler. This Adler is known for writing most of LOG's songs, some with Mark Morton, as well as what's been referred to as an "unconventional" guitar style using his fret-hand, pinky finger a lot.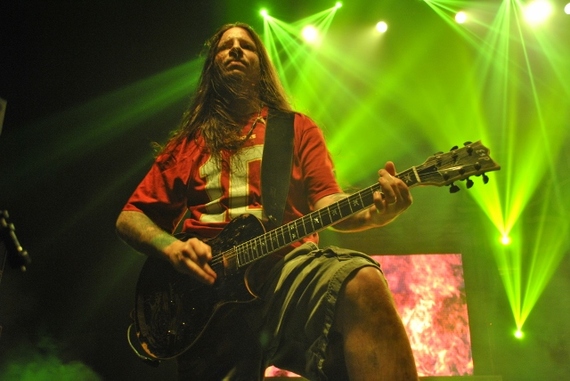 Willie Adler rakes his trusty Les Paul style git
THE INSTRUMENTS

Mark Morton has an endorsement deal with Jackson guitars and his own signature model.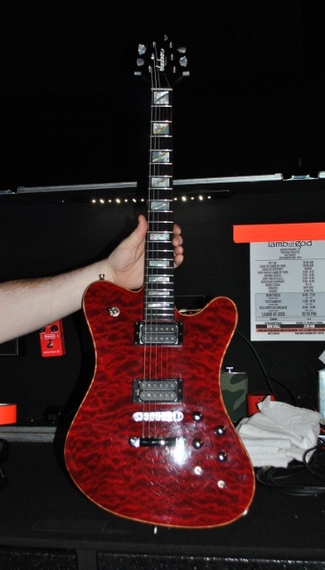 Mark Morton's signature Jackson "Mark Morton Dominion" axe which he helped design and uses as his main stage instrument
Some other Jackson guitars Morton uses: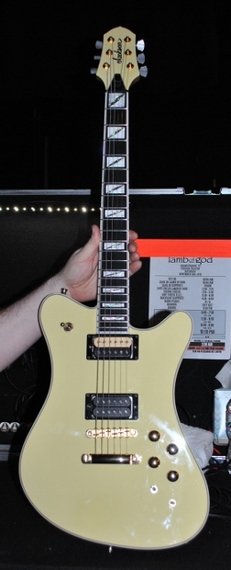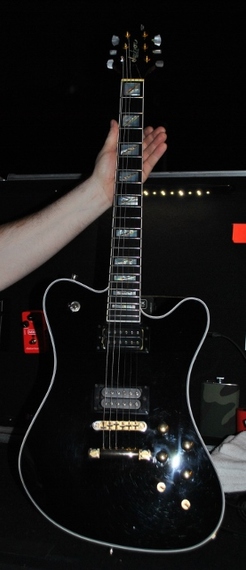 LOG sports a very clean, uncluttered stage with all their guitar/bass amplifiers and effects racks offstage and under the control of the guitar techs.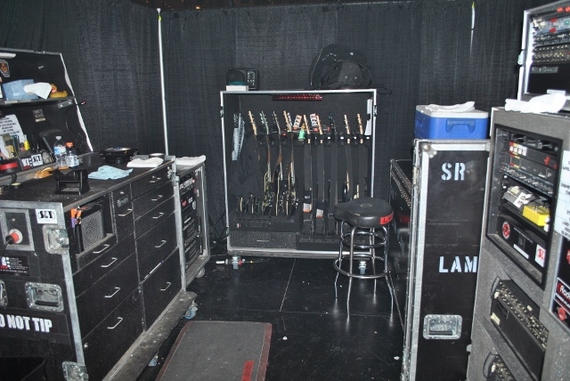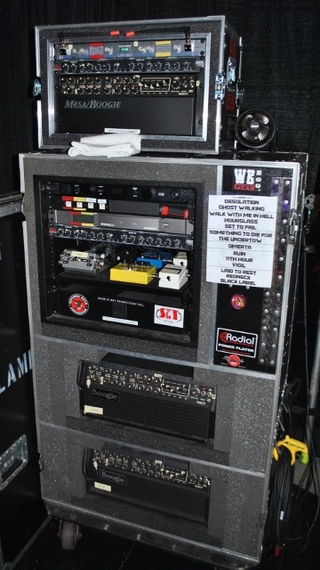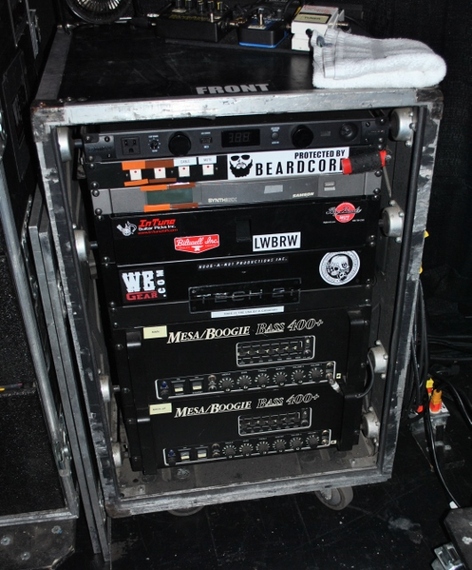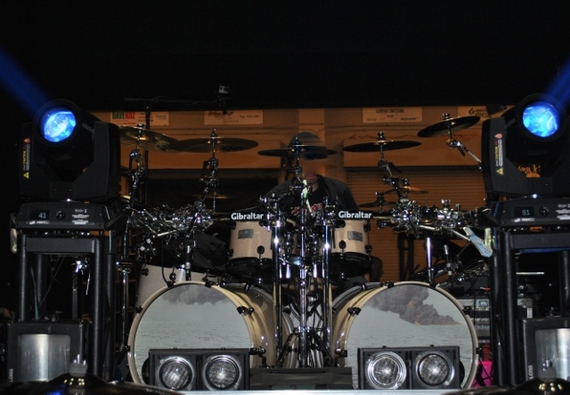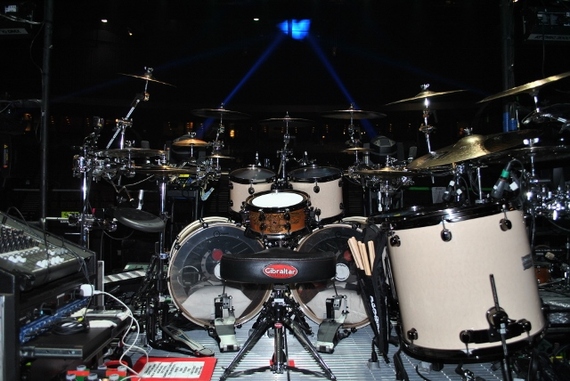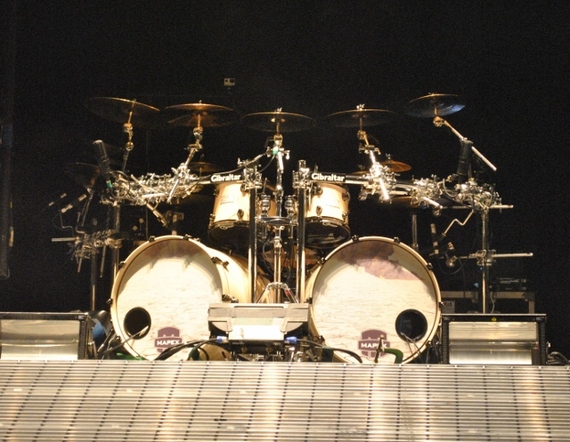 THE ARTIST COMMENTARY
"We're at the end of a tour cycle now." John Campbell, bass player extraordinaire began, "we've been supporting our Resolution album. We're in the middle of a US tour now finishing up this leg around Thanksgiving. The last leg will take us through a few more US dates; some European and UK dates and then playing in South Africa for the first time. Then home for most of 2014," he said sounding like he was very much looking forward to the time off with family.
Given the plethora of different categories for LOG's music, I asked Campbell how he would describe their music. "We're a heavy metal band; people love coming up with labels, it gives them a way to discuss the music in the abstract without actually listening to the music. We have been pigeon-holed into a lot of different things; we used to be called 'Burn the Priest' and people thought we were a satanic metal band, so that was a lot of the reason why we changed the name. But we're a Heavy Metal band, we write heavy music. The themes that we deal with are generally not kittens and puppies. We used to be very political and very negative in our judgement of political systems. At least for me personally, my apathy for politics has done nothing but grown."
Who are your influences on bass? Do have any Heavy Metal Gods that you idolize? "No, no, because I never planned on this being ... we just wanted to just make heavy music and play a party, see what would happen next. I actually wanted to play drums. My friend whose drums I was playing, his roommate who played bass left and so I stepped in on bass."
"We all met for the most part in 1990 at school and a few years later started a band with no real intention of it being any sort of success. Where we came from in Richmond, Virginia, there's a great music scene and the bands that played there as we were coming up were amazing. That was really our inspiration, there were a couple of bands and bass players we saw, like Mike Bishop, one the early GWAR bass players and played in Kepone. He teaches at UVA (University of Virginia) now I think." (Campbell was spot-on: Bishop is now teaching Music History at UVA and in the final year of his Ph.D. Cerebral people these Heavy Metal bass players.)
"We kind of came up in the Punk Rock scene where major record label were bad words. But our experience with Epic and Sony has been amazing. They have never in any way tried to interfere and they upfront told us, 'We really don't know what it is you're doing but you're selling records so ...'"
What's important to you John? "I've got two young kids at home and a wife who is a wonderful mother but I'm feeling really bad right now that I missed Halloween with the kids. Aside form that, I'm happy with what we've accomplished and am having a great time in life," Campbell summarized.
THE OPENING ACT
Killswitch Engage is one of my favorites.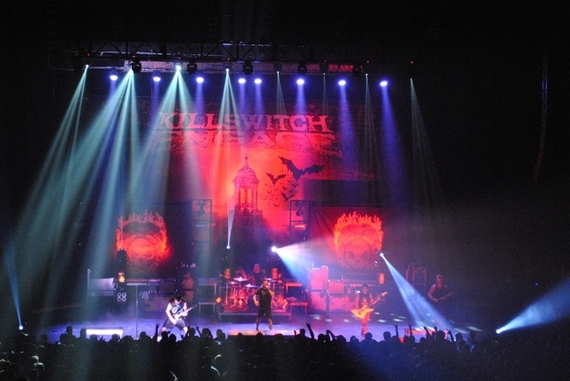 Putting on a ridiculously energetic set, there was never any stillness in their set.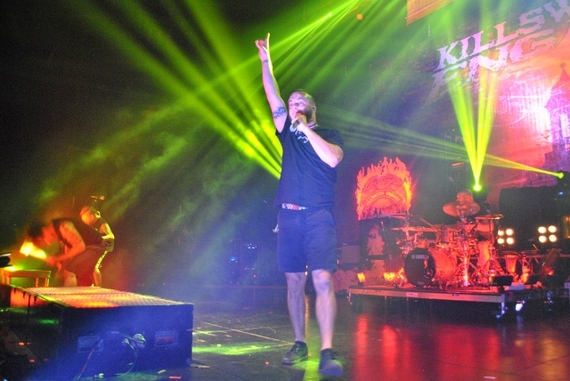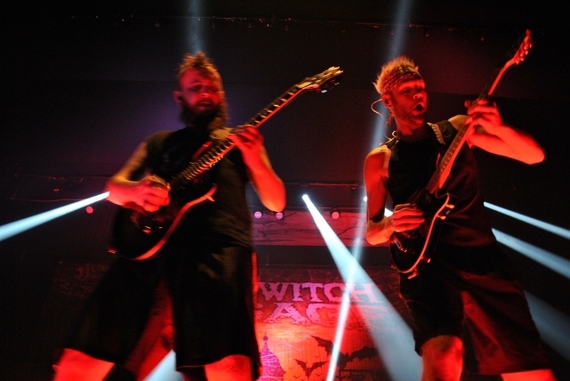 THE SETLIST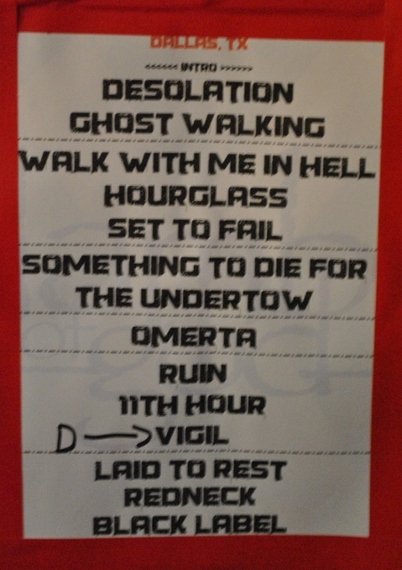 THE AUDIENCE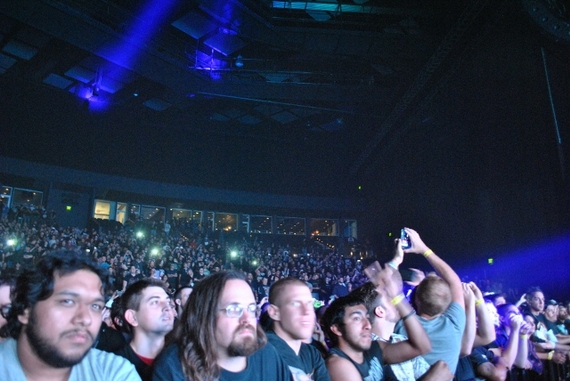 Shot from the photo pit just before the show began, the crowd was extremely antsy
As their LOG heroes hit the stage, the crowd went absolutely ape-sh!t.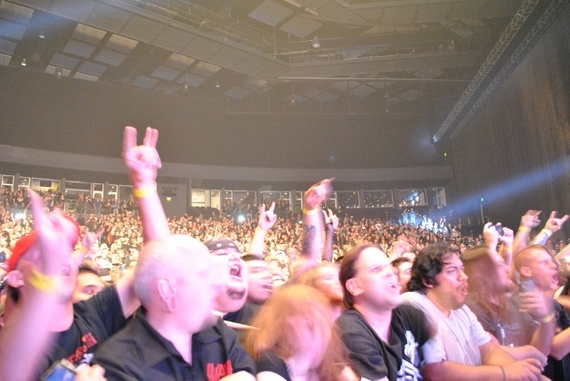 THE SHOW
Once on the stage, Lamb of God didn't let up. Taking only brief breaks to exhort the crowd into further intensity, Randy Blythe was the commander-in-chief of the LOG forces. He had no problem getting the rowdy crowd to respond to his exhortations.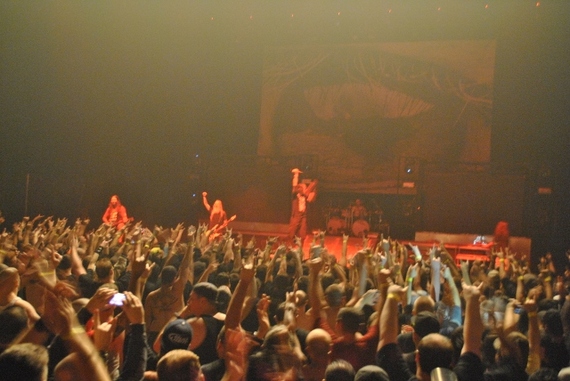 Meanwhile, Mark Morton shredded some searing solos as the band wailed away.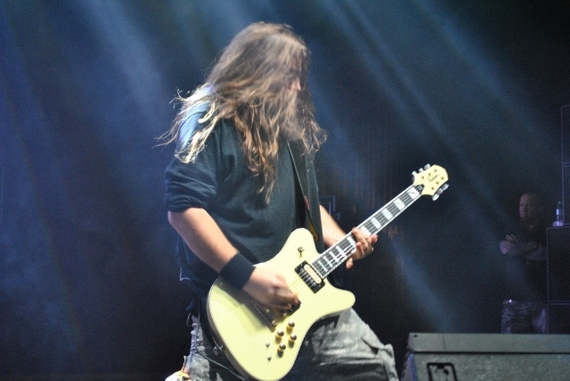 For most of the show, LOG's hair was in full swing like any good headbangers.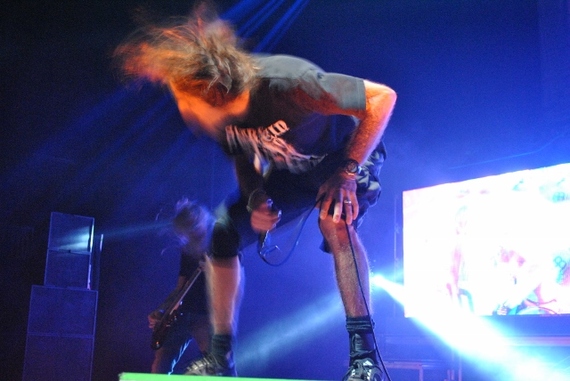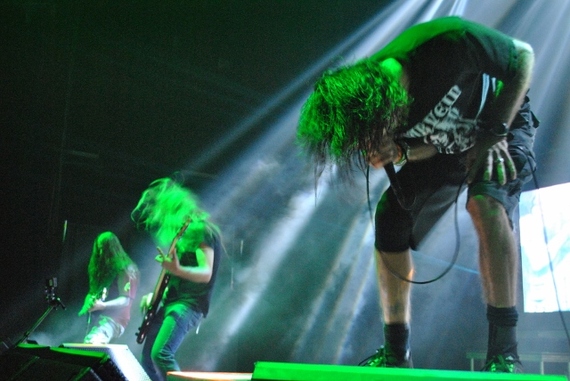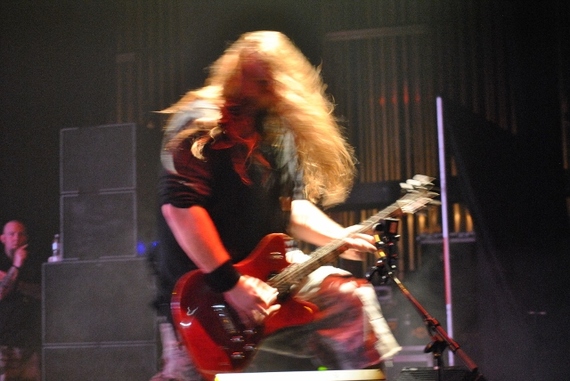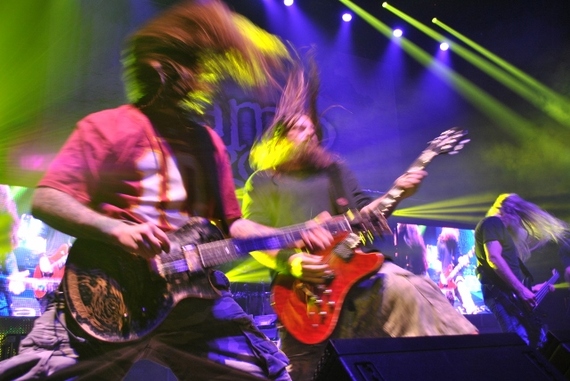 The songs all had their strong-points. Opener "Desolation," "Walk With Me in Hell," "Omerta," "Ruin," "Laid To Rest" and "Redneck" were all among my favorites.
But my absolute favorite was "Something To Die For." The thing that made this song so special was the way in which Blythe introduced it as a special thanks to our troops and then the way the song was supported by the video screens simultaneously. LOG's video screens tell a story along with their songs, but for "Something To Die For" they were really raising strong emotions in me and the audience.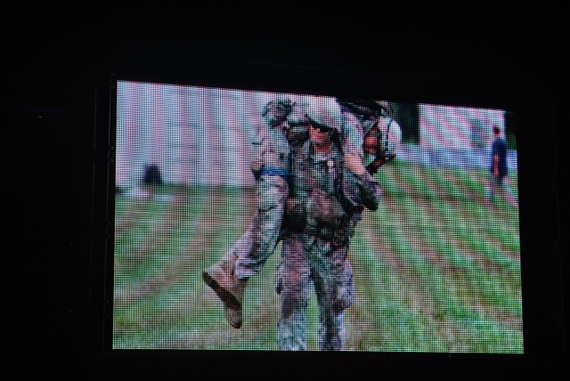 Putting pictures and names of those who served was a particularly respectful way of paying homage.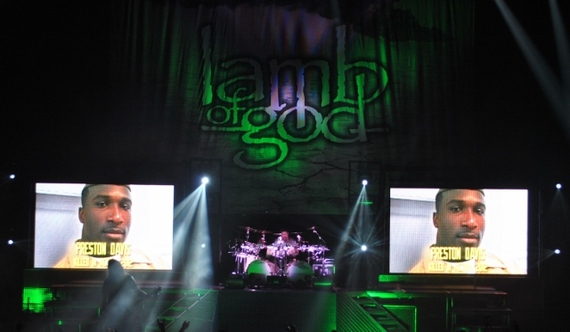 At one point, Blythe solemnly said to the crowd in between songs, "I guess you heard I spent some time in jail overseas." The crowd instead of cheering and their usual rowdiness, became quiet as church mice in a very respectful way as Blythe talked about the manslaughter trial he underwent in the Czech Republic for the death at a LOG concert there of 19-year-old Daniel Nosek in 2010. The most amazing thing happened: instead of jeering or booing, the crowd slow-clapped respectfully. It was a touching moment. Blythe continued by telling the audience that one of his heroes was "Vinnie Paul" Abbott of Pantera and Hellyeah fame and of course, his late younger brother, "Dimebag" Darrell Abbott. Blythe told the enraptured crowd about how when he was in jail and during the trial, Vinnie Paul had written a letter to the judge telling him what a heavy metal concert was really like and trying to explain how rowdy and violent these shows can sometimes turn. With the final result being an acquittal for Blythe, he thanked Vinnie Paul from the stage and told us all how much Vinnie and Dimebag meant to him and the LOG band.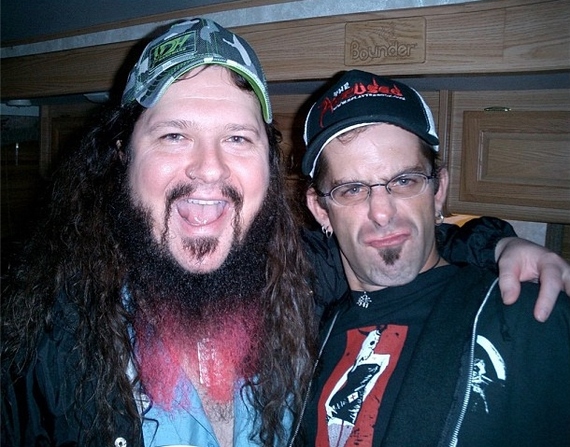 Dimebag & Blythe
Photo Credit: Vinnie Paul
THE MOSH PIT
I must confess, it's been a while since I attended a show with a real mosh pit. I think the last time I witnessed a seething, heaving, dangerous mosh pit was at a Metallica, Slipknot show in Scotland. The pit denizens at this LOG concert were the real thing.
As I wondered about the absence of girls in the mosh (duh), the participants moshed and moshed with surprisingly few visible injuries. It seemed more dangerous to be upfront, pressed against the barricades by a never-ending crush of fans, than to be in the midst of this mosh pit. Upfront, there was a man carried off, face dripping blood, apparently no worse for the wear as I saw him five minutes later right up front again.
In a similar fashion to a multi-headed matador squaring off against 100 angry bulls, the mosh-pit maniacs arrange themselves in a circle and the taunting and middle-finger gesturing begin to reach a crescendo.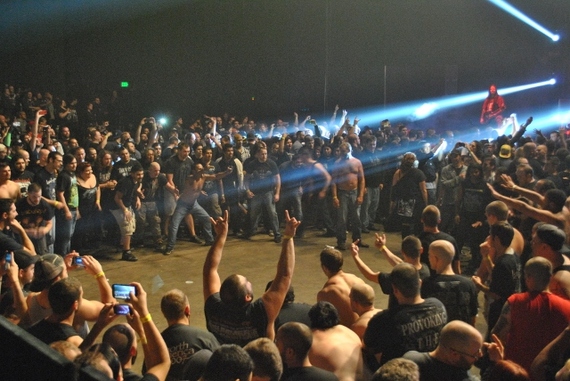 The 'squaring off' is ON!
After a period of steam building and internalizing of energy, then finally, there's a massive collision of bodies in a twisted wreckage that never stops even to remove the casualties.
Ready ... take your marks ...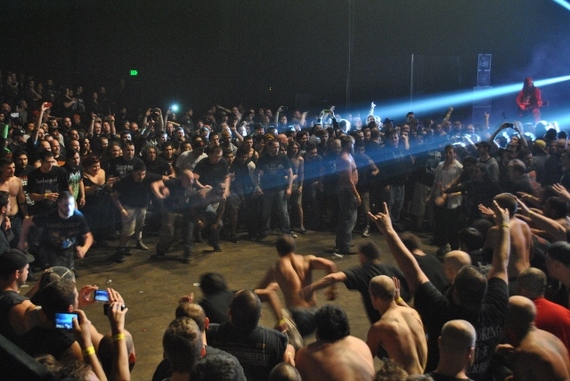 ... GO!
Ah, sweet collision
As Randy Blythe and Lamb of God entered their final phase of hysteria-making, the crowd gave one, fianl ovation which brought the house down.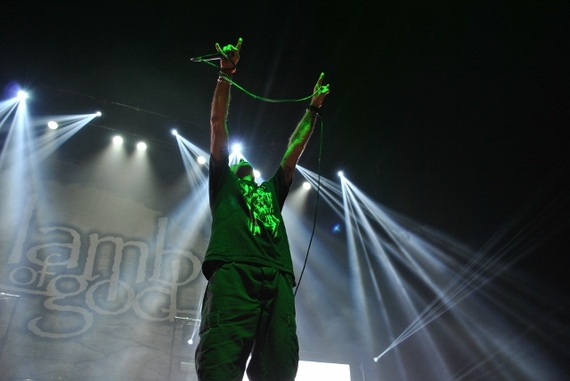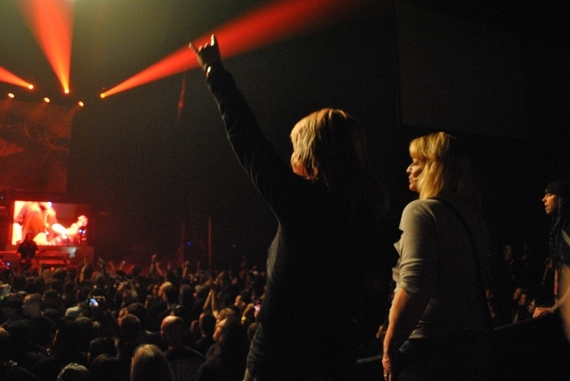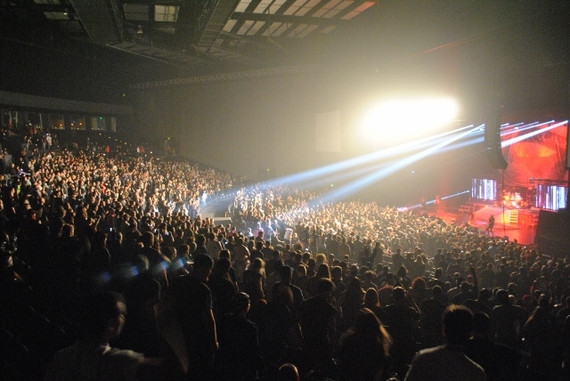 All Photo Credits are Bill Robinson except as otherwise noted