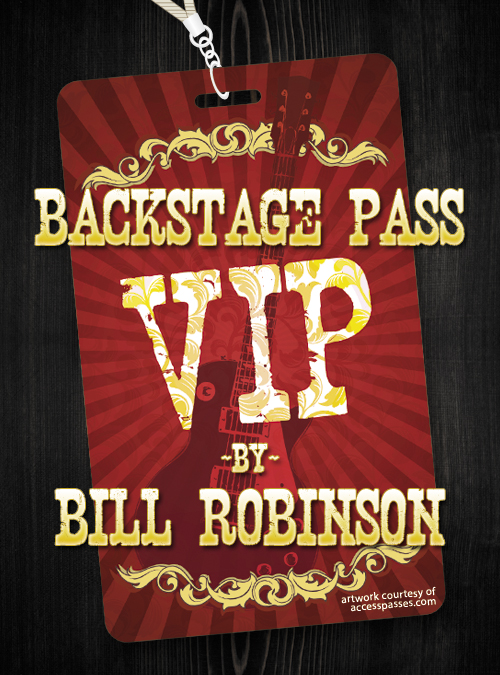 THE PERFORMER
Mick Taylor is a somewhat tortured survivor of the Rolling Stones mania which has engulfed the younger generation--now the older generation--and generations in between, for decades. But a survivor he most certainly is.
As his web site says, "Once a Bluesbreaker, once a Rolling Stone, Always a Soloist," Taylor famously departed The Rolling Stones at the height of their iconic stature and has been in control of his destiny ever since.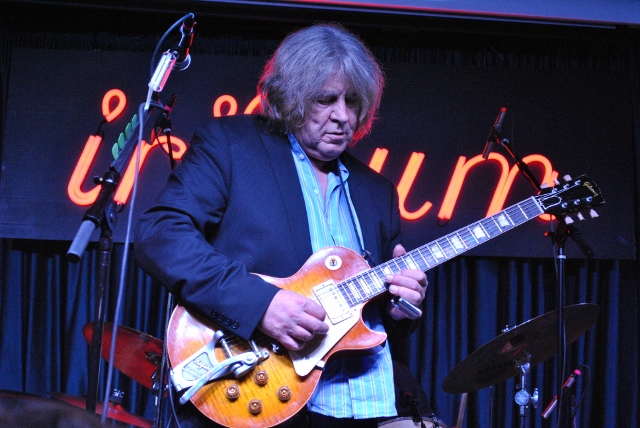 Coming last in the legendary threesome of English guitarists to riff in John Mayall and The Bluesbreakers, Taylor replaced Peter Green who replaced Eric Clapton in this glorious guitar spawning ground. Going on to The Rolling Stones only heightened Taylor's standing in the global guitar genre.
Taylor was once capable of solos such as this one on "Gimme Shelter" in 1972. As a YouTube comment says, "Mick Taylor is on top of the world! Just watch from 2:30 to 2:40 solo. He is flawless, and watch how Jag gets so inspired in his singing immediately after that solo. That is why they were the world's greatest rock and roll band back then. Wow!!" I can now report that Mick Taylor can still play these types of riveting guitar paeans.
One of my favorite Mick Taylor solos is the one on "Time Waits For No One" from 1974's "It's Only Rock 'N Roll" album, Taylor's last recording with the Stones.
There are two kinds of Stones' fans: the first, a 'strict traditionalist' seems hell-bent on the unwavering support of Mick Taylor. The other loves Ronnie Wood and fully accepts that Mick Taylor moved on for whatever reason. I am usually the former but in this exceptional case, I am the latter. My Stones' fanatic friends are universally behind and revere Mick Taylor; they pine for his memory with the band. I however, am a huge Ron Wood fan. Having seen Taylor with the Stones but never solo, I was very excited to be seeing him on Wednesday night at Iridium in Times Square.
Taylor's health hasn't been good over the last years--he's had to cancel a number of appearances last minute--so it was really good to see him feeling his oats at the 10pm second show on the first night of a six night run at "The House That Les Paul Built."
THE VENUE
Iridium is a very cozy, Les-Paul-laden club which features, unsurprisingly, about 20 Les Pauls autographed by legendary Paul players like Slash. The "Home of Les Paul" has featured the Les Paul Trio every Monday night for many years now.
Located down some pretty steep stairs at 51st and Broadway, The Iridium has a low ceiling with acoustic panels which makes the sound solid and gives that rare ability for fan to nuzzle up with hero in a small, sane setting. The diminutive stage makes the performers think strategically and use only the least gear they can get away with. A Hammond B3 seems an impossible feat to get into this club. But these minuscule dimensions are exactly what makes Iridium a superb place to see a concert by anyone.
An Italian menu is supported by a well-stocked bar. All in all, if Eric Clapton ever plays at Iridium, I WILL be there.
THE MUSICIANS
Mick Taylor-Guitar, slide guitar, vocals
Hamish Stuart-Guitar
Hamish Stuart is an exceptional guitar professional. He was the Average White Band guitarist and has played with the likes of Aretha Franklin, Paul McCartney and others while he has also written songs for Diana Ross and Smokey Robinson. Tellingly, while he plays sizzling leads with the best of them, he also plays guitar rhythms with consummate style and grace. Reminding me of Andy Fairweather Low's guitar accompanying of Eric Clapton, Stuart played his 1953 Butterscotch Fender Telecaster reissue in the perfect compliment to Taylor's searing riffs.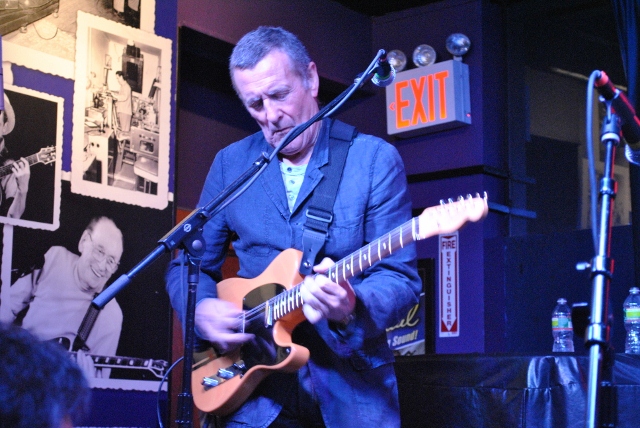 Wilbur Bascomb-Bass guitar
Bascomb played with Jeff Beck, notably on Beck's perfection, Wired and also co-wrote one of my favorites from that album, "Head for Backstage Pass."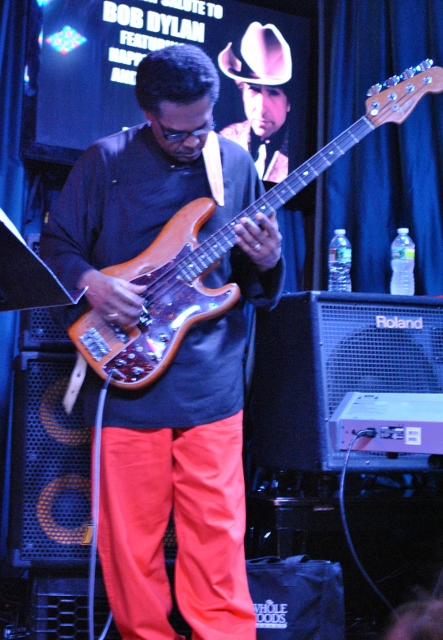 Bernard "Pretty" Purdy, Drums
Bernard Purdie is a joy to behold behind a drum kit. Called "The World's Most Recorded Drummer," Purdie plays in an elegant yet powerful way and has graced the albums of James Brown, Aretha, Steely Dan, Hall & Oates and many others.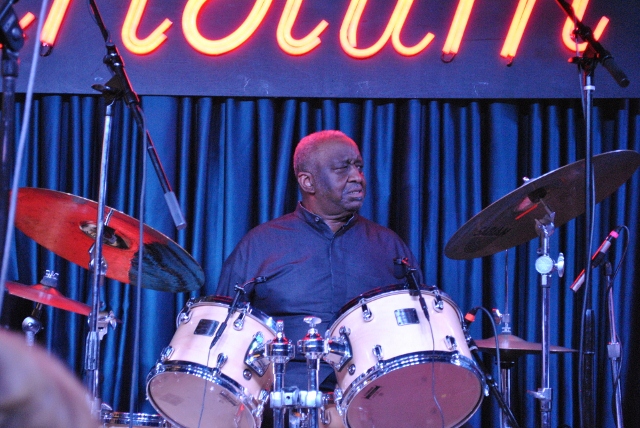 Max Middleton-Keyboards
Max Middleton was a solid keyboard bookend for Taylor with Hamish Stuart all evening. Like Purdie, Middleton played on a number of Jeff Beck masterpiece albums.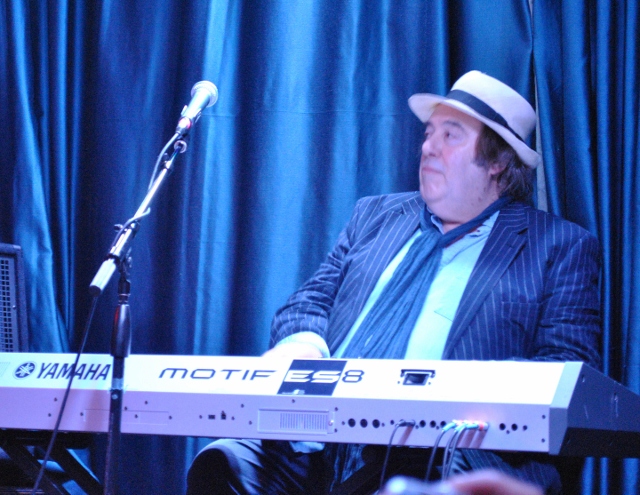 THE INSTRUMENTS
It was particularly fitting to see a Gibson Guitar tour bus parked right outside Iridium, because the club is so closely associated with the Gibson Les Paul guitar, but also, Mick Taylor plays a famed "Burst" (Sunburst) Les Paul which is in the rare category of one of the world's most valuable guitars. Commanding an approximate sale price on the open market (Mick Taylor-owned or not) in the $300,000 to 400,000 range, Mick Taylor's Burst is one sweet-sounding git.
A 1959--the most valuable year for a Burst--Taylor's Les Paul has a Bigsby tremolo bar installed and quite a bit of wear around the headstock. Its red ring around the edge of the body is pretty faded (a key value index) due to the exposure to UV rays which diminish the redness and reduce the value. But the sound of the guitar is premiere.

Mick Taylor's 1959 Gibson Les Paul Sunburst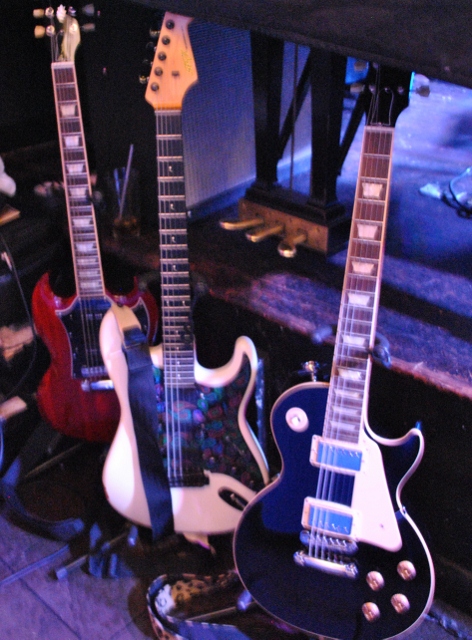 A few of Taylor's "reinforcements' standing by if needed
Mick's effects rack was surprisingly new; I'd thought he'd have some kind of wooden box dinosaur with all his longtime faves. But no, his foot-switches were as high-tech as could be.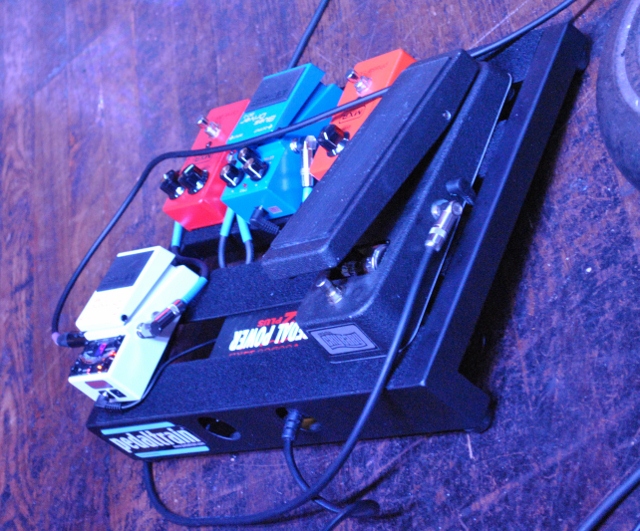 The only guitar besides his legendary Les Paul that Taylor played all night was this Strat copy which for me, ran a poor second to the Paul. (Perhaps the Bigsby threw the Les Paul out of tune?)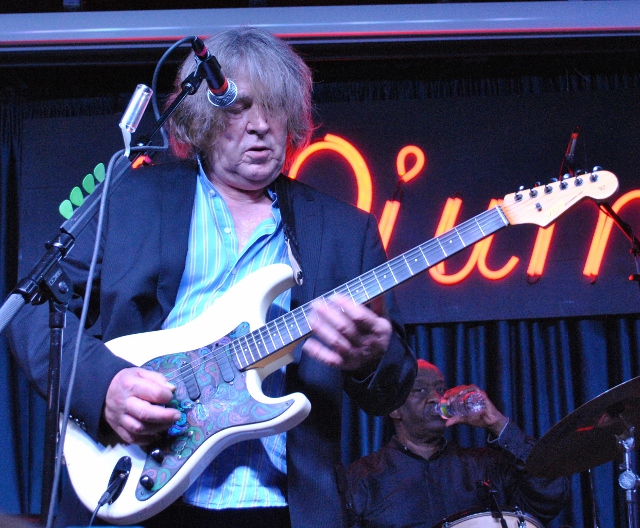 THE SETLIST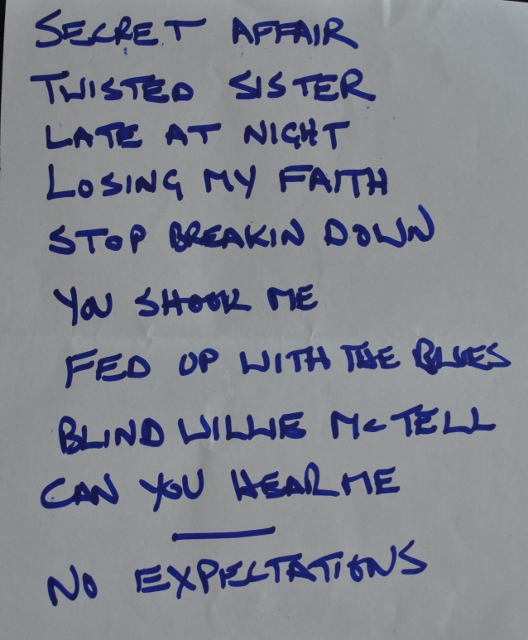 THE AUDIENCE
The audience was a learned, erudite Rolling Stones' crowd talking excitedly about the "early show" and how it was only five songs (they did not however seem disappointed in those five songs).
Referring to arcane Stones' songs and Taylor's antics over the years seemed a requirement for sitting at a table with these professionals, doctors, lawyers and corporate executives. Funny how, the most absurd, partying, long-haired Stones' fans can somehow turn into a part of society's machinery; I know, I am one. A few 20-somethings dotted the mostly 50-something audience but there was an energy to the older crowd that no teenager could match for this one night.
The crowd roared, whistled and clapped heartily; doing their part for the hardworking Taylor and his tight--extremely tight, band of pros.
THE SHOW
From the time Taylor and crew hit the stage, we didn't come up for air much. His song selections were long--some lasting 20 minutes or more but the audience never got restless as can sometimes happen--but enrapturing, keeping the audience spellbound by Taylor's dancing left hand; the rhythm section's tremendous connectivity; and the aforementioned Stuart/Middleton sandwich.
When Mick Taylor plays slide, he takes his sound to a new level. Whether glass or metal (I was trying but couldn't hear any real difference in the composition of the slide on the sound), the pitches he produces are human-like.
When Taylor hits the switch taking his Les Paul's electronics from neck pick-up to the bridge pick-up (as he does in the two photos below), you can tell he means business.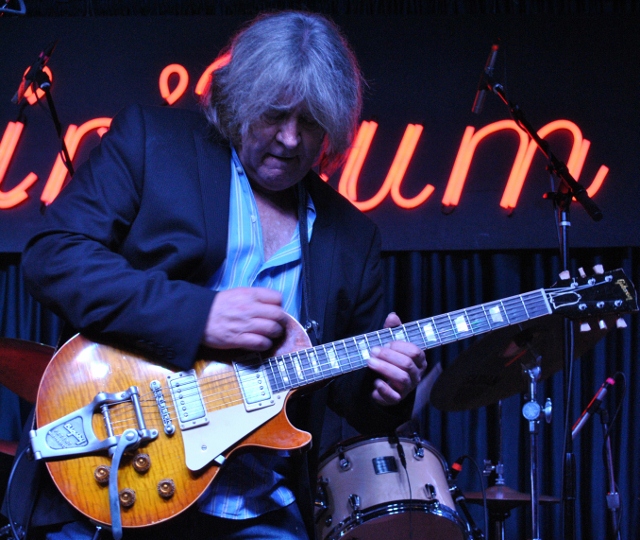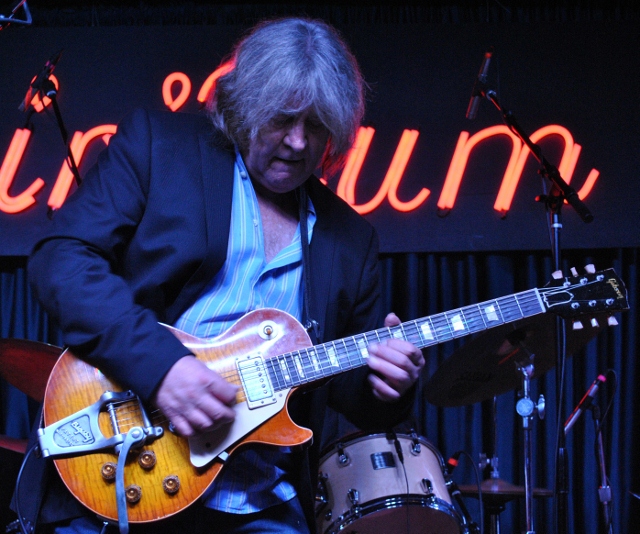 And when he plays slide while finger-picking and using the Bigsby (a real triple-treat), as he did at the end of the night, it's surreal.
For me, two absolute highlights: "Twisted Sister" was an unbelievable, winding melody which ebbed and flowed into a crescendo that likes of which I've rarely heard. Perhaps Led Zeppelin at MSG in 1977 was closest to this. The other ephiphany for me was Bob Dylan's "Blind Willie McTell." In a stunning homage to Dylan, Taylor played this song much better--in my opinion--than Dylan plays it and deep into the song, perhaps 10 minutes or so, an interesting guitar riff emerged. Taylor took the song masterfully into another of Dylan's great works, "All Along the Watchtower" which regaled the audience as many faces changed and lit up with the recognition of the song. It was magic. Then, slowly working back into "Blind Willie McTell," Taylor and his wonderful henchmen wrapped up the song with a flourish. This was memorable.
Playing for more than 90 minutes, the band gratefully accepted their accolades from the audience and departed.
THE ENCORE
When Taylor left the stage and that seemed to be him saying "I'm done," a few provocateurs with more than a couple of gray hairs, steadfastly stayed, refusing to leave even when the lights came up and clamored for one more number. Which they got.
Involving an anonymous sax-playing character, Taylor and the band rocked the tiny stage one last time for the evening and left 'em wanting even more. I don't even know the name of the song to be honest, but it was some wonderful old Blues tune about 'go to the river" or something. It was meandering and tremendous.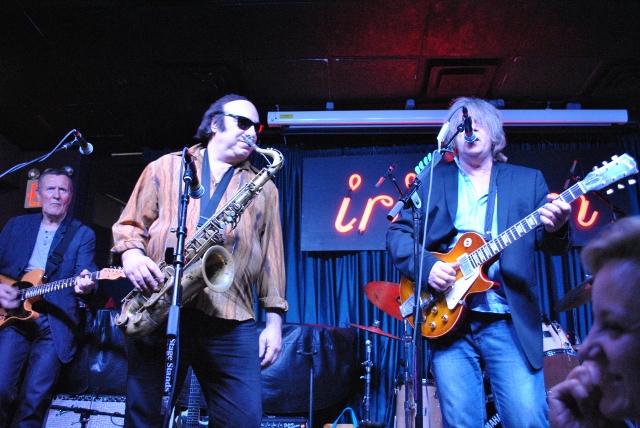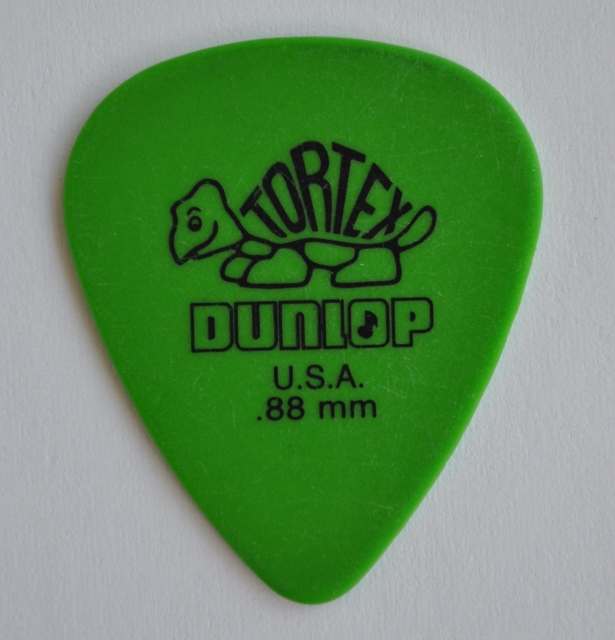 All Photo Credits are Bill Robinson except as otherwise noted