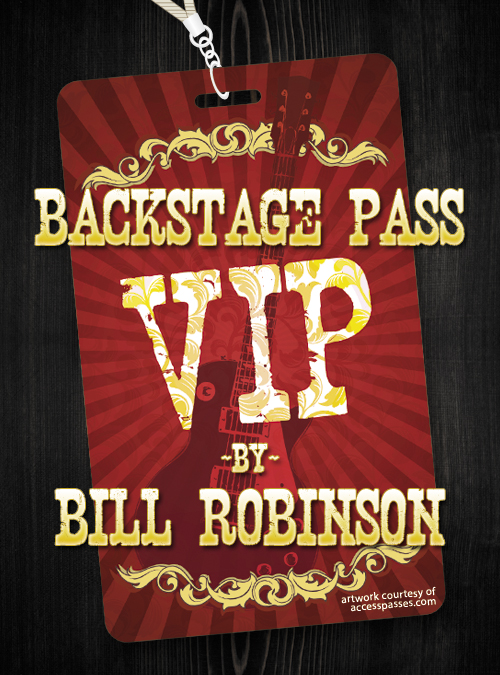 I remember my girlfriend when I was 17, Patty. I was always trying to figure her out, searching for ways to keep her happy. Sometimes, I thought it would be nice if she just came to me and told me what she wanted; what would make her happy.
Well one day, to my utter amazement, she came right up to me and told me what it was that would make her happy: she absolutely had to go see REO Speedwagon play at the Nassau Coliseum. If I couldn't do that for her, I was toast (my words, not hers).
So it was that we headed off to see the relatively new band on the Rock scene. As it turned out, it was really that she wanted to hear them perform their massive, ginormous hit song, "Keep On Loving You." Great, I thought, $20 per ticket so Patty could hear one song. That one song however was worth it to me in the end because Patty was so mesmerized, so enthralled, that after that concert and that song, my stock skyrocketed with her; I earned big-time brownie points.
And so it has been for more than three decades, REO Speedwagon and their central songwriter/frontman, Kevin Cronin has been regaling the ladies and by extension making their guys very happy in the process. Their soaring melodies and romantic ballads have been the soundtrack for many a relationship, many a marriage.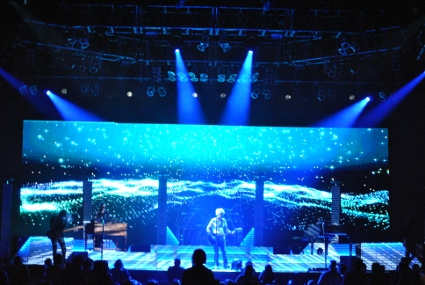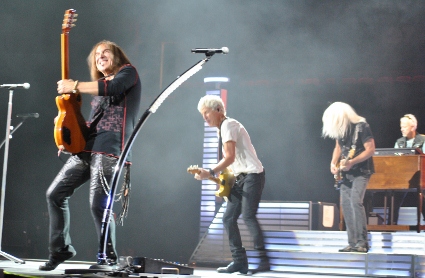 THE PERFORMERS
REO Speedwagon first started coming together in 1966. However, it would be much later that they turned in the certified-platinum band we all know now.
Beginning as a heavier-sounding, screaming, Les Paul-laced band, REO Speedwagon made an amazing transition when Kevin Cronin came aboard for good in 1976 (Cronin was in REO for one album in 1972 but left).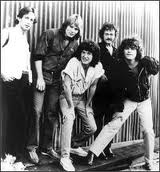 (Photo Credit: billboard.com)
The story of REO Speedwagon is really of two different REOs. The first REO was fueled mainly by the writing and Les Paul-shredding of Gary Richrath. Richrath was the guitar hero of the original REO and wrote most of the great songs--which I loved--for the first 12 REO albums. Foundational songs like "Ridin' The Storm Out and "Take It On The Run" which first branded REO as a hard-driving, Midwestern, guitar-soloing rock band. While rockers like me absolutely gravitated to this original REO sound, there was little commercial and thus, financial success from these kinds of songs.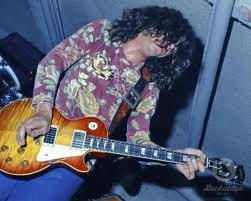 Gary Richrath, original REO guitar-wrecker
(Photo Credit: lespaulforum.com)
When Kevin Cronin came into REO, there seemed to be a slow transition to "REO, Part Two." More and more, the band's songs became more melodic, more ballad oriented and more magnetic for the ladies. Financial success beyond the wildest imaginations soon followed.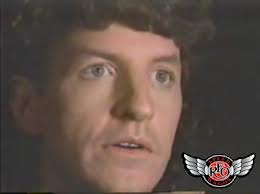 Kevin Cronin, "early days"
(Photo Credit: nashvillescene.com)
THE VENUE
Mohegan Sun in Connecticut is one of the world's largest casinos and has restaurants and entertainment like you wouldn't believe. If you're located anywhere between NYC, Boston and Albany, Mohegan Sun is only a couple of hours' drive away. A ton of restaurants, a 10,000-seat arena where really big acts perform as well as The Wolf's Den in the heart of the casino where impressive bands play free with no cover. It's a self-contained paradise where you can stay, relax, see a show and lose track of time. Great food, great entertainment and some great Blackjack makes Mohegan Sun a great weekend getaway.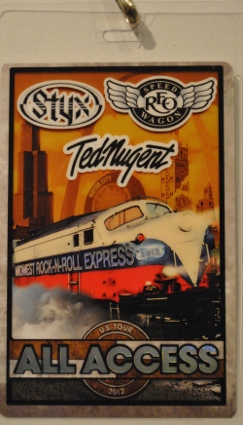 THE MUSICIANS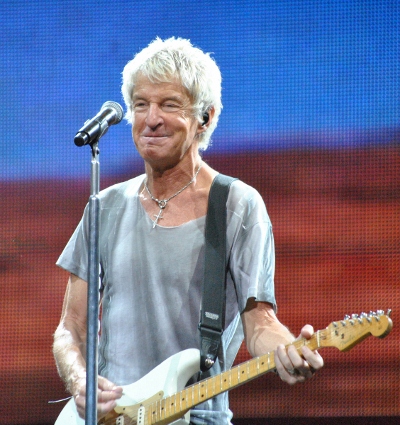 Kevin Cronin, Lead Vocals, piano, rhythm guitar, songwriting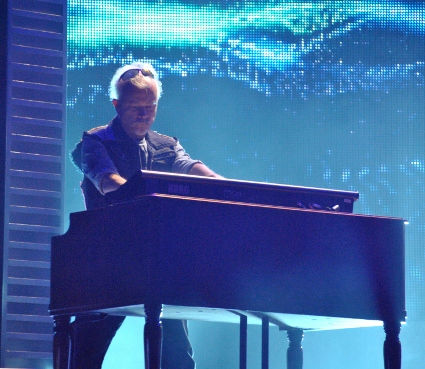 Neil Doughty, keyboards
Neil Doughty is the last remaining original member of REO Speedwagon, the band he founded with drummer Alan Gratzer in 1966. It is Doughty's magnificent keyboard work that can be heard on synthesizer to begin, "Ridin' The Storm Out;" and on his Hammond B3/Leslie on "Roll With The Changes;" and "Can't Fight This Feeling."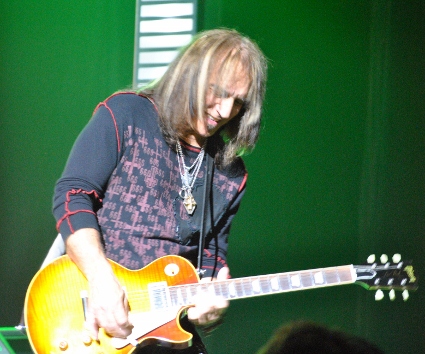 Dave Amato, Lead guitar, vocals
Dave Amato is a guitar gunslinger who's played with some of the best. Since replacing Gary Richrath in REO in May of 1989, Amato has been the stalwart guitar voice for REO. He's played for such diverse notables as Ted Nugent, Black Oak Arkansas, LaToya Jackson, Motley Crue, David Lee Roth, Rick Springfield, Ritchie Sambora and Cher.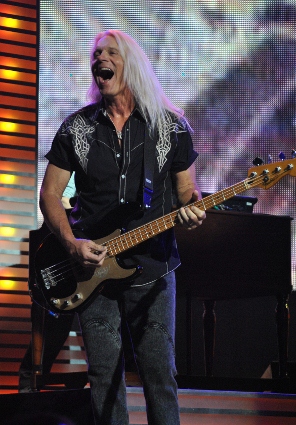 Bruce Hall, Bass guitar, vocals
Joining REO in 1977, Hall has been slamming his bass and having fun ever since.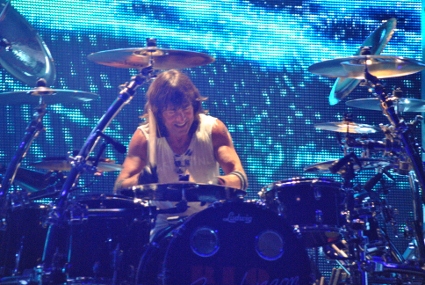 Bryan Hitt, Drums, percussion
Having played drums with Graham Nash, The Spencer Davis Group, Wang Chung and Cher, Hitt joined REO in 1989.
THE INSTRUMENTS
Kevin Cronin's Guitars: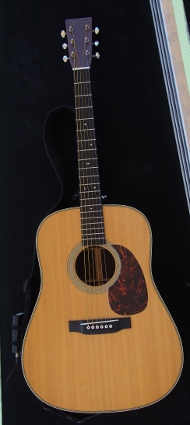 Cronin's 2002 Martin HD-28V
When asked by Martin Guitars whether Cronin considered himself a Martin Ambassador, he said, "I have been an ambassador for Martin ever since I first heard Stephen Stills playing his D-45s. My first Martin was a D-41, which I bought new in '72 or '73 at Wooden Music in Chicago. Some credited it's unique tone to the fact that it was strutted in such a fashion as to suggest it was meant to be a lefty guitar. That cannot be verified as the guitar never arrived at baggage claim in San Francisco. I would have gladly bought a $25 ticket for that unique instrument, but I had no cash on me, and couldn't yet qualify for a credit card. I do miss that guitar, but haved soothed the pain of my loss through regular additions to my beloved collection old Martin Dreadnoughts. I could go on and on about my love of Martin Guitars."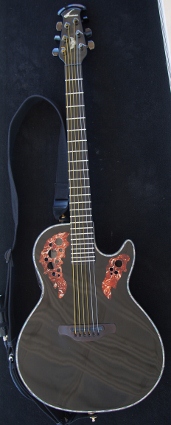 2007 Black Ovation Viper
According to Cronin guitar tech, Steve Summers, "This is the guitar Kevin has played for the first few songs at the opening of every REO show since Ovation first delivered it to him in early 2007."

2010 Ferrari Red Ovation Viper
"This beautiful guitar is also seen nightly at REO shows. Currently this might be called the 'That Ain't Love' guitar, since he mainly uses it for that song."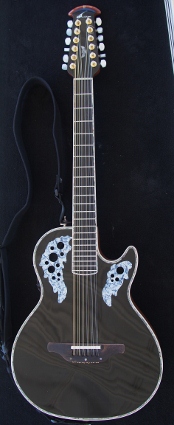 2010 Black 12-string Viper
"Another beauty, this one is featured every night on 'Time for Me to Fly.' As you can tell by the REO logo in the headstock of each Viper, they are all custom made for Kevin at the Ovation factory in New Hartford, Connecticut."
1952 Fender Telecaster with a 1958 neck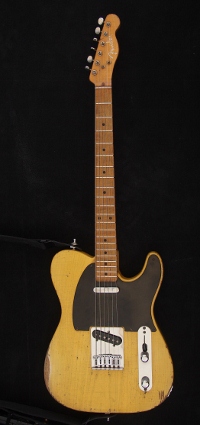 Cronin said about this '52 Butterscotch Tele: "I don't know too much technically, only that I believe I have been playing that Tele since the Hi Infidelity tour. I have seen concert photos of myself over the years with various bad haircuts, silly wardrobe choices, and goofy looking rock poses ... the only saving grace of my look being the beautiful vintage Fender Tele hanging on my shoulder. I stopped playing it on tour for a while upon being told it was too valuable to bring on the road, but my feeling is that guitar is meant for me to play and if something unforeseen happens, then so be it. That instrument feels so comfortable in my hands and has a sound that I love to hear. No other electric guitar I have ever tried, and I have tried plenty, has ever cut it for me. That Tele is like an old worn in pair of jeans...there may be newer fancier models, but this guitar simply feels and sounds good to me. Luckily you (Cronin's guitar tech, Steve Summers) are here to take care of it and make sure it stays where it belongs ... in my hands."
1957 Fender Stratocaster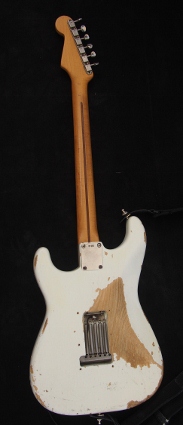 Cronin says: "The Strat was totally stripped and painted white when I found it. Rumor has it the guitar had been owned by the band Angel. I soon grew weary of the stark white color. It looked like the instrument had been refinished at an Earl Schieb auto paint shop. The poor ugly duckling Strat sat in my guitar locker for years until someone suggested I give it to our buddy at the Fender Custom Shop, where it received its present distressed cream and gold highlighted finish, which I find very beautiful. Beneath that vibeless white exterior lay a great sounding guitar which has been with me on the road ever since. I think there may be a proverb in there somewhere. ;)"
Bruce Hall's Bass Guitar:
1963 Fender Jazz Bass

According to Bruce Hall's bass tech, Jimmie Emerson: "Bruce bought it from original REO bassist Greg Philbin, in 1968 or '69 when he was 15 or 16. He calls the bass 'Butter.' Of course, Bruce didn't join REO till January of 1977, so Butter was in the band long before he was. The Badass bridge was installed around 1980. The guitar was stripped and refinished before Bruce bought it. He thinks it may have been white. I don't know if I have ever seen a more gloriously weather-checked finish on a guitar in my life and like Bruce, it is totally natural."
Photos above of Kevin Cronin's and Bruce Hall's guitars courtesy of Steve Summers

Dave Amato's Guitars:



A Les Paul 'Black Beauty' with Bigsby

The Les Paul nicknamed "Oprah"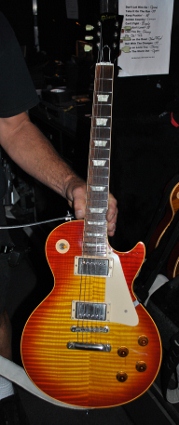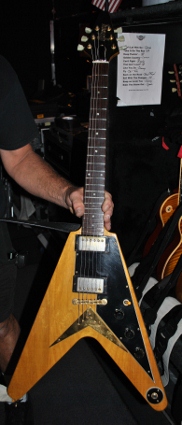 A rare vintage Gibson 'Flying V'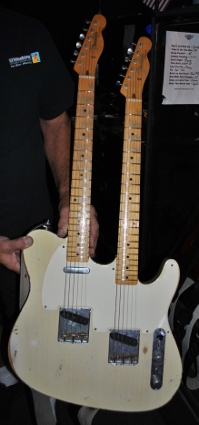 An extremely rare double-necked Fender Telecaster
With regard to Amato's axes, here are a few words from "T-Byrd," his guitar tech: "The double Tele and Squire neck blonde guitar is only 1 of 2 made ... Richie Sambora has the other one but I think that one has a black pick guard. Both guitars were made at the fender custom shop by Ronnie Penna. In reference to the Les Paul's, they are reissued relics that are a '58 and '59. The purple flake guitar is an Axxes model that Dave special ordered. The flying V is a Corina reissue and he has also a Les Paul two tone that was going to be destroyed at Gibson because of a blemish. That is a Corina back and a maple top. The 2 Les Paul's w/Bigsbys, one white and one black are both original. I think they are early '80s. The Strats are reissue relics."
THE SETLIST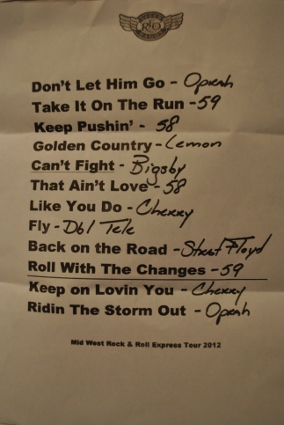 THE AUDIENCE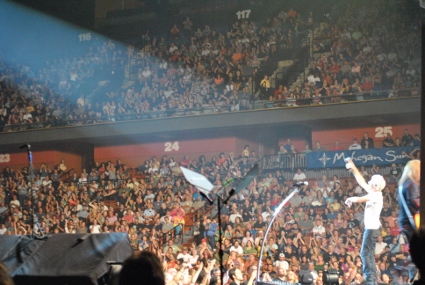 The audience was filled with couples, young and old, looking to hear the romantic music of REO Speedwagon. This was in spite of the fact that REO was sharing the bill with the likes of Ted Nugent and Styx.
Still, after Nugent's killer set, REO's set provided the ideal opportunity for the couples to draw closer together and sing along with Cronin & Company to the strong love ballads that so many grew up hearing. Then, rested and relaxed, smiling, the crowd prepared for Styx, who are no slouches themselves when it comes to melodic love ballads.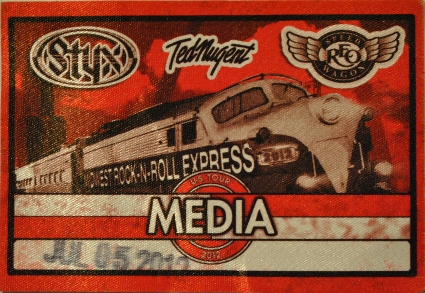 THE ARTIST COMMENTARY
Kevin Cronin is a truly nice guy. Armed with his infectious smile, I imagine it would be impossible to have an argument with this gentleman.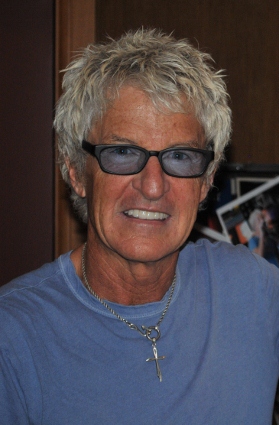 Backstage Pass (BP): What's exciting Kevin?
Kevin Cronin (KC): "Well, we had our company picnic yesterday ... right down the road from here (at Mohegan Sun in CT) ... and we had the tour buses circled like covered wagons ... we took all the tents that we use to cover our equipment, the boards when we play outside and set them up in the parking lot ... barbeques ... everybody from all the bands (REO, Styx & Ted Nugent all on this tour) and all the crews ... you know, so probably 75 people. We just had a great time. One of the truck drivers used to be one of the roadies from Black Oak Arkansas and back in 1972, we opened for them on our first major tour. It was one of those good vibe days."
BP: This seems like a really close-knit family tour you've got going on here; I mean, I came in an you were all taking tour pictures, yearbook-style onstage of all the musicians and crew from all three bands. This must be a lot of fun for you.
KC: "What a warm feeling. REO and Styx have been almost like one big band for the last 12 or 13 years and it's funny, Styx is from Chicago; I'm a Chicago-boy. The reality is that we released records at exactly the same time so the record companies were fighting each other for position. When Hi Infidelity came out in 1981 and went right to #1 then Styx's Paradise Theater was #2, so we were in their way for like six months. But about 12 years ago, Tommy Shaw and I met during the taping of a game show for VH-1 and our dressing rooms were right next door to each other. And this was the genesis of this new vibe that our bands had was the result of Tommy and I meeting, then we went out to dinner to The Improv in LA with our wives but we had never done a show with Styx. So we did one show together with Styx up in Minnesota and it just clicked."
BP: That makes everything so much more fun on the road, doesn't it?
KC: "Yes, it certainly does. You know they're like us in that they have the same crew pretty much that they had 13 years ago, so do we; so we have a similar kind of work ethic, a similar kind of loyalty to each other and our families. It's been just a fantastic thing in our lives."
BP: In speaking with James Young from Styx earlier, he said you guys kind of mesh together very well. He said, "We both had huge albums in 1981; both bands started out in one genre and then moved to another. For us it was Tommy Shaw and for REO it was Kevin Cronin." Have you ever thought of that?
KC: "Well the thing about it was, it all happened about the same time. Because when I met Tommy in the early days, I had seen Tommy play in a Chicago club with a band called MSFunk and I was looking to put a band together. I thought, 'who is that kid, he's really good. I should really talk to him.' Nothing happened though and we both went on our ways. He and I each got the calls from REO and Styx within about a week of one another."
BP: I imagine "Keep On Loving You" was your biggest hit, right?
KC: "No, actually "Can't Fight This Feeling" was our biggest seller ever ... as a single ... as a song that gets covered ... it was in "Rock of Ages' on Broadway. The song 'Keep On Loving You' was a huge accident anyway; when I brought that song into rehearsal and started playing it on the piano, the guys at the band looked at me like I was freaking crazy."
BP: So what did you do? How did you get them to do it?
KC: "I just kept playing it, over and over and over again. Finally, Gary (Richrath) went over and turned up his amp to 10, you know the nastiest ... the dirtiest guitar sound and just started playing along, you know to just try and drown me out from singing the song and it just fell into place."
BP: What do you think of the current condition of the record companies?
KC: "Well for us, I never remember making records as a way to get paid; we never got paid for records. The first time we ever got paid for records was Hi Infidelity and we didn't know why. We always sold enough to just break even and the record company was go, 'we got nothing to lose,' so they'd let us make another record. So in our minds, the record company just paid our recording costs and it wasn't about making money; it was about recording music and then getting your records played on the radio and then people would come to see you play live and that's how we would make money. I come from an era where nobody got paid to record; we only got paid to play live. But for us it was only about going out and having fun. When we started, it wasn't because we thought we were going to get rich. Things have changed over the years, you know ... my kids will get to go to a nice college because of some of the songs I've written and some of the music we've made over the years. We were lucky that we started from a very pure place ... and then kind of accidentally started getting paid for it."
THE SHOW
Opening the show up with "Don't Let Him Go," you could almost hear the ladies moving closer to their men. And with the numerous exceptions of standing and clapping, most REO fans stayed close throughout the show.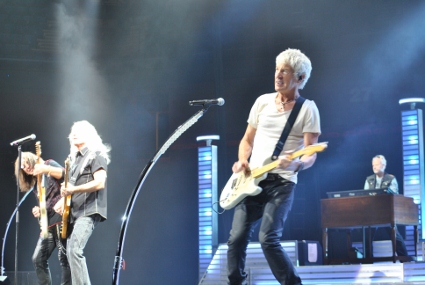 A strong three-song run proceeded to get the crowd rocking, starting with "Take It On The Run," then one of my personal favorites of encouragement, "Keep Pushin" and finally, old gold-standard, "Golden Country." "Keep Pushin'" featured some tremendous guitar leads by Dave Amato.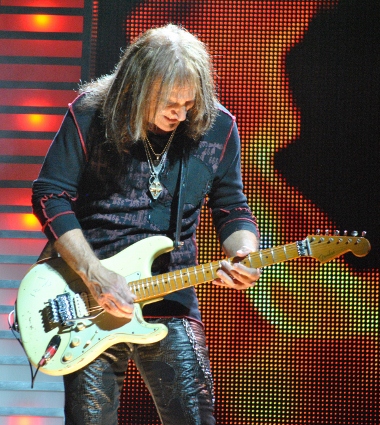 "Can't Fight This Feeling" gave Cronin the opportunity to sing as a true front-man with just a mike stand and his voice; no guitars or piano. This song had everyone settling in for a melodic ballad and taking a few deep breaths.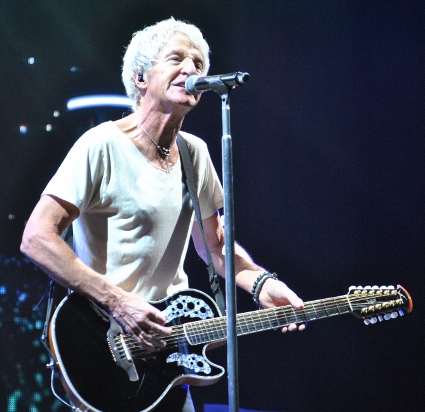 Cronin plays his 12-string Ovation guitar on "Time For Me To Fly"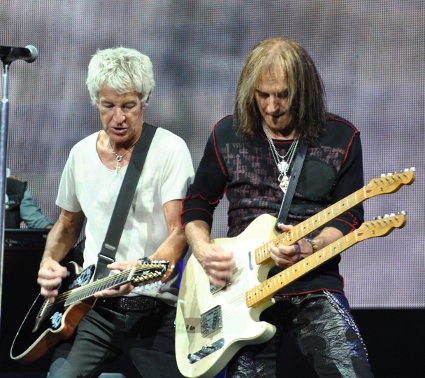 Cronin and Amato on his double-neck Fender Telecaster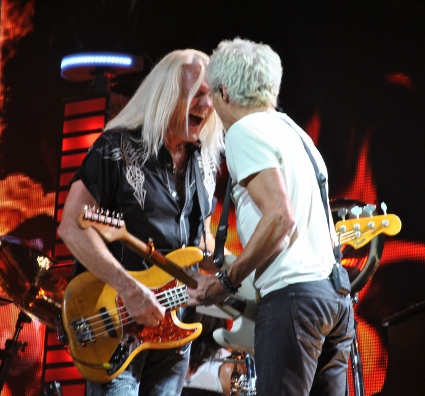 Bassist Hall and Cronin caught in the moment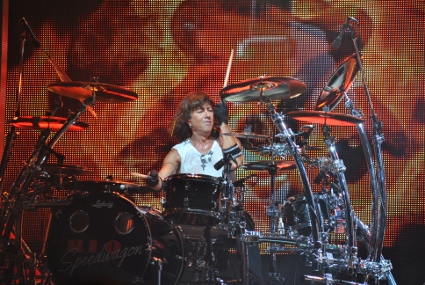 Bryan Hitt provided a strong back-beat all night long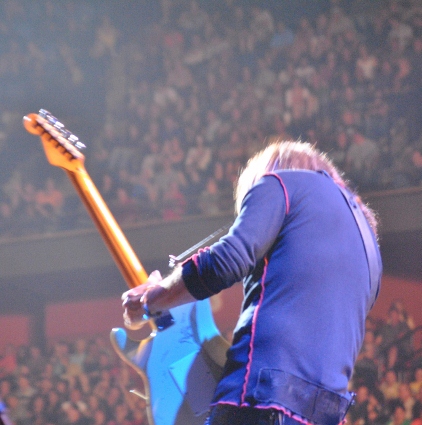 Dave Amato gives the crowd that classic, guitar-wailing pose
The final trilogy of "Roll With The Changes," "Keep On Loving You" and "Ridin' The Storm Out" comprised one of the best cluster of closing imaginable. The band left the stage after "Roll With The Changes" and then came out for an encore of the final two show-stoppers.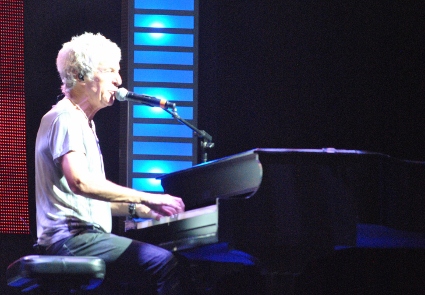 Kevin Cronin at the piano for "Keep On Loving You"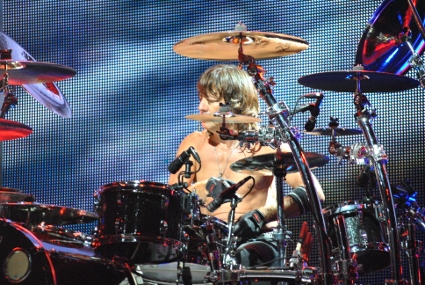 There was a noticeable swoon from the females in the audience when Bryan Hitt took off his shirt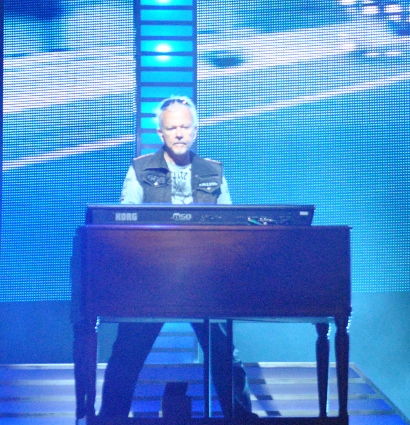 Original REO member Neil Doughty's keyboards provided a smooth background track throughout especially on the synth/keyboard-heavy closer, "Ridin' The Storm Out"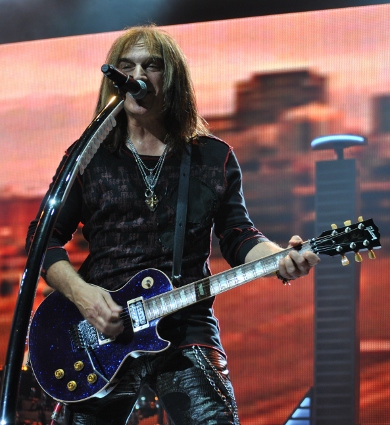 Dave Amato rips into "Oprah" on the closing song, "Ridin' the Storm Out"
As the final chords of "Riding the Storm Out" reverberated throughout Mohegan Sun Arena and faded away, REO Speedwagon left the stage and a very satisfied crowd behind.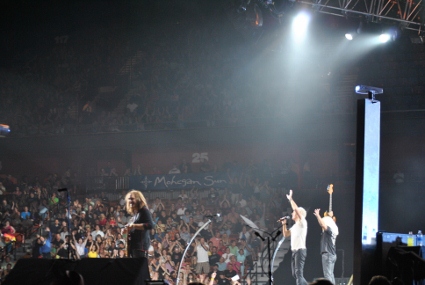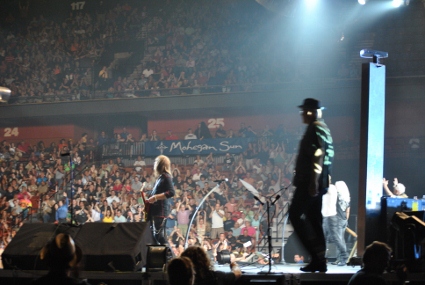 All Photo Credits are Bill Robinson except as otherwise noted