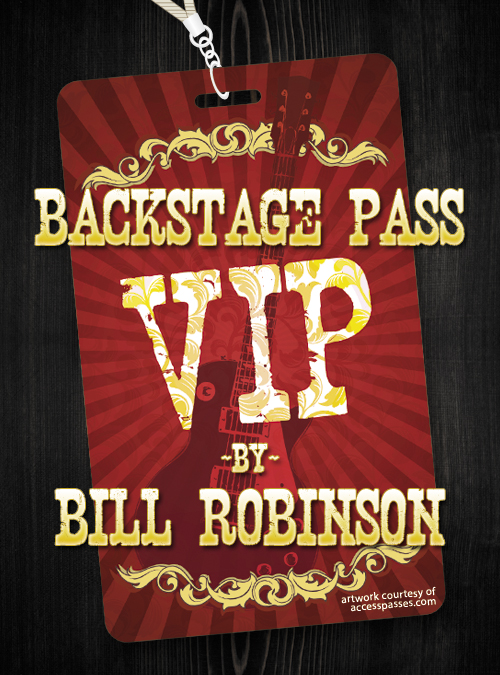 THE PERFORMERS
I remember when I was 15 and wearing out my Lynyrd Skynyrd record, "Free Bird" with my friends--for more than two years solid, I revered and loved that song--but suddenly everything changed.
I heard this new, better, more "smokin" guitar song, "Green Grass and High Tides" by The Outlaws. Though I always loved Skynyrd, hearing this song began an almost 40-year fascination with this band and their hard corps yet often gentle music. The Outlaws helped define Southern Music for me and generations of rock fans. Seeing them onstage with The Charlie Daniels Band, Marshall Tucker Band, Allman Brothers, Lynyrd Skynyrd or countless others was for a long time, one of the best experiences I could have.
And so it was again recently when I saw The Outlaws play in upstate New York.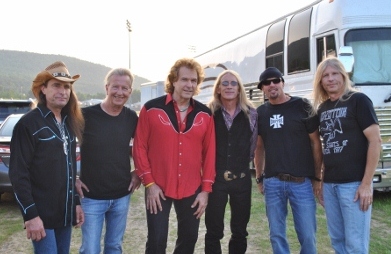 The Outlaws are (from left to right): Chris Anderson, Monte Yoho, Henry Paul, Billy Crain, Dave Robbins, Randy Threet
Hell, The Outlaws even opened for Kiss.
Over the years there have been many permutations of The Outlaws. Henry Paul left and returned several times, after starting The Henry Paul Band and more recently Blackhawk; bassist Frank O'Keefe died, guitarist extraordinaire Billy Jones died; and finally earliest Outlaw, Hughie Thomasson died in 2007.
Sadly, there are only two remaining members of the band keeping the Outlaws flame alive; Henry Paul, vocalist, guitarist, and frequent songwriter and Monte Yoho, drummer and songwriter. But these two are doing a valiant job at staying true to the original Outlaws melodies.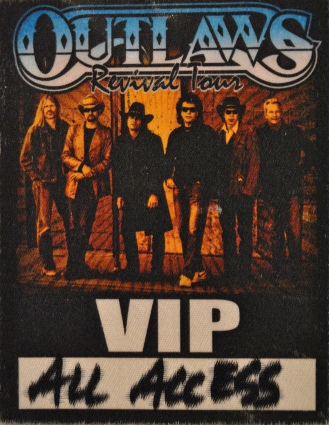 THE VENUE
Tioga Downs is a raceway and casino located in upstate New York between Binghampton and Elmira. It is about a 4-hour drive from New York City and is located in a beautiful valley of rolling, green hills. It has an active 5/8 mile harness racing track, a casino (no table games) and bar/restaurants. If you feel like hopping in your car or on your bike and escaping the City for a day or two, this is a good option.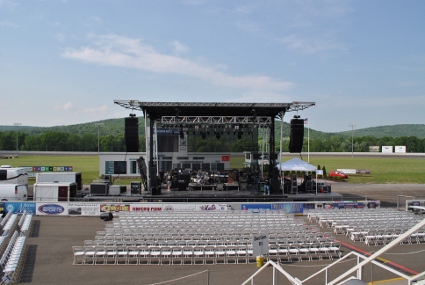 THE MUSICIANS
Henry Paul - guitars, vocals (1972-1977, 1983-1986, 2005-2006, 2008-present)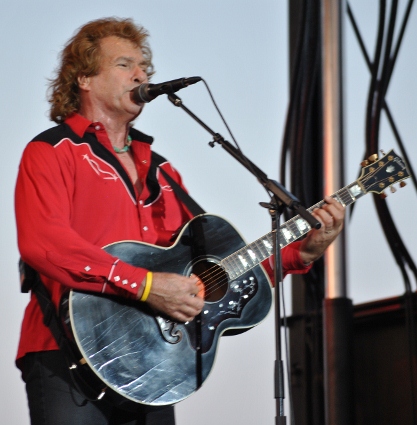 Henry Paul was always one of my favorite Outlaws. He was the one that brought, I think the true Country flavor to many of their greatest songs. "Knoxville Girl" is an outstanding example:
"The fog rolls in the morning
And I can hardly find my way
Along to where the heart is
Words can't begin to say
Enough about the gentle way
You always take me in
That long and narrow one-way road's
Got to take me home again"

Another stellar example is "So Long:"
"Storm is overcome with rage
I slowly turn another page
Deeper into love I seem to go
Stories filled with scattered lies
Broken hearts and paradise
For the ending no one seems to know
That it's been so long since I've held you close enough to me
That I feel I've finally come to lose my heart
And the nights are so long without you that I find it hard to see
Through the tears we've cried long enough to find us here apart ..."
Besides the lyrical genius of Paul's words and the imagery they convey, these songs' music mixes a beautiful, acoustic guitar opening with raucous, hard-driving type leads from there on in.
Born in Kingston, New York but Florida-bred, Paul has made a brand out of his signature harmonies and melodic vocal style--you can always pick his voice out of the Outlaws' vocal patterns. When Paul was 20, he moved back to New York City, Greenwich Village no less, where in the late 60's the music scene was nonpareil. Once in the Village, he told me, he embarked on "a tracing of Bob Dylan's footsteps" that left an indelible imprint on his songwriting future.
Billy Crain - Lead guitar, vocals (2008-present)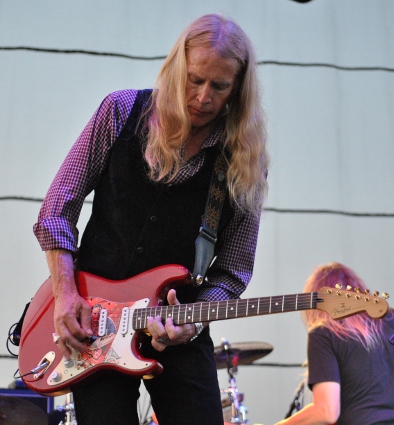 Billy Crain is one seriously good guitarist. Born in Nashville, Tennessee--about the best place a Southern musician can hail from--Billy Crain was almost playing guitar while he was in his bassinet. His older brother Tommy Crain played guitar and wrote songs with Charlie Daniels for the better part of two decades. Tommy Crain was Southern Rock royalty and co-wrote many songs with Daniels and won a Grammy for Charlie Daniels Band (CDB) classic, "The Devil Went Down to Georgia."
Back Story: I saw Tommy play many times with CDB and he was some kinda Les Paul destroyer ... man could he play that git. I lived in Nashville for a while a few years back and stumbled one night into a superb Franklin dive-bar called The Pond which was featuring "Tommy Crain and The Crosstown Allstars" that night. As soon as I heard his name, I knew I was in for a treat. We talked in between his sets and he had all the time in the world for me, a fan. That night, he and his merry band of blues virtuosos played "Long-Haired Country Boy," "Devil Went Down," "South's Gonna Do It Again," "Orange Blossom Special," and then threw in incredible versions of the Allman Brothers' epics, "Statesboro Blues" and "One Way Out."
What follows here are a few of the pictures I took of Tommy Crain that night at The Pond in Franklin, Tennessee as well as one of his great 1968 Les Paul Gold Top which I had seen him rip into at so many CDB shows over the years.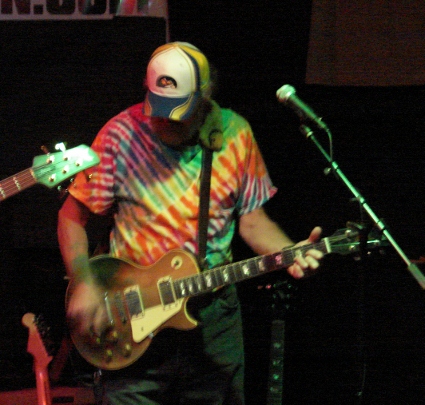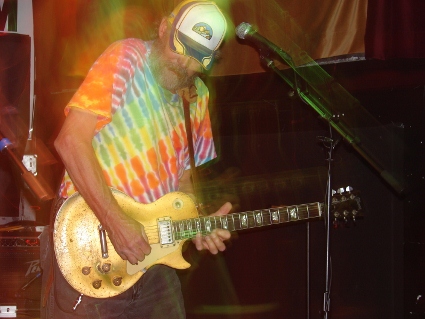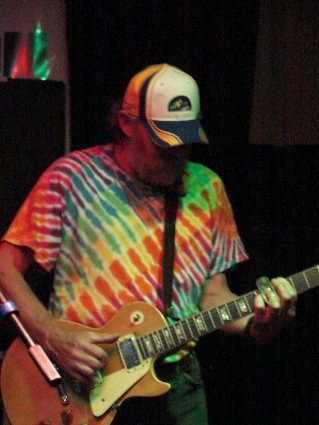 Yep, "Statesboro Blues" sounded pretty damn good that night with Tommy on slide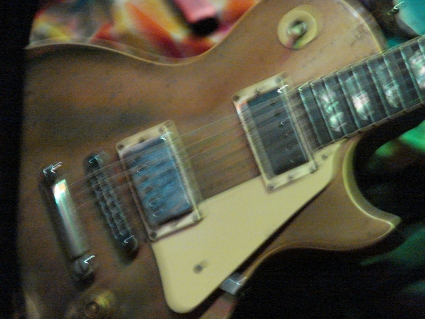 The tasty-sounding, chewed-up, 1968 Les Paul Gold Top
Cutting back to the recent upstate New York Outlaws' show, when I saw Billy Crain backstage before the show, I showed him his brother's CD I had been listening to and asked him if he wasn't going to pair up in a band with his brother Tommy someday.
"I guess you don't know Bill," Billy Crain said to me gently, "last year ol' TC passed." (Tommy Crain is known as "TC.") I was floored. Tommy Crain died last January and because I was in NYC, I never heard. I felt just terrible but Billy Crain was as nice as he could be about it, "You didn't know, don't feel bad. Ol' TC went in his sleep, just like we all want to go," Crain said gently.
Chris Anderson - Lead guitar, vocals (1986-1989, 2005-present)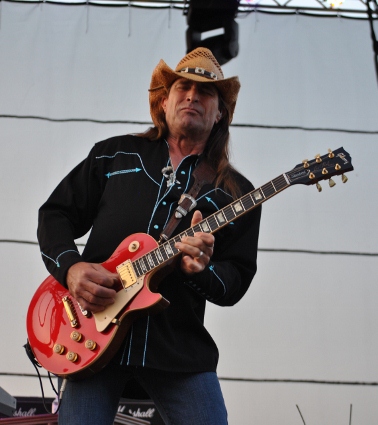 Dave Robbins - keyboards, backing vocals (2005-2006, 2010-present)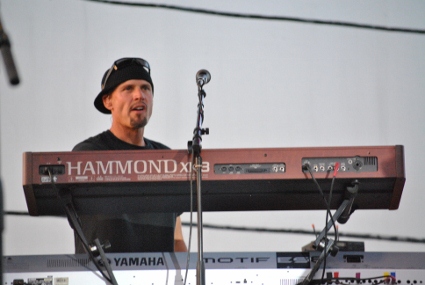 Randy Threet - bass, vocals (2005-present)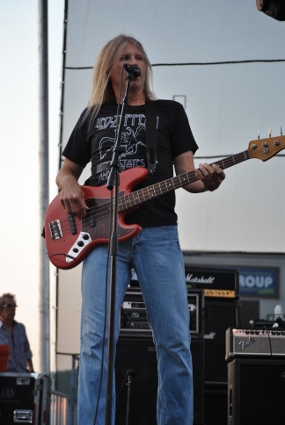 Monte Yoho - drums, percussion (1969, 1970-1979, 2005-present)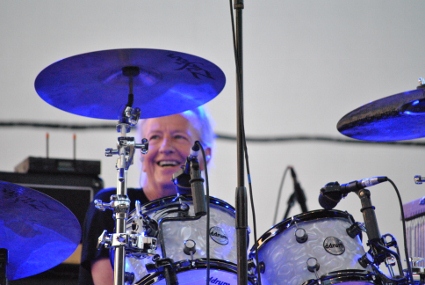 THE INSTRUMENTS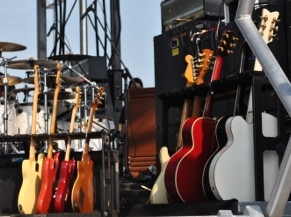 Known as "The Florida Guitar Army," there's no shortage of guitars at an Outlaws show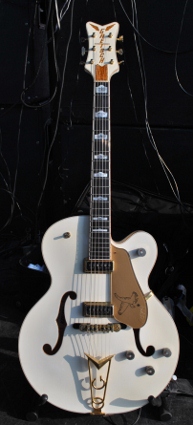 Henry Paul's classic, Gretch White Falcon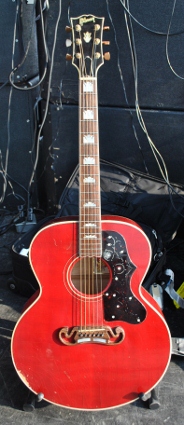 Henry Paul's Gibson J-200 Acoustic, the first red one ever made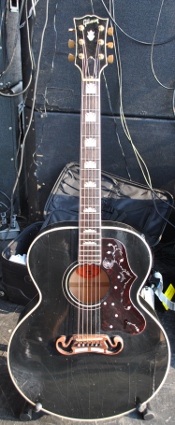 Henry Paul's Black Gibson J-200 Acoustic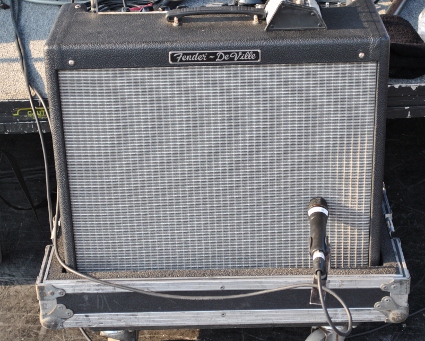 Henry Paul's amp, simple, elegant

Billy Crain's Fender Stratocaster with bandit painted pickguard

"Ol' TC's" 1968 Gibson Les Paul Gold Top (note the wearing away of paint where TC's arm rested and green spots of oxidation from TC sweat)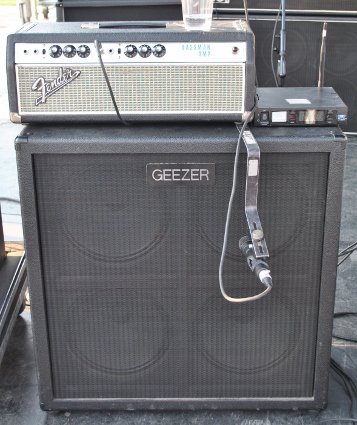 Billy Crain's Fender/Geezer amp set-up

Chris Anderson's Cherry Red Gibson Les Paul (yes, it sounds as good as it looks)

Chris Anderson's Cream Strat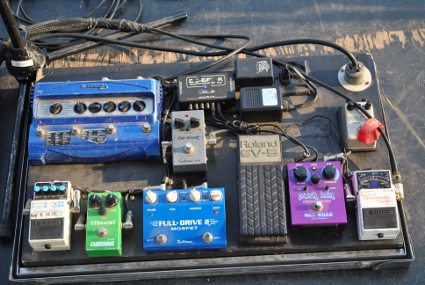 Chris Anderson's effects rack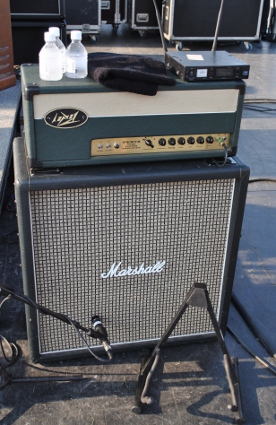 Chris Anderson's Peavy amp/Marshall cab combo

Randy Threet's Fender Tele-style bass

Randy Threet's Fender Jazz Bass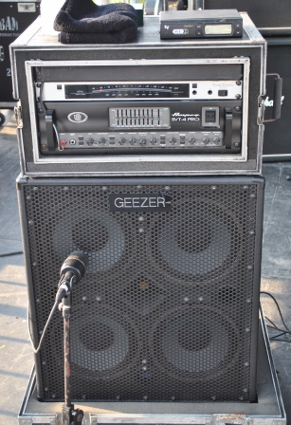 Randy Threet's bass amp and cabinet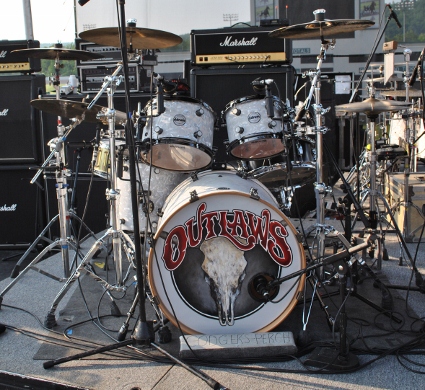 Monte Yoho's drum kit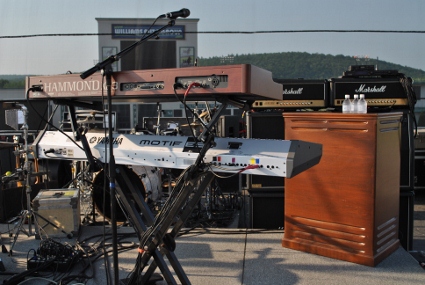 Dave Robbins' keyboards set-up including a Hammond keyboard hooked up to a Leslie without the cumbersome B3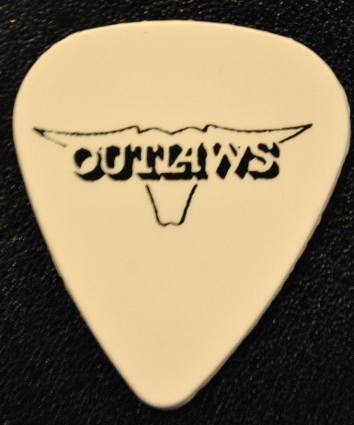 NEW RELEASE
The newest release is a 12-song CD with a strong remake of the Henry Paul Band classic, "So Long" and a title track, "It's About Pride" which is reminiscent of the 1975 Outlaws in terms of bold guitar chords, harmonies and Southern flavor.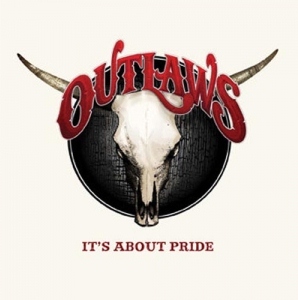 THE SETLIST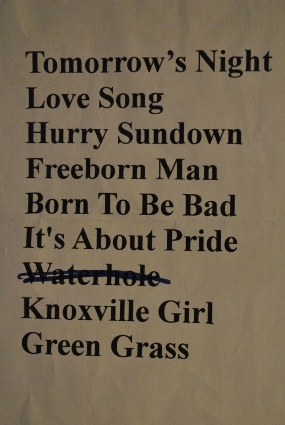 THE AUDIENCE
The Tioga Downs crowd was comprised mostly of 40/50-somethings who were dedicated Southern Rock fans who traveled often great distances to see their beloved Outlaws with a small contingent of locals who frequent the casino interested in see some big-time entertainment. The mixed audience gave The Outlaws a good opportunity to reconnect with old friends and fans and meet some new ones.
THE ARTIST COMMENTARY
"The Internet changes the way you record and distribute," Henry Paul started, "it used to be when you'd make a record, you'd compile maybe a collection of 200 reels of 2-inch tape," he recalled, "and then every time you did a take, you'd put up a new reel but the way you write and the way you conceive of a song is exactly the same. On the Internet now, when you put something out it's totally different. The old way you'd put a new record out and talk to the DJs and then it would just disappear. But there were opinions being formulated that you were never witness to; you never saw the process. Now with the Internet, it's like you have a ringside seat to the Pontius Pilate seat; you get to judge."
On writing songs: "You're writing your songs to the collective soul of the audience and fan base. Because you know those people like they're your family; you understand them, what they like and what pushes their buttons. You know, if you're going to write a song about something that they're affectionate about you'll hit them right between the eyes. Like Charlie Daniels wrote 'The South's Gonna Do It Again' and it was directly at his audience. When I write 'It's About Pride' then I'm writing directly at my audience."
On 'storytelling' in songwriting: "If you're writing a tribute or a tribute song like 'Grey Ghost' (Henry Paul Band) or another tribute 'We're Brothers of the Southland' (another Paul band, Blackhawk) or any of these songs that tell stories ... you and I talked about Steinbeck and his detailed style of storytelling, 'Tortilla Flat' where you knew these Italian immigrants and you could see and smell the gallon jugs of wine, you knew what that was about--you would buy completely into his storytelling talent. Then you could go to Hemingway and his metaphors; the whole thing was metaphors. 'A Farewell To Arms' is the greatest title in my opinion, of any prose or fiction on the planet. So when I write for my audience, I write from a first-person perspective, like 'a stranger stepped out from the shadows with a black guitar all trimmed in gold' then you get to the metaphor, 'a wanted man's son with a lightning-fast gun,' it's almost like 'The Ride of Paul Revere' where you're writing about someone you know. Then you get to the bridge, 'off in the distance, one last lonely ride, a legacy left on the wind, to all of the faithful that he left behind, true to himself to the end' ... then you get to pat him on the back; you get to say something nice about somebody you have some affection for."
How hard to you agonize over each word when you're writing a song? "Oh man, you can ask Billy Crain who's a great songwriter (Crain co-wrote the Dixie Chicks' first big, hit Let 'Er Rip"); it's very, very difficult. Most of them are hard to write. Like 'Trouble Rides A Fast Horse' is a great title that came easily but it was incredibly hard to write the lyrics."
When I ask Paul about "The Flame," a tribute to longtime Outlaws band-mate, friend and sometimes adversary, Hughie Thomasson, Paul gets very introspective, insightful and somewhat emotional. "Writing the Hughie song was very healing for me," Paul began, "and it was a moment to ... despite all the storied and documented differences between two people, it was an opportunity for me to be gracious ... there's a lot of forgiveness in that song. Loving and being passionate about life is a recipe for disappointment when you lose it. I mean this is a guy, who not unlike Frank (O'Keefe) or Billy (Jones), who we struggled together to do what we dreamed of doing and we persevered together through that struggle and succeeded. So it binds you and bonds you in a way like a tattoo; it's an indelible lifetime love affair of success and effort and sacrifice. There's one time I was on the bus with Hughie and we were on our first west coast tour. It was an old 4104, a 1953 GMC coach (View image) and it was our first bus and we were so happy and proud to be on it ... we had played Winterland with Lynyrd Skynyrd that night and the band was so hugely received and it became apparent that we were involved in something bigger than what we were. Everyone had gone to bed and Hughie and I were having some cocktails in the front lounge and Hughie told me he was homesick and wanted to go home. It was an emotional moment where you have to reconcile the fact that what you dreamed of has taken your life over and you no longer have control over it. And I said 'Well, we can't go home anymore.' I was offering up a realistic antidote for his problem but there was no home-going. It was sad in a way because our lives were changed forever. There were a few defining moments such as that which live larger than most other memories."
On getting signed as Clive Davis' Arista Records first act: "Clive Davis came down to one of our gigs in Columbus, Georgia on a private jet and saw us at an armory with Skynyrd and sat with us in the dressing room after the show and he told us he was going to sign us to his label." There is much mythology around the Outlaws beginnings including a story that Davis went running down the aisle at that Skynyrd show shouting "Encore! Encore!" and another one that has Ronnie Van Zant telling Clive Davis, "If you don't sign The Outlaws, you're the dumbest music man I ever met."
On record companies: "Before Arista signed The Outlaws, there was no Outlaws. Before Atlantic signed The Henry Paul Band, there was no Henry Paul Band. Before Arista signed Blackhawk, there was no Blackhawk, so these record companies invested significant amounts of money to promote your music, to get it played on radio and expose the audience to the music. So anywhere you see a big band whether it's The Beatles, The Rolling Stones, The Outlaws, Lynyrd Skynyrd ... any of them, there's always a lot of money and mojo behind them. You can say it commercializes the artistic integrity but I don't look at it that way."
THE SHOW
The Outlaws hit the stage in full daylight with the sun on its way down which was perfectly timed for "Hurry Sundown" the third song in their set.
Opening up with "Tomorrow's Another Night" from their new, "It's About Pride" release, The Outlaws began in typical Outlaws' fashion: with a cappella harmonies kicking into a strong, three-guitar chord riff.
The opening strains of "There Goes Another Love Song" kicked right in and got the crowd on their collective feet, hooting and hollering. Monte Yoho told me before the show that he had co-written TGALS with Hughie which I didn't know. Monte had written the crucial "Someone singin' about me again" chorus.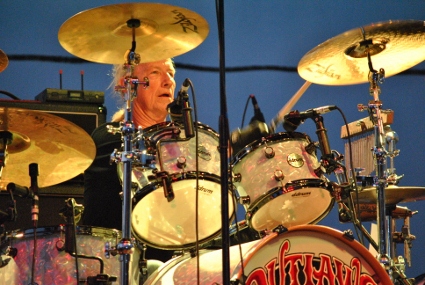 A jaunty' "Freeborn Man" was put on display for all in attendance and the crowd approved mightily.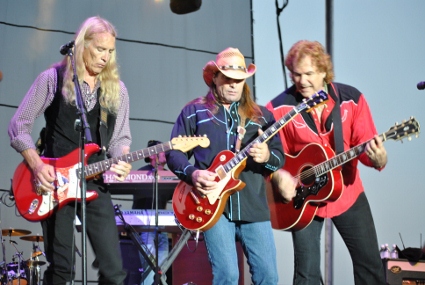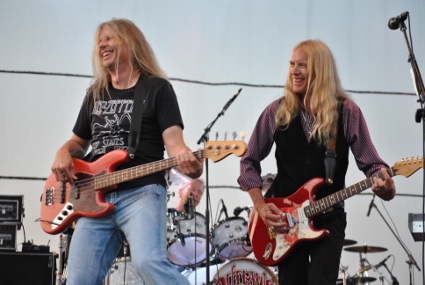 Randy Threet and Billy Crain having fun on their side of the stage
Then a couple of songs from the new Outlaws record, "Born To Be Bad" which was co-written and sung by Chris Anderson and he sang it with pure aggression;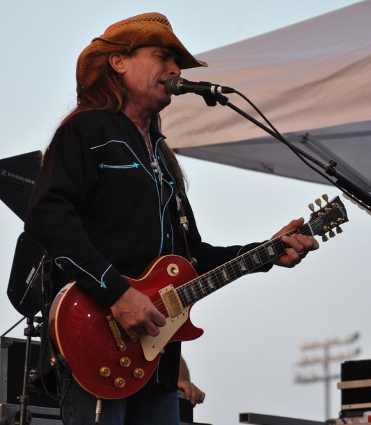 and the title song, "It's About Pride" which is really a great, strong anthem reciting great Southern Rock bands in the style of a CDB' "South's Gonna Do It Again" or Molly Hatchet's "Gator Country."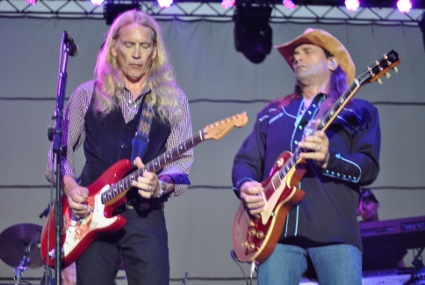 When Billy Crain and Chris Anderson play leads together, good things happen
"Knoxville Girl" got the crowd going from the romantic opening when they were sitting to jumping on their feet when the guitar chords stretch out and the song takes off.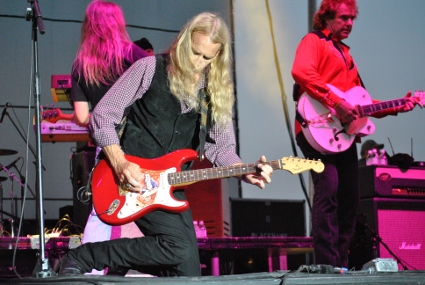 Billy Crain play leads on his knees; that's when you know they're gonna soar
Of course, the closer "Green Grass and High Tides" was monumental. There's nothing in my mind as exhilarating as hearing this guitar paean played to perfection.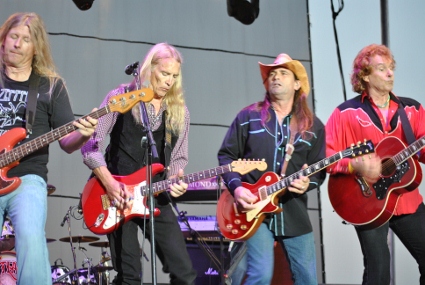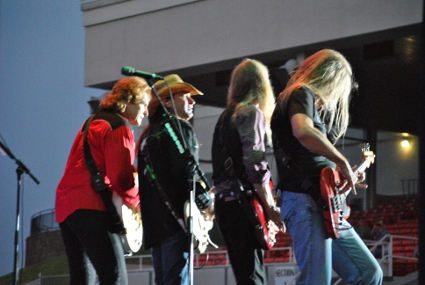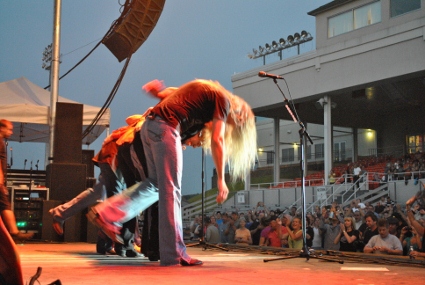 All Photo Credits are Bill Robinson except as otherwise noted