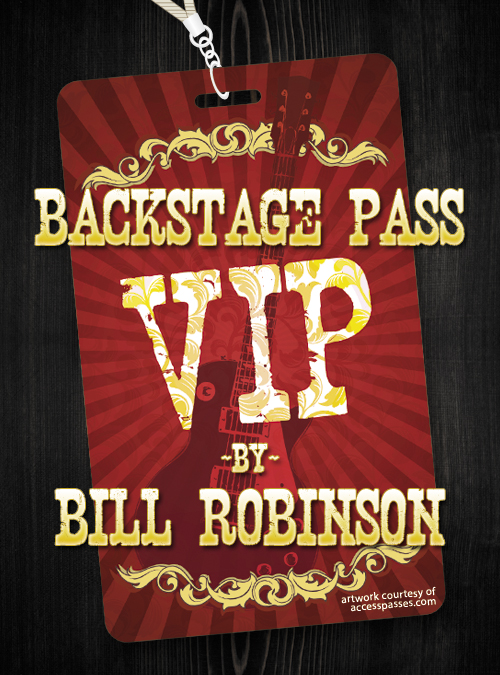 When Mick Taylor left the Rolling Stones in 1975, there was what's referred to in Stones' lore as "The Great Guitar Hunt." Reportedly auditioning were Dave Mason, Rory Gallagher, Jeff Beck, Peter Frampton, Steve Marriott, Eric Clapton and Neil Schon, among others. There are countless unverified but scintillating stories such as Beck being offered the job and turning it down because he was afraid of the Stones' hard-partying, womanizing lifestyle; and Rory Gallagher trying to wake Richards up for the better part of a full day and being unsuccessful, leaving without playing a note. (I covered the Mick Taylor show for "Backstage Pass" at Iridium in NYC in 2012,)
As Ron Wood replaced the departed Mick Taylor and remained for the following 38 years plus, it was also speculated that Wood had been the Stones' first choice way back in 1969 to replace Brian Jones. So it was only fitting that the irascible Wood would get the job six years later.
For four NYC shows over three nights in November, Ron Wood and Mick Taylor performed together and played the Blues of Jimmy Reed. The two guitarists with uniquely different styles, have admirably controlled the lead guitar duties for "The World's Greatest Rock 'N Roll Band" for over 45 years. On these nights, they paid tribute to one of their heroes and didn't play one Rolling Stones' song.
Like these Stones' and Stones-related shows, tickets can be very, very hard to come by. If we use the 2006 Beacon Theater shows by the Stones as the gold standard--and I think it should be as it was the 'hardest ticket' in rock 'n roll history--then these Wood/Taylor shows were just a small notch below those. People were calling in markers and favors from all over just to get standing room admittance. And failing.
THE PERFORMERS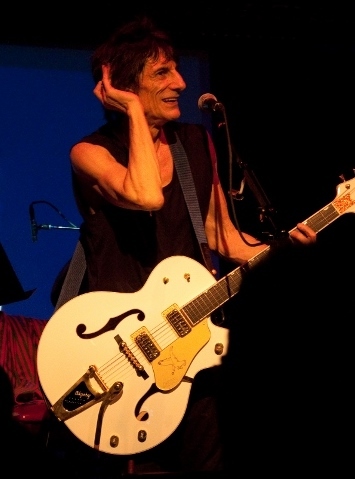 Ron Wood's work with Jeff Beck, Rod Stewart & Faces and The Rolling Stones is extraordinary and unparalleled. But let's not forget his solo work either. Wood's version of Dylan's "Seven Days" from his third solo album "Gimme Some Neck" is fabulous. At a show with G.E. Smith, Steve Cropper and Booker T., his guitar and vocal genius performance of "Seven Days" set a standard for covers of others' songs.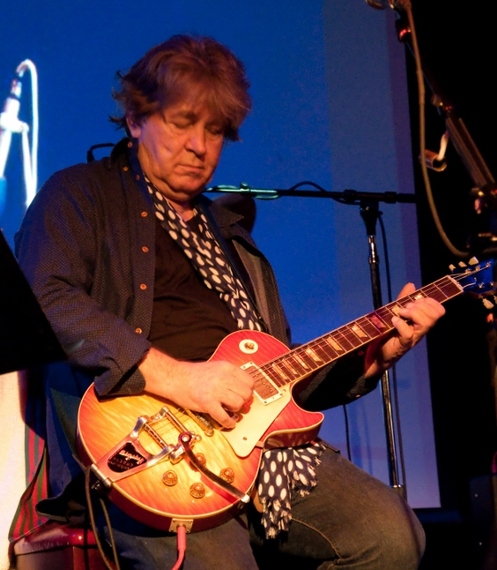 Though Mick Taylor has been burdened over the last years will ill-health, he continues to contribute great music to his legions of fans. Many Stones' aficionados think the 'Taylor years' were the Stones' best with his guitar work on studio albums Sticky Fingers, Exile on Main Street and Goats Head Soup being the best albums the band ever produced.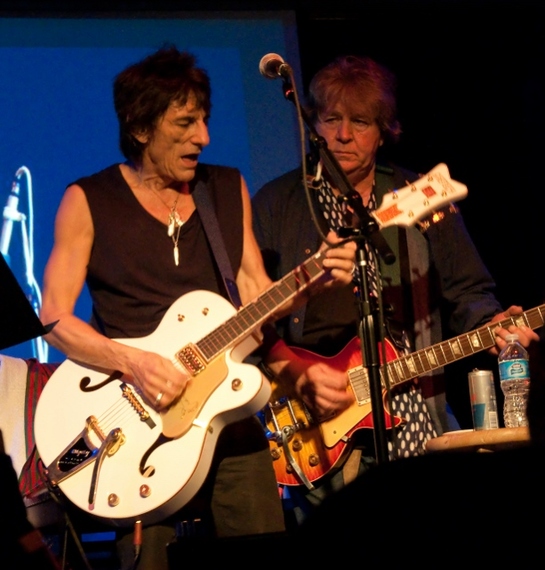 THE MUSICIANS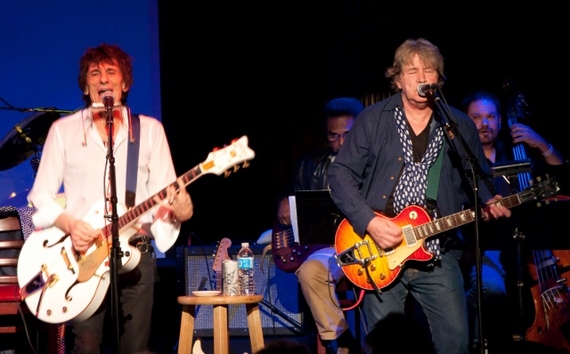 Can't say nuff about these two "Guitar Gods" ...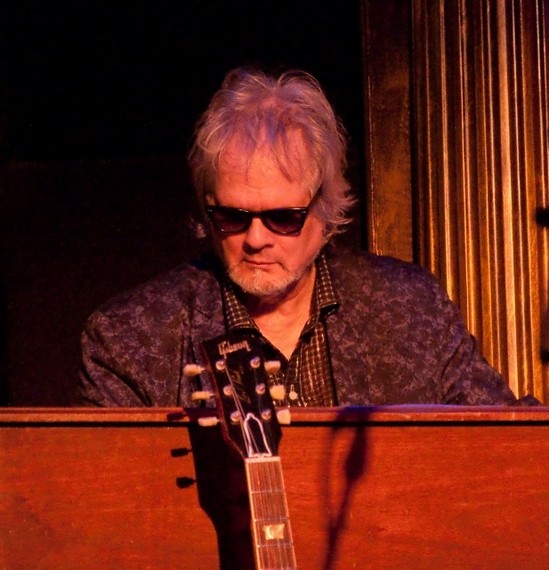 Al Kooper is a certifiable legend. He's played with everybody such as Bob Dylan in the studio beginning in 1965 and at the infamous 1965 Newport Folk Festival where Dylan "went electric" shocking his up until that moment, folk, acoustic-based audience. Any guy who played the melodious, Hammond B3 organ strains on Dylan's iconic "Like A Rolling Stone," is alright with me. He's jammed with The Who, Cream, The Rolling Stones, Jimi Hendrix, B.B. King, Alice Cooper and so many others. To make matters better, Kooper put together Blood, Sweat & Tears; wrote many songs for other bands like Gary Lewis and the Playboys; was the driving force in pairing guitarists Mike Bloomfield and Stephen Stills for the seminal "Super Session" album ("Stop" and "Season of the Witch"); produced tons of new artists including The Tubes' first album with "White Punks on Dope" and "What Do You Want From Life?" and finally one near and dear to my heart, discovered and broke Lynyrd Skynyrd, producing their first album. Honestly, I think Al Kooper has done more for music than Dylan did.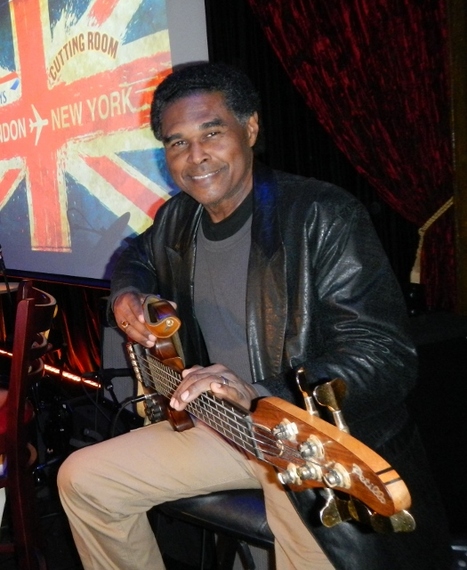 Wilbur "Bad" Bascomb is a bass-player extraordinaire. He's played in the studio and live with Chuck Berry, BB King, Bo Diddley, Grace Jones, on the soundtrack for "Hair" and perhaps most essentially, with Mick Taylor.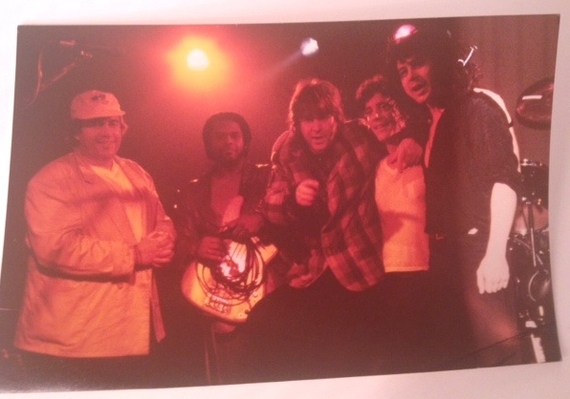 Bascomb with Mick Taylor and band in 1989
Photo Credit: Unknown
Bascomb was also pivotal on an album that I've have always loved: he played in the studio throughout recording of the monumental, Jeff Beck' album, Wired and co-wrote my favorite Beck song, "Head for Backstage Pass." This pivotal rock album was unusual in that it was entirely instrumental and that's what attracted me to it: Beck was using his music instead of words to entertain. Produced by Beatles' legend, Sir George Martin, this album was amazing.
I defy you to listen to the opening bass riffs of the song Bascomb wrote and think anything but "this man is one bad-ass bass player." Bascomb played and became friends with Beck, of course; percussionist Narada Michael Walden (John McLaughlin & Mahavishnu Orchestra, Tommy Bolin and the 'Diva Quadrangle' of Aretha Frankin, Whitney Houston, Mariah Carey and Diana Ross); brilliant synthesizer/keyboardist, Jan Hammer (John McLaughlin, Al Di Meola, Mick Jagger, Carlos Santana, Stanley Clarke, Tommy Bolin, Neal Schon) and very importantly, keyboardist Max Middleton (Jeff Beck Group, Beck, Bogert, Appice, Nazareth. Kate Bush, Gary Moore and the Mick Taylor Band). You can see that these musicians on Wired are amongst the most accomplished of the most accomplished.
There's a reason I'm dedicating so much attention to Wired in a column about Ron Wood & Mick Taylor: as Bascomb tells me later in this article, he established a strong friendship with Max Middleton from his Wired experience and that would be key.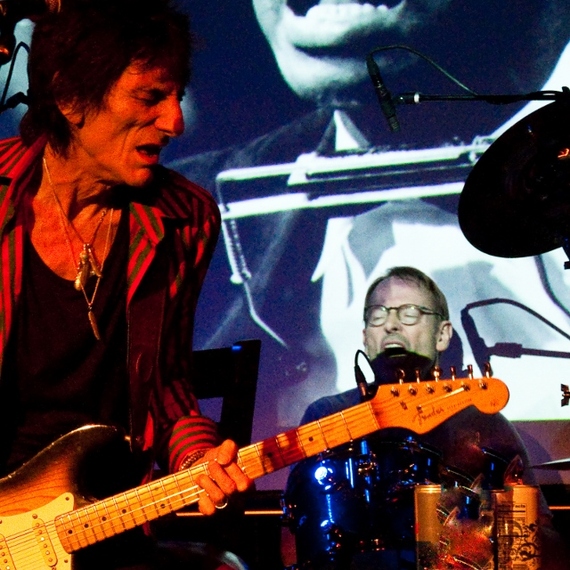 Simon Kirke is one of my favorite drummers I frequently overlook. It's impossible to overlook his drumming however with Free ("All Right Now") and Bad Company. Kirke has also collaborated with Wilson Pickett, Bo Diddley, Ray Charles, Jerry Lee Lewis, Keith Richards, Ronnie Wood, and Eric Clapton.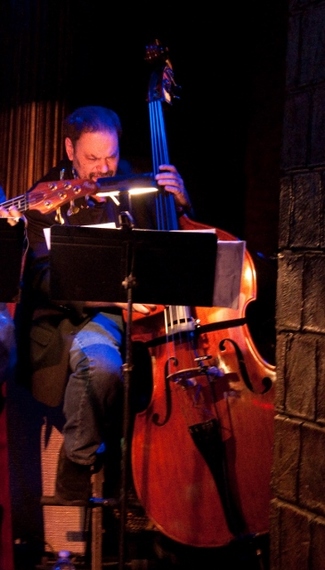 Stu Woods played stand-up, acoustic bass and was a sublime addition to the "old Blues" sound of Reed, Wood and Taylor. Just look at the albums and artists he's played with.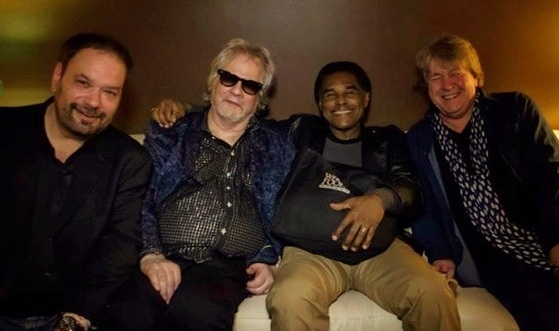 Woods, Kooper, Bascomb & Taylor enjoy a laugh backstage
Photo Credit: Unknown
THE INSTRUMENTS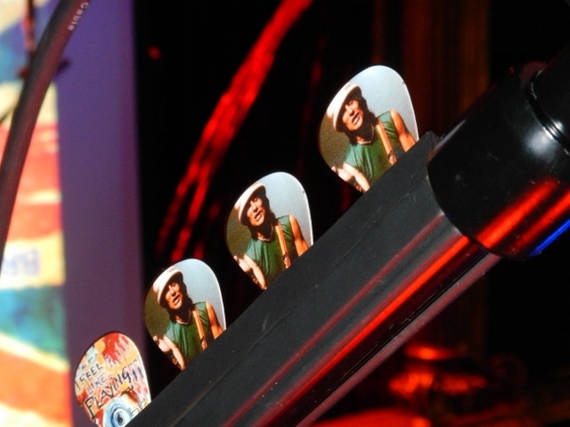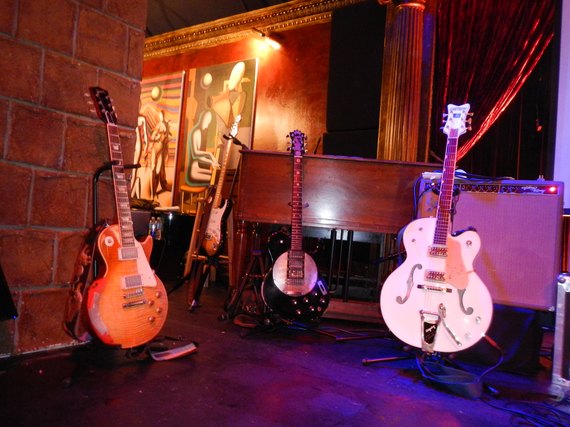 The middle guitar in the above photo is Ron Wood's Zemaitis guitar which he used all through his Faces days and calls his "Stay with Me guitar." The one on the right is Wood's Gretsch White Falcon which has a fabulous, hollow-body sound. And on the left, Wood's version of the most legendary guitar in attendance for these shows (Taylor keeps the 'real' one with him most of the time; wouldn't you?):
Taylor's 1959 Les Paul Sunburst with Bigsby. Les Paul 'Burst' experts and Stones' fanatics disagree on where Taylor got this guitar; some claim he bought it off Keith Richards prior to his joing the Stones when he was with John Mayall's Bluesbreakers and others claim it was bought elsewhere and then stolen.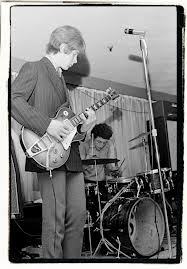 A picture of Taylor playing the guitar in question presumably, when he was approximately 17
Photo Credit: Unknown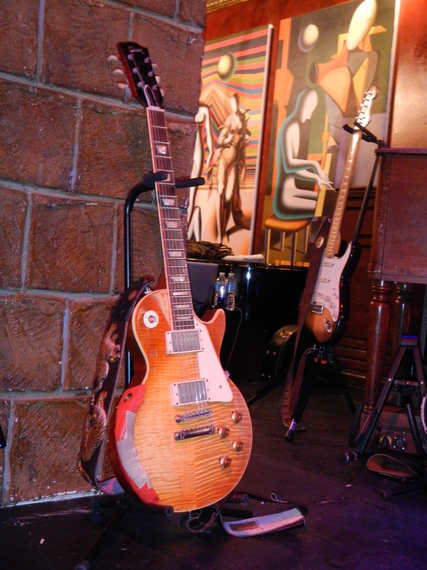 Ron Wood's Burst Les Paul which Les Paul forum denizens argue is a "reissue" not a true 1959 (regardless, see Woody play this exact guitar here on "Gimme Shelter" with The Stones and Lady Gaga, Newark, NJ, 12/15/12 or this brilliant Wood' solo from the same show on "You Can't Always Get What You Want")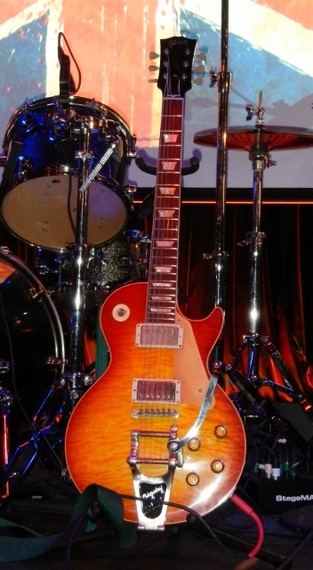 Now this, is the legendary 'Mick Burst' with Bigsby that maybe a million dollar guitar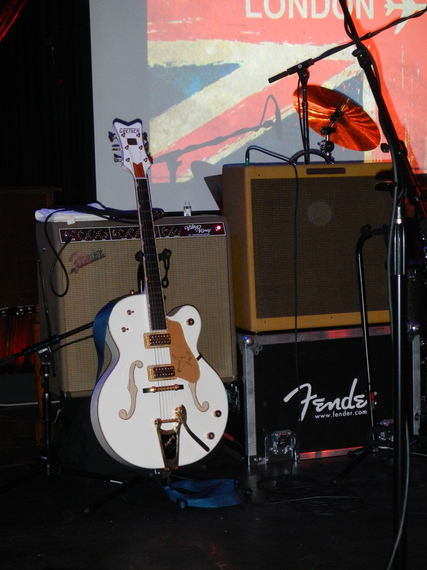 The White Falcon on its perch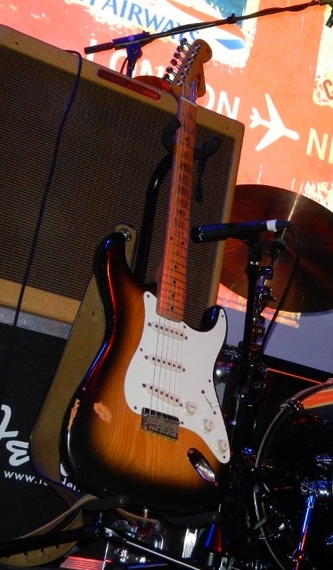 Wood's 1955 'tobacco-burst' Stratocaster which he uses on "the bulk" of the Stones' songs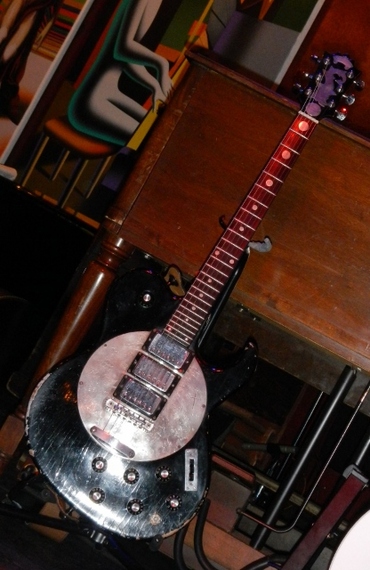 Wood's "Stay with Me" (a song he wrote with Rod Stewart) guitar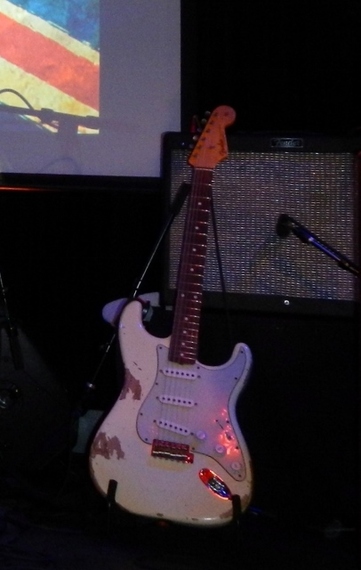 Mick Taylor's Fender Strat, which surprisingly he's been quoted as saying is his favorite guitar over the 1959 Paul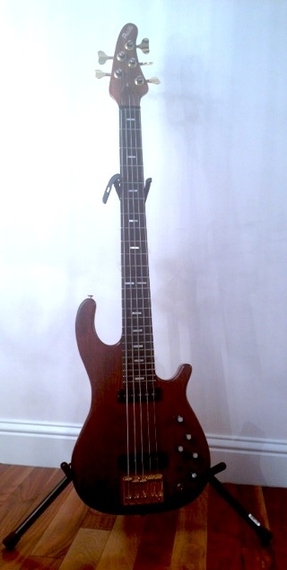 Bad Bascomb's Petillo 5-string bass
Photo Credit: Deanna Derek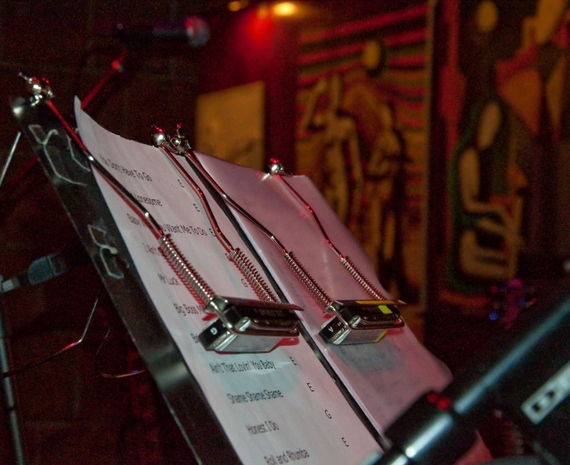 Ron Wood played a lot of harmonica during the shows and said he practiced a lot beforehand--it showed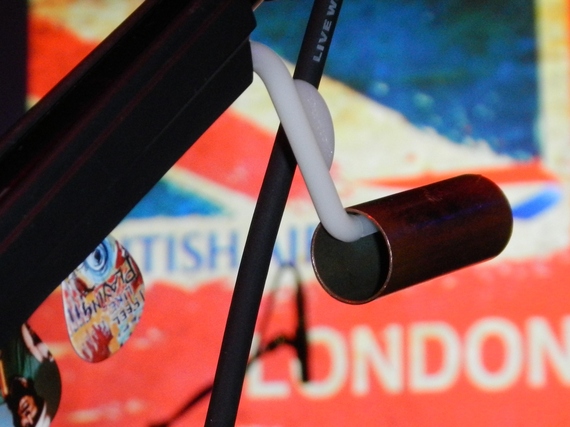 This brass slide would get a good workout from Wood and Taylor played a similar one
THE VENUE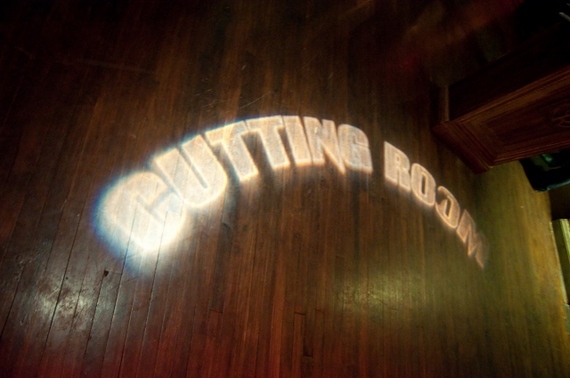 The Cutting Room is quite simply one of the best, most intimate places to see a concert in NYC. Good food and drink round out the new, high-tech ambiance here. The "old" Cutting Room was a bit tatty but still fun venue that was small and intimate like the new one and hosted Joan Rivers, GE Smith and other NYC bands of renown but became tired and old over the years. It's a whole new ballgame at the new one.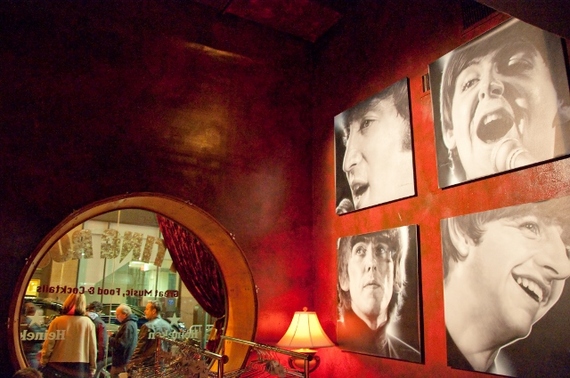 There is a spacious yet cozy main room with tables spread out in front of the stage complete with waitress service and a balcony for a crow's view. Though the main room can only accommodate a couple of hundred guests, the architects were wise, and so built an entry room with bar and gigantic screens and speakers so people in the outer room can still see and hear the show.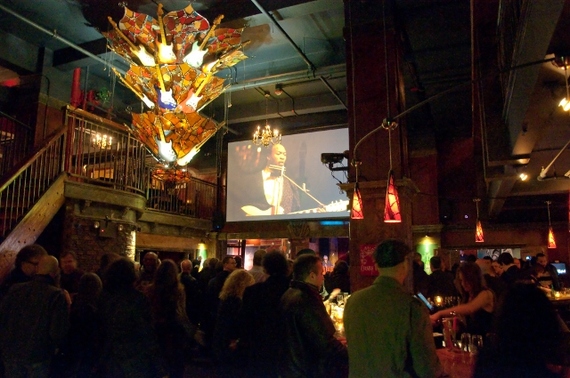 There are little niches for quiet dining and conversation when the band isn't on.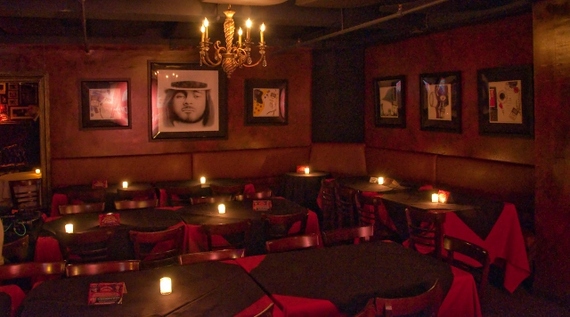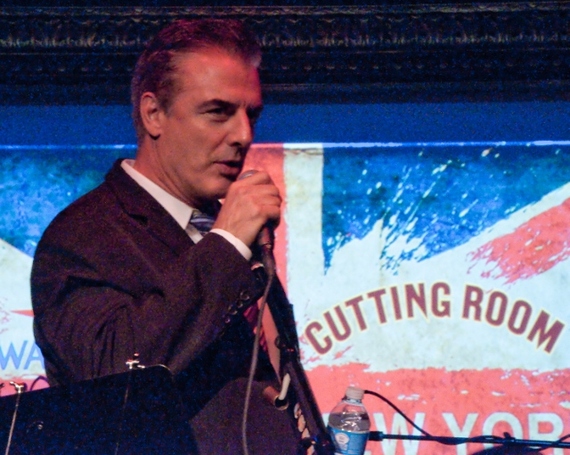 Chris Noth ("Sex and The City"/"Law & Order") is a co-owner of The Cutting Room
Cutting Room co-founder Steve Walter is not your typical, garden-variety club-owner; he's got a degree in Music Composition from the hallmark Berklee College of Music and is a guitarist and rocker himself. So this guy knows and loves music.
"We built The Cutting Room to be a place for established performers and up-and-comers too," Walter said, "already we've had Billy Joel and Emmy Lou Harris, now Ron and Mick, as well as giving some of the great local talent an opportunity." I ask Walter if his vision was to get back to get the great old NYC haunts like The Bottom Line, CBGBs, Lone Star Cafe and Wetlands where you could never be sure who would show up on stage next. "Absolutely," he responded excitedly.
Walter, who was the co-owner with Noth of the 'old' Cutting Room (1999 to 2009) and the new one too, was a big reason why these Ron Wood & Mick Taylor shows were taking place at all. "Ronnie Wood is a big Law & Order fan and knew Chris," Walter shared. Since Ron was doing the shows with Mick in the UK, Chris asked him if he might like to do some at The Cutting Room. So we started putting them together,"
Walter was instrumental in everything from bringing the supporting band together and making travel arrangements to getting the required instruments and amps together for the stage. "British Airways was tremendous," Walters observed, "They provided the band and staff first-class tickets over from England and even had flight attendants greeting our guests on the nights of the shows."
Chris Noth said, "This shows that big musical acts can play small intimate spaces that feel like home to them when treated right."
The shows were "amazing ... really exciting," according to Walter. In attendance were John McEnroe, "Little Steven" Van Zandt, Mickey Dolenz, Tommy Hilfiger, Ethan Coen, Ron Delsner and Monica Lewinsky.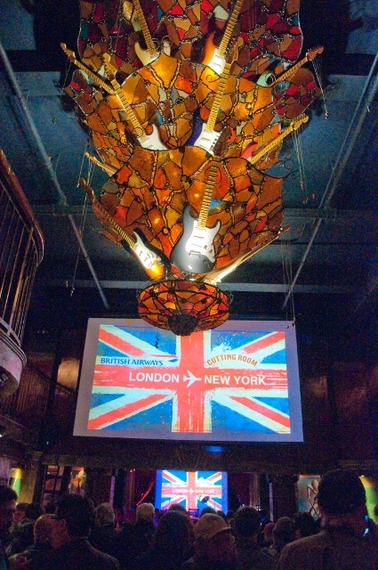 A stunning 'Strat Chandelier' greets guests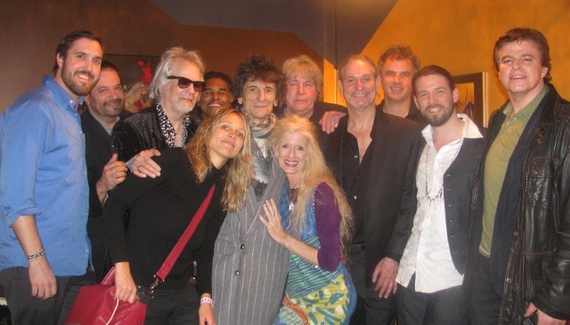 The motley crew in Steve Walter's office
THE ARTIST COMMENTARY
Wilbur "Bad" Bascomb, Bass
Wilbur Bascomb is my new favorite bassist. I've been been privileged to see Stanley Clarke, Jaco Pastorius, Bill Wyman, John Entwistle, Paul McCartney, Jack Bruce, John Paul Jones, Geddy Lee, Flea, Chris Squire, Tony Levin, Geezer Butler, Nathan East, Will Lee, "Duck" Dunn, Phil Lesh, Jack Casady... (catching breath) ... Willie Weeks, Cliff Burton, Greg Lake, Tim Bogert, Berry Oakley, Roger Glover, Phil Lynott, Felix Pappalardi, Timothy B. Schmidt, Tom Hamilton, Dave Hope, Jeffrey Hammond, Duff McKagen, Mike Rutherford, Michael Anthony, Gene Simmons ... (phew!) ... Charles Mingus, Pino Palladino, Roger Waters, John Taylor, Steve Harris, Lemmy Kilmister, Robert Trujillo, John Deacon, Sting, Tina Weymouth, Billy Sheehan, Nick Lowe, Carl Radle, Ian Hill and others I can't recall due to a major memory lapse on my part. (It was so interesting to recall all the 'unknown soldiers' of the bass that I've seen but barely noticed, who like their 'rhythm section' partners, drummers are rarely in the spotlight or given the attention they so rightly deserve.) In spite of the sanctity of those bass playing names above, Bascomb has now risen to the top.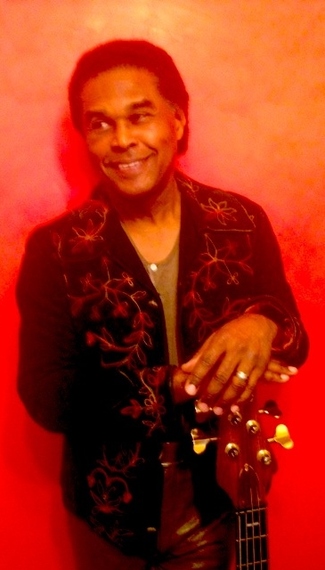 Photo Credit: Deanna Derek
Wilbur Bascomb was born and raised in Washington Heights, New York at the northern end of Manhattan. "I was brought up as a pure jazz bassist; playing an upright bass," Bascomb told me, "loving Eddie Jones, Ray Brown, Charlie Mingus and Count Basie. I started as a drummer after my mother took me to see Count Basie and his Orchestra at The Apollo Theater. When I saw Sonny Payne play the drums that night, I knew that's what I wanted to do." It's funny how life works out sometimes ... as Bascomb would become a bass player.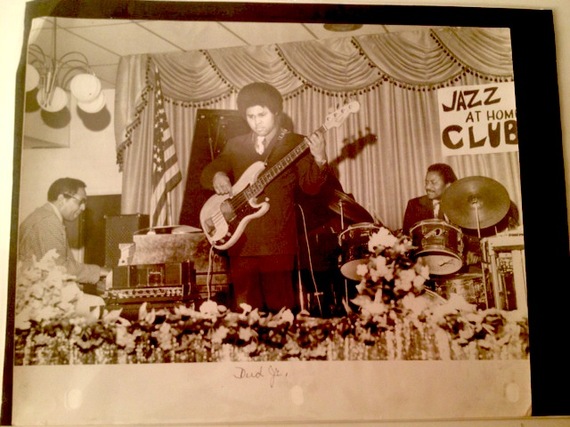 A 22-year old Bascomb playing bass with the jazz pianist Billy Taylor
Knowing of his friendship and longtime playing arrangement with Mick Taylor, I asked Bascomb how he came to be playing bass for the two Stones' legends at these shows. "Well, Max Middleton remained a good friend after we played on Wired together and he and Mick were always close and playing together. I had worked a lot with Mick over the years but didn't know Ron well. When I was on tour with Jeff Back for Blow by Blow, we opened up for Rod Stewart & Faces in Honolulu and met Ron there. But the good people at The Cutting Room really put these shows together," he said, "they suggested I play bass as well as Simon Kirke play drums. The first rehearsal at SIR Studios went great and I had seen Jimmy Reed many times at the Apollo, so it felt right. I loved them all but my favorite songs to play at the shows were "Baby What You Want Me To Do" and "Bright Lights, Big City."
When asked if he felt any pressure playing with Wood and Taylor, Bascomb didn't hesitate to quote his father. "My father always told me his rules for doing well in life, 'Be on time; read what you see (music); and don't tell other people how to run their business.' Ron Wood knew exactly what he wanted me to play, so it was a joy working with him." Perhaps this had something to do with Wood having been a former bass player for The Jeff Beck Group and Bascomb's work with Beck on Wired.
With regard to his co-writing and playing on one of my favorite Beck songs, "Head for Backstage Pass," Bascomb chuckled saying, "We were one song short for the Wired album and only had one day left. I said to Jeff, 'I'm working on something that might be good, can I finish it tonight at the hotel and bring it in?' Jeff said, 'sure.'"
His favorite musicians he ever played with? "Of course playing with B.B. was amazing. But I did get to play with Ray Charles and Dizzy Gillespie a couple of times and they were my favorites."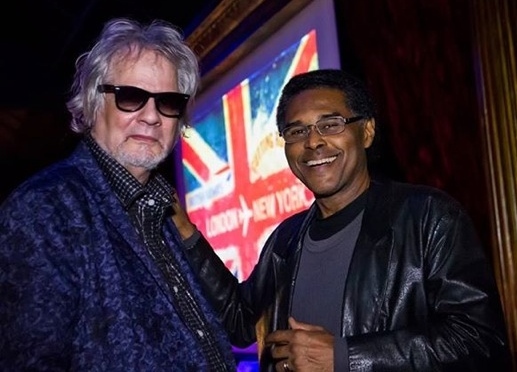 Bascomb and Kooper exchange greetings
Photo Credit: Unknown
Al Kooper, Organ, Keyboards
"Tell me about your Hammond B3 riffs on 'Like A Rolling Stone,'" I asked Kooper appropriately enough, with awe. "I was so young, I barely knew what I was doing," Kooper said humbly, "then, people began to imitate that riff which I thought was hilarious. I still remember that day ... June 16th, 1965 in New York City at the Columbia Studios," he reflected. To me, this was a seminal point in the evolution of Rock music, along with Kooper's appearance the following month with Dylan at the Newport Folk Festival. These two events, in my mind, rocked the world.
"Steve Walter, the owner of The Cutting Room was responsible for me playing these shows with Ron and Mick," Kooper said. "I had played with Ron with Dylan at Hyde Park (London) in 1996, I think it was and then before that at the Record Plant in the 70's. Mick played a Ray Charles' song, "I Believe To My Soul" on one of my albums. So I knew them both." (Mick Taylor rips some great leads on that song.)
"I first met Mick in New York City when he came to the US for the first time with John Mayall and the Bluebreakers. I was a regular at Cafe Au Go Go with the Blues Project and Blood, Sweat & Tears at the time. He was incredibly young, something like 16 and I felt a little bad for him, so I invited him over for dinner." Of course, Mick Taylor must have been under some intense pressure as his guitar predecessors in Mayall's band were Eric Clapton and Peter Green. To be so young and filling such immense shoes, well I don't know how Taylor did it. "Our dinner was just great, he was such a nice kid," Kooper told me.
"Blood, Sweat & Tears was a band I put together because I had written a lot of songs that needed horns on them," Kooper recalled about the band that would heavily influence such bands as Chicago and whose second album won the 1970 Grammy for Best Album of the Year beating out The Beatles' Abbey Road.
And what of his discovery of the inimitable Lynyrd Skynyrd? " In 1972, I had been in the studio in Atlanta for several weeks with another band, working really hard during the day and then going out with the guys at night to unwind," Kooper began. "We were going out pretty regularly to this place called Funocchio's and there was this band there." This band? Wow.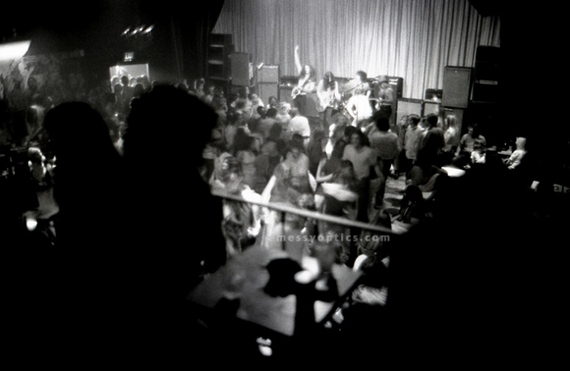 "Leonard Skinnerd" as they were still called at Funocchio's in Atlanta, summer 1972
Photo Credit: Copyright © 2006 Carter Tomassi
Kooper signed Skynyrd to his "Sounds of the South" record label (MCA); changed the name to the one were all used to seeing, Lynyrd Skynyrd; and produced their 1973 debut, "Pronounced Leh-Nerd Skin-Nerd," Apparently, just producing this groundbreaking album wasn't enough. Kooper said, "I also payed guitar on 'Sweet Home Alabama' and organ on 'Free Bird.'"
So who, Mr. Kooper have you had the most fun playing music with? He didn't hesitate getting right back to basics, "Oh I guess Mike Bloomfield and I had the most fun. Either Mike or Jimmy Vivino." (Vivino is the music director for the "Conan" show.)
THE SETLIST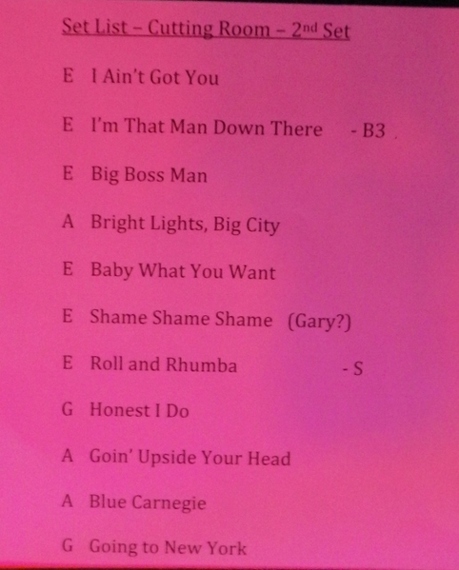 THE AUDIENCE
These Wood/Taylor shows at The Cutting Room were one of the hottest and hardest tickets tickets in NYC in quite sometime. People couldn't get tickets for love or money and as they lined up outside, it could not be denied that many were left disappointed.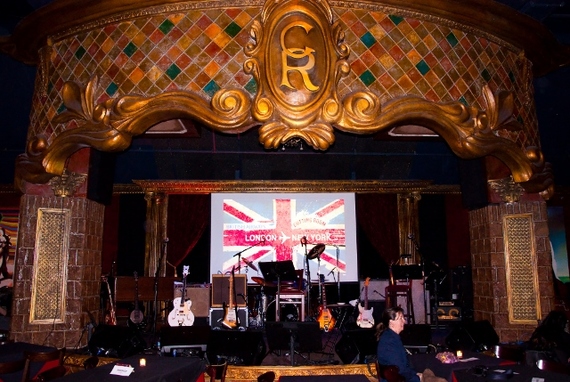 The stage was set, the guitars tuned and the audience ready ...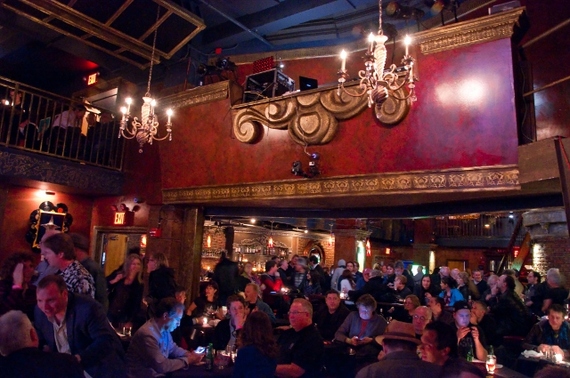 THE SHOW
No Stones songs whatsoever. Only Jimmy Reed; about whom Wood said during the show, "Jimmy Reed ... what a musician ... when he could stand up. Most famous drunk of all time. That's why I'm doing his music."
Now, Jimmy Reed's songs are slow Blues shuffles in E mostly with lots of harmonica and references to being 'done wrong' like most Blues standards. What was really special, rare and totally unique was hearing these two rockers take and updated versions of these Reed' songs.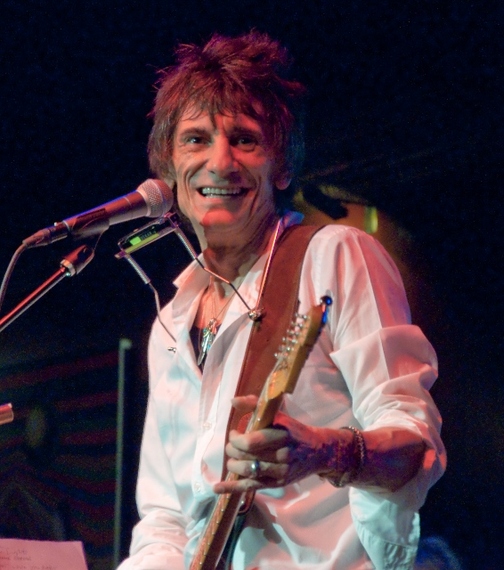 "Woody" was really having a lot of fun
Opening with the classic "I Ain't Got You," Wood and Taylor strummed along jauntily with Wood singing the lead vocals (as he would most of the evening) and playing harmonica interludes. A ripping Mick Taylor solo perfectly punctuated the song and an Al Kooper Hammond B-3 organ solo both foreshadowed the coming night of Reed' Blues for the audience.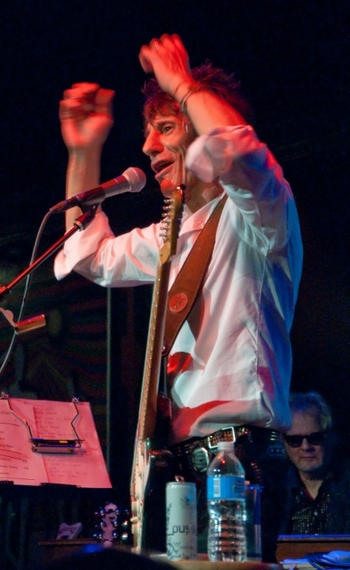 "I'm That Man Down There" was followed by another well-known Reed' song, "Big Boss Man" which was also covered by The Grateful Dead. As would come to be expected, Taylor and Wood played some great guitar leads then Wood played an amazing harmonica solo, followed by tremendous slide leads.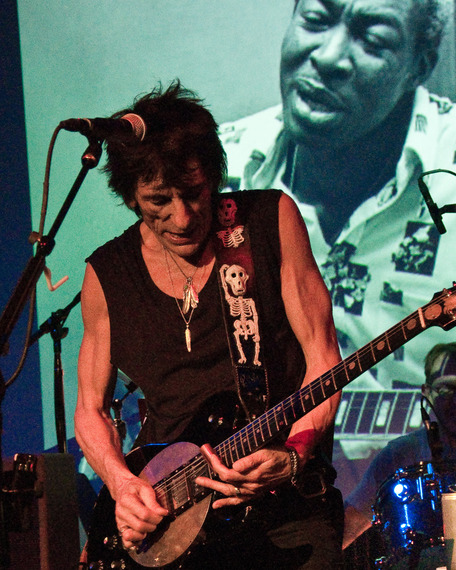 "Bright Lights, Big City" was up next and was really symbolic of the Blues-roots of these two Stones and the way in which they still hang on to the foundation of the Rolling Stones themselves in the music of legends like Reed, Robert Johnson, Muddy Waters and later, Chuck Berry. A rousing "Baby What You Want Me To Do" drove this point home. (BWYWMTD is Reed's most covered song; some of these include The Everly Brothers, Etta James, Little Richard, Johnny Rivers, Elvis Presley, Jerry Lee Lewis, The Byrds, John Cale, Hot Tuna and Neil Young.)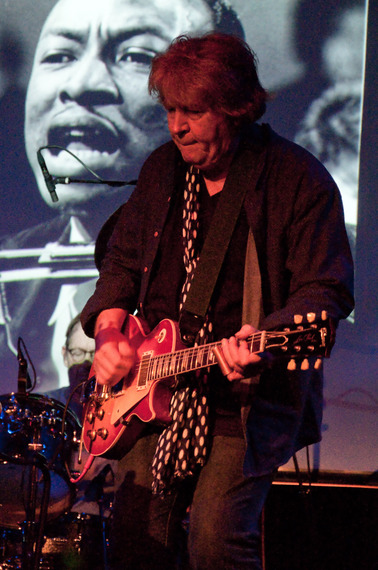 "Shame, Shame, Shame" brought on special guest Gary Clark, Jr. who sang and played some aggressive Blues guitar licks trading off at one point with Wood and wrapping the song up with a priceless image of the three guitarists all strumming along side by side.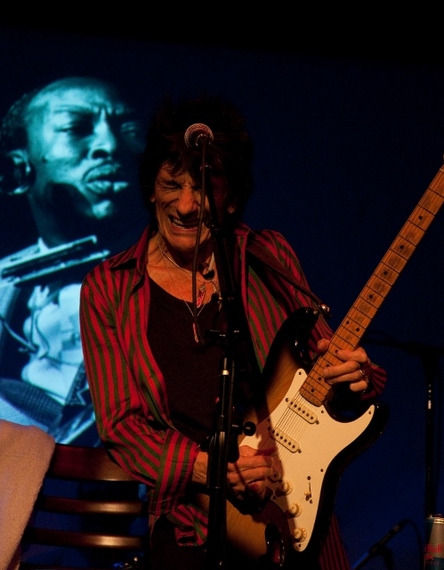 Two Bluesmen, generations apart ...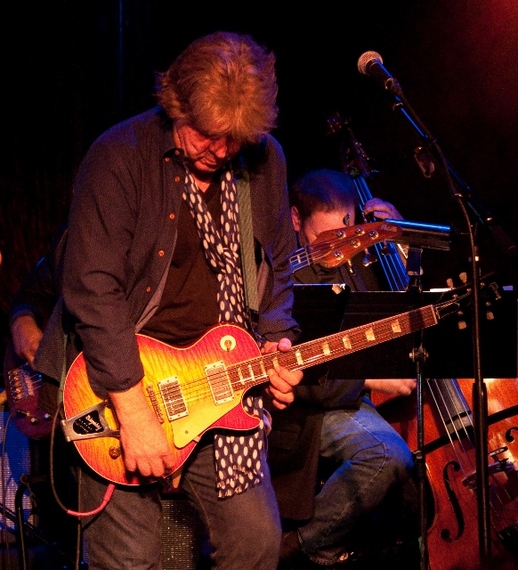 Mick works the high note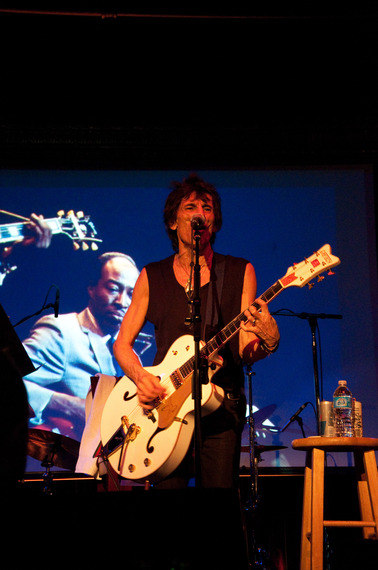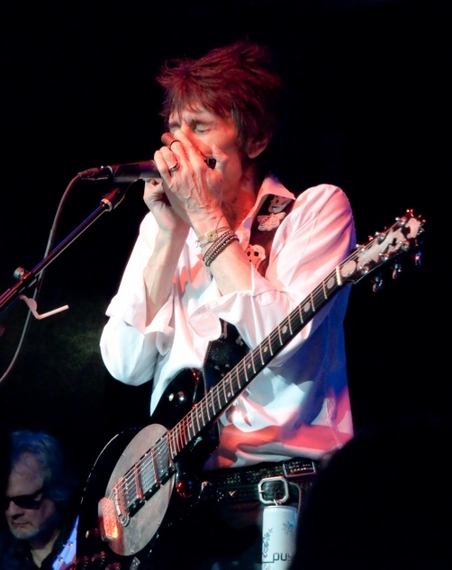 Wood displays his hard-practiced harmonica skills
After "Roll and Rhumba," came "Honest I Do" and "Goin' Upside Your Head." That last one should be watched at high volume and without interruption. Watch as Wood starts out innocently, plays harmonica and then engages Taylor in a most penetrating Les Paul duel--this may well be Woody's most spirited performance of the shows.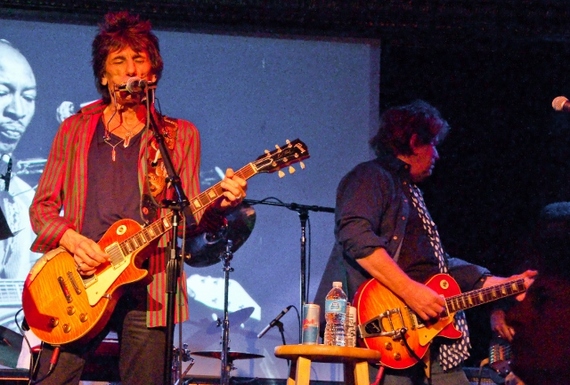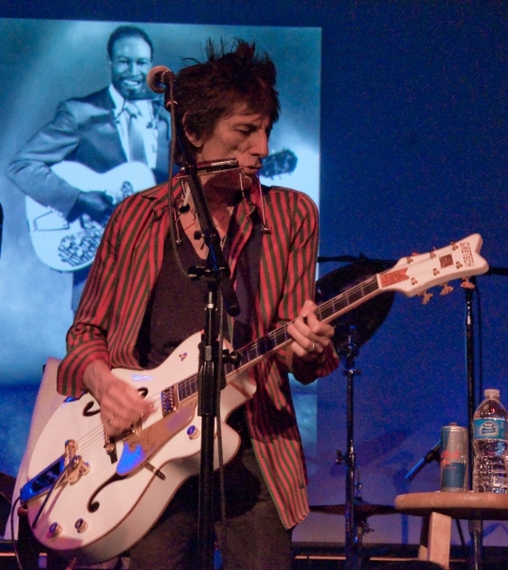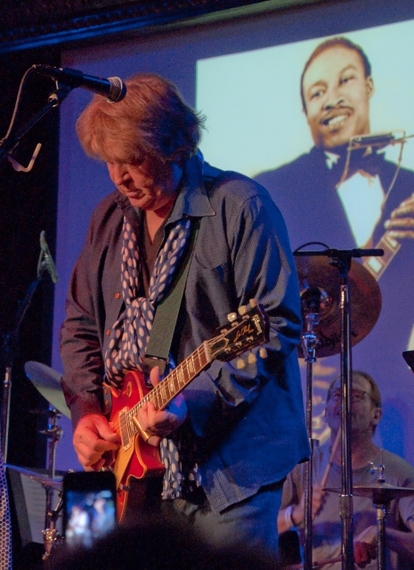 An unbelievable "Blue Carnegie" was the penultimate song of the evening and with the two gents dual slide duel being sublime, it did not disappoint in any way.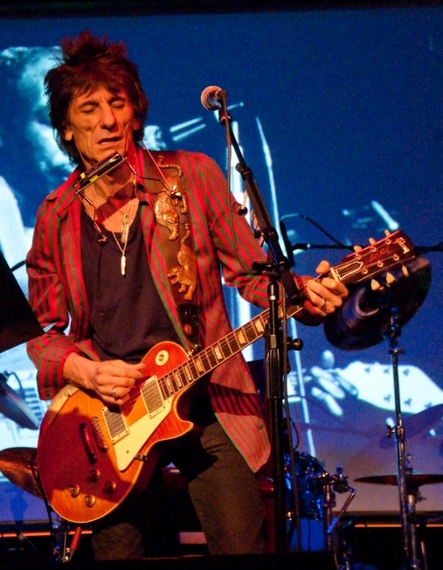 Woody playing his 'reissue' .. er, um ... why in the world would Ron Wood play a reissue when he could play the '59 real thing?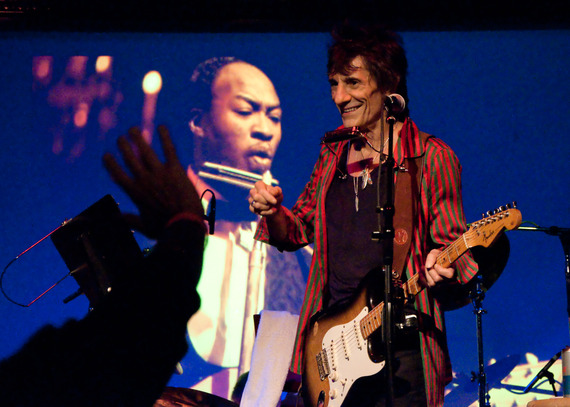 It occurred to me, given how much fun these two were having playing together and Mick Taylor's recent appearances onstage with the Rolling Stones, that Mick Taylor might well re-join the band to trade leads regularly with Wood and to bolster a Keith Richards with dwindling energy. One can only hope.
"Goin' To New York" closed out these amazing performances by Ron Wood & Mick Taylor and to be sure, they certainly did go to New York.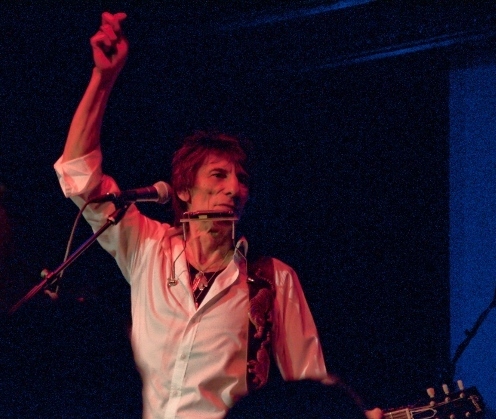 With a final flourish and a wave of his hand, Woody bid adieu to the adoring crowd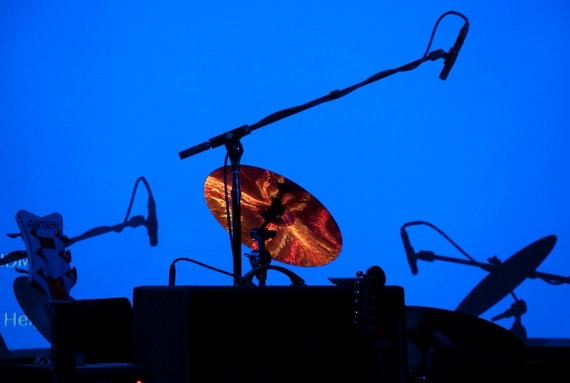 All Photo Credits are Paul Abbene except as otherwise noted