Sunday, September 9th was National Grandparents Day and September is National Grandparents Month.
I thought everybody should know because like many I tend to get involved in the struggles of everyday life and forget those that are most important to me; those that made me and those that made my parents.
America's grandparents don't generally receive as much attention, help and love as they need. I must admit to my guilt over spending too little time with my Grandma before she passed away.
I remember several occasions growing up, where I liked my Grandma more than my parents.
And they don't get together much; you know, the grandparents. There's no national convention of grandparents or AAGP (American Association of Grandparents) or anything to rally them around the cause of good, solid, old-fashioned grand-parenting.
And, they're not a recognized voting block though with over 70 million American grandparents, they certainly should be.
There is the AARP (American Association of Retired People) and though most grandparents might be retired; all retired people are certainly not grandparents. It wasn't made for grandparents especially and this is where it all falls down.
And our grandparents in America really need to get together; to talk about each others' problems and share their solutions with each other; and share the great camaraderie that only the wisest and most experienced people can have. Unfortunately, there's been no mechanism, vehicle or online environment where grandparents can share this type of community and communications--not even on the Internet. I definitively say there needs to be one.
So what to do?
Well, if you're Steve Leber and Joe Bernstein you buy, turnaround and grow Grandparents.com, that's what you do.
Both Grandads several times over, Leber and Bernstein are tremendously successful businessmen who never retired but instead just kept right on going--irascible and indefatigable--into the grandparents' business.
If you're anybody in the music business over the last few decades, you have to know Steve Leber. This rock impresario is well-known in the music industry for working with the Rolling Stones, Aerosmith, AC/DC, 'N Sync, Michael Bolton, Cameo, Def Leppard, Joan Jett, Ted Nugent, Parliament Funkadelic, The Scorpions, Bill Cosby, Simon and Garfunkel, Diana Ross, The Jackson Five, The Beach Boys and Dionne Warwick. That's about as impressive a list as there can be. In addition to the management and in many cases taking them from unknown to famous status, Leber has also conceived and produced "Beatlemania," the arena tour of Andrew Lloyd Weber's "Jesus Christ Superstar," The Texxas World Music Festival ("Texxas Jam"), the live stage production of the "Teenage Mutant Ninja Turtles" and the North American tour of the world-renowned Moscow Circus.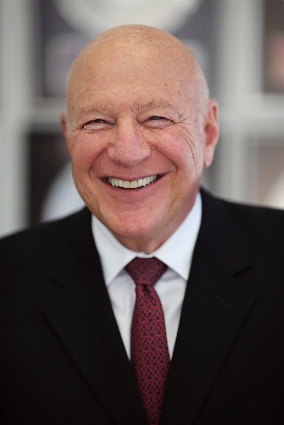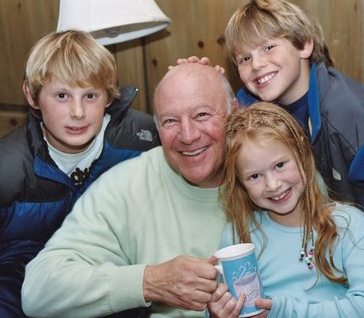 Note the grandson's hand retaining heat on Grandad's head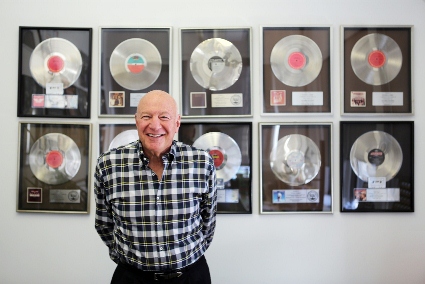 The Rock n' Roll impresario in front of his record collection
Joe Bernstein on the other hand, is very accomplished in the arena of Real Estate and Development.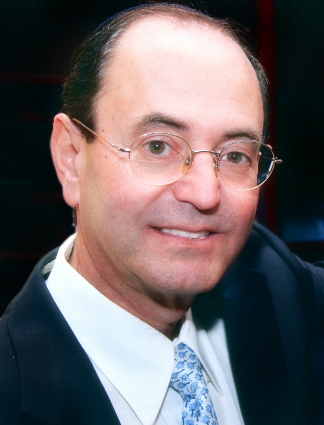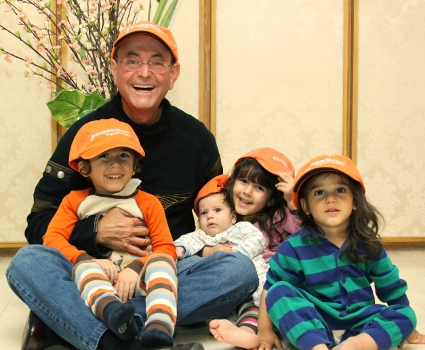 He's the brains, money and vision behind projects such as The Crown Building at Fifth Avenue and 57th street; the 50-story Americas Tower at 1177 Avenue of the Americas; the 70-story tower at 40 Wall Street; and the vertical shopping center at One Herald Square. Additionally, Bernstein has projects in Israel, including Israel by the Sea Resort & Club, a 36-hole golf resort and residence club on Mt. Arbel, overlooking the Sea of Galilee; and an Entertainment City in Eilat, Israel. He was also owner-developer of the Monticello Raceway in Sullivan County, NY, and most recently served as CEO of Empire Resorts, a publicly traded company.
These two impresario/developer/builders are about as into being grandfathers as anybody could possibly be. "Why are we in this business? Because we're grandparents ourselves of course," Joe Bernstein said sounding very much like the proud Grandad he is.
"It's all about brands," began Grandad Steve Leber, "when a hedge fund first purchased the Grandparents.com web site, I wanted to invest but they wouldn't let me and hired me as a consultant instead. When they couldn't pay me and I had just invested my own money in them, I realized the serious financial condition they were in and decided to buy the company." With regard to the AARP, Leber says, "They have their own agenda--politics, lobbying and so on. We don't have an agenda; we just want to bring grandparents together and get them talking."
Joe Bernstein, who met Leber golfing in Boca Raton, Florida, started out as a tax lawyer who then built his own firm and finally, got into real estate development. "Interestingly," Bernstein told me with a worried look on his face, "the AARP receives more than $10 billion per annum in Health/Life/Home/Auto insurance revenue-shares averaging $250 per year from each of their 40 million members." The question that begs for me is: Is the AARP just an insurance-sales 'middle-man? "We spent a year researching the market particularly the AARP," Bernstein continued, "Grandparents.com wants to be 'the AARP with a smile.' We are building a trusted brand that says 'if you do anything that hurts grandparents, we'll never do business with you again.'"
And amongst the first key people they solicited support from is another very powerful Grandad: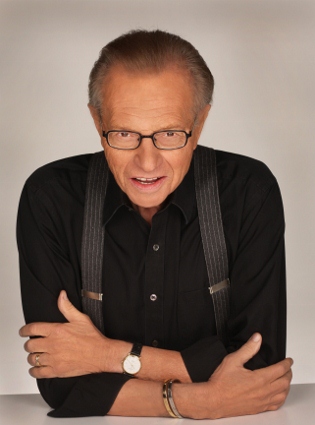 Larry King is a radio and TV legend who has five grandchildren and 2 great grandchildren. He's also the "Grandparents.com Spokesman." The recent "5 Things You Might Not Know About Larry King" piece gives some nice insight into this fascinating character.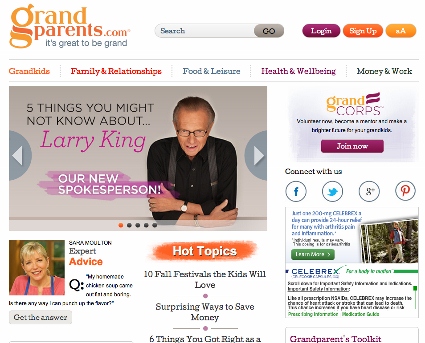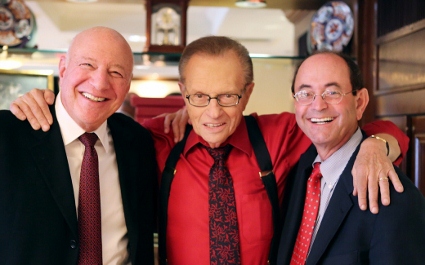 "My father died when I was nine," Larry King told me, "and then two weeks later the only grandparent I ever knew, my grandmother died." King's comment was dripping with sadness and emotion.
Two related stories about famous people King interviewed or knew. "Lenny Bruce was a good friend of mine and he told me that 'grandparents are the best because they smell better when they hold you--they feel different.'" And when interviewing Larry Gelbart, a producer and writer of TV's "M*A*S*H*," King said, "Larry asked me, 'Do you know why grandparents and grandchildren get along so well?' 'No,' I said. 'Well, they have common enemies.'" King adds, "There's a very special grandparent-to-grandchild tie."
"One of the things I like about Grandparents.com and the reason I had to be their spokesman is that that they're not all about selling insurance to seniors," he said in an obvious reference to the AARP. "I like that Grandparents.com is all about helping grandparents and grandchildren share special time. You know, grandparents are like unrequited love; they don't require much."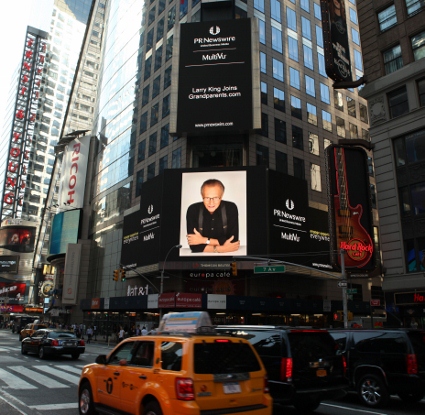 Larry King makes his Times Square/Grandparents.com debut
In order to properly communicate the economic importance in addition to the societal and emotional importance of America's grandparents as a group, let me set the stage for the rest of my TechScape column with a few factoids and data-points:
A demographic study commissioned in 2009 by Grandparents.com found that ...
**The average age of a new Grandparent is 48
**The 50+ market controls 75% of the nation's wealth and spends over $2 trillion a year
**Grandparents are 70 million strong, the largest population segment in the U.S.
**Grandparents are growing at 1.6 million per year - one every 20 seconds
**75% of "Boomer" Grandparents are active online
**Grandparents spent $54.8 billion on their grandchildren alone in 2008
And here a few Grandparents.com Audience Demographics:
**53 is the average age - predominantly female (87%)
**85% have two or more grandchildren
**29% said that volunteering was one of their "passions"
**86% are still part of the workforce (64% full-time)
**62% are college educated
Online and Purchasing Behavior:
**92% are online at least once a day
**97% listed email as their top online activity/service they use
**67% regularly shop online
**99% share things from the Internet, with friends and family
Source: Peter Francese, "The Grandparent Economy - A Study of the Population, Spending Habits and Economic Impact of Grandparents in the United States", April 20, 2009
And for the Advertiser/Marketer readers amongst you--Listen Up!! Here are the numbers you want:
Each year, Grandparents annually spend more than ...
**$100 billion on Entertainment
**$140 billion on Food at home
**$97 billion on Food at restaurants
**$76 billion on Apparel (including over $3 billion on infant apparel alone)
**32 billion on their grandchildren's Education
**$77 billion on Travel (airline/train tickets, lodging, meals, etc.)
and, get this,
**$251 billion on Auto Travel (motor vehicles, fuel and maintenance)
So the big brands and advertisers who aren't making significant investments in advertising to Seniors--especially for the Grandparents market--are not real marketers at all. Get the hint?
Now that I've described the size and dollar value of the American Grandparents market, let me describe what precisely Leber, Bernstein and their merry band of grandparent-lovers are trying to do.
First, they quite rightly are trying to make Grandparents.com the central Internet destination for great content. Articles, information, chat rooms, expert advice, discounts, grandparent-designed insurance, travel ideas and as much more as they can think of will be incorporated into the Grandparents.com web site by Editor-in-Chief, Ellen Breslau. (Breslau wrote a recent HuffPo column called, "What Are Mothers-In-Law Afraid Of?")
Coming from her Executive Editor perch at Woman's Day magazine (the seventh largest in America with over 4 million readers), Breslau has been hunkered down developing the best, specific content for grandparents she could find. Clearly, this is a woman of great means, skills and expertise. So the initial strategy seems to be to build a 'go-to' site for grandparents. And that feels right.
In addition to Ms. Breslau and Larry King, Leber and Bernstein have compiled an ace team of talent to help them on their mission. People like Marian Heard.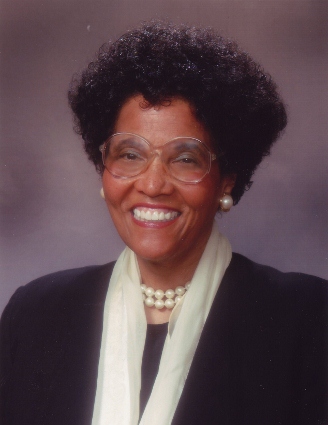 Marian Heard will chair the Grandparents.com "Grand Corps." She has worked for six US Presidents since Carter and is a founder and was the first CEO of Points of Light Foundation. Heard is also the former CEO of United Ways of New England and Massachussets Bay and a Board Member of CVS, Liberty Mutual, Sovereign Bank. A more clued-in, switched-on and well-connected "Grandma" they couldn't have found. She's even got a Droid Razr that she swears by.
And calling herself a "quiet philanthropist" she's one of the most charitable, excitable and caring people I've come across in my business travels.
"I think Grandparents.com is a great way to address the riches of being a grandparent and a grandchild," Ms. Heard began, "you know, grandparents have proved they have the most influence on our grandchildren," she observed not in a haughty way but with all the tenderness of the grandmother she most certainly is. "We wanted our sons to go to college--which they did; go to graduate school--which they did; marry wonderful women--which they did; and then ... make me a Grandma!" (Which they did.) Heard is the kind of lady who relishes 'grandmotherhood' beyond belief. She exudes excitement from every pore and with every word.
Her four grandchildren, two girls and two boys she is quick to point out, Heard calls "amazing" with a conviction in her voice that cannot be overlooked.
"What excites me right now," Heard shared animatedly, "is working with Grandparents.com on this Grand Corps program for grandparents. Grand Corps is a tremendous opportunity for grandparents like me and millions of others to give back in a very special way; we have the time, and we have the money. We're great volunteers." Modeled after the Peace Corps, Grand Corps will give the now more than one million Grandparents.com members a way to perform community service and help others.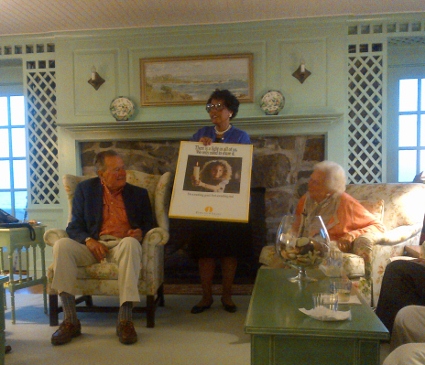 Marian Heard with President George H. W. and Barbara Bush in Kennebunkport, Maine last week
"When my grandmother was turning 95, I was getting her a gift," Heard recalled lovingly with the hint of a forthcoming laugh. "I was thinking about getting her a nice, scented lotion or some pretty, monogrammed note paper, until she told me what she really wanted: a black, lacy negligee." Hilarity on my part ensued. "My grandfather was a very courtly gentleman who taught me politeness and manners," Heard told me with tremendous respect and love. Ms. Heard is the perfect spearhead for Grand Corps.
This uber-energetic lady has even written a song based on the Grandparents.com tagline called "It's Great To Be Grand" which she conceived, wrote, produced and had recorded the same way she does everything: by going direct to those who know. Traveling to Nashville, New York City and virtually anywhere she could find the right know-how, Heard got connected with Sony Records and is now hopeful for a full national and international release of her song. I think the 70 million American grandparents might just adopt this as their theme song and rallying cry, don't you?
And then there's the memories we all have for our grandparents. To recognize and celebrate this universally-felt emotional dynamic, Grandparents.com put together some quick video short stories of celebs and regular people like you and me talking about their Grans:
Fran Drescher
Bruce Willis
Harry Hamlin
Cheryl Hines
Tracy Morgan
Tim Daly
Rob Morrow
Wendie Malick
Charlayne Woodard
Marcia Gay Harden
Vanessa Lengies
Joe Mantegna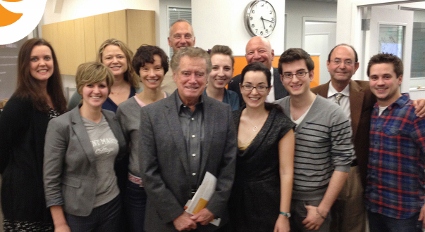 Grandad Regis Philbin hangs with the Grandparents.com crew
The marketer in me tells me that Grandparents.com has a rock-solid, affluent, loyal and beloved market for its product--perhaps the most beloved market segment the world has ever known. For who among us doesn't love their grandparents? (And how sad are they that don't?)
Grandparents.com has come a long way under Leber and Bernstein's guidance: they now have almost 1.4 million members and 739,000 unique monthly visitors to their web site for Grands.
In Business & Technology, I often see companies that have an 'if we build it, they will come' mentality; and I generally don't like the chances of success of such enterprises. But Grandparents.com is different. Given the negative perceptions hovering around AARP and the total lack of a serious, comprehensive and content-oriented web portal for grandparents especially, I truly believe that since Grandparents.com has already built it, they--the grandparents--will definitely come.
Leber and Bernstein have been so successful in their other fields of endeavor and the team they've cobbled together so strong, that I find it hard to fathom that they can fail in this, their chosen new field which is one they themselves belong to with pride and honor.