I love start-ups that begin with some kind of "Aha" or "Eureka!" moment--that one instant when a business is born in the imagination of its founders. It makes the story so much more fun and the company's value proposition so much stronger to their customers.
Vincent "Pilot" Ng is the founder and CEO of Halo Belt, a company he founded centrally because he's an avid, rabid, bike rider in San Francisco where the company is based. "Halo Belt started as a project," Ng stated, "I've always been a cyclist and I combined that with another passion of mine, DJ'ing ... you know, lights ... and making myself more visible. And, my bike lights were always getting stolen."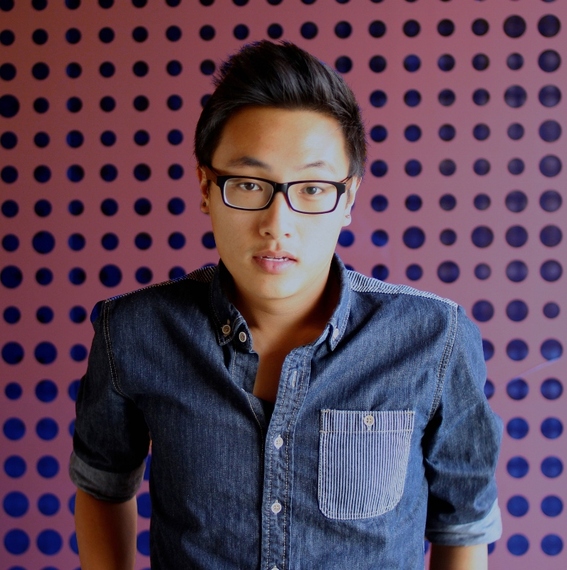 He also had a friend who was run over by a car while riding his bicycle. So that gave Ng not only a personal reason for creating a product from scratch that would prevent serious injuries or deaths but also a very personal one as well.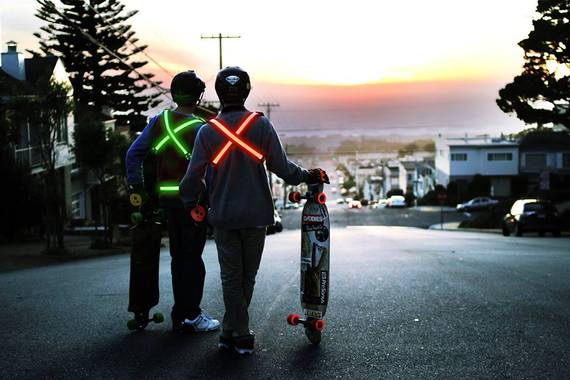 The 25-year old Ng is living the dream and loving life. He's seen his vision for a safety product become a reality and, excitedly he tells me, is just closing on his first house.
Vincent Ng is an interesting young man who was born and raised in San Francisco. After getting a B.A. in Economics and Business at San Jose State University, Ng went to "Uni" in the UK at Nottingham Trent University (conjuring up images for thou of Robin Hood). He wanted to learn more about business and study International Business Administration in particular.
"I put myself through school by DJ'ing, working in Starbucks and at a hotel/gym." Ng told me as he began telling me about the evolution of himself and Halo Belt.
The hyper-industrious Ng has quietly but inexorably created a great, lightweight, rechargeable, safety device which saves lives.
But it wasn't easy and he and his stalwart team of designers had to struggle, thrash around and pivot wildly as they perfected the new Halo Belt 2.0 which launches in July to retail distributors. They overcame thorny issues centering on pricing (retail for Halo Belt 1.0 was: $85 and now for Halo Belt 2.0: $45 ... a 47% price reduction); weight; and battery power consumption, the king of all tech design headaches.
"The weight of the Halo Belt is only 4.4 ounces," said Ng. "It took us a year of development to finally land our final design with a lithium battery small and light enough to be fitted onto the Halo Belt 2.0. We originally had issues finding a solution that was light weight, rechargeable, and held enough power to light the fiber optic for a long enough duration. In doing so, we encountered very high costs that did not fit within an attractive consumer product."
Ng continued, "Over the past two years, our company has grown exponentially and we have been able to manufacture in large volume to reduce costs. We now pass the savings onto our customers. Our original Halo Belt 1.0 retailed at $85 and our new improved, brighter, and more versatile (rechargeable, more water resistant, and durable) Halo Belt 2.0 retails for only $45. Our ultimate goal however, is to save lives!"
This Orwellian entrepreneurs' struggle, has been repeated time and time again. Most oftentimes, I'm afraid these mission-oriented souls fail. But Ng seems to have the right mixture of dedication, rationality and focus to succeed.
"The first Halo Belts where made with electro-luminescent tape," Ng told me as if it was a big problem. It was. "This tape is very expensive." the safety entrepreneur continued, "we also found in making our prototypes that this tape used a lot of energy and created a buzzing from the battery pack, which was also very heavy." Can't have that: buzzing, heavy weighting and always running low on the battery makes for a disastrous product launch.
But surprisingly, in 2012 the Halo Belt 1.0 sold fairly well and also attracted crowdfunded seed investors on an 'overfunded' Kickstarter campaign, "Be Seen, Be Safe" which sought $5,000 but raised almost $60,000.
"We sold about 20,000 units of our Halo Belt 1.0 worldwide during the first 15 months of conception. These sales were across the industries of cycling, child safety, pedestrian safety, construction, airports, military, law enforcement, and many others. We were extremely surprised to see that our 'cycling product' had so many versatile uses. Today, we are in talks with large outdoor retailers throughout the world to provide Halo Belt 2.0 in different safety avenues. The new Halo Belt has been catered to be an 'on the go,' easy-to-use, snap on product for any occasion or event."
Then Ng & Co. found fiber optics that they incorporated into Halo Belt 2.0. Asking him how they worked and were installed in the Halo Belt, I got more instruction than I expected. "The polyurethane fiber optic material we use is really cool," Ng explained. "Imagine a solid straw, a solid. Flatten it out and spread it out on a table. Then we embed one tiny LED diode into the long, flat material and that one diode lights up the entire belt once it's inserted."
Satisfying the need for safety for bike riders first, Ng and Halo Belt have migrated strongly to protecting other kinds of humans and pets from harm.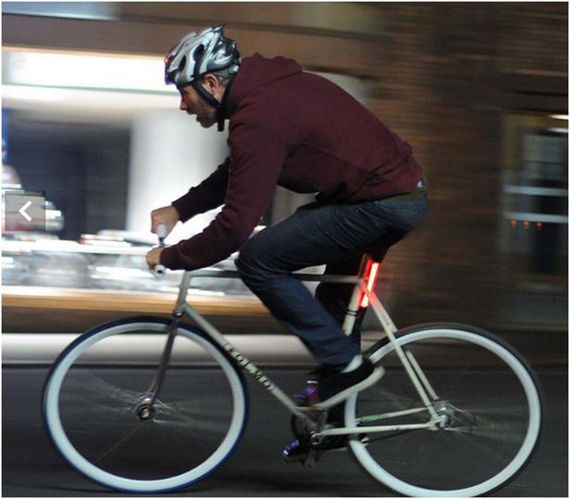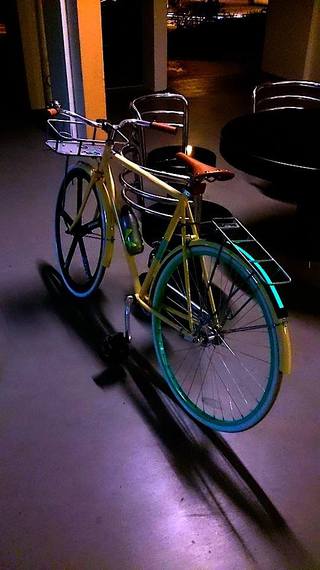 Creative-thinking Halo Belt' customers have found a myriad of uses ... this one is "the Mudguard application"
Pedestrians/Runners/Motorists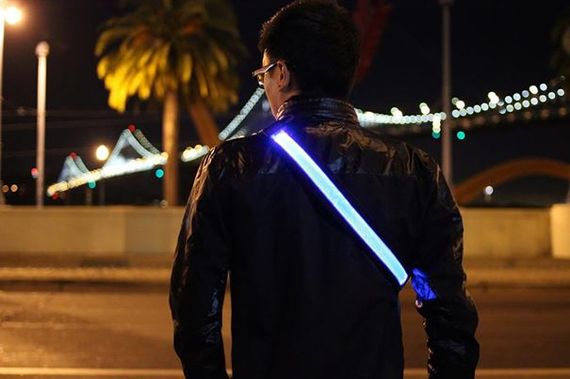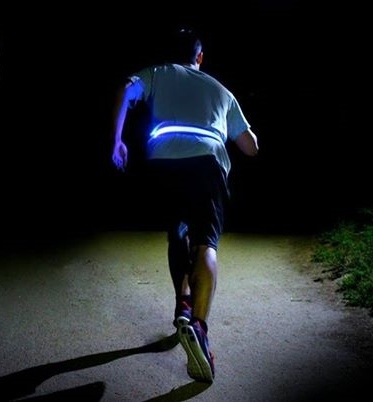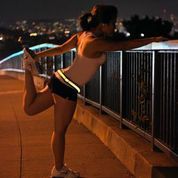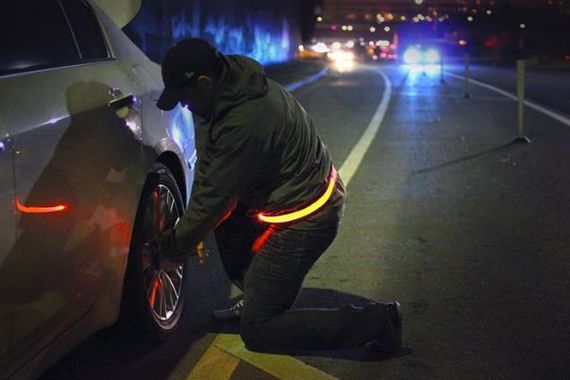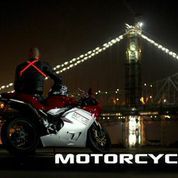 Skiers and Snowboarders
Military & Law Enforcement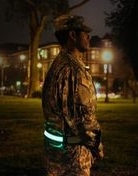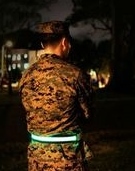 Construction and other nighttime workers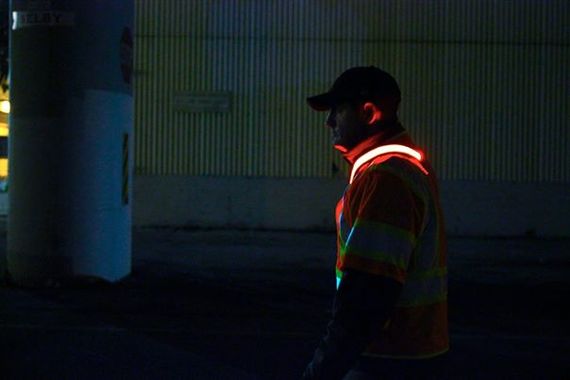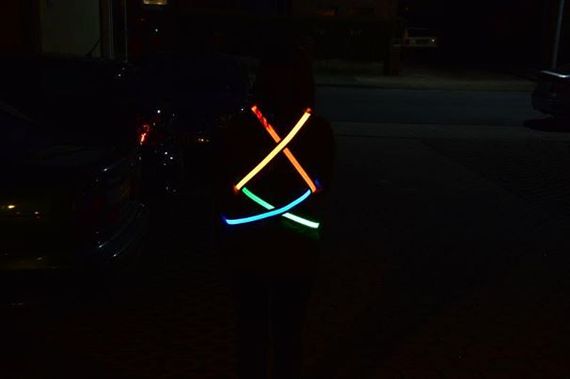 Our 'Little Angel' Children & Teenagers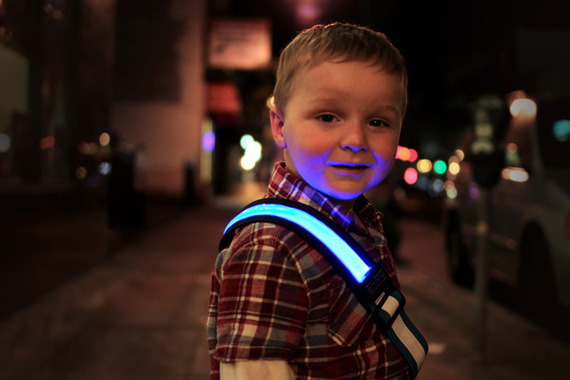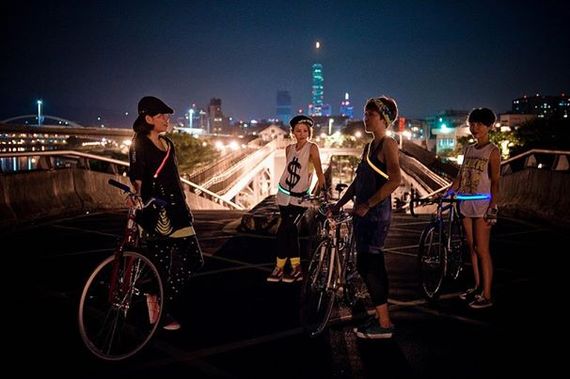 Our Pets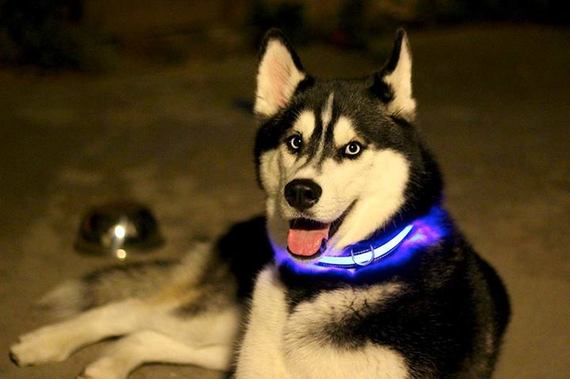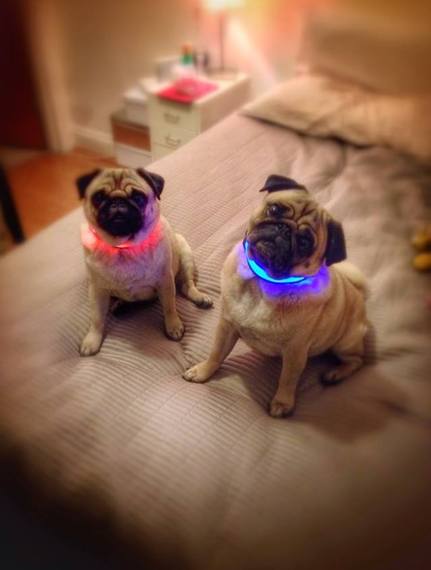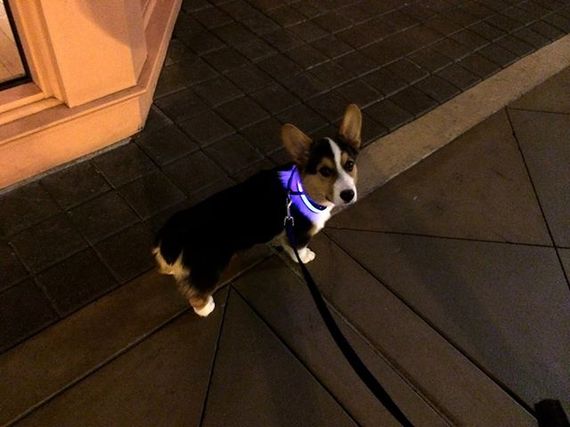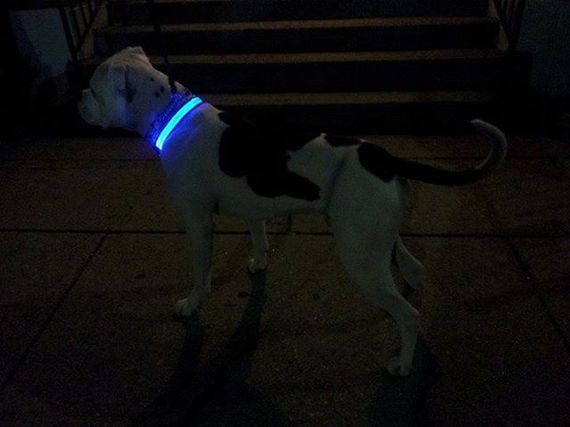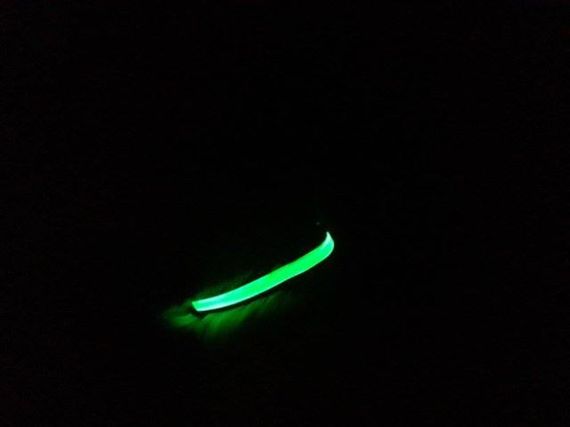 A Halo Belt customer's dog in Munich, Germany hangs out in the darkness
and even ...
Humans & Dog Frisbee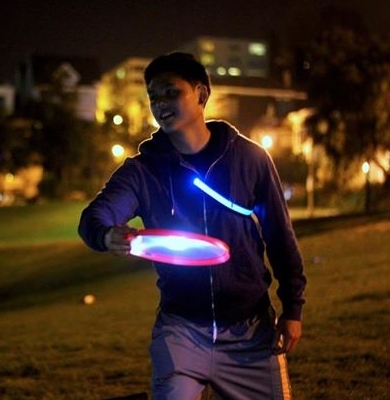 And just like the neat "mudguard" pictured above, Ng has found some of the best ideas for Halo Belt come from his loyal customers/users. "Over the past two years," began the designer/CEO Ng, "we have taken in hundreds of suggestions with the application of the Halo Belt. People have voiced different uses for the original Halo Belt. We have been able to take this feedback to create a better design in our Halo Belt 2.0. Its amazing to see the creativity in our consumer base. It is indeed "crowd-designing!'"
Very instructional for other aspiring entrepreneurs wanting to avoid the kick-in-the-teeth they often get from venture capitalists (or worse, having their companies seized), Ng says, "I've been funded entirely from the beginning by my own funds and crowd-sourced capital from Kickstarter. I raised over $300,000 to get to this point through Kickstarter."
While Vincent Ng is always working to improve Halo Belt for the safety of his customers and the rest of the world, he has a certain amount of satisfaction about what's he's made; how far he's come. As well he should.