Amazing new business models are rare ... even in this time of great 'disruption.' Many start-ups position themselves as disrupting because they feel they have to or die.
So they reach.
And it almost never works. There are few truly disruptive business models out there.
As a matter of course, most entrepreneurs these days are coached by their CMOs, PR handlers or VC investors to make bold, brash statements like "we're disrupting the status quo," "time for an upgrade" or "reinventing the (insert here) industry." But most are hollow--they're not disrupting anything.
When I met Czech entrepreneur Leoš Novotný, I instantaneously knew he wasn't coached and he wasn't following anybody else's script. Novotný, just turned 30, was a finance and investment banking professional, who experienced a real change in career and business trajectory a few years ago.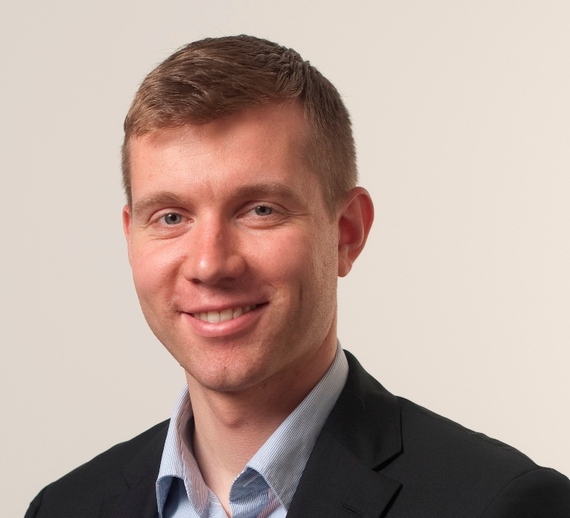 From focusing intensely on acquisitions, big financings and structured deals to imagining what a truly exceptional train ride would be like, Novotný began to think differently. As Nike says, "Just Do It;" Novotný just did it. He brought together the people; the services; got the government approvals; built infastructure; and finally, spent millions on the trains to do it. That's a serious transition from scrutinizing spreadsheets.
Novotný was trying something very difficult: accomplishing the impossible for an industry outsider.
But Novotný was not your run-of-the-mill dreamer.
He'd seen and experienced in the worst way, the state-run, Soviet-style trains in his Czech Republic and neighboring regions and they were not good. That's being polite. Never on time; poorly kept and maintained; lacking the necessary human services such as clean bathrooms, much less the contemporary-comfort ones like Wi-Fi, digital entertainment and air conditioning.
"What a godawful state of affairs state-run' trains are," Novotný must've muttered to himself
And the state-run' abominations-on-wheels cost too much; passengers were constantly grumbling. The fares were too high, especially to put the passenger through the horrible conditions they do--passengers should've been paid to ride on these monstrosities.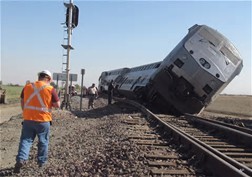 "A picture is worth a thousand words ... " about the condition of state-run' train transportation ... teetering on the brink
If you like the real disruptive business models, Uber, Airbnb, Zipcar, the original disruptive airline business, Southwest Airlines and a handful of others, you'll like Leoš Novotný and his Leo Express.
What Uber did to getting a taxi for the consumer, making it quick, mobile, clean, accountable and economical is akin to what Leo Express is doing for its railway passengers in the Czech Republic, where it started and now takes passengers to/from Poland and former name partner, Slovakia.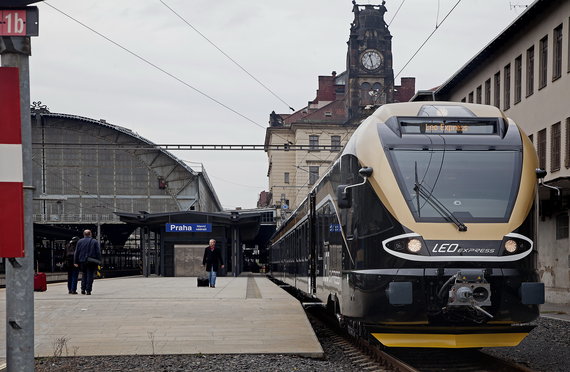 Novotný also makes the same statements above, as in "disrupting the rail status quo," "time for an upgrade (for train riders)" and "reinventing the rail industry" but he means them--because he's doing them.
With zero experience in the Railway world, Novotný saw an opportunity to change the Czech peoples' railway experience for the better and seized it. (Perhaps to succeed in something specialized like the Rail industry or Politics, this is what it takes--no experience and a startlingly fresh perspective?)
"It all starts with hospitality," Novotný told me with stern seriousness, "I looked at my trains as if they were cafes or restaurants, where you would want to be and enjoy." He finally broke into a smile.
Our story of Czech investment pro pivots to state-run railway disruption begins in 2009 with Novotný working at his family investment firm AAKON Capital. "I was reading an article in the news about a private railway company attempting to enter the railway market--they failed--and I thought that was crazy," Novotný told me dripping with irony.
It couldn't have been too crazy however, "Then I started thinking about it and had my investment team look at it," Novotný recalled quizzically. "This looks crazy enough to be interesting," he concluded.
"We did the homework and looked at all the variables," Novotný recalled happily. "And we found a 50% EBITDA! I told them, 'Go back and find out what we missed; there must be some mistake, somewhere.'"
They did go back and there wasn't a mistake--anywhere. "At the time, we were invested in a family food business that had 5% EBITDA and here we see an EBITDA ten times that one," Novotný exclaimed excitedly.
That family food business, Hamé, had been purchased by Novotný's father and has approximately 200 million Euros in annual revenue; 3000 employees; and makes over 1300 kinds of canned foods for an 80% market share, "like Heinz," said Novotný.
Novotný's father, Leoš Sr. had grown Hamé from 6 million Euros annually when he first acquired it to over 200 million Euros in revenue in 18 years. "My father told me I 'would be the CEO,'" Novotný remembered delicately. "'But father,' I told him, 'I don't love the business. It wouldn't be good for the shareholders, customers or the employees to have me as CEO.' Father was angry. 'Now I don't have anyone to give the business to,' he told me." Novotný's father's disappointment was not to die easily, but die it did ... over time.

Novotný started Leo Express officially in December of 2012, however more than three years of planning and analyzing had preceded that incorporation. "We ordered five trains (of five cars each) at the end of 2010 and they were delivered in December of 2012," he told me, "and we started operations in January of 2013." Of course, given the dilapidated trains and system he wanted to replace, Novotný didn't buy just any trains. The Leo Express' fleet is made by a Swiss company, Stadler and their FLIRT model in particular. This model is used widely across Europe.
Now, which of these two trains would you rather board?
"Compared to the state-run trains in the Czech Republic, my trains are faster (200/km or 110/mi per hour); quieter; much nicer inside and customers enjoy mine better. We asked ourselves and the train manufacturer, 'How can we make the train of different materials, different woods, different metals?' We're creating a new breed, a new type of train that's half the weight and does little things like spraying air freshener regularly to keep our trains smelling good."
A Leo Express' train cruises alongside a state-run train without air conditioning but offering a makeshift laundry line for passengers' shirts
"We paid 7 million Euros for each of our trains. The Czech government pays 30 million each. See the difference? I'm using a small air rifle to shoot a rabbit and the government is using a bazooka. The government inefficiency is because they have no ownership. The state is the owner of these railways. No owner comes to the office every day and cares like an owner. You can bet I do that, I care. If state-run operating costs are 100%, then Leo Express' operating costs are 49%. The first reason for this differential is I CARE."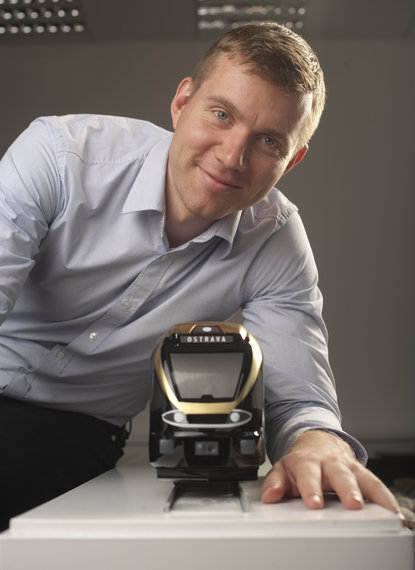 "Government also can't attract top talent; that's another big problem for them that's not a problem for us."
One of the few women Engineers, Helena Zaleska is a prime example of the "top talent" Novotný refers to above
"State-run trains," Novotný continued his tirade, "work on a schedule they are told by their Operations and Maintenance departments, the trade unions. The results? Sloppy timetables and horrible service. And then, here I come running my trains not four hours per day like they do but 12 hours per day instead. Of course, we maintain our trains more aggressively but we get three times more production from them."
Then Novotný delivers the private-sector trumps public sector knockout blow, "State railways don't need to run trains forever. With taxis and airlines disrupted, trains are next."
And Novotný is bringing these high-style trains to America, believing that Americans, like Czechs, deserve better than a state-run Amtrak service, of lack thereof.
"That's what I'm doing: using a disruptive innovation theme to replace the state-run bureaucracy and take no subsidies while doing so. To provide a really nice train experience, that runs on time at a fair price, good value.
Like some remaining airlines, Leo Express has three-class levels of service. All cars have stewards and in-seat catering, so that alone is a big improvement over train travel in Central Europe and America. (Why couldn't we have that on the NYC-Philly Amtrak line?)
As with almost any business you can possibly think of, it's service and the little details of hospitality that ensure success.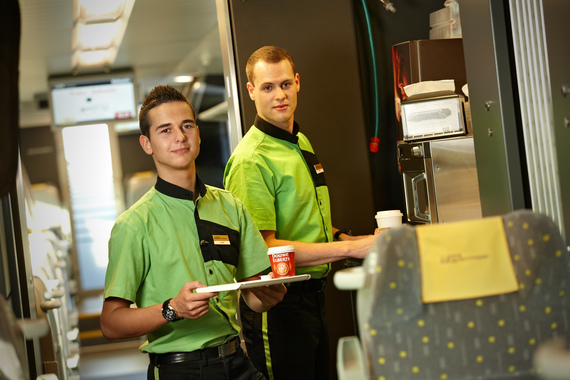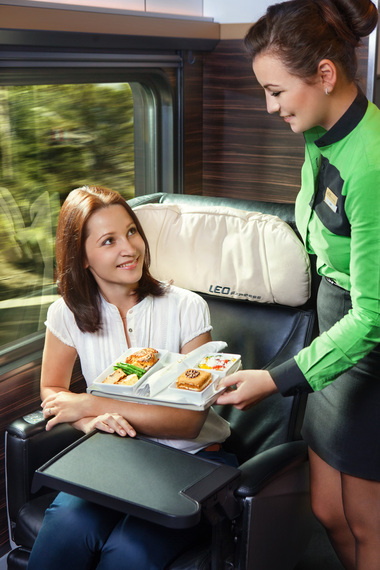 You may sit in Economy Class ...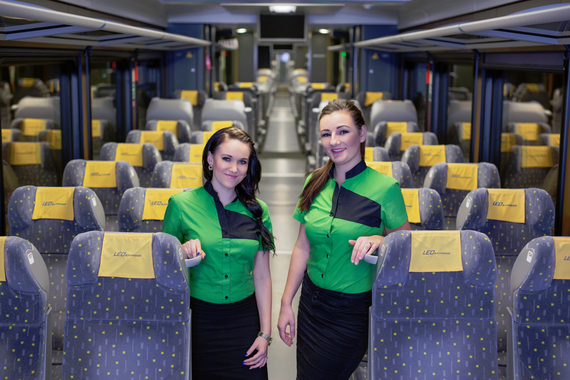 Business Class ...
Or, Premium Class ...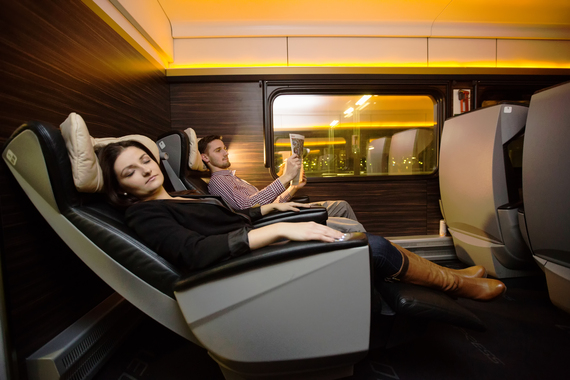 Just the attention to detail in offering better seats is visibly apparent on Leo Express.
Novotný and his team have worked diligently to truly offer a new level of service to train passengers.
"We've found a way to radically improve the train-travel experience," Novotný said firmly, "our advanced optimization algorithms and yield management have doubled cost efficiency. We combine this with our customer-first enthusiasm and time-based fare to achieve maximum value for our customers."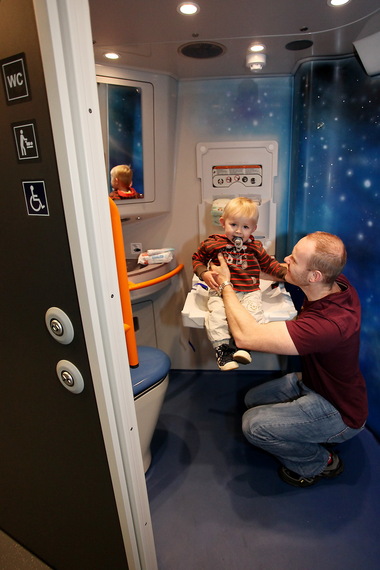 Displacing a state-run monopoly on anything, much less public transportation, is disruptive enough. But Novotný's Leo Express is disruptive in the technological, connectivity sense as well. "The next generation has the Uber/Airbnb/Zipcar P2P sharing economy and Leo Express. Soon, they can take an Uber, Zipcar, one of our Leo Express buses/shuttles or the bicycle path to our trains and go from the other end in the same way. It's quick, cost-efficient, much safer and carbon-neutral," Novotný stated confidently.
The new-age train company's 'frequent rider' loyalty program, S:)mile Club offers a wide assortment of discounts for members not only on the Leo Express trains and buses but also with retail partners. There are discounts and promotions for hotels. restaurants, bookstores, cafes, furniture/accessories stores, museums and even attractions like the "Invisible Exhibition" where "all light disappears" and you try "to find your way out" with a blind guide.
Unlike many start-ups I see, Leo Express was prepared when they originally launched with an iOS and Android app up and running. The train travel company currently offers a discount in partnership with Uber on their webpage and in their mobile app and is quite naturally trying to deepen their partnerships with Uber. "We're investing a lot into our e-commerce technologies," he said, "and Uber is a major partner in our future." It's clear to me how each will be 'feeders' for the other's passengers--a perfect reciprocity.
Just as Uber is a 'feeder' platform for passengers on Leo Express' trains, Novotný and team have other ideas too.
Like buses. Their own branded buses, that not only take their customers back and forth from their trains but in certain geographies such as the Ukraine to Slovakia where bus is the only efficient way, provide the main travel method. "We have eight buses currently," he observed, "and we want to double our number of buses every year. After three or four months they break-even and start to contribute EBITDA. We're even working on something we call 'Leo Express' Demand Response,' which will have minivans cruising downtown like Super-shuttles here in America, picking up train passengers. This needs to be seamless with one ticket for the train, bus, minivan, Uber, whatever on both ends."
Leoš Novotný is very locked onto technology and consumes as much information and uses as much technology as he can. He told me, "Bill, one important thing is the Hyperloop. (Elon Musk's futuristic idea.) My view is the following: Hyperloop is a technology. We are an operator. Operators use technologies. Currently, we are using contemporary trains and buses. Hyperloop is a vision, we are a reality. The day Hyperloop is 'street legal' I will be the first to use that technology. Until then, I will spend the next 10 plus years before Hyperloop arrives with developing my 120-mph trains services and disrupting current railway status quo."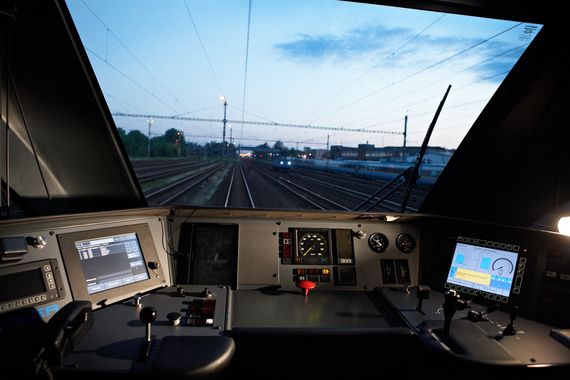 What a Leo Express' train driver sees ... do you suppose this is even close to what a state-run Czech engineer sees? Or an Amtrak one for that matter?
Novotný and Leo Express have come a long way since forging ahead into the uncharted territory of being a private-sector alternative to a crumbling public sector service. They now connect 30 cities for their passengers; have carried more than 2 million passengers throughout the Czech Republic, Slovakia and Poland over 310 million passenger miles. But Novotný is not stopping there in his home region.
And so, as Novotný looks to expand his Leo Express train experience, he quite naturally looks across oceans. He's coming to the USA. "We're looking at three to five routes right now in the US," he told me excitedly. "Imagine seamless door-to-door travel, no more owning cars, stressful traffic, impossible parking or costly insurance. Instead, livable cities built for people not for cars, streets with clean electric buses, more bikes and green pedestrian areas instead of parking spaces. America loves rail. It just doesn't know it yet," Novotný said passionately.
If Novotný can disrupt and improve a preponderance of Central Europe's sagging train lines, it seems quite likely to me he can have a similar effect on the NY to Philly-Boston-DC corridor and other blundering, discombobulated, quite frustrating American rail routes.
A bullet-fast Leo Express' train says "Hi" to a snowblower