Bogumila Sobiczewska (So-bee-che-vska) is a driven, enthusiastic mother of three who wanted to add a career to the rewarding tasks of raising her children. Having been a radio journalist in her native Wroclaw (Vrots-love), Poland, Sobiczewska longed to connect her family life with something in the business world.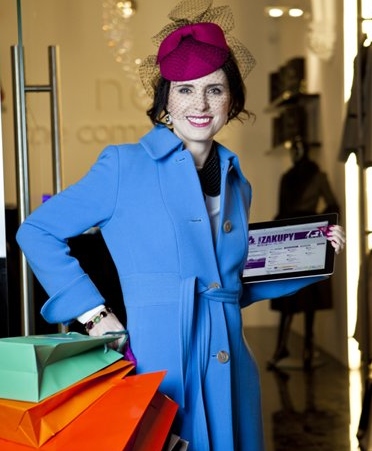 © Karolina Kosowicz
She tried finding a job but with the gap in her resume due to her time with children and uncertainty around what it was she wanted to do, she had hit a brick wall of sorts. Her husband sensing her restlessness and disappointment, wisely suggested, "You should do something for yourself."
Now being the big believer in and supporter of entrepreneurship that I am, Bogumila Sobiczewska embodies the increasingly obvious answer to our country's economic and jobs crisis: people who used to work for others starting their own businesses which eventually begin to employ others. Creating an economic and jobs snowball is clearly one answer.
But crucial to this process of the mental and economic stimulation of an entrepreneurial idea is what I call "The Aha Moment" -- that catalytic epiphany split-second when need meets fulfilling idea. "Poland doesn't have all the big fashion brands yet," Sobiczewska recalled, "and when I went to Berlin or Paris, I didn't know where all the stores are or how to get there; I could ask the hotel concierge but then I would find out I missed a great little store right around the corner. This was very frustrating"
So quite naturally, Sobiczewska's mind turned to the development (her 'project,' she calls it) of an automated online process for arranging shopping trips both beforehand (when planning travel) and serendipitously when one finds themselves in a particular city.
"I thought, wouldn't it be great," Sobiczewska recalled vividly, "if there was a website that had filters for price, of course location, product type, brands and everything else? I was searching and searching and couldn't find anything like this." This was her moment.
Looking at how her end-user might find directions to multiple retail stores in a city they were visiting, Sobiczewska looked first for any websites that did that and not finding any, went to Google Maps. When Google Maps returned directions to Izod Lacoste retail stores located in the middle of the Arabian Ocean, Sobiczewska knew she had something.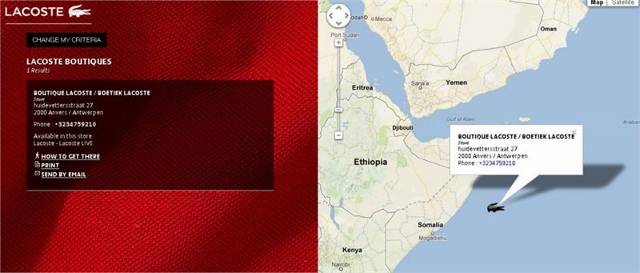 A floating Lacoste shop? No, but not a bad idea
In 2011, Sobiczewska then set about building ShopTrotter, which she said "was the obvious choice for a name combining 'shopping' and 'globetrotting' after sitting in bed at night thinking, 'What should its name be?'"
Using the omnipresent GPS on everyone's smartphones, Sobiczewska envisioned connecting that location fix with a powerful database containing all the retail store logistics with the shopping and smartphone end-user.
One of the first orders of business for Sobiczewska was to make sure and double-check the addresses of the onslaught of retail shops in different cities and to ensure that "it wasn't located in a forest or the sea" Sobiczewska opined smiling.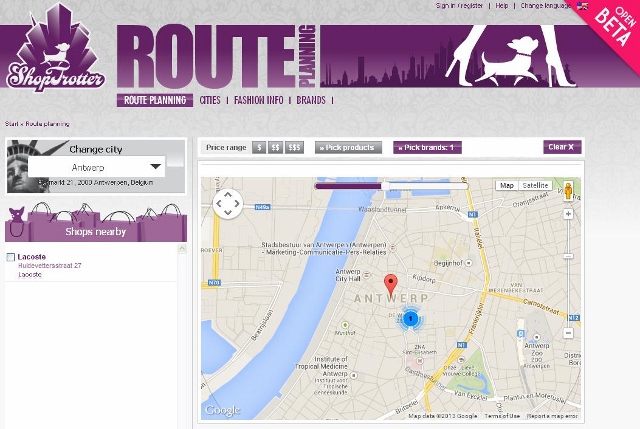 The correct location of the Lacoste shop NOT in the middle of the ocean as the screenshot above this one shows
"I'm not an IT person," the young mother-turned-entrepreneur declared forcefully, "I'm focused on the user experience." But she would have to quickly develop these crucial IT skills or find somebody good to satisfy the role of start-up CTO. "I did know that this was going to involve a powerful database to find so many directions to so many stores, in so many cities," she told me. "So I found a website company in Poland and have been working closely with them since to build this web site and develop the database and software." One year ago, ShopTrotter had 28,000 stores in their database; now they have 72,000 retail store details.
She recalled thinking, "The service should be big from the start; not beginning with one or two cities. If a user goes to a city and isn't able to find the stores they want to visit and all their information, they won't come back to our site." Sobiczewska is continuously putting herself in her users' shoes.
A video tour of ShopTrotter clearly shows the value proposition which is to get hungry consumers to the stores which will slake their desires quickly, efficiently and with the least route deviation possible.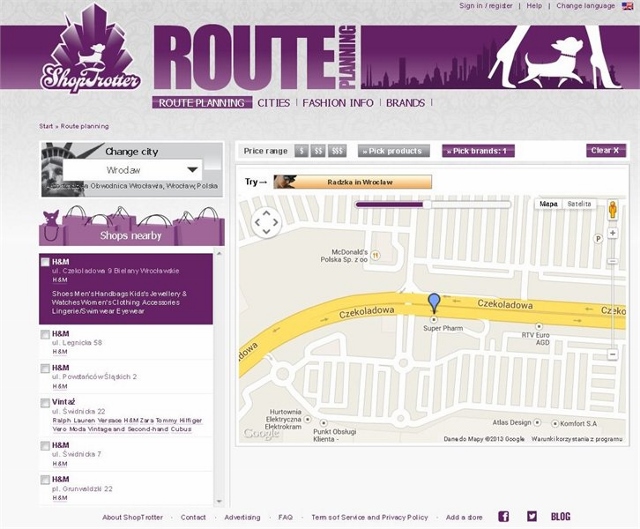 Sobiczewska's desired user result: an easy-to-reach, clear, store destination
Sobiczewska is firmly convinced that making it in the USA is crucial to ShopTrotter's success. "Americans are great shoppers," Sobiczewska told me happily, "it was my great discovery that shopping is a fun activity here. Also shops in United States are more accessible than in Europe -- you can browse in high-end boutiques and nobody will ask you if you can afford it. OK, let's forget that 'Pretty Woman' moment -- it never happened to me. Every year more people travel abroad, so I think they definitely need some tool to ease their shopping experience in foreign countries. ShopTrotter.com currently covers 6 cities in the U.S. Please remember that Americans also travel within the country and would appreciate some help to guide them where they want to shop."
With regard to her capital acquisition strategy, Sobiczewska has a truly unique plan. She doesn't want any outside investors much less a VC -- which puts her at odds with the 95 percent of other CEOs/founders I've encountered who seem to be stuck on a VC-dominated treadmill of investor attraction and wooing. "I'm afraid that any outside investor would push me to compromise the primary idea just to monetize the website. I know what I wanted to create, I do it with passion, but also I'm a hard executor. I'm working on a great web-tool and don't want to be distracted or put under pressure by somebody who is interested only in revenues. My motto is: great product first. The money will follow." Amen sister.
And while Sobiczewska sees the future opportunities for ShopTrotter such as offering other deeper functionalities for the application--like discounts, promotions, etc. -- once it guides shoppers to their retail destination, she's focused on the basics for now. When I asked the Polish entrepreneur about this, she responded "I have too many ideas! I've decided now to concentrate on the core functionality -- making customized shopping routes -- because I believe it's something really useful and unique. I'm going to listen carefully what our user's would like me to implement. Now we are focused on perfecting the shops database."
"What I love about idea of ShopTrotter.com is the fact, that it will never be finished. There is a constant movement in this business and I would love to catch up! I truly believe that customer-oriented business must be flexible and follow what market says. In the short term, I'm focused on building an excessive database and fair relations with my users. Of course the launch of an iOS and Android app in next month will be big thing and hopefully will take ShopTrotter to the next level."
A few of the early screenshots from the Shoptrotter smartphone app: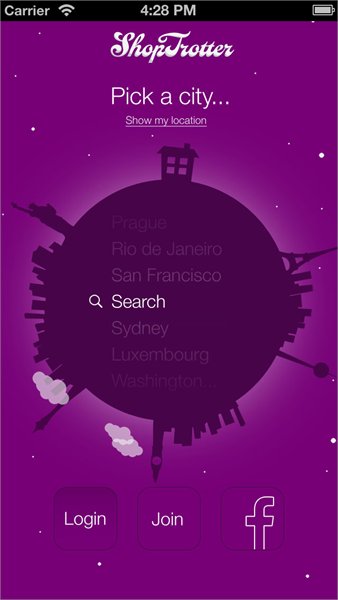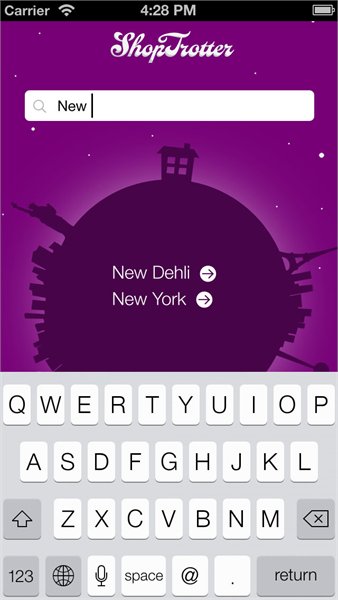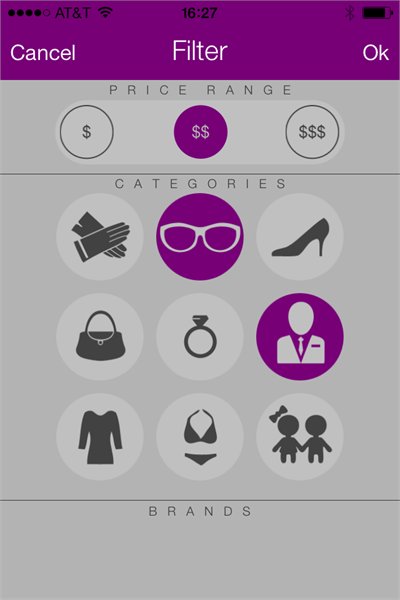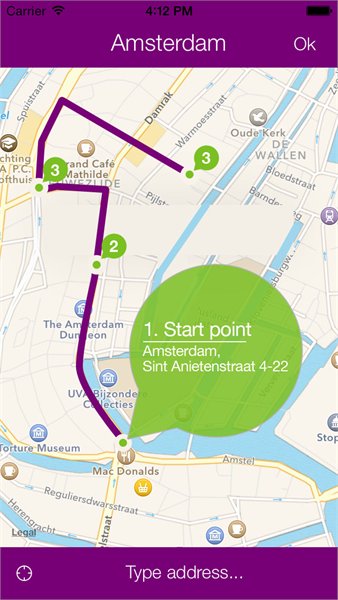 "I strongly believe offline shopping has a future," Sobiczewska responded when I asked her if there might not be any bricks and mortar stores in the future, "online shoppers frequently get the wrong sizes. They have to really know what they want and there can be no helpful interaction with salespeople who can tell you how you look in a particular dress and make suggestions." She finished strong, "My product began from my personal need. It's our mission to promote shopping offline."
What will ShopTrotter be like in five years? "In five years... who knows? Would you say what would your kid would be like in couple of years? I'm just going to invest in it so it's growing, healthy and happy. It's my baby and I don't want to sell it," Sobiczewska told me smiling broadly.