Not sure if you've seen this sight in New York City.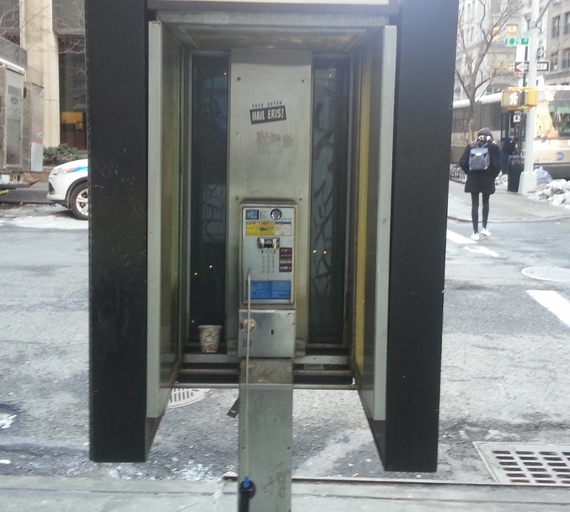 NYC's phone booths: literally off-the-hook
I sure have.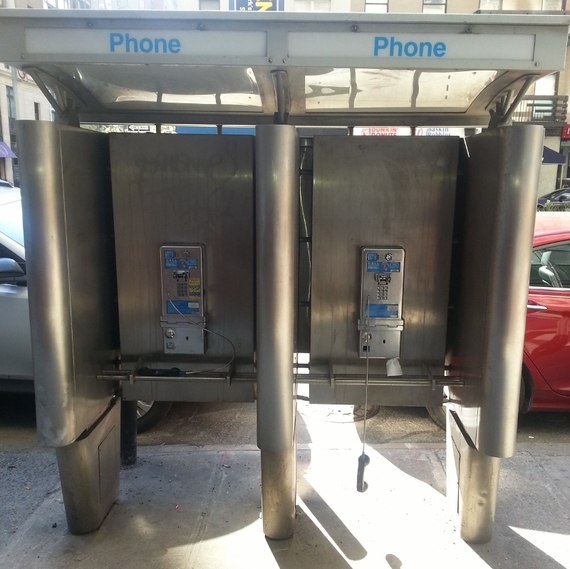 When can we finally say goodbye to the pay phone?
They're all over the place ... everywhere we look. We've even stopped 'seeing' them at this point, they've become so omnipresent and woeful.
And, I've been wondering precisely when the City government might get off their lazy, well-feted duffs and do something about it. It's been decades, so obviously we can't count on the mindless drones in charge to do anything, anything at all about the disgraceful condition of New York City's phone--or former phone booths. Wait though we have, the condition remains addressed by our bureaucratic pilot fish.
Nobody uses them anymore; unless it's as a makeshift toilet. They've now turned into rusty, unsightly, disgusting repositories for trash, human fluids and half-eaten foodstuffs.
But this is not a lesson on government and the endless list of things that government cannot do. The short list of things they can do, is very short indeed.
This is a lesson on what the PRIVATE SECTOR can do and do very well. Where it can move mountains with clever, ant-like activity.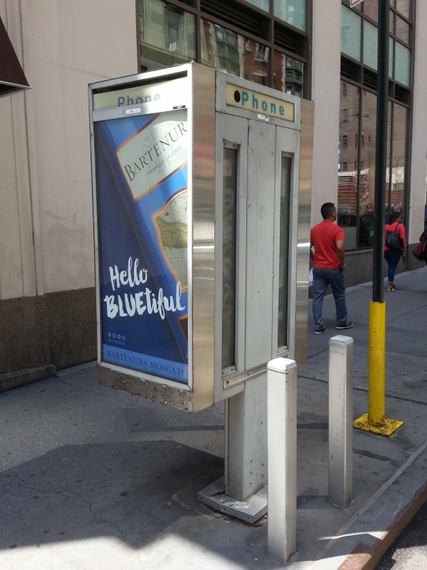 "Hello Irony"
After more than two decades on my part, of wondering endlessly, and hopefully, when somebody might seek to correct and make useful these former destinations of glory, connectivity, privacy and safety; somebody has finally put together a top-notch, commercial initiative to re-make them. These filthy totem poles will now be transmogrified into something sleek, clean, safe, informative, timely, fun, and most of all, hard-wire connected to the Internet and Wi-Fi, FAST.
Oh, one other thing about this new initiative: it's FREE to the public to use and get connected for information and assistance and most importantly of all, this new service and all its R&D, installation and implementation costs are free to NYC and its empty coffers.
When it comes to Big Government, "free" is the only way to get them to do anything.
So it's fortunate indeed for NYC, her loyal, yet tenuous tourist base, citzens and her economy in general, that this new initiative, LinkNYC and its overall consortium, CityBridge has a plan.
And it's a good one.
A true PPP (Public/Private Partnership) except that the public partner in this case, to wit the City, doesn't do a whole helluva lot except count money at the end of the day.
This solid partnership in the private sector however, has cobbled together a giant opportunity to improve NYC for tourists and citizenry alike, while providing an important public service with cutting-edge Gigabit Wi-Fi, which is up to 100 times faster than most public Wi-Fi networks.
Two forward-thinking brains have come together in true entrepreneurial fashion to create LinkNYC by sewing together a multi-partner, joint-venture organization called CityBridge.
Dave Etherington is an English, Everton-supporting adman with a quick wit and unusually warm demeanor for a Brit (written keyboard-in-cheek). He's an engaging and highly intelligent guy. Etherington is also Chief Strategy Officer for Titan, a top Out-of-Home/Outdoor (OOH) advertising firm.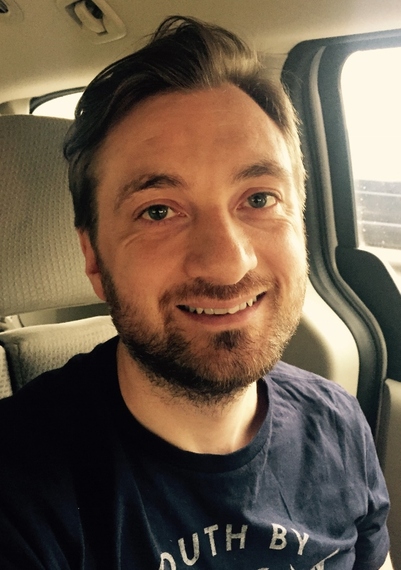 Titan has been a big contracted partner of NYC for years, creating and selling the ads on buses, subways and most importantly for this conversation, the preponderance of NYC's phone booths.
Colin O'Donnell is an American, whom Etherington says is the real brains behind this entire multi-billion dollar project.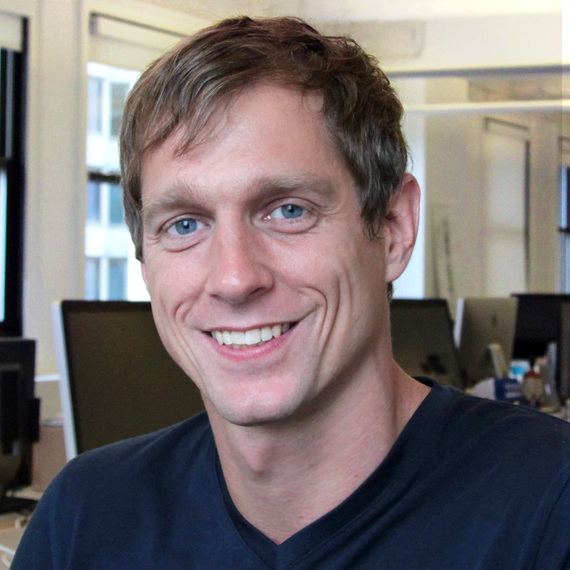 "Colin, it was his brainchild," Etherington told me in his midtown office, "he told me about a city competition to reinvent the pay phones and we entered it and pitched it together." The two innovative thinkers won the NYC' "Reinvent Pay Phones Design Challenge" in 2012.
It occurred to me that the O'Donnell' idea may have indeed died on the vine without Etherington's execution strategy of using ad revenue to monetize the building of this vastly expensive hardware network, running advanced software and getting it all done for zero cash outlay by the city and then, revenue-share hundreds of millions of dollars of 'found money' ad revenue with the city.
"We've been friends for almost three years," O'Donnell related, "and both had a deep interest in bringing the traditional Out-of-Home ad experience, you know with billboards and ads plastered all around, into the Digital Age." Etherington chimed in, "Colin and I had been thinking about this for years; we have the same worldview." O'Donnell concluded, "Dave and I immediately started working together."
In a fine, contemporary example of what Sir Winston Leonard Spencer Churchill so aptly called "The Special Relationship," with such "Churchillian emphasis," this Brit and Yank came together to save the world yet again.
Well at least the world of communications on New York City streets.
"We were so excited to win the city contract," (in November, 2014) Etherington told me, "not only does the city pay nothing for all this sharp technology, but they've been guaranteed $500 million over the next 12 years with a three year option to extend. Just to give you an idea of the projected numbers involved, the entire Out-of-Home ad market is estimated at $5 billion. We estimate the LinkNYC ad market at $180 billion. Last year, $400 billion was spent on E-Commerce but $4 trillion was spent on Retail." This translates to a big referral dynamic for the LinkNYC's once up and running and untold rev-share cash for the City.
The stunning 10-foot tall, 11-inch wide kiosks which the initiative is calling "Links," should have a big impact beyond mere aesthetics. "They will really change the city-scape but also really connect the city's citizens" O'Donnell excitedly explained. "For instance, we can run polls of the public with important civic questions such as 'more trees or more bikes?' We can push apps to the Links. They're a really exciting piece of urban infrastructure. Instead of content being the medium, the city itself is the medium."
"It's very analogous because of what happened between digital and print," Etherington observed. As an English Lit. grad and long time BBC and The Guardian ad sales pro, he should know.
"We're bringing all these free services like super-fast Wi-Fi and using advertising to deliver all these great services," Etherington continued. "When passersby without cell phones can make voice and video calls from the Links; when they can send an email or go to any webpage; there'll be a 'red button' so they can call 911 in an emergency; or call 311 to report a suspicious gas smell to let ConEd know; or just pay their utility bill from Link; well then, we think everybody will be very excited."
Minimally but crucially, the Links will also help with the universal, omnipresent smartphone problem: charging your little demon.
"We've been watching very closely how mobile and social has changed," O'Donnell said at a recent Internet Week conference in NYC, "how humans have evolved. 66% will be living in cities, urban environments by 2050. That's the opposite of the effect we thought technology would have by allowing people to live anywhere. Mobile data usage is doubling every year, mainly due to the explosion of video and the bandwidth that requires. As we introduce new technology, human behavior changes. The web is coming to the physical world with Internet of Things (IoT), in-taxi/in-car WiFi, smart parks, even smart garbage cans."
Imagine with me for a moment. Think about all the variables; all the different moving pieces, the hardware, software, semiconductor and all the myriad vendors and ingredients required to go from this ...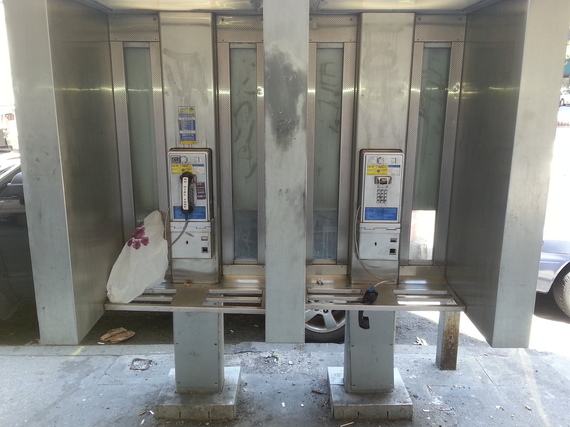 To a transformation like this ...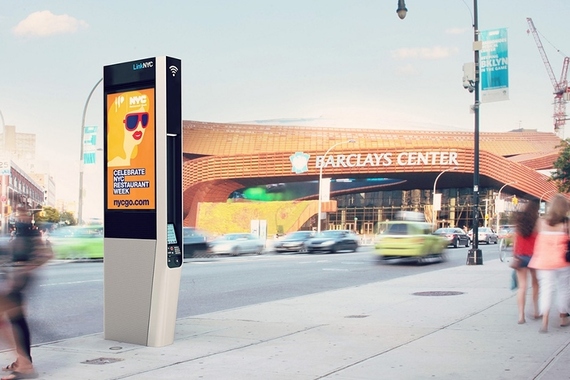 Photo Credit: CityBridge
Or this ...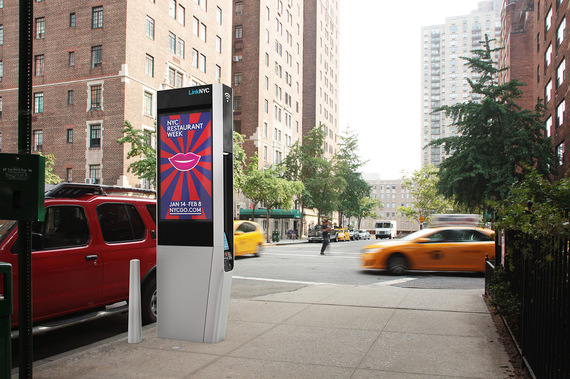 Photo Credit: CityBridge
This ...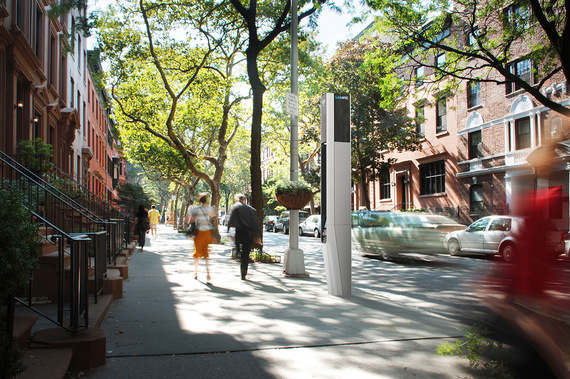 Photo Credit: CityBridge
Or finally ... this ...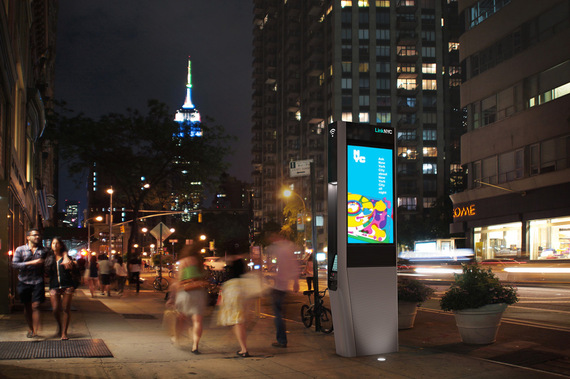 Photo Credit: CityBridge
The necessary technologies alone inside these space-age devices are mind-boggling.
Like me, are you really getting a sense, really feeling how much the small changes in overall infrastructure can improve the totality of the quality-of-life for New Yorkers? Do you see how much better visitors would perceive our great City when we offer state-of-the-art, Internet-connected services of all sorts as a free convenience?
Let us investigate how and why these new Links will change our lives as we walk down the street.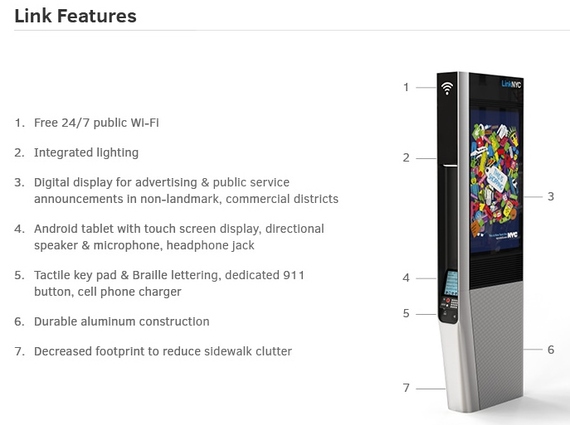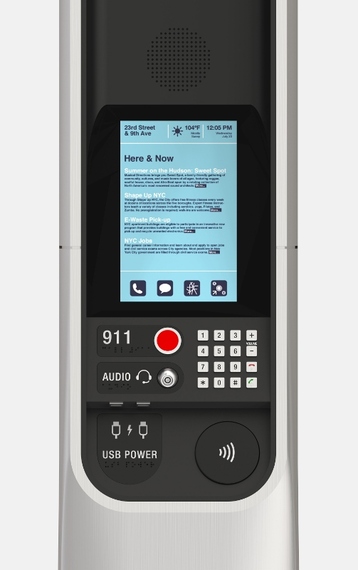 (This user interface is a mock-up and will change)
Photo Credits: CityBridge
To give you, the reader some indication of how pervasive and debilitating the NYC' pitiable phone problem (another kind of PPP) really is and how urgently a solution was required, I performed an informal, yet efficient survey of a three-block area around my office. I selected an area on Fifth Avenue because I thought, if the City is going to try and keep any of these decrepit phone cauldrons clean and presentable, it would be the ones on Fifth Avenue and not the ones in lass fortunate parts of the City.
There were no less than nine two-phone kiosks on or on the adjacent corners of Fifth Avenue between 27th and 30th streets. Three kiosks per block; six phones per block and not one of them being used or apparently, usable. Their condition was perverse. See how we've become impervious to these cemented-in eyesores?
So the need is clear and can not be debated any further.
Etherington's Titan is a privately held, outdoor advertising company that came out of nowhere virtually, to displace 800-pound gorilla, CBS Outdoor (now Outfront Media) in the burgeoning, captive-market transit advertising sector with mainly metropolitan governments as their clients. You know, captive as when you're stuck in a subway train, bus or bus stop waiting and have nothing to do but look at the ads.
Founded in 2001, Titan got NJ Transit as a client in 2004 and it snowballed from there on in. 2005 brought Seattle's, Philly's and Orange County, California's municipal transit systems onboard for Titan to control and then revenue share their massive moving ad platforms for them. In 2006, a big one, Los Angeles and another big chunk of Seattle's; 2007, Chicago and Minneapolis-St. Paul; and in the years that followed, Dallas, Charlotte, San Francisco's BART, and many mid-sized municipalities became Titan clients/partners. Titan blew past CBS Outdoor to become the largest Out-of-Home transit ad firm in America.
So Titan was in many ways, the most experienced ad sales partner, the founding advertising partner if you will for CityBridge and the entire LinkNYC idea. You've got to have the ad revenue to pay for the massive investment in pure infrastructure.
Then very quickly thereafter, you must have a solid technology and design partner, who has the ability to think five, ten or even 15 years out so that by the time the installations are occurring, they're not quickly obsolete.
Enter The Control Group and founding partner/COO Colin O'Donnell. The Control Group has a background in employing advanced technologies--whatever's necessary--to assist municipal, governmental and commercial projects that involve high elements of imagination. O'Donnell is a thinker. And he thinks far ahead. "The Control Group drives customer innovation in public places," O'Donnell told me at CES in Las Vegas in January, "we have a single view of the customer. We believe every utility has to have a strong user impact."
After the first two cornerstones of ad sales (Titan) and technology (The Control Group) were done and dusted, Etherington and O'Donnell were just getting started.
They must have said to themselves, "OK, if we're going to win this thing, now we need some gargantuan telecom/wireless partner to share their technology resources, patents and communications know-how with the budding partnership." They couldn't have made a better choice with Qualcomm. This $25 billion per annum behemoth has all the right facets (and patents) necessary to enable a big idea to become reality.
Quickly adding a manufacturing partner to fabricate the kiosks, Comark; the two were well on their way to piecing together the team that could win from NYC and Mayor Bill De Blasio the contract to replace all the decaying pay phone booths in New York.
Comark is in the business of building "rugged, user-friendly structures" that will weather all elements and user traffic too. The 40-year old company has 100 employees and has typically had industrial and DoD contracts making durable displays for aircraft carriers, submarines in severe weather conditions like the Arctic or battlefield in Iraq. "I'm and engineer by trade," Steve Schott, Comark's CEO told me, "and this by far, is the coolest thing I've ever worked on and we're working with some really, really smart people."
Also onboard are Transit Wireless and Antenna Design, which round-out the team nicely in terms of very specialized expertise.
The "Big Four" in the partnership, Qualcomm, Titan, Comark and The Control Group have all chipped in $25 million in capital to fund this idea. They are making a big bet indeed; one that looks poised to pay off nicely with future ad revenue and revenue-shares with limitless partners.
"We're running hundreds of miles of fiber optic cable in NYC," O'Donnell said, "Qualcomm is bringing the wireless expertise. Beacons and LTE Direct." Etherington added, "LinkNYC is using Qualcomm's 'Snapdragon' chips and their LTE Direct product which is really broadcasting out to the world, 'I'm hungry' or 'I like real English ales' or 'I like falafel.' You can tune in or not tune in; you simply say 'these are the things I'm interested in.' With LTE you're dynamically broadcasting your likes and dislikes." And the closing statement by Etherington, "What LTE does is generate huge numbers of serendipity."
"We're contracted to provide free Wi-Fi within 150 feet of a Link," Etherington informs, "but we're already finding a range of over 450 feet." And, it has been estimated that more than 250 devices can connect to the Link's Wi-Fi simultaneously.
Alfonso Jenkins is the new Deputy Commissioner of NYC's Department of Information Technology & Telecommunications. He comes from a strong, wireless telecoms background, most recently Alcatel-Lucent. I would think his timely arrival from the private-sector is appreciated by all involved in the LinkNYC initiative. "We're working every single day with the LinkNYC/CityBridge and decommissioning the pay phones," Jenkins said recently. "The first Links are rolling out in September of this year and we should have 510 up and running by the end of 2015. We should roll-out another 1,500 Links in 2016 and 1,500 more in 2017," Jenkins told a rapt audience of New Yorkers.
And the magnitude of the LinkNYC' project is impressive: of the 7,500 decrepit phone booths in NYC's five boroughs today, 60% (4,500) will be ripped out over the next few years and replaced by shiny new multitasking-oriented information booths put in for the public good and safety. Groundbreaking is scheduled to begin this month.
O'Donnell summarized, "I see this ubiquitous connectivity to the Internet, as offering New Yorkers the ability to be 'Tarzan-swinging' from vine-to-vine, access point-to-access point or Link-to-Link. The impact this will have on wearables, the IoT and start-ups should be immense."
Smart Neighborhoods are the end-game for LinkNYC, where O'Donnell and Etherington see small geographic pockets, then wider areas getting connected and more involved in their schools, transportation, policing, sanitation, commerce, entertainment, dining, environment and perhaps even someday, voting for President from Links.
But before that all occurs, NYC's citizens and tourists alike will love LinkNYC for the self-administered, self-empowering, convenience it provides.
All Photo Credits are Bill Robinson except as otherwise noted