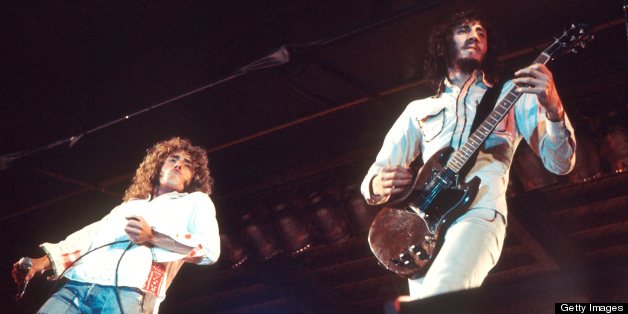 Here's another excerpt from my ebook, out on Rhino, My Life In The Ghost of Planets - The Story of a CBGB Almost-Was.. This one is kind of the 'prequel' history to our CBGB days, including a very silly stay in London, Summer of 1971... Here we go...
The actual zygote moment of The Planets' inception took place, beyond appropriately enough, at The Who's first full length concert in New York City on July 8, 1967. The dilapidated Village Theater on 2nd Ave and 6th St was less than a year away from becoming the Fillmore East. My dear pal and fellow rock star wannabe, Anthony Jones, and I had tickets in the center of the 15th row and...
We'd politely sat through Richie Havens [RIP, sir], but, the next act up was simply dreadful. They were a dishwatery folk-rock band called Chrysalis, with a wispy blond "chick" singer who, although pretty, stood stock still, and had a listless little voice to match. Anthony and I, two brats from Brooklyn, started heckling, "We Want The Who!" When Anthony yelled out "Get off the stage, you statue!", the older guy sitting next to me burst out laughing and said, "Oh man, I love you guys! I'm John."
Super handsome, a bit like Sam Andrew in Big Brother, with the longest hair I'd ever seen on a guy, John was 19. We were 14. We three were all full-blown Who loons. A friendship spontaneously combusted in the 15th row.
It's hard to fathom these days, but, lifelong friendships could be based on the mutual love for that band. I have never been able to fully analyze it, but, there was, among The Who's early fans (pre-Tommy, '65-'68), a sense that you were in on some cosmic secret. John Taylor, Anthony Jones, and I were in on that secret -- deeply, religiously so.
Within a few months after that Who show, John had become my mentor/older brother. He indoctrinated me on all kinds of music, movies, books, paintings... Eddie Cochran, Luis Buñuel, Django Reinhardt, Rene Magritte, Elmore James, Antoni Gaudi, Gerard Manley Hopkins, The Move, Freddy Fellini, J-K Huysmans, Yves Tanguy, "Felix Krull"... I became a fantastically hip 14 year-old in one go.
I practically moved in that summer. His apartment was the typical New York tenement cluster of small square rooms, way up in the neighborhood George Carlin famously called White Harlem: Morningside Heights, Claremont Ave., just south of W.125th St. Almost an hour to and from my home in Brooklyn, I took to sleeping over in the living room often.
At least a dozen other friends used John's place as a storage unit, a mailing address, a hang-out, a hide-out. I met life-long friends there. At one point, a pot-dealer pal left something like 30 pounds of reefer in John's bedroom closet for weeks! We smoked copious amounts. Sometimes there'd be guitar there. I would play it and impress whoever was hanging out.
Not only did John and I continuously wax ecstatic about The Who (and there were songs we'd play a dozen of times in one sitting, analyzing the geniuses' work), we made it our mission to ferret out every British band we could find that might approximate the buzz we got from The Who: Small Faces, Creation, Pretty Things, Them, Easybeats, John's Children, Elmer Gantry's Velvet Opera, Tomorrow, Caravan, Bonzo Dog Band, Idle Race, Pink Floyd, et al, aurally poring over their "texts" like monks.
One day, John announced that the band he'd once been called Sleep was reuniting. He was the leader and lead singer and wanted me to try out. This was big! I was thrilled and queasy with excitement.

Sleep turned out to be a variation of The Stones meets Cream. I was now 15. Everyone else in Sleep was in their early 20s, a world apart. The fact is, John put me in as second guitar without so much as a quick "So?" to the other Sleep guys.
Initially, I was clearly considered an underage interloper of questionable skill. Which made sense, because, like my hero, Townshend, I brazenly used stage antics to cover up my musical deficiencies. But, while I was still a bit of a musical ignoramus, I'd turned into a pretty hellacious rhythm guitarist, and they were duly impressed with my right wrist.
Ironically, it was with Sleep, a band destined to last mere months, that I played to my largest crowd ever.
We had been rehearsing in the Upper West Side Democratic Party office on W. 96th St during off-hours. An organizer at this office, having never heard the band, roped Sleep into being the crowd-attracter for an impending rally protesting the war in Vietnam.

But, by the time the flatbed truck carrying us, our gear, and the rally's PA system, pulled up to the site -- 86th St and Broadway --on the night of the rally a few weeks later, there were already over 5,000 people stuffed into this intersection, with more arriving by the hundreds. The head organizer, feeling stuck with the now totally unnecessary us, decided we could play a song. Just one song! Okay.
We did "I Gotta Move" by The Kinks. It's essentially a one riff blues-metal jam with lyrics that boldly declared that if the singer's "baby wasn't there" when he got home, he was "gonna brush [his] boots and comb [his] hair". The other guitarist's amp crapped out at the very start of the song, so mine was the only guitar and I cranked it to compensate. I took a solo that was barely music, total Townshend/Hendrix noise.

The organizers were incensed!
"Dammit! What the hell's wrong with you guys?! You were supposed to play an anti-war song like ʻI Ain't Marchin' Anymore'... Jesus Christ!"
We were told to get our gear off the damn truck and leave... Now! Okay okay okay.
After going through three drummers in as many weeks, Sleep fell apart less than four months later.
By now, John and I were blood-brothers-in-arms. My ability to ape Pete Townshend made it more and more clear to us as time went on... We had to find xeroxes of Moon and Entwistle for our next band. Nothing else would do.
One afternoon, an inspired brainstorm (aka total lunacy) of John's...

We'd go to England to find our rhythm section. British bass/drums units were exemplified by the exalted Keith and John in The Who, Mitch and Noel with Jimi, Ginger and Jack in Cream, all flamboyant virtuosity and sexy drive. American bass/drums were exemplified by the horrendous plodding mundanity of Creedence Clearwater and the bass-less (wtf?!) Doors.
The first week of June 1971, John and his girlfriend, Scotty, went on to London a few weeks ahead of me. By the time I showed up in London with my girlfriend, Pamela (and my disassembled 1957 Fender Stratocaster that I was carried off the plane in a shopping bag), John had found us an apartment we shared with an English guy named Crispian and his girl, June, who charged us each five pounds a week (about $20 at the time) for two bedrooms on the upper floor of this duplex where a total of 8 of us slept (several other NYC pals had come over to visit a week after Pam and I arrived). We were at the very top of Earl's Court Road -- Slightly seedy, but at least bohemian.
Our third week there, out of nowhere, in the space of a few hours, I contracted a wickedly virulent weeks-long case of herpes in my entire mouth. No idea how. Within a day, my gums were so swollen, they were almost covering my teeth. I couldn't chew. I lived on chocolate milk with raw eggs stirred in for at least two weeks. This tended to make me somewhat anti-social and thoroughly disinterested in rhythm sections. Although, frankly, once there, John and I had no idea how to go about finding musicians in London. The truth is, after nine weeks, we'd never really gotten past the going to clubs, shopping for clothes and records stage of our adventure.
Then, about seven weeks into our increasingly futile stay, Crispian and June disappeared, their bedroom suddenly barren.
Hmmm... Well, heck, now we were living rent-free! Yeah, baby!
About three days after our ʻlandlord' had vanished, as we were eating our usual dinner of leftover curry, there was a pounding on the front door.
"Open up, It's the police!"
Gasp! What could this possibly be about?
Three bobbies walked in with a fuming guy in a dark suit.
Mr. Suit, in the throes of outraged indignation, announced in furious clipped phrases, through literally clenched teeth...
"I am... the owner of... this building. You... are... squatting. You have... five minutes... to pack and get out... or you will be... arrested. Oh, and your friend, Crispian... he's a pickpocket and a thief. The police will catch him, I assure you. We will wait in the hall. Five minutes!"

And he slammed the door.
So that was why Crispian was always asking if anyone wanted to buy a watch!